Category:
Hitched at Hyde
Featured Suppliers : 07 / 05 / 22
Supplier Spotlight- Patrick Partridge Photography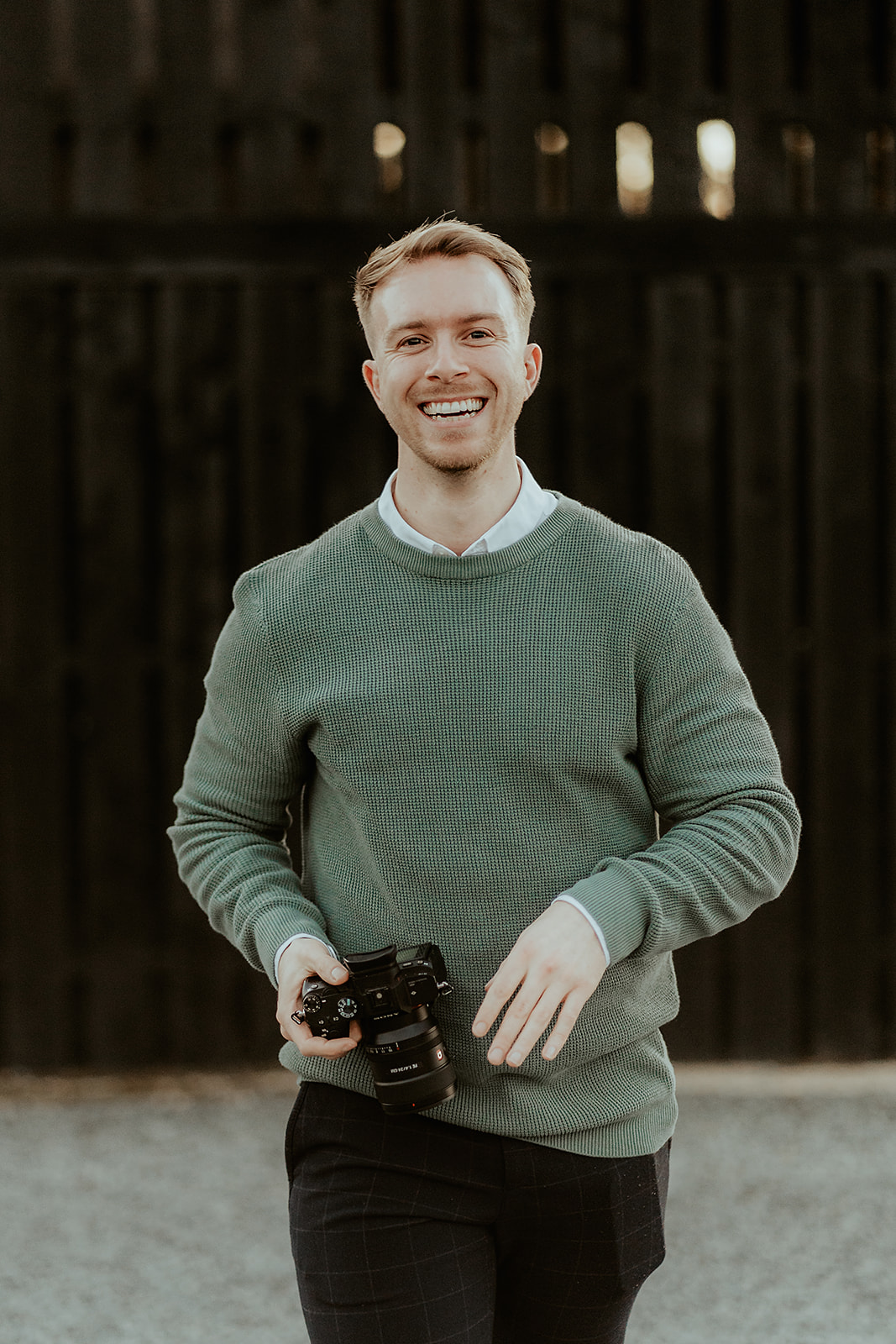 What first made you fall in love with photography?
Although I wish I had one of those "My Gramp gave me his camera when I was five" stories (which are pretty cool!), I first fell in love with photography while living and traveling around Asia after graduating from university. What started as a hobby and a bit of fun to document life and travels soon became an obsession and something I would spend countless hours teaching myself and practicing. The feeling of excitement and the magic a photograph can bring through art and feeling has never left and still motivates me.
What made you decide to become a professional photographer within the Wedding industry?
After spending the best part of three years photographing my travels, sadly I felt my photography lacked any meaning or feeling, after all, landscapes can be photographed a million times in one day but people's feelings and the magic of a wedding day will only happen once for a lot of people. Every photo at a wedding has meaning to it and the best ones make you feel the emotions of the day too! Photographing weddings in my opinion is one of the most meaningful forms of photography. Moments cherished for lifetimes.
How would you describe your style of photography?
I never like to keyhole my style of photography as I believe each wedding day is unique. Using different styles throughout the day according to the moment is what is needed. If I was to put my style into a sentence I would say: Emotive and fun storytelling.
What is your favourite part or parts of a Wedding Day?
It's easy to say all of it but I would be lying. It's the speeches for me. This is a part of the day where the rollercoaster of emotions is felt by the whole room, making it such an amazing thing to capture. That and it's always good to hear the more embarrassing private stories about my couples.
Could you explain a little about what Couples can expect when they book you as their photographer?
I like to think that even before my couple's book they feel like they are getting some value. Whether this is through my blogs, instagram or the first email. I like to make things simple too, as I know planning a wedding can be pretty stressful, but from the moment my couples book I make it clear that I am not only there for the day and that if they have any questions or even just advice I am always only a message away. I'm quite a laid back guy, so I try to make my clients feel as comfortable as possible so they can relax, be themselves.
What top tips and advice do you offer your Couples ahead of or on theirWedding Day?
Trust your suppliers, from the venue to the photographer, to the florist and everything in between. A lot of us have done a fair few weddings and the best suppliers should be helping you whenever and wherever they can (never be shy to ask them questions). I think if you have trust in your suppliers the overall stress of the day will be less and that energy can be used on enjoying one of the best days of your life. In terms of photographs I always tell my couples not to worry about anything photo related, that is my job. When there are pictures to be taken in great light I will let you know.
What do you love the most about shooting Wedding Days at Hyde House?
Weddings at Hyde House always feel more intimate and I'm always excited to see what couples do to add a little bit of their personality and vibe to the day. The staff and team there are also incredible. It is literally impossible to not have an amazing day while shooting at Hyde House.
Can you share some of your favourite images captured at Hyde House?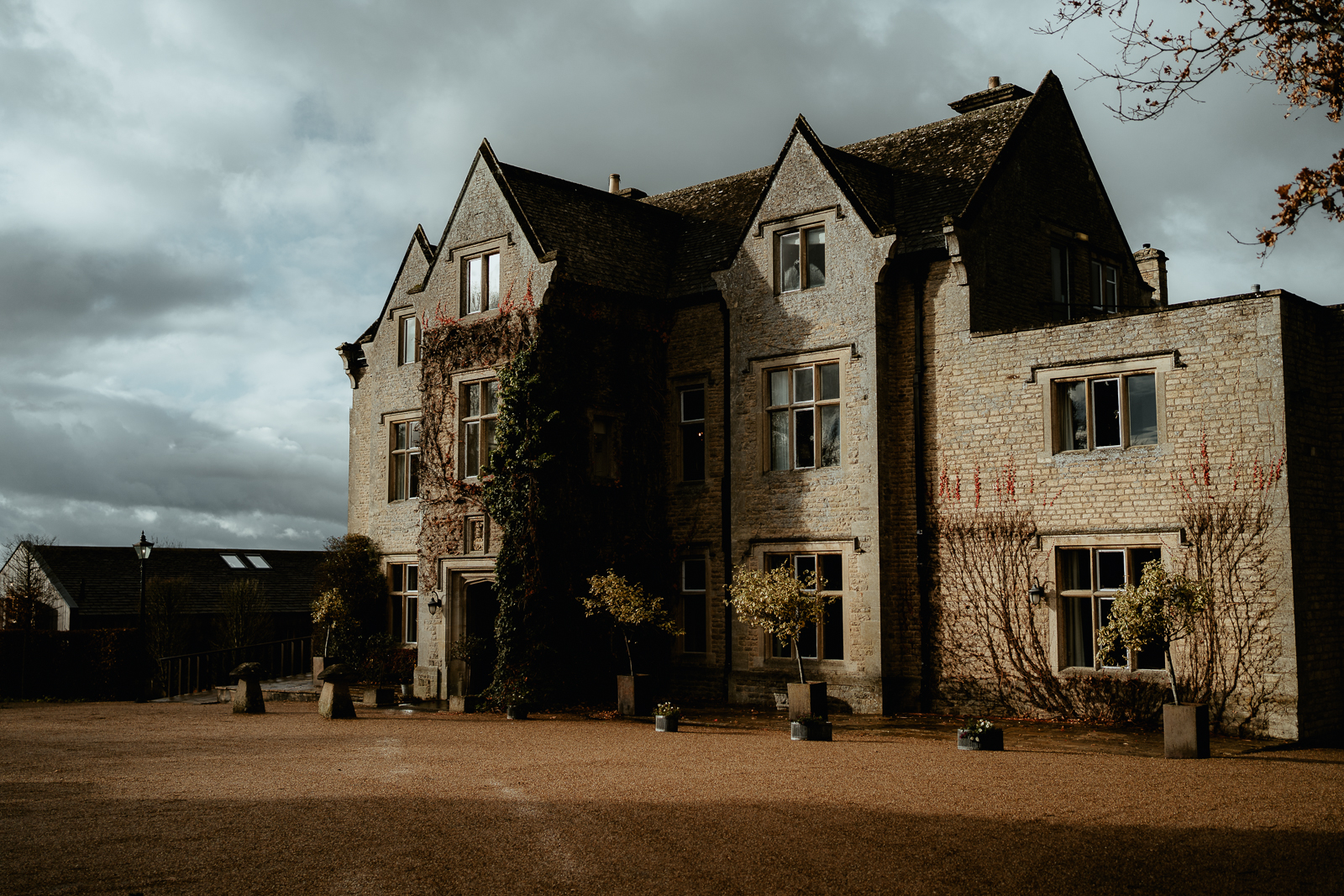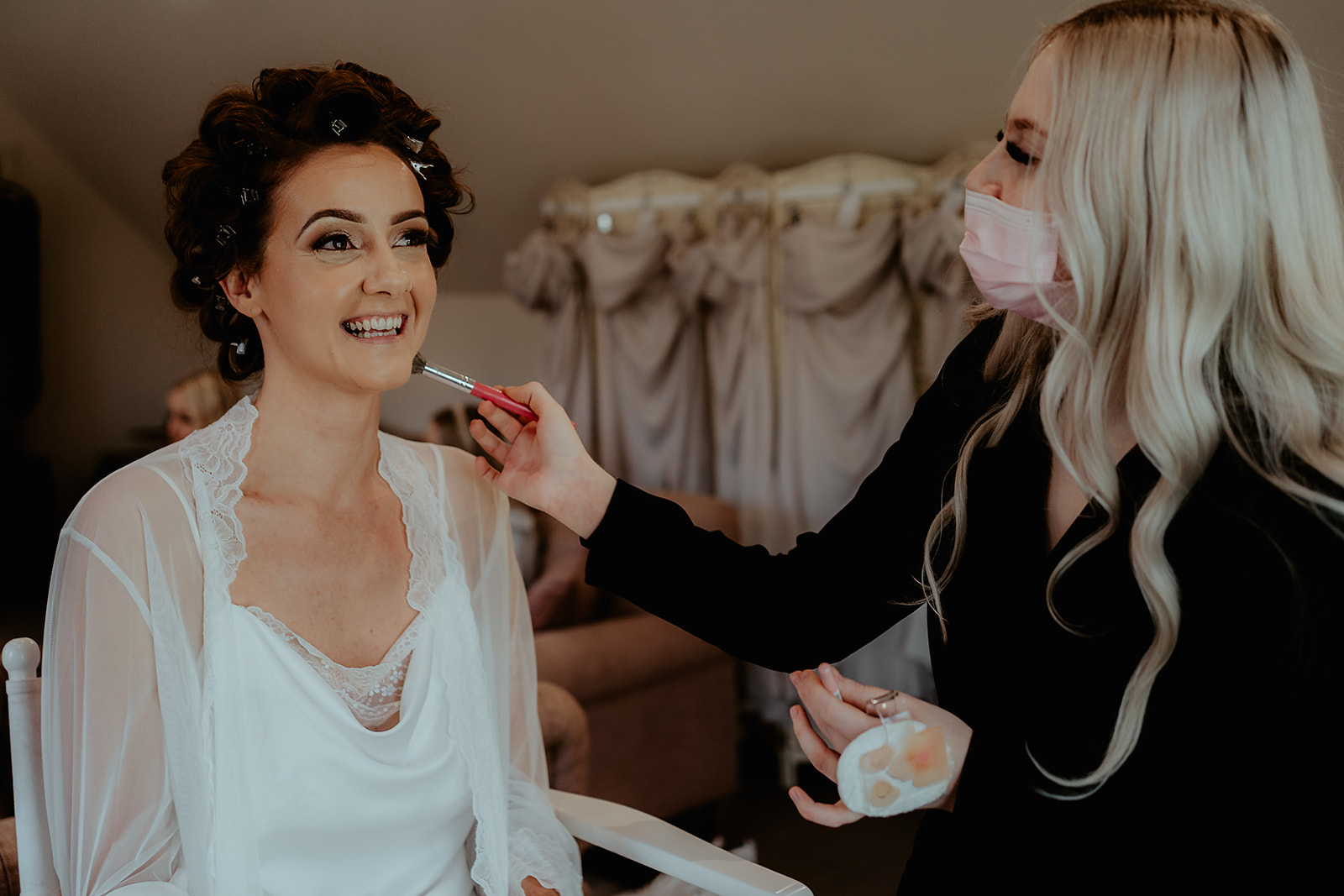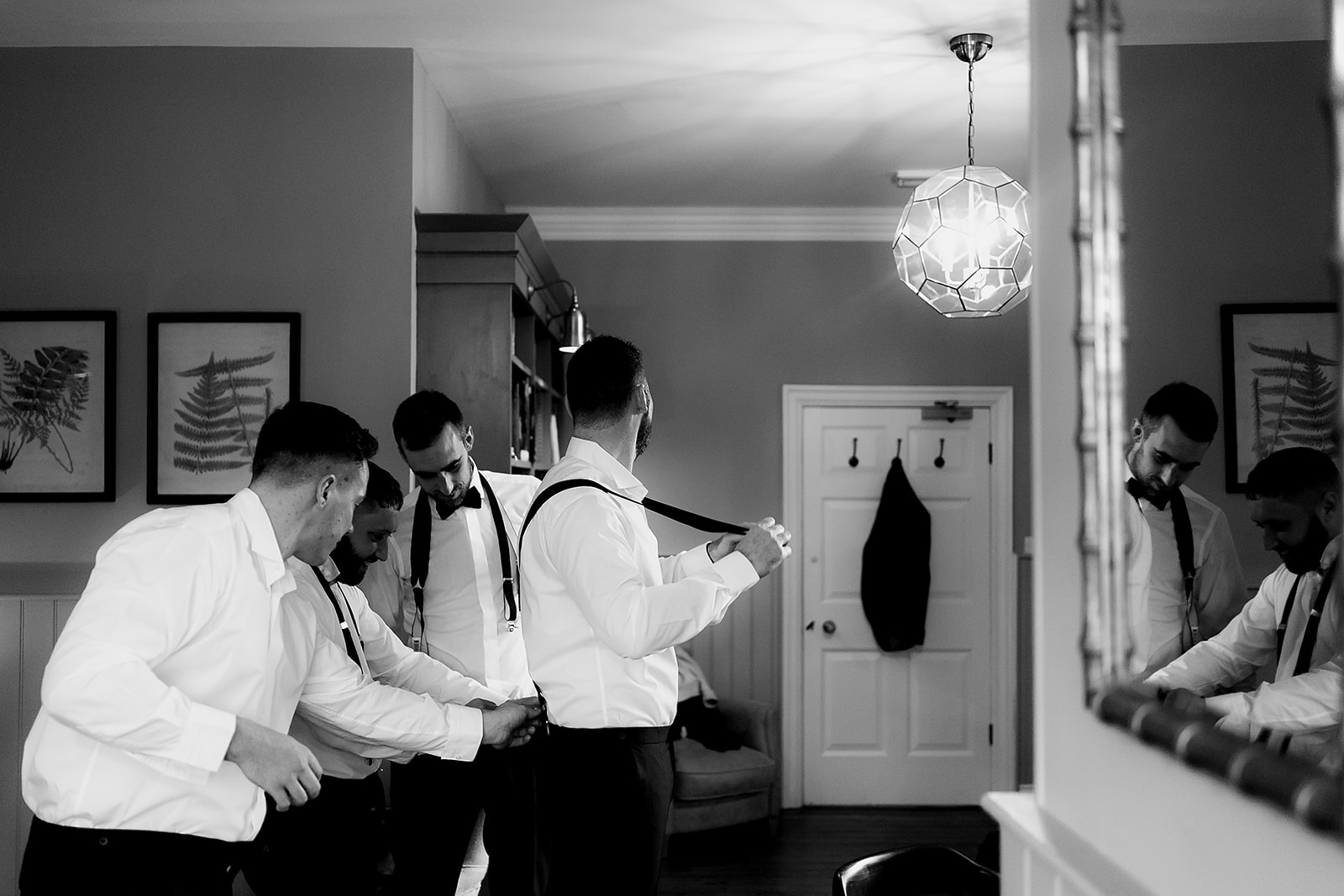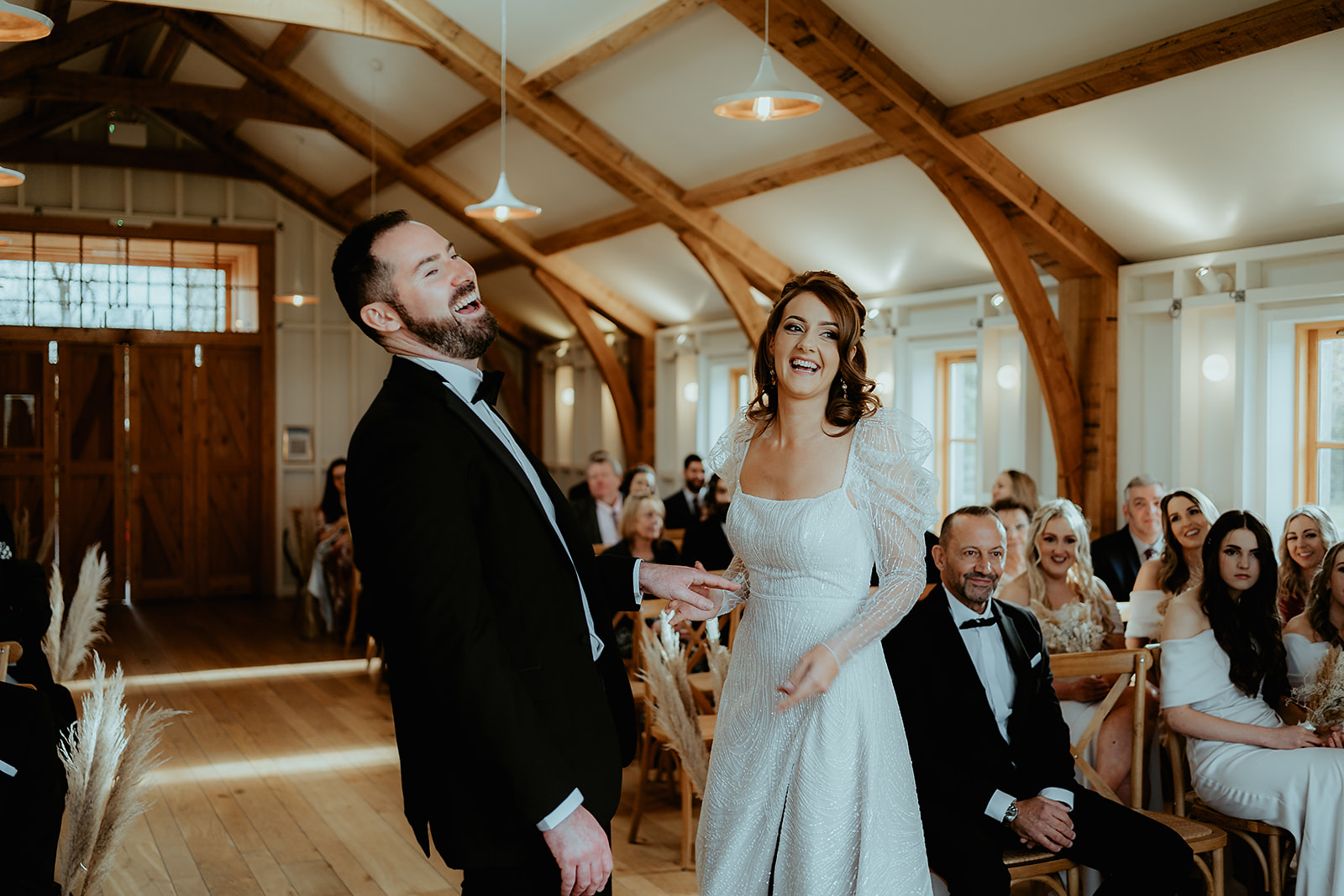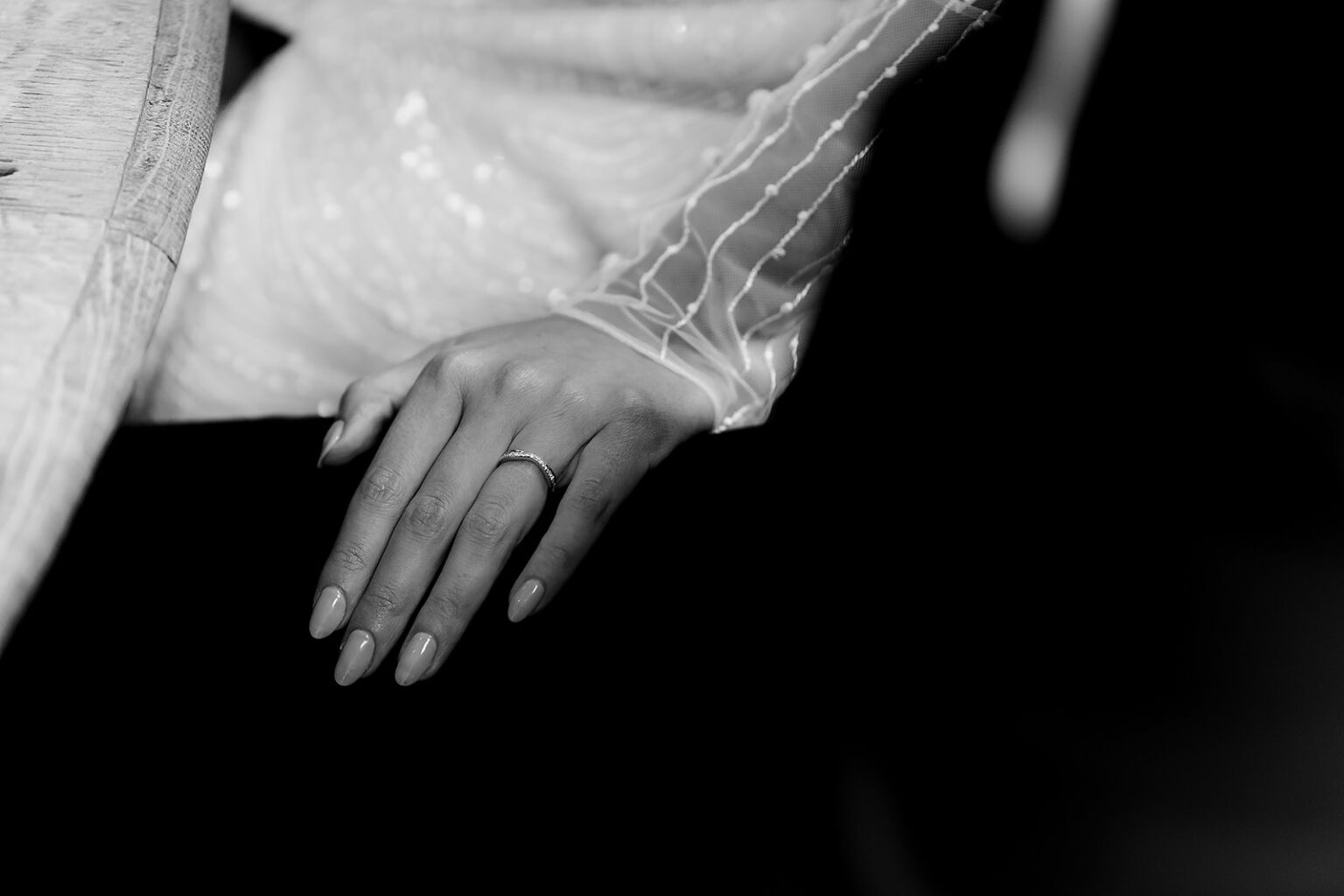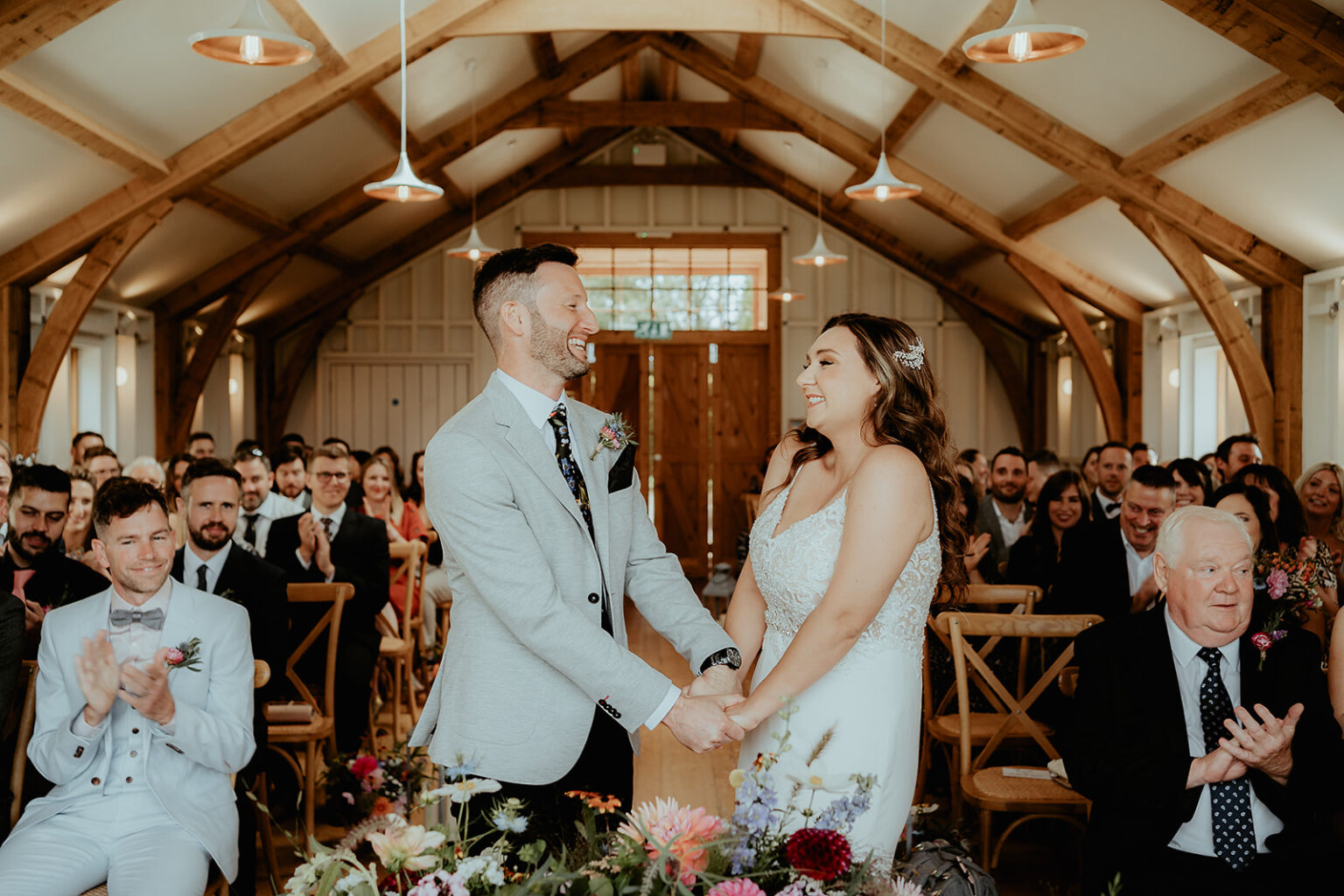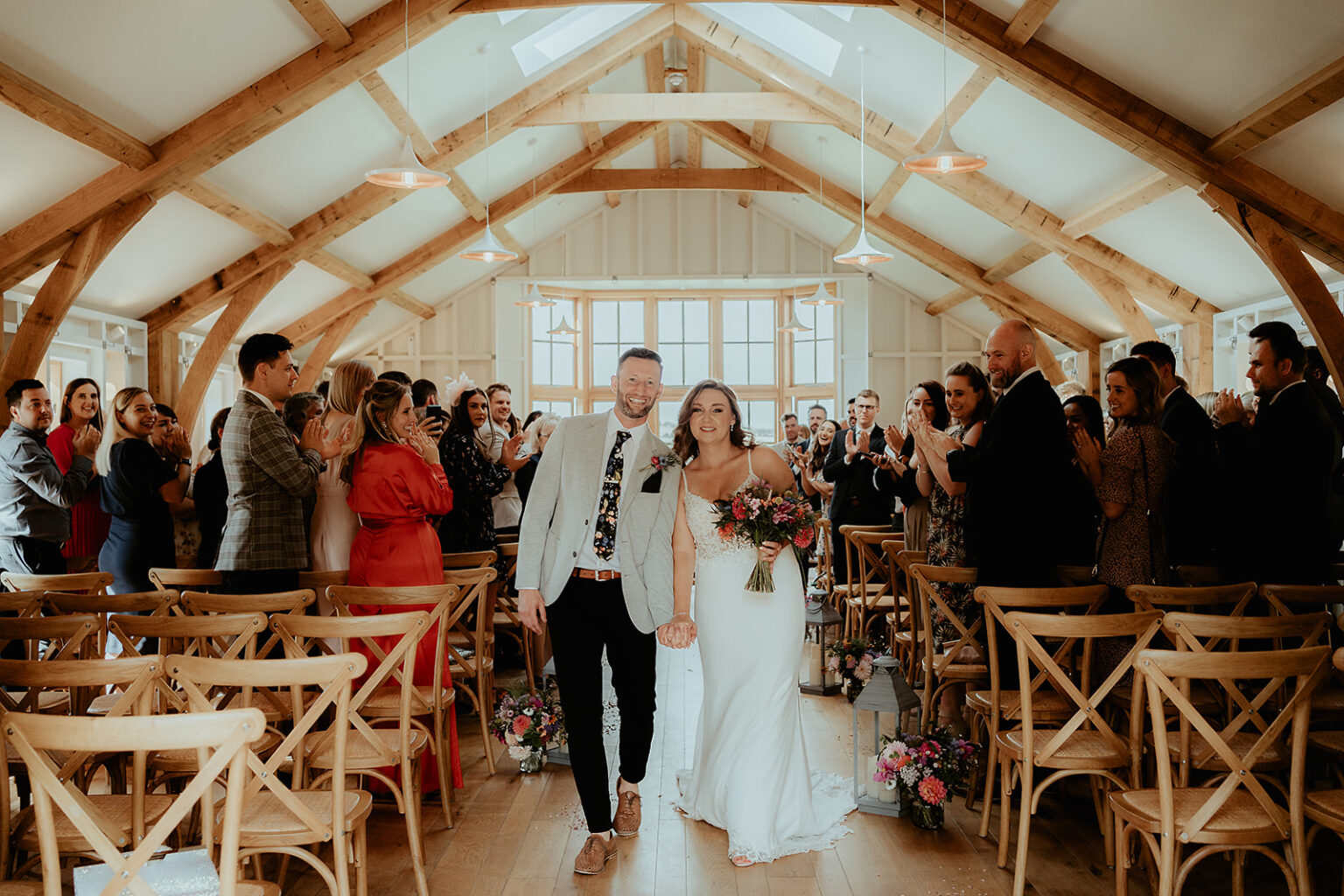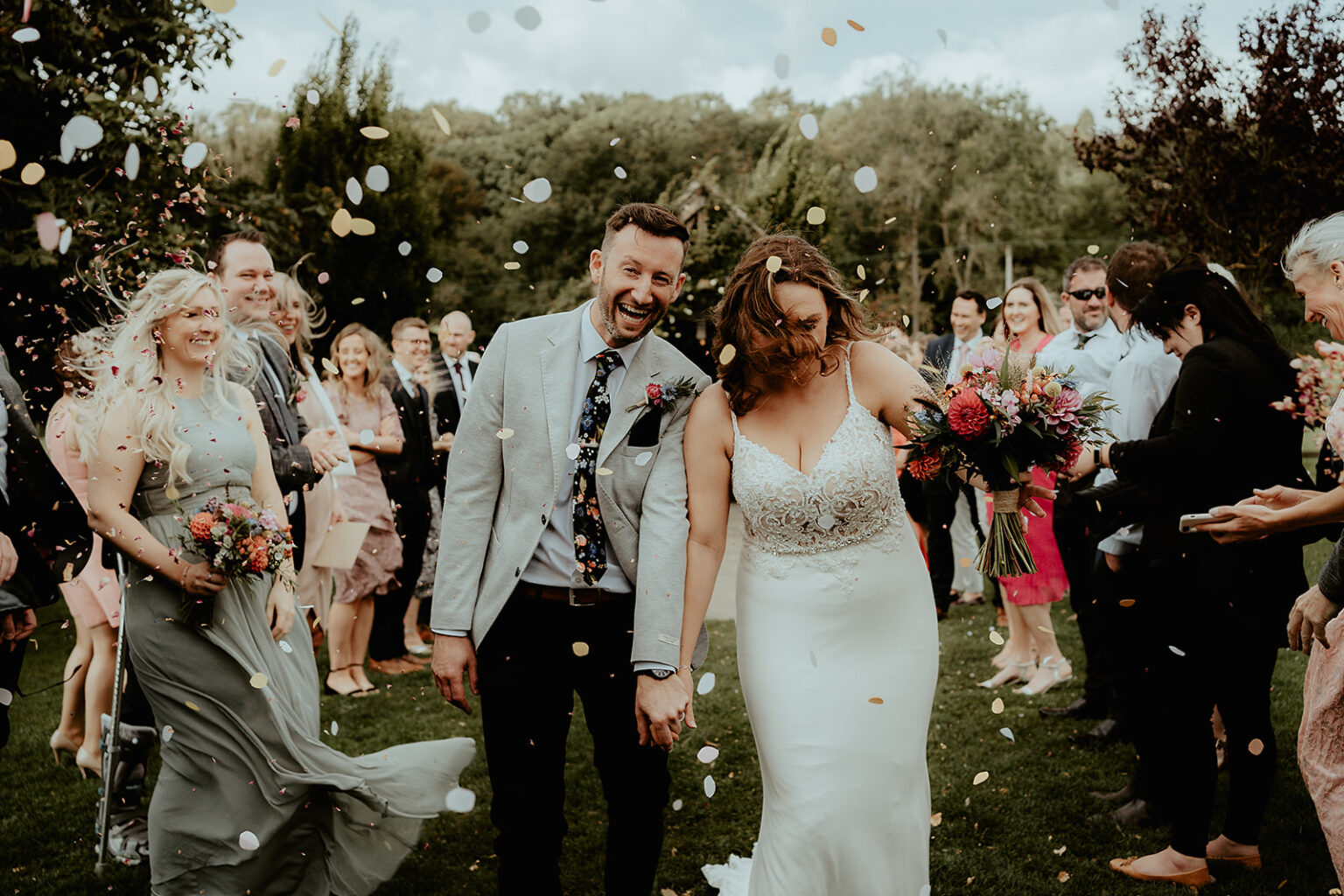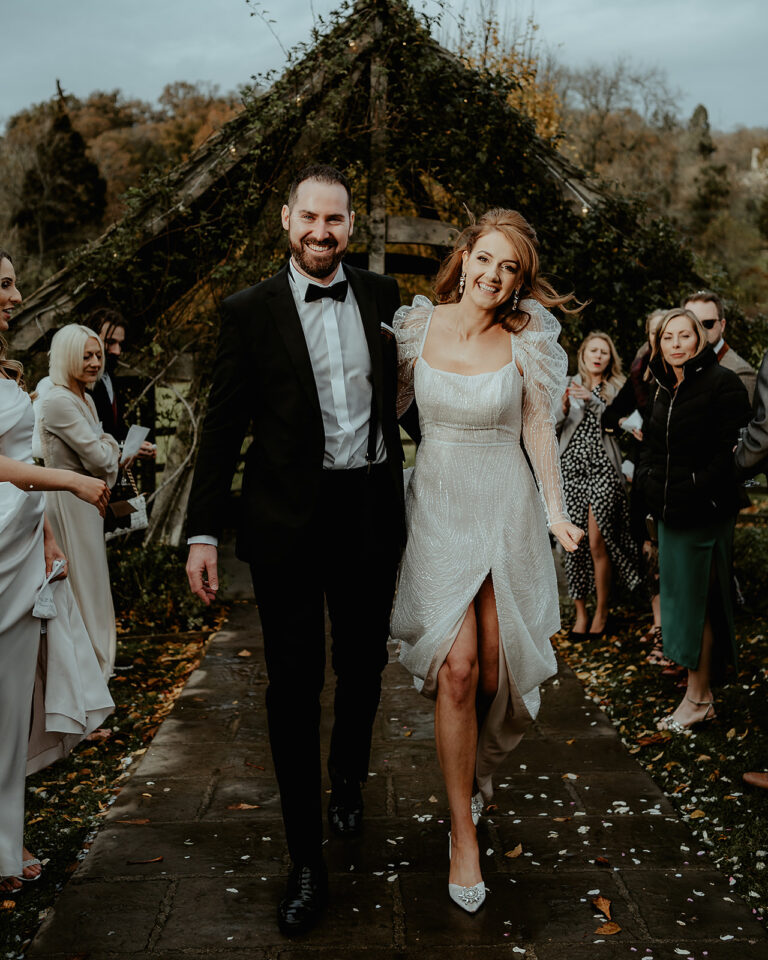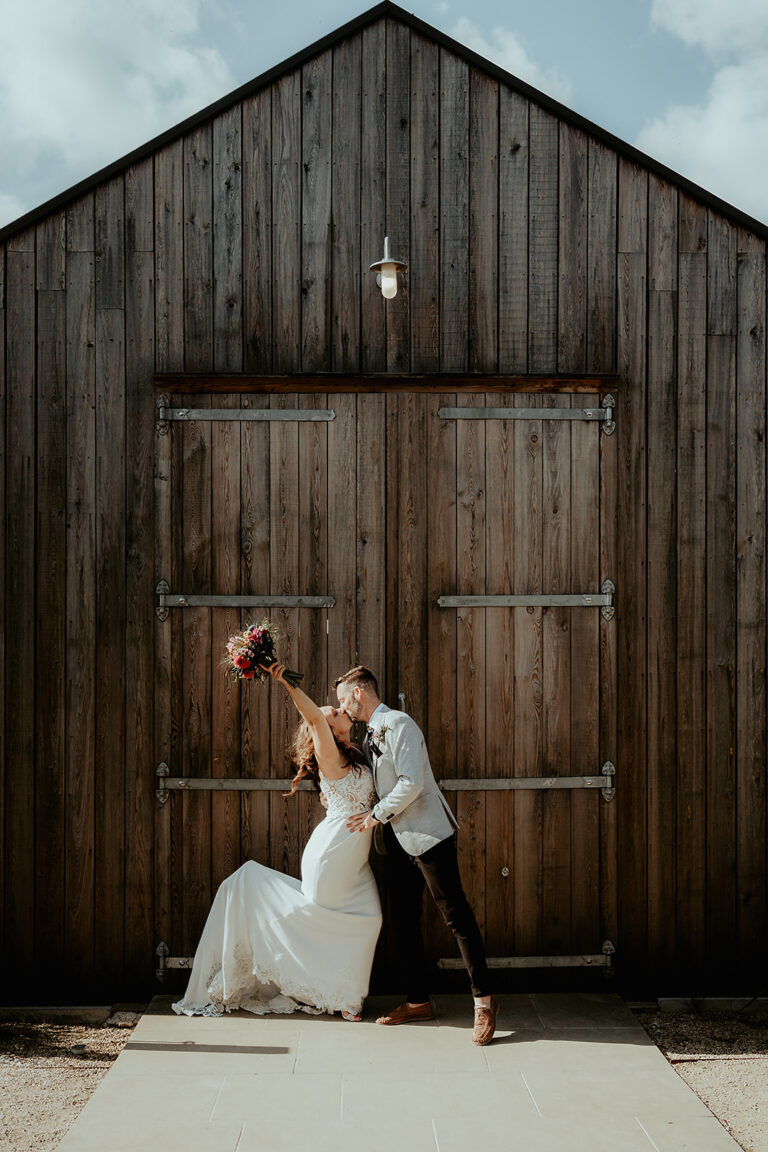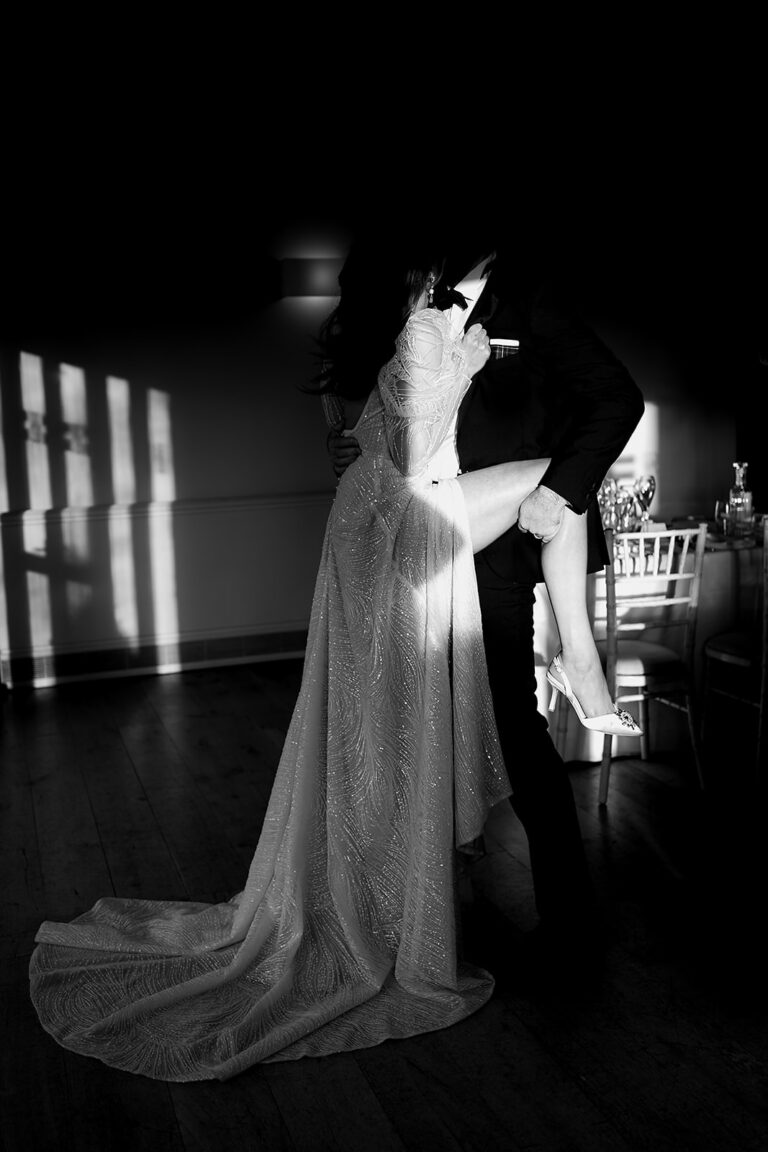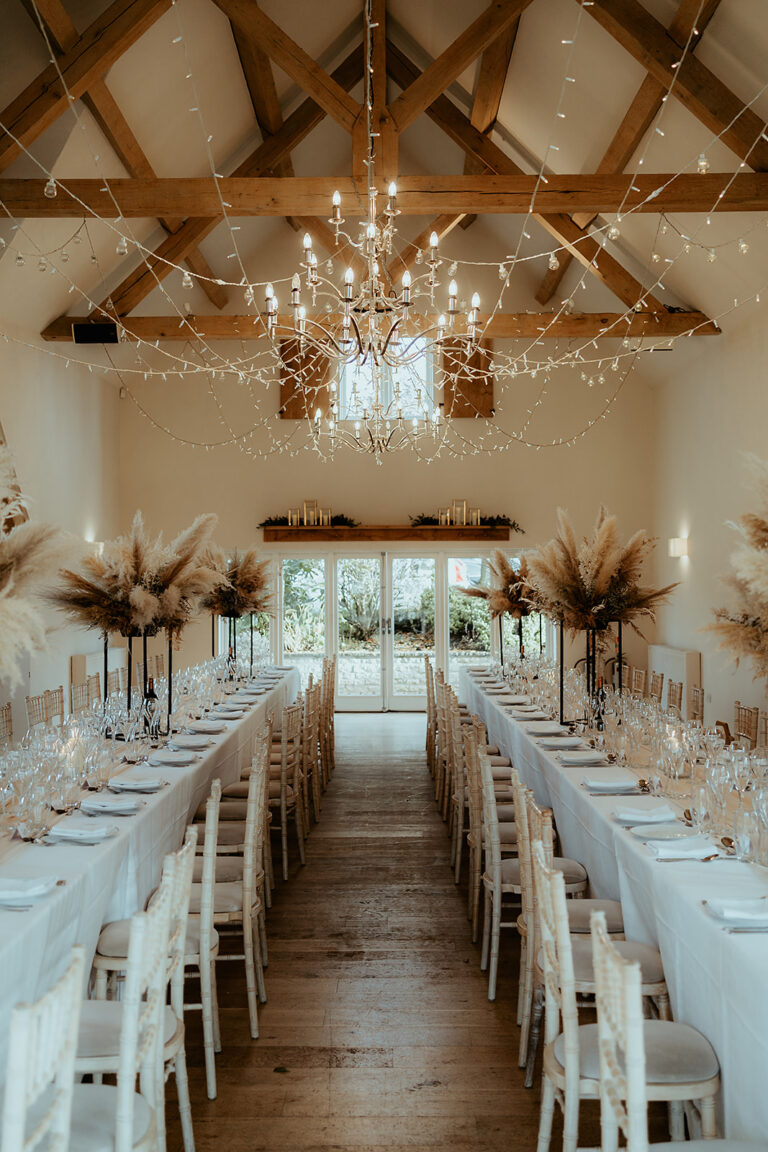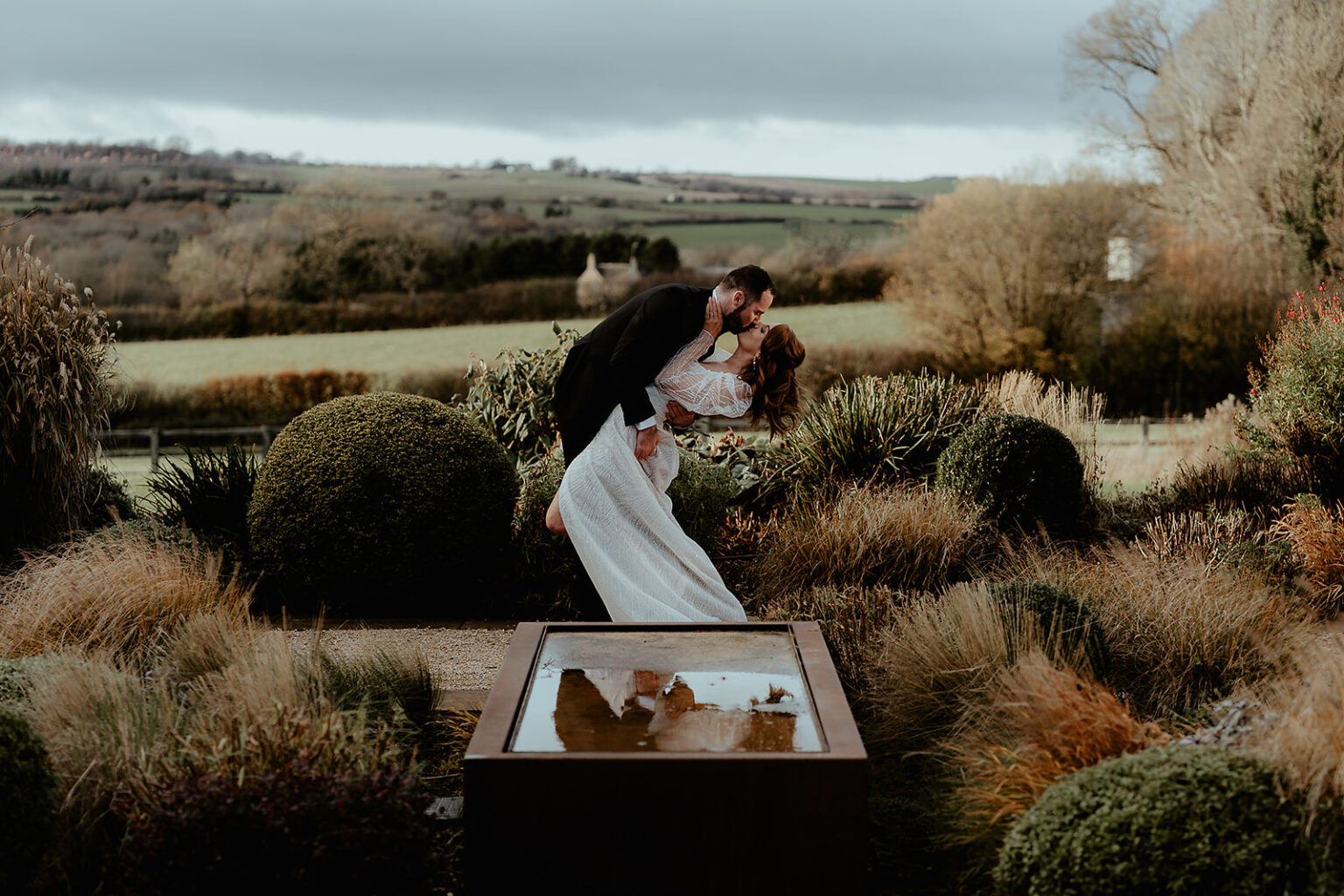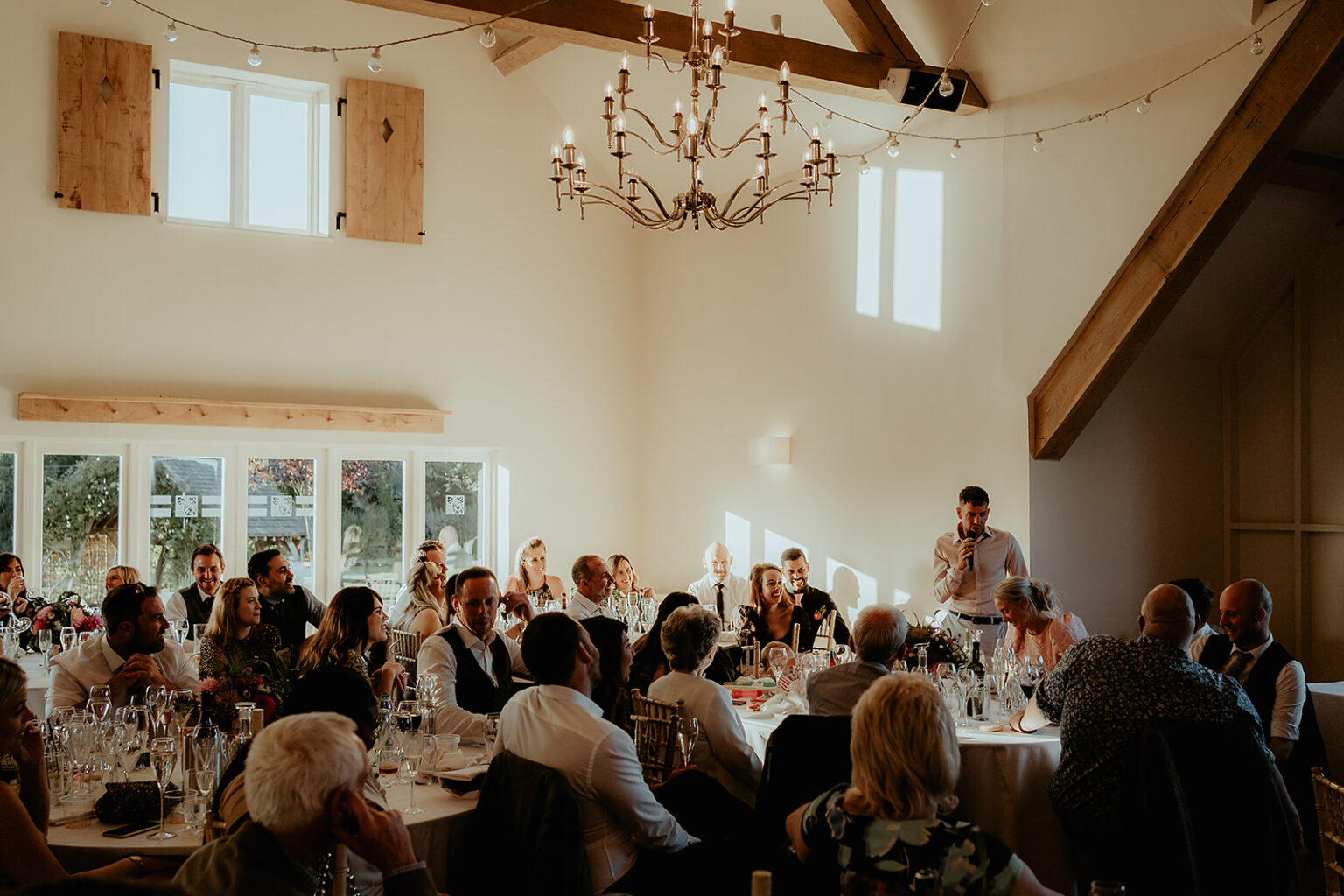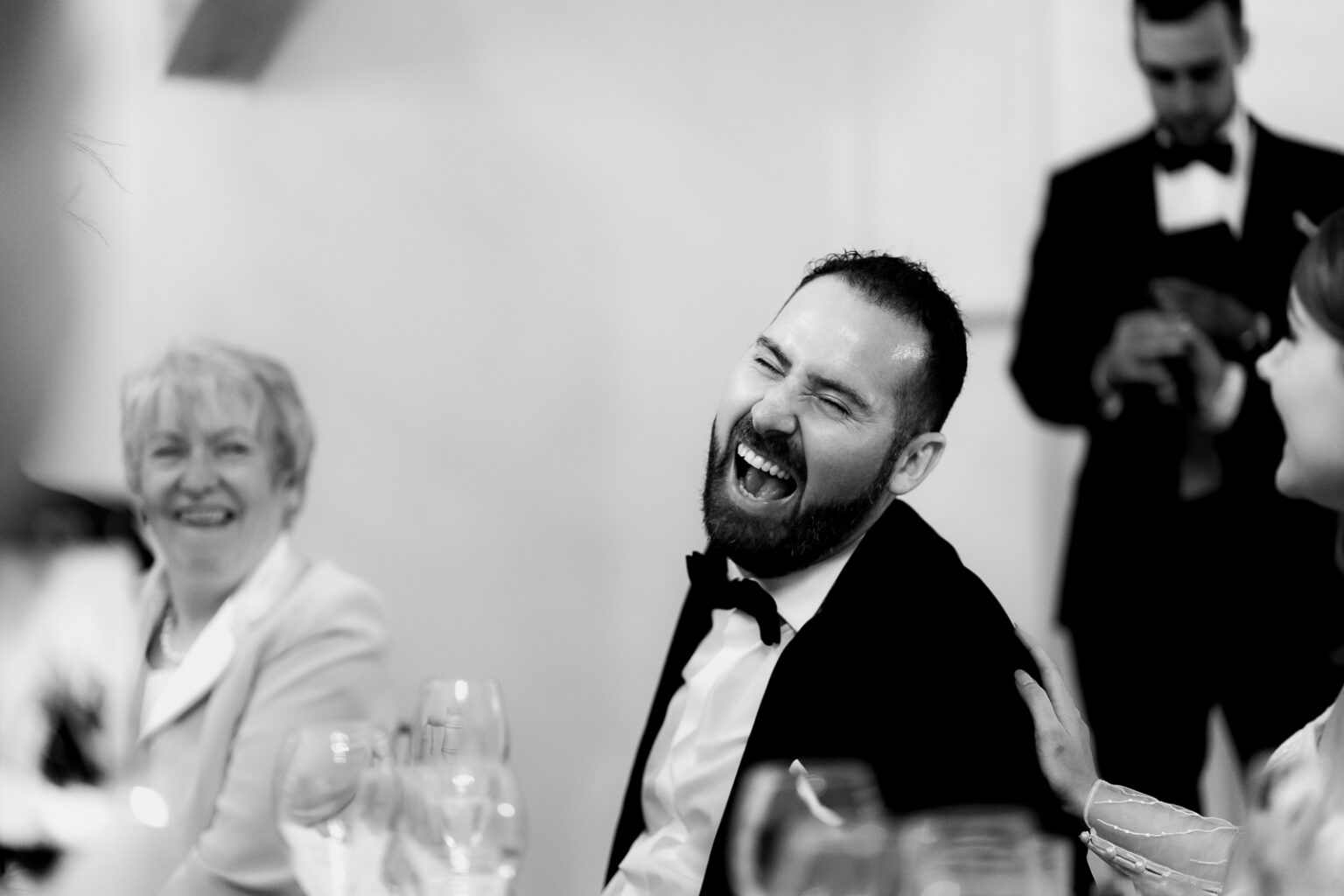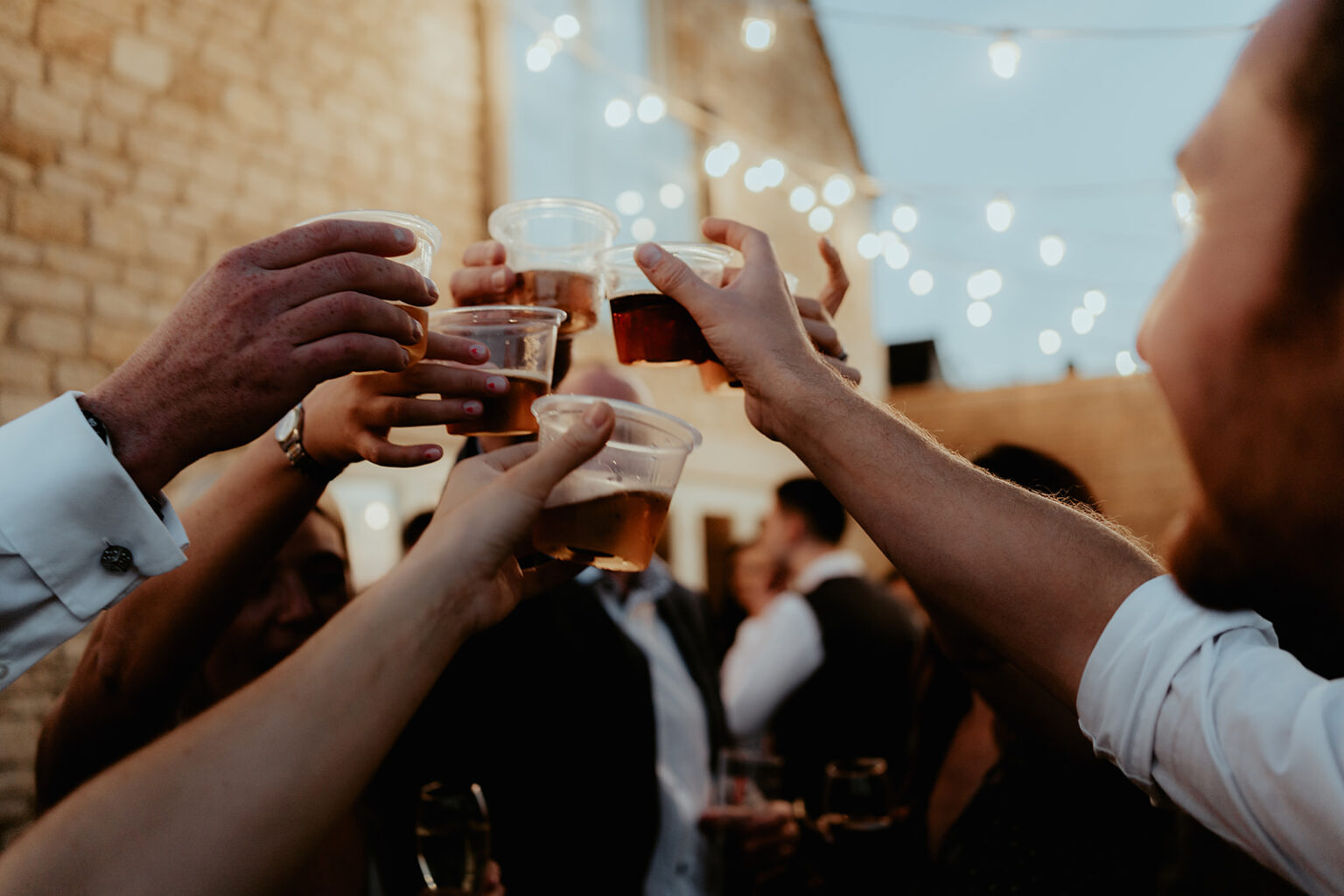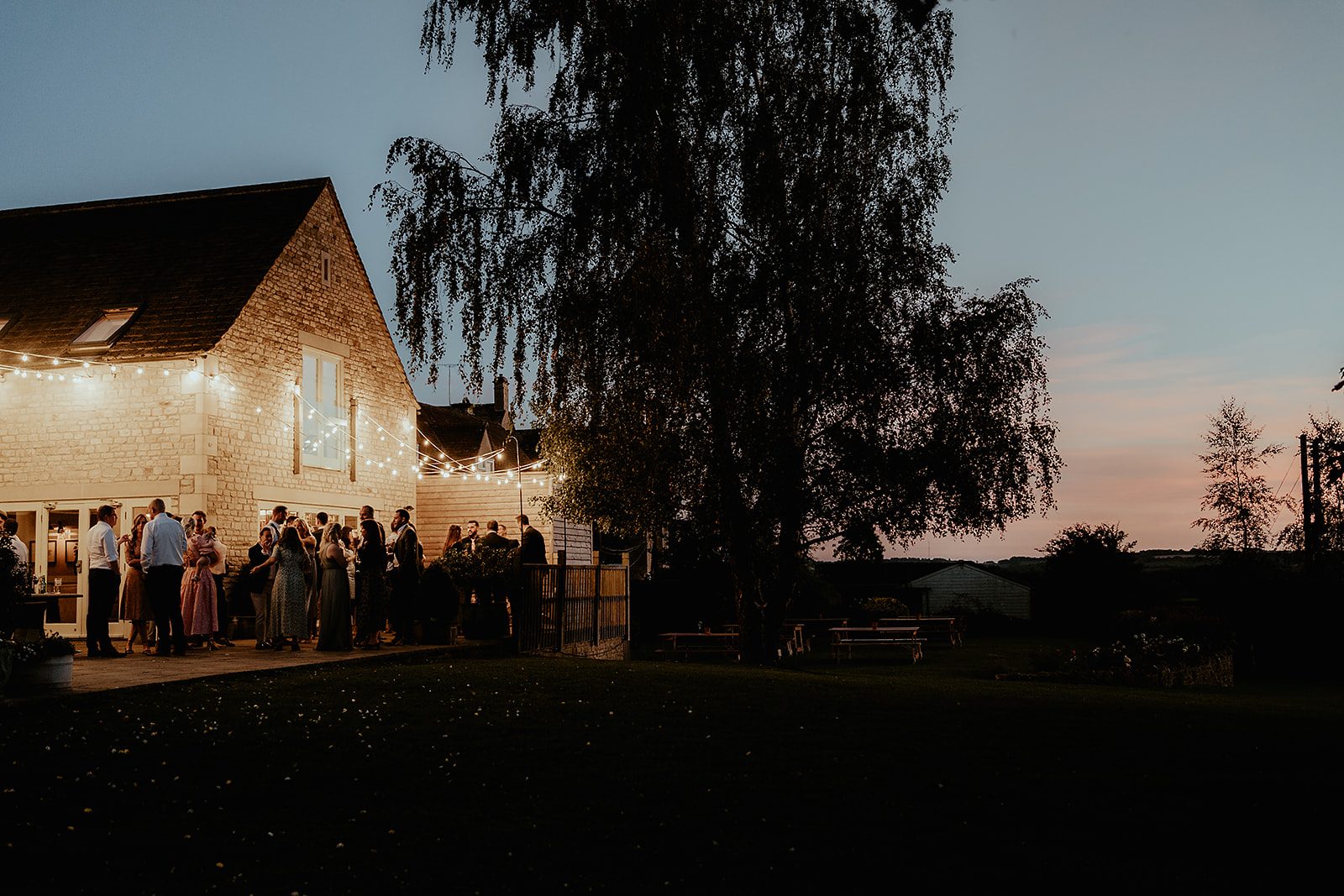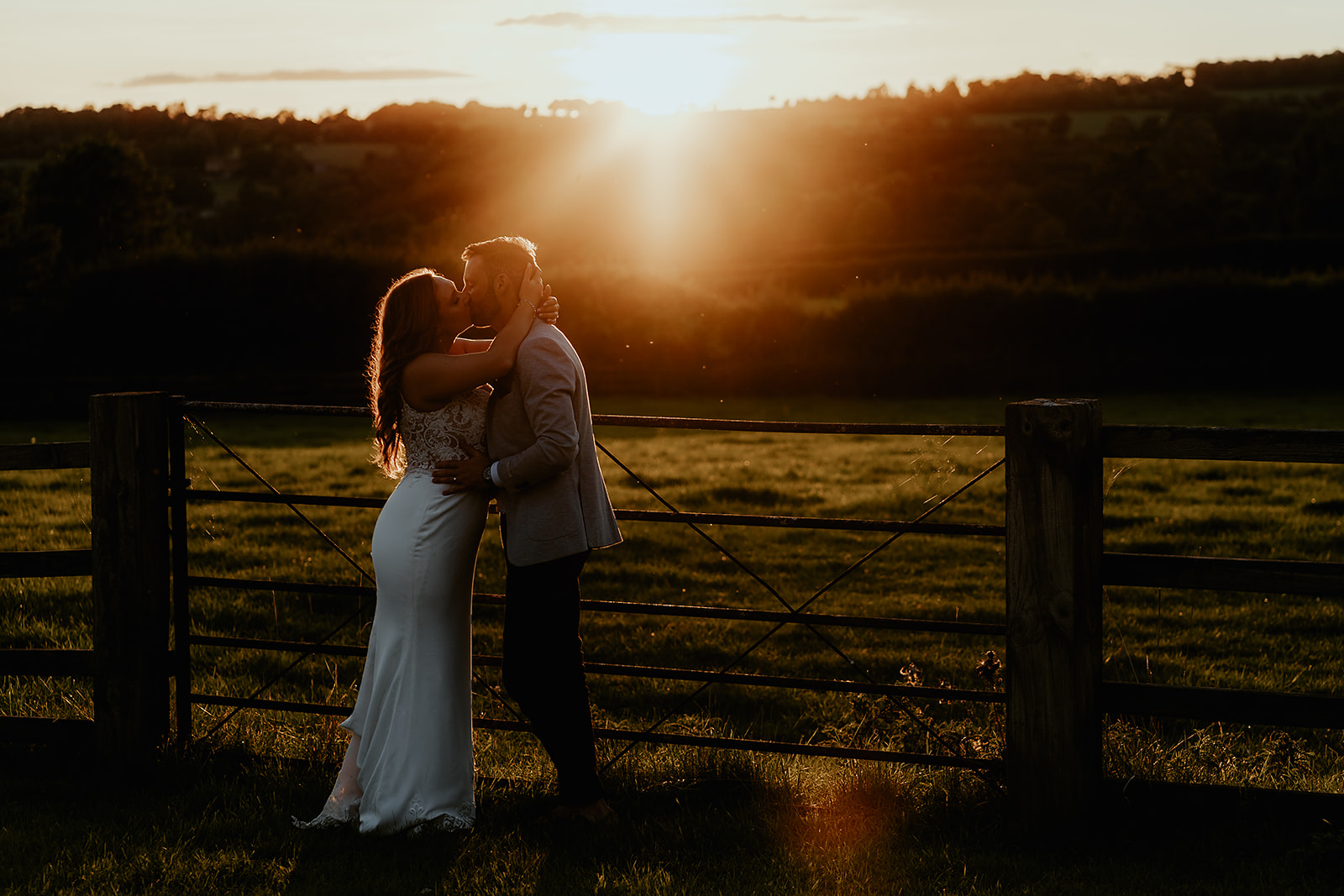 Click here to view Patrick's website: https://www.patrickpartridge.com/
Hitched at Hyde : 24 / 04 / 22
Winter Wedding magic at Hyde House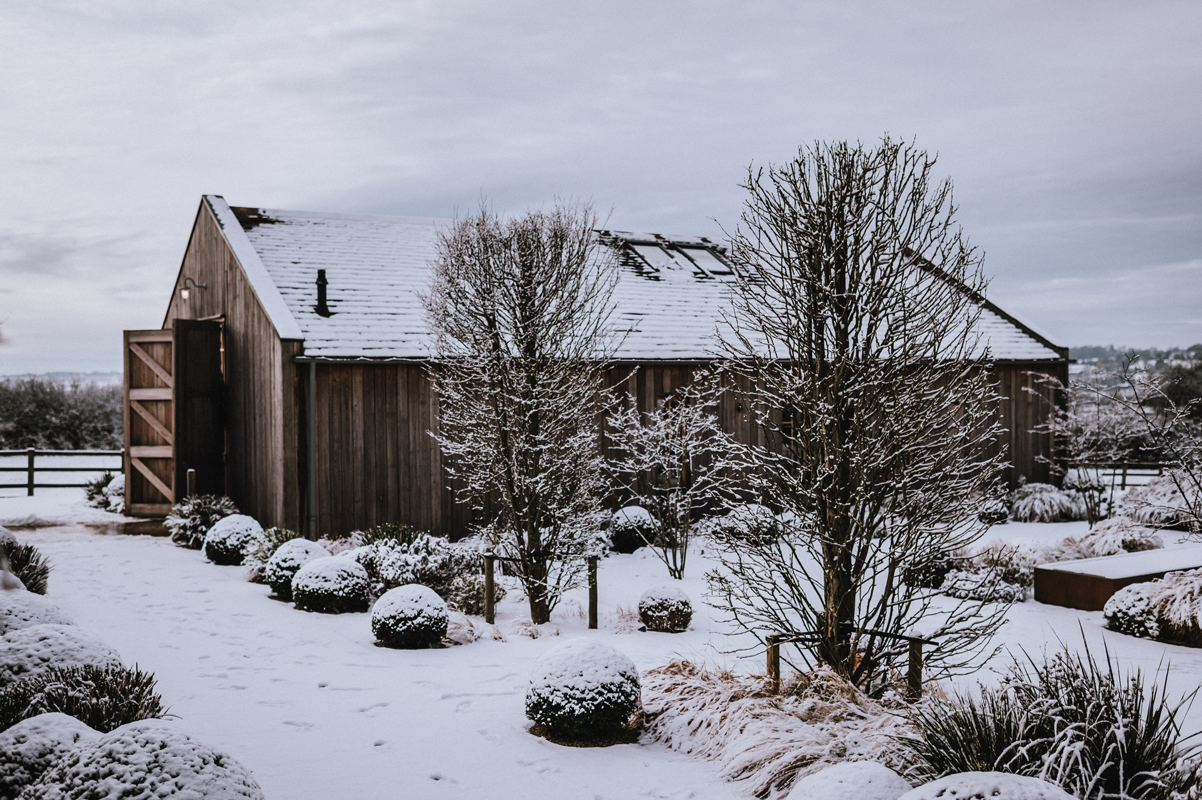 We might be heading towards longer and warmer days but we've started receiving the most breathtaking images from recent Wintery Wedding Days and we just could not resist sharing them with you all.
We adore Winter Weddings here at Hyde House and have loved seeing all of the ways the Grange and the Barn have been transformed this past season with magical lighting, romantic candlelight, abundant blooms mixed with textured foliage, leaves and grasses, not forgetting all of the delicious seasonal cocktails we've been displaying and serving to lots of lovely guests.
And at Hyde House, Winter Wedding Days do not mean that you have any less options when it comes to Couples getting those all important shots together. Our grounds offer so much variety for photographers and many gravitate towards The Grange, specifically the courtyard which has flower beds filled with grasses that are in abundance all year round and is the perfect spot to get photos as the sun sets over the rolling Cotswold countryside. The entrance to both the House and Grange are also popular, especially as the leaves turn and begin to fall on the House. The lawns behind the Barn and the Arbor offer fantastic backdrops for photos throughout the day with the additional lighting that we have on the Arbor creating such romantic images throughout the evening.
If you're looking to have a Winter Wedding Day please do not hesitate to get in touch with us on
team@hyde-house.uk
as we have some fantastic dates available for this coming Winter season at Hyde House ✨
Without further ado, please scroll until your hearts content to see lots of incredible Wedding Inspiration!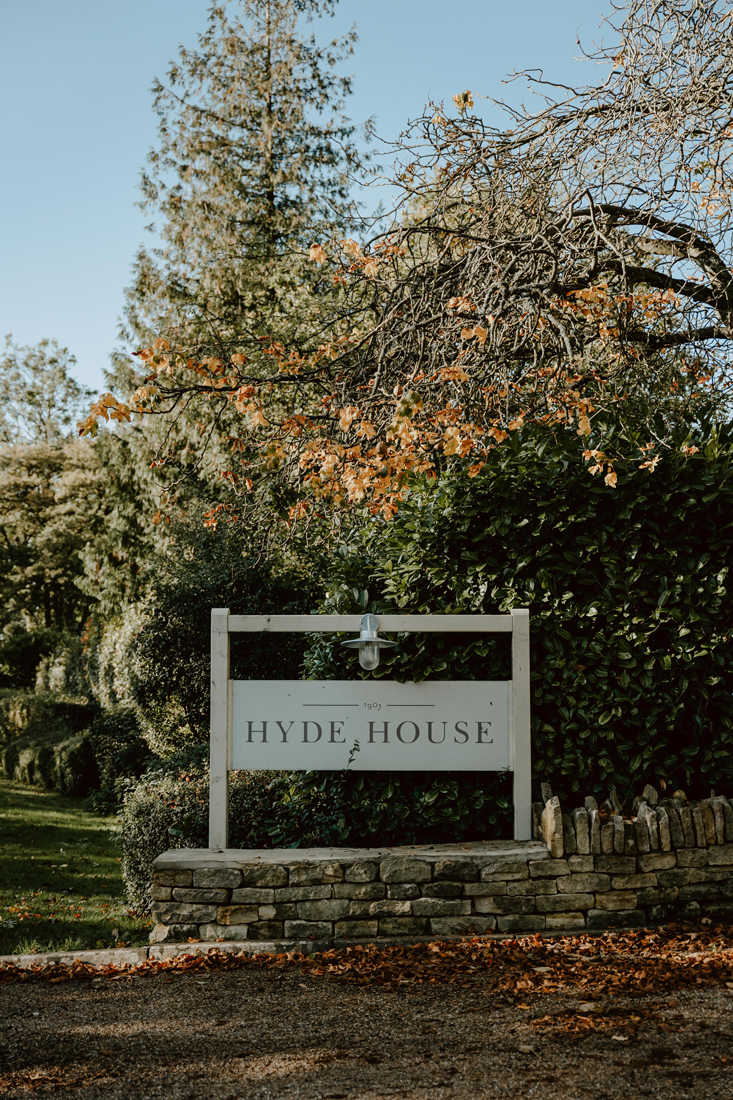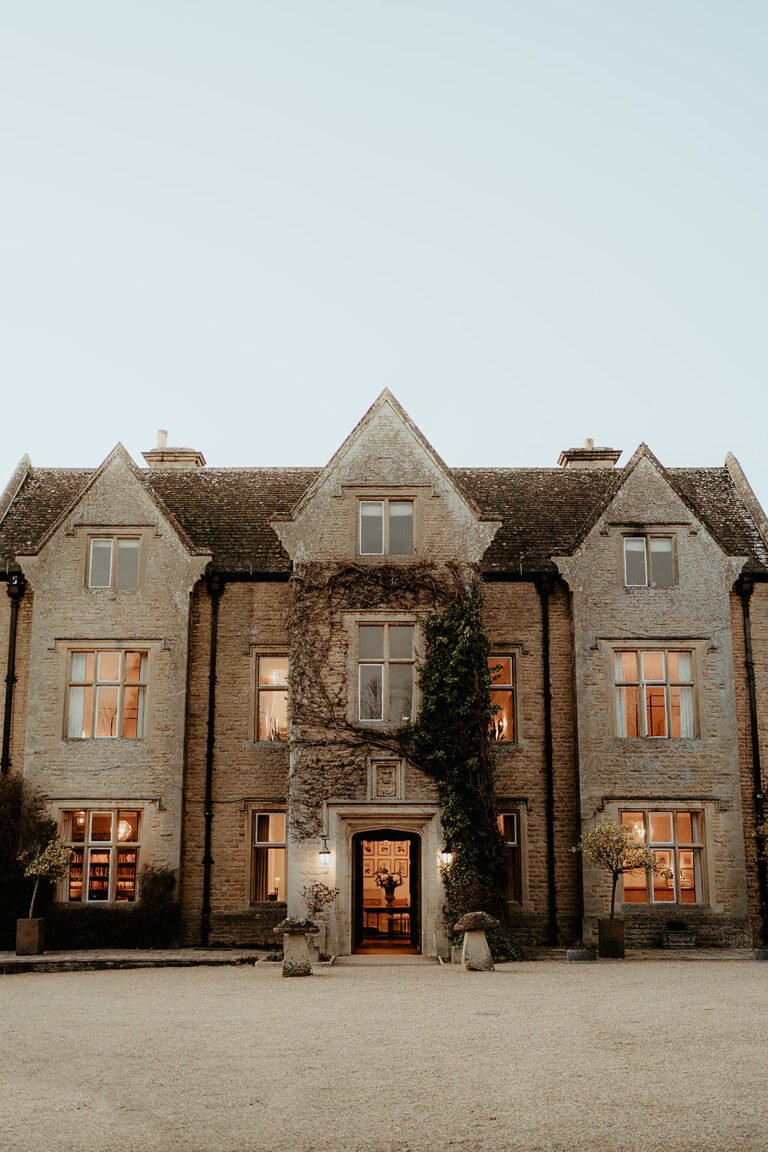 L- Joanna Brooks Photography, R- Patrick Partridge Photography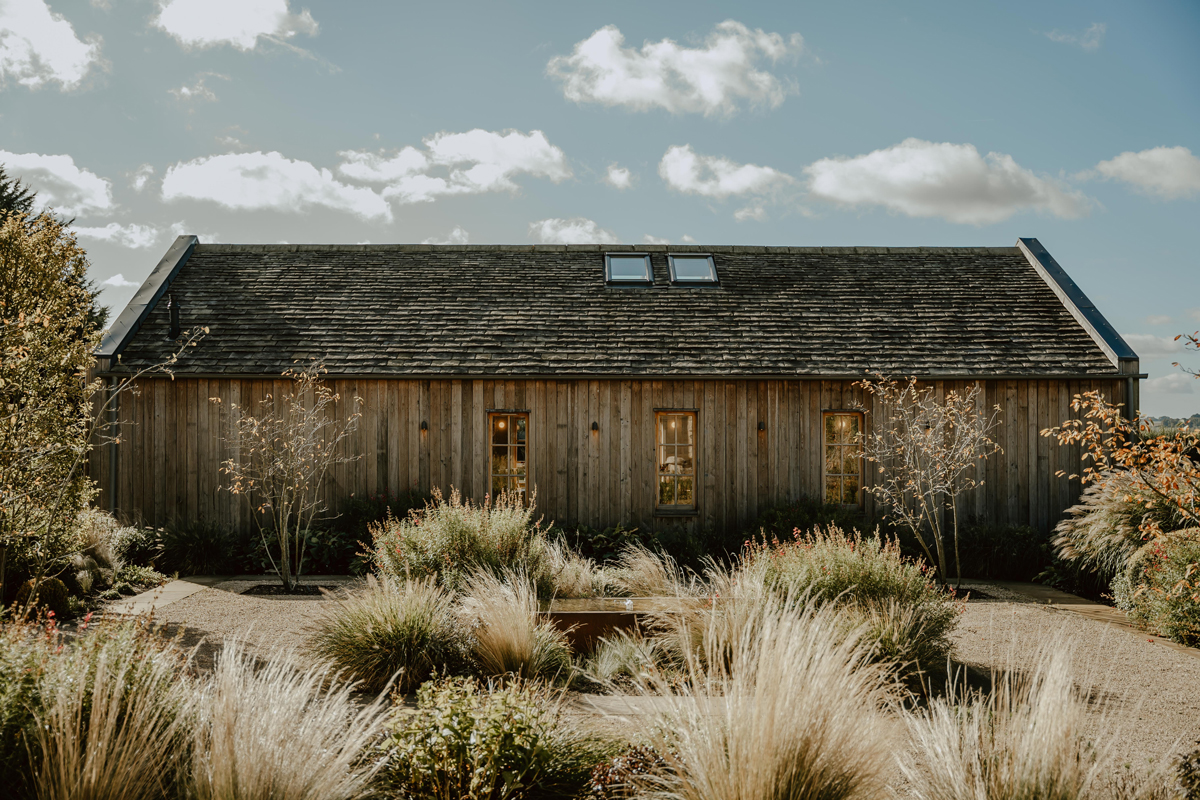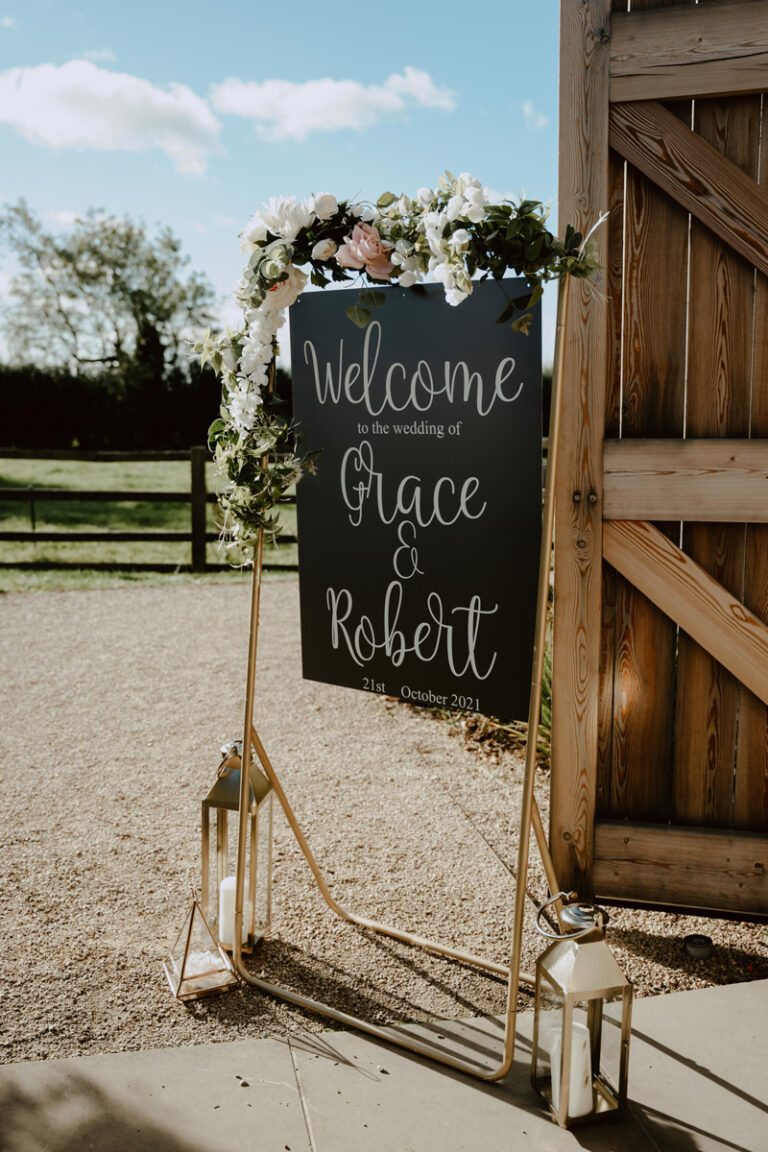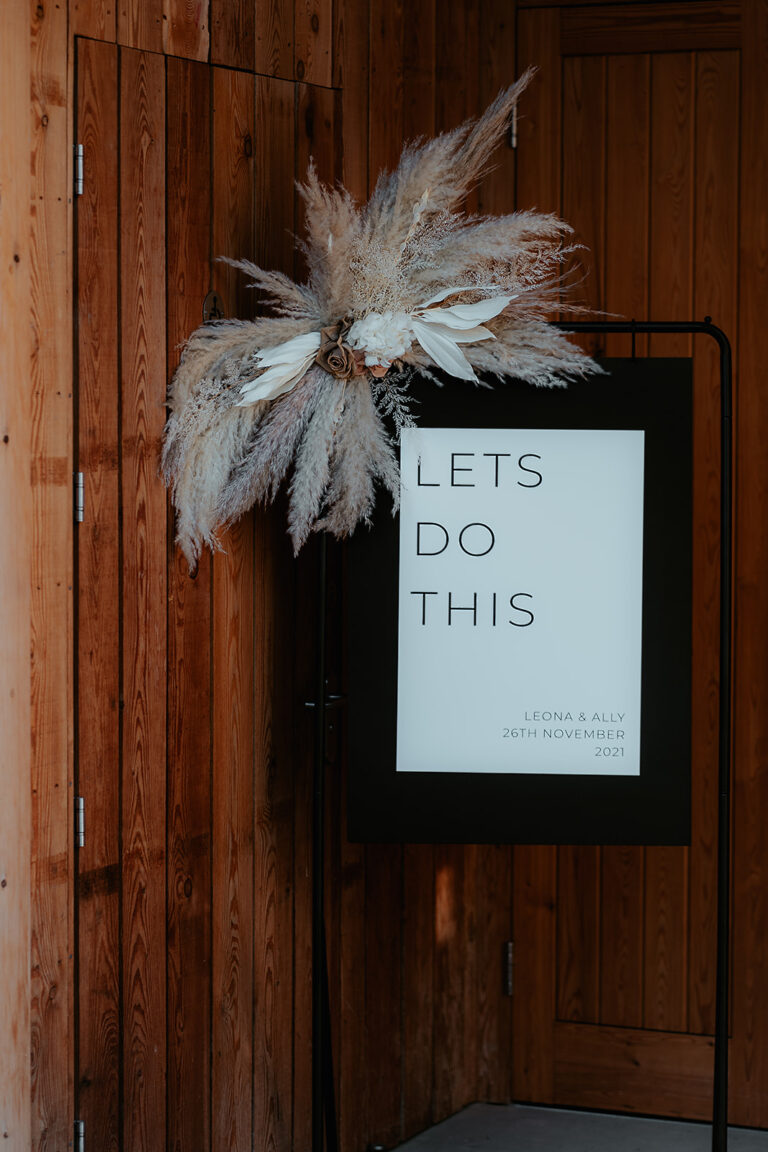 Top and Bottom L- Joanna Brooks Photography, Bottom R- Patrick Partridge Photography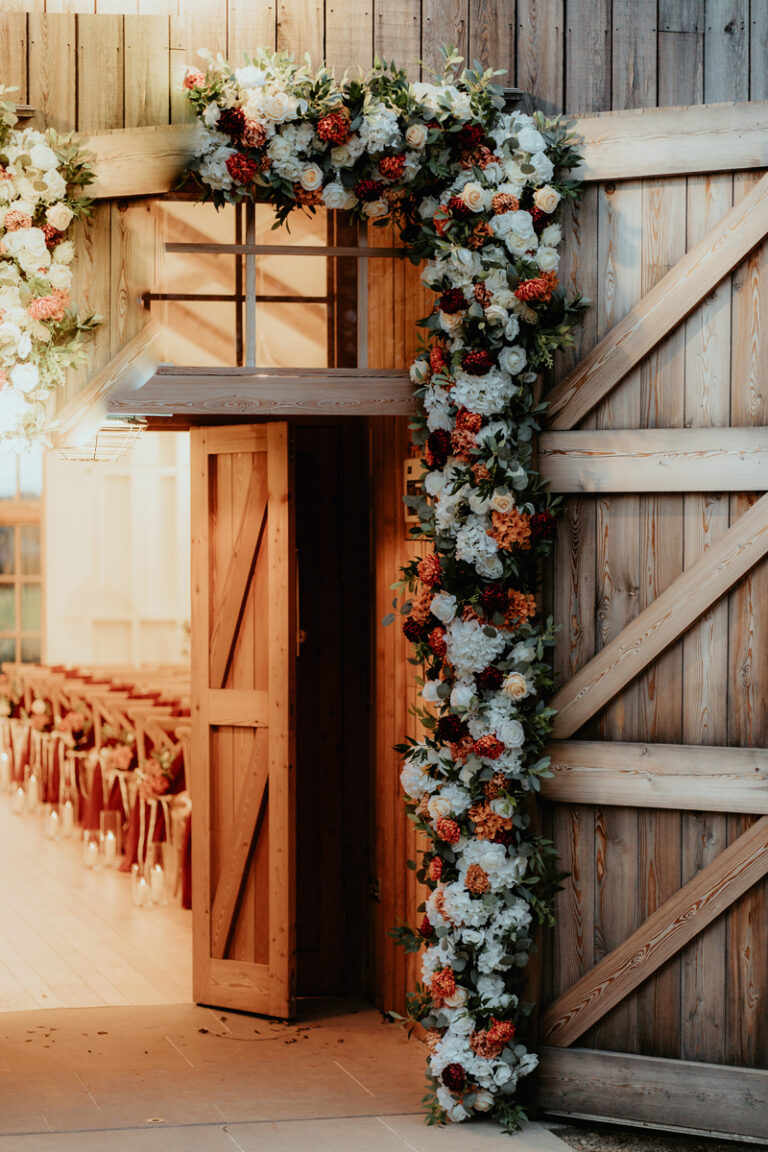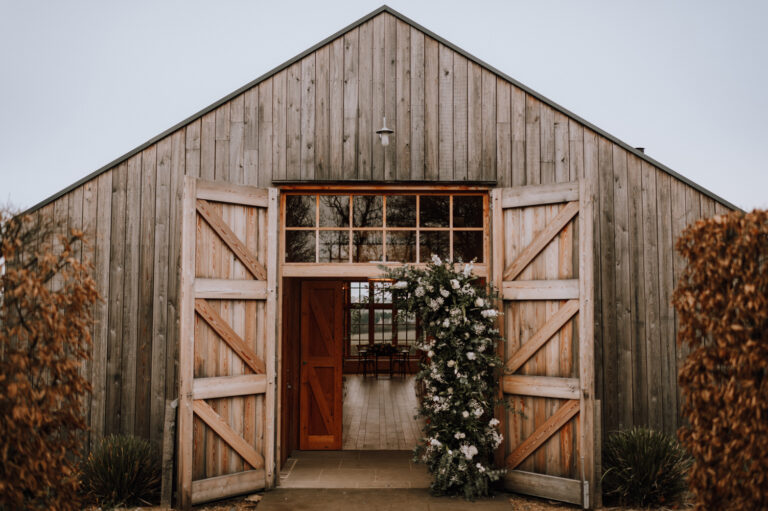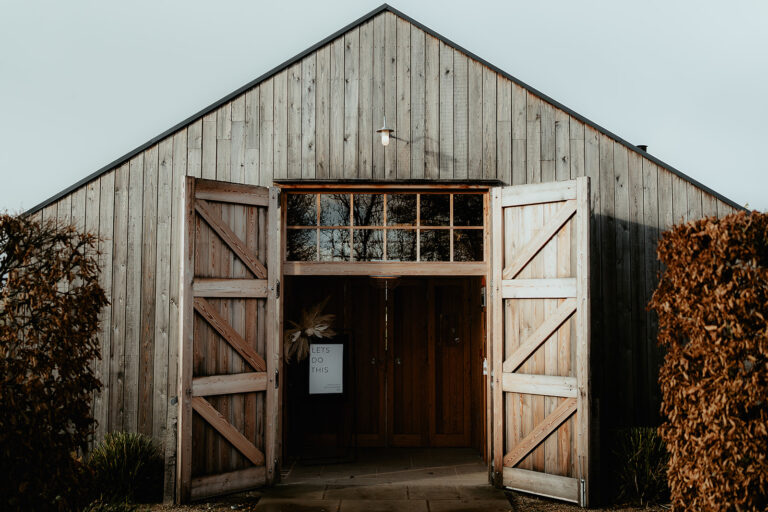 L- Patrick Partridge Photography, Cotswold Wedding Company, Top R- Oobaloos Photography, Stephanie Saunders Flowers, Bottom R- Patrick Partridge Photography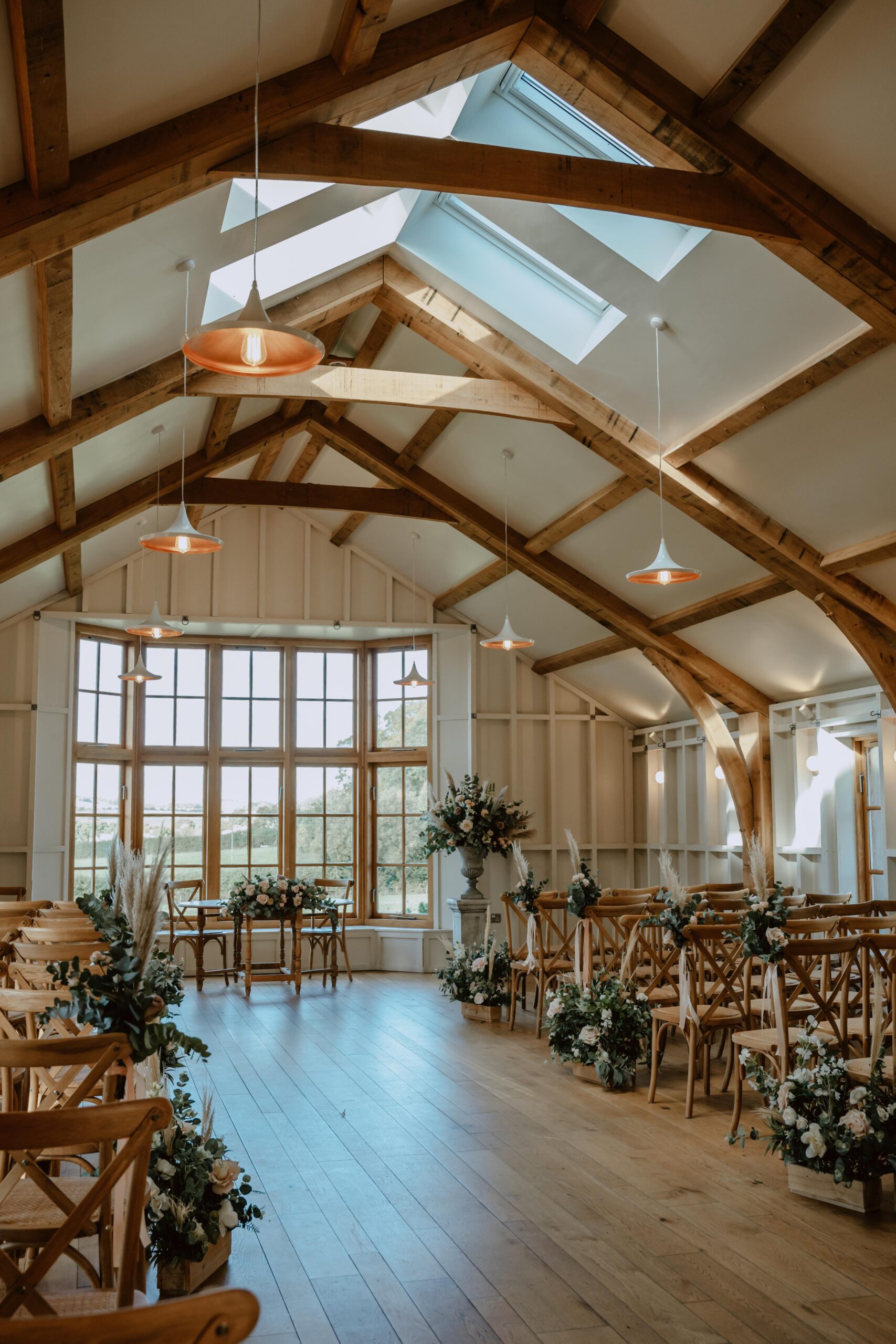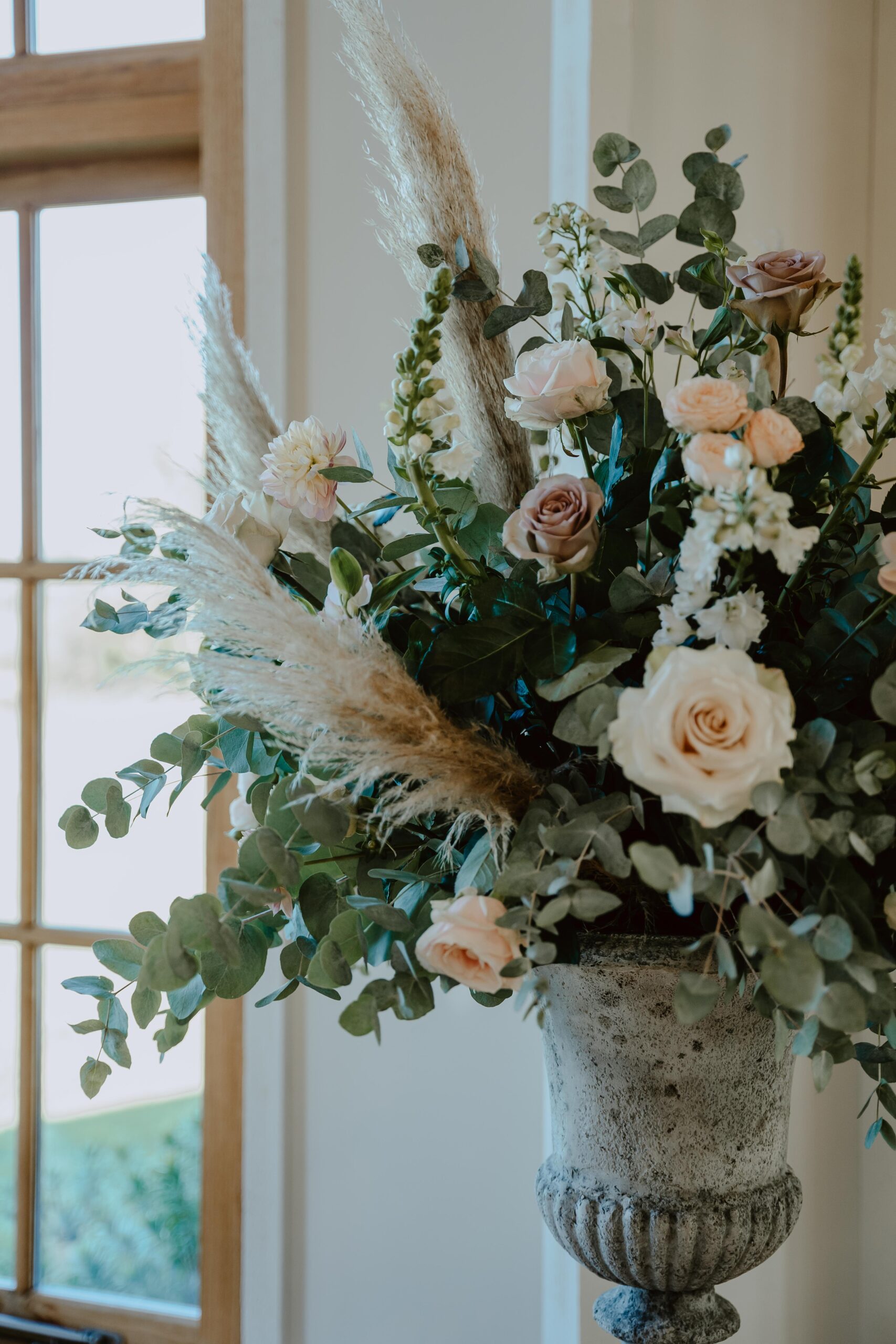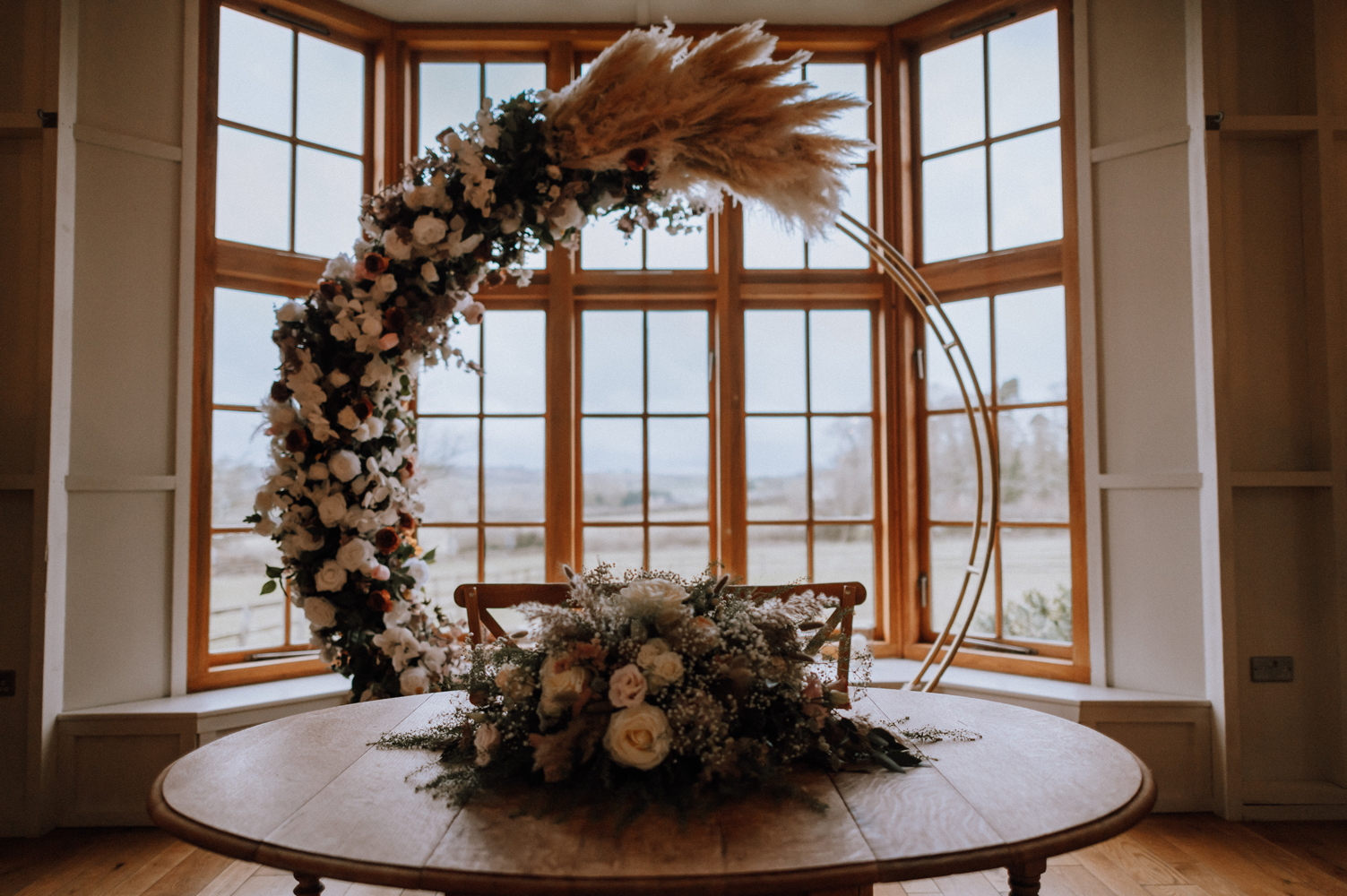 Top L-R- Joanna Brooks Photography, Green and Wild Flowers, Bottom- Oobaloos Photography, Etiquette Event Stylist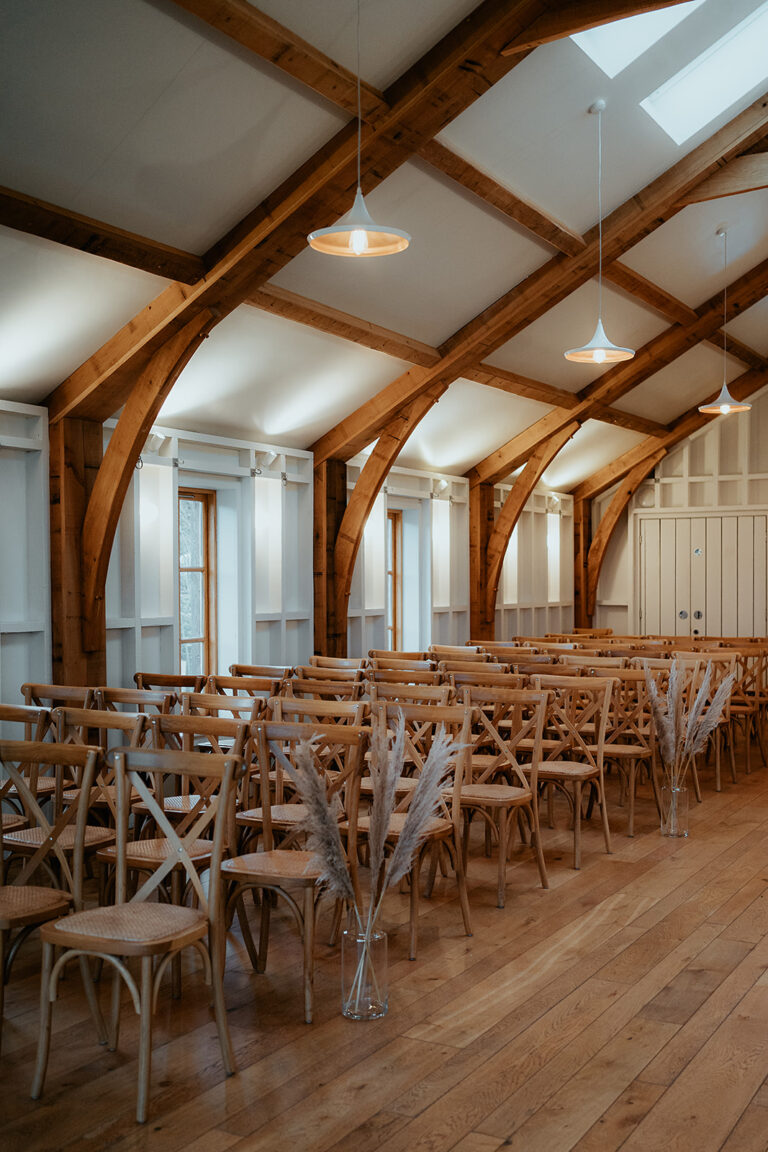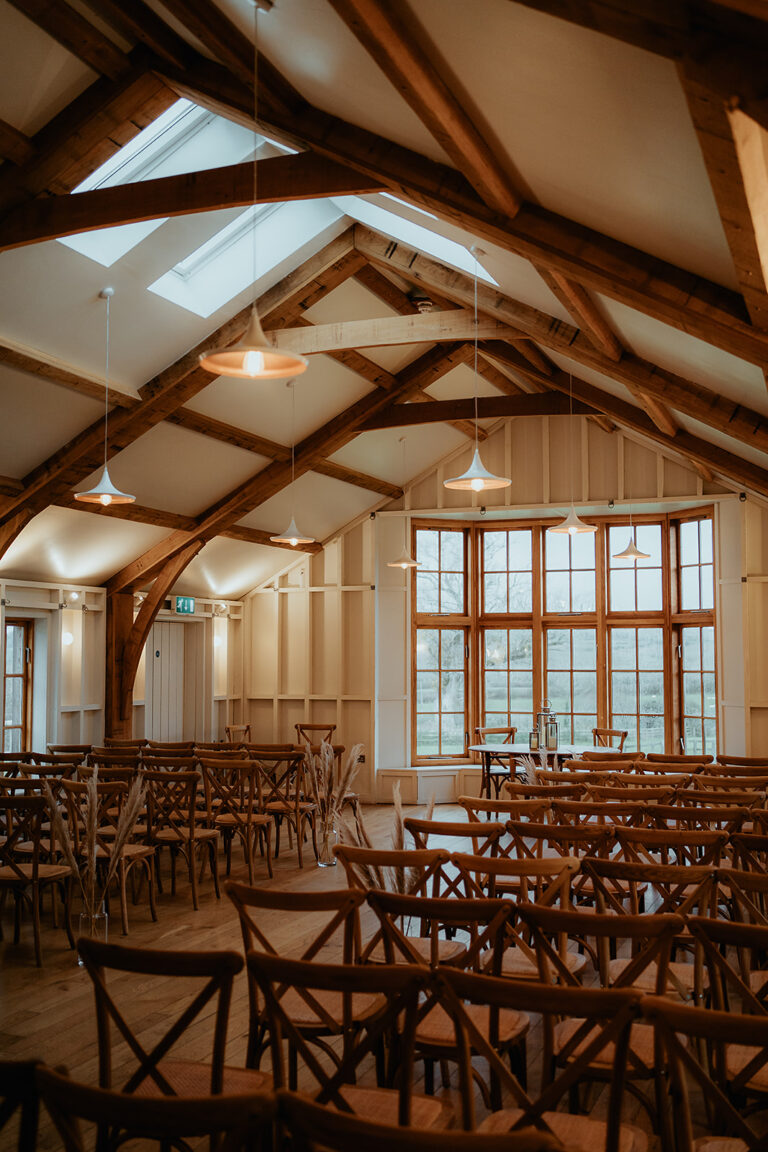 Patrick Partridge Photography, Dried and Tied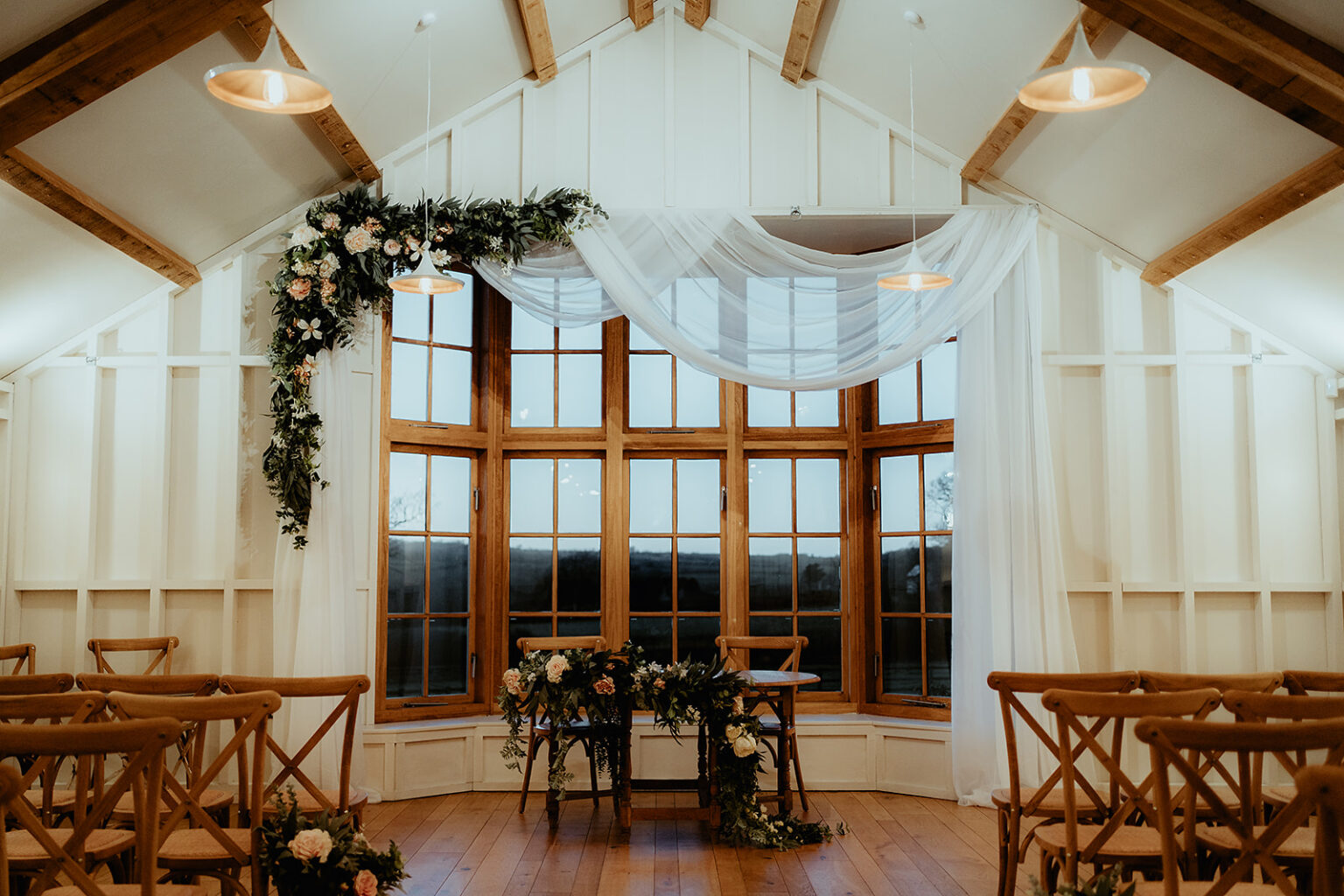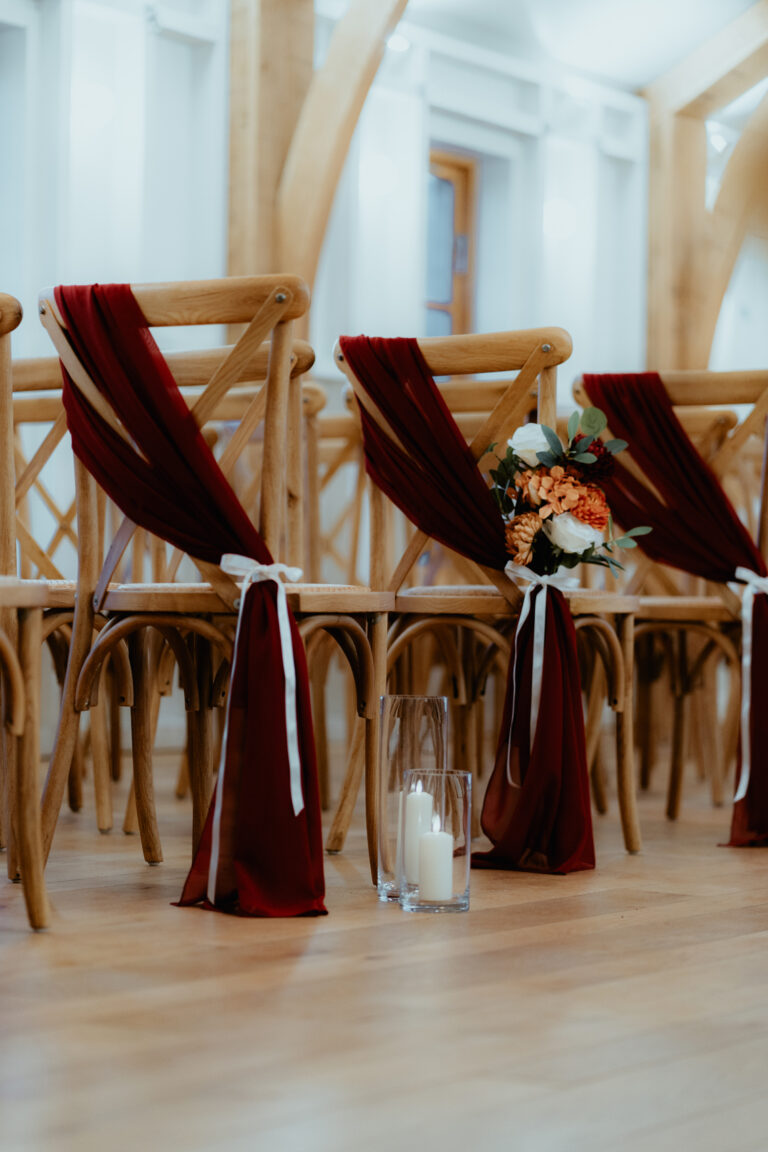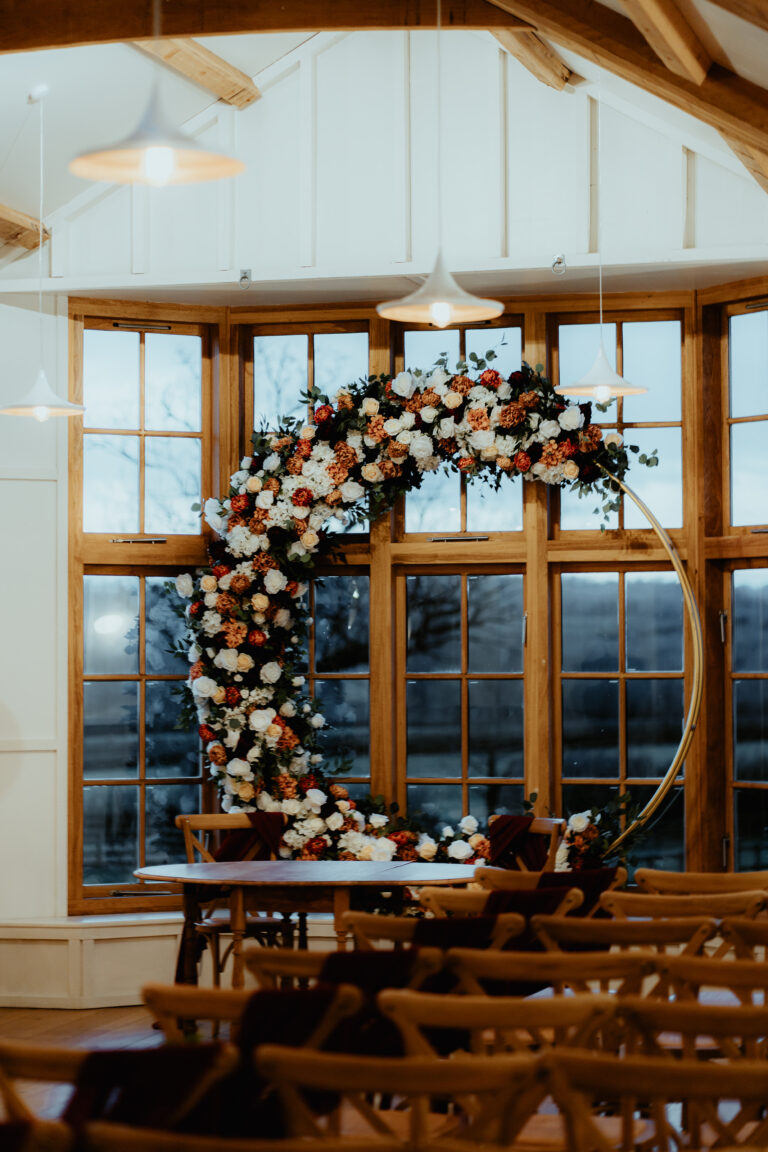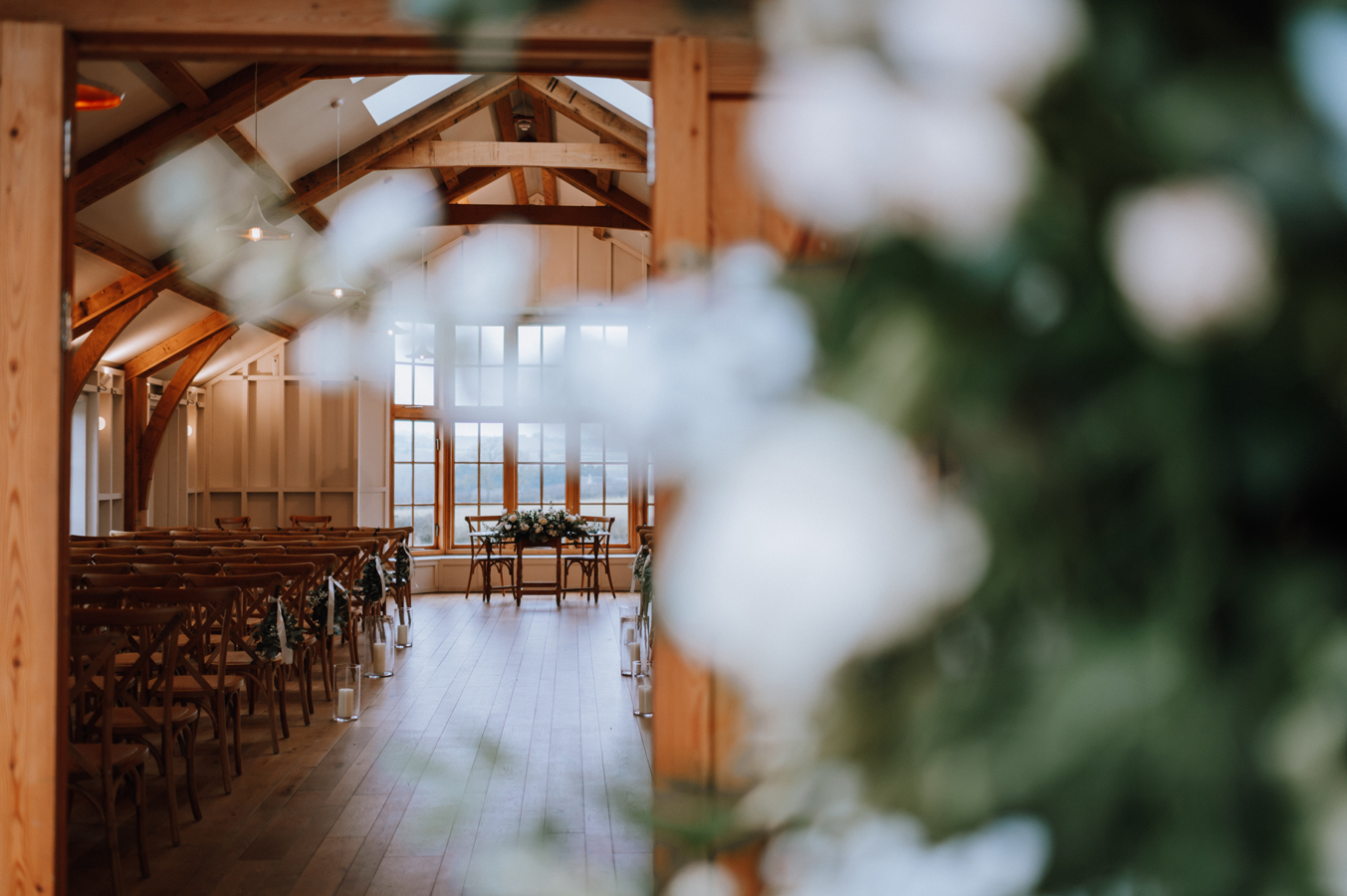 Top- middle- Patrick Partridge Photography, Cotswold Wedding Company, Bottom- Oobaloos Photography, Stephanie Saunders Flowers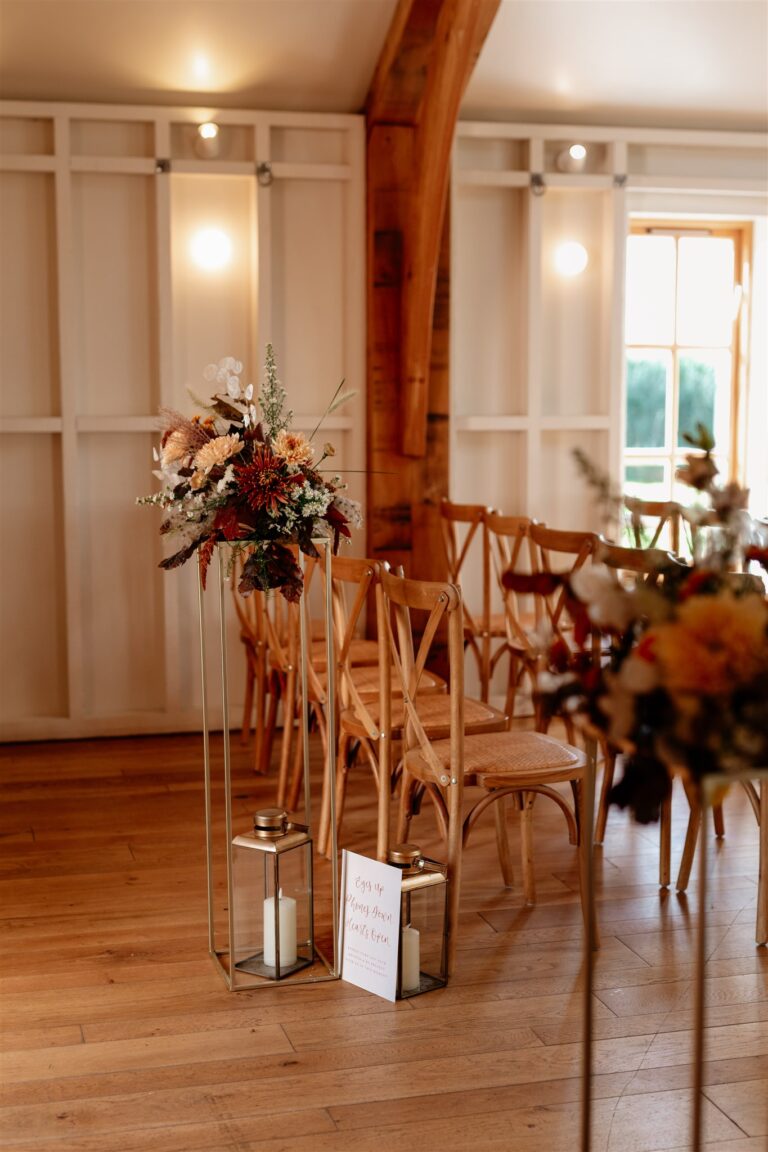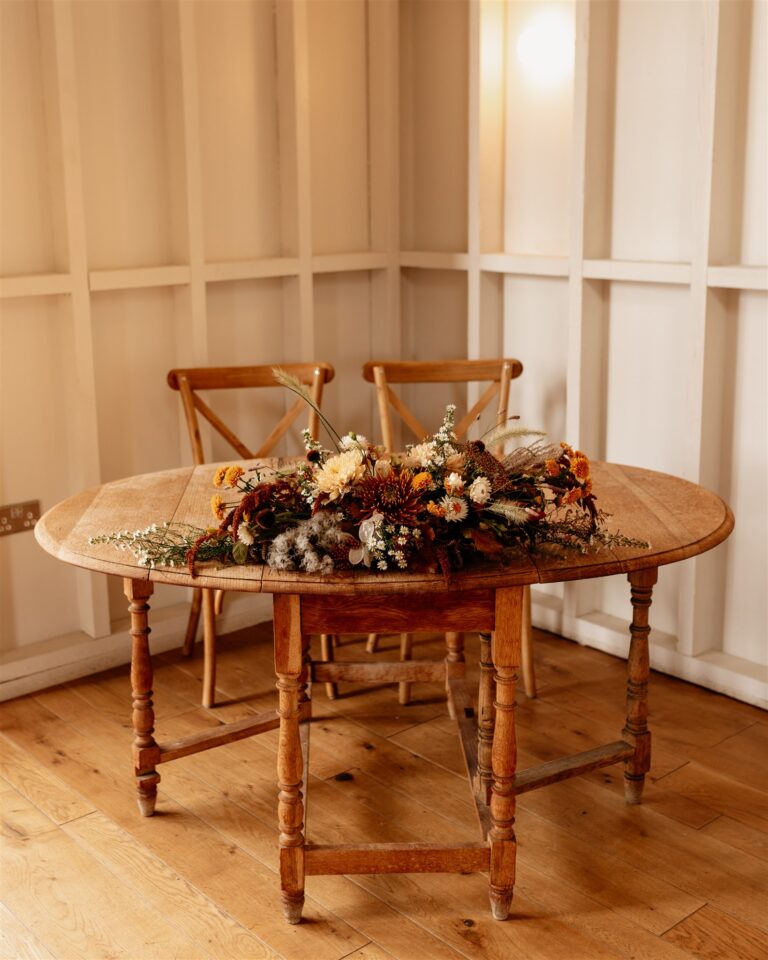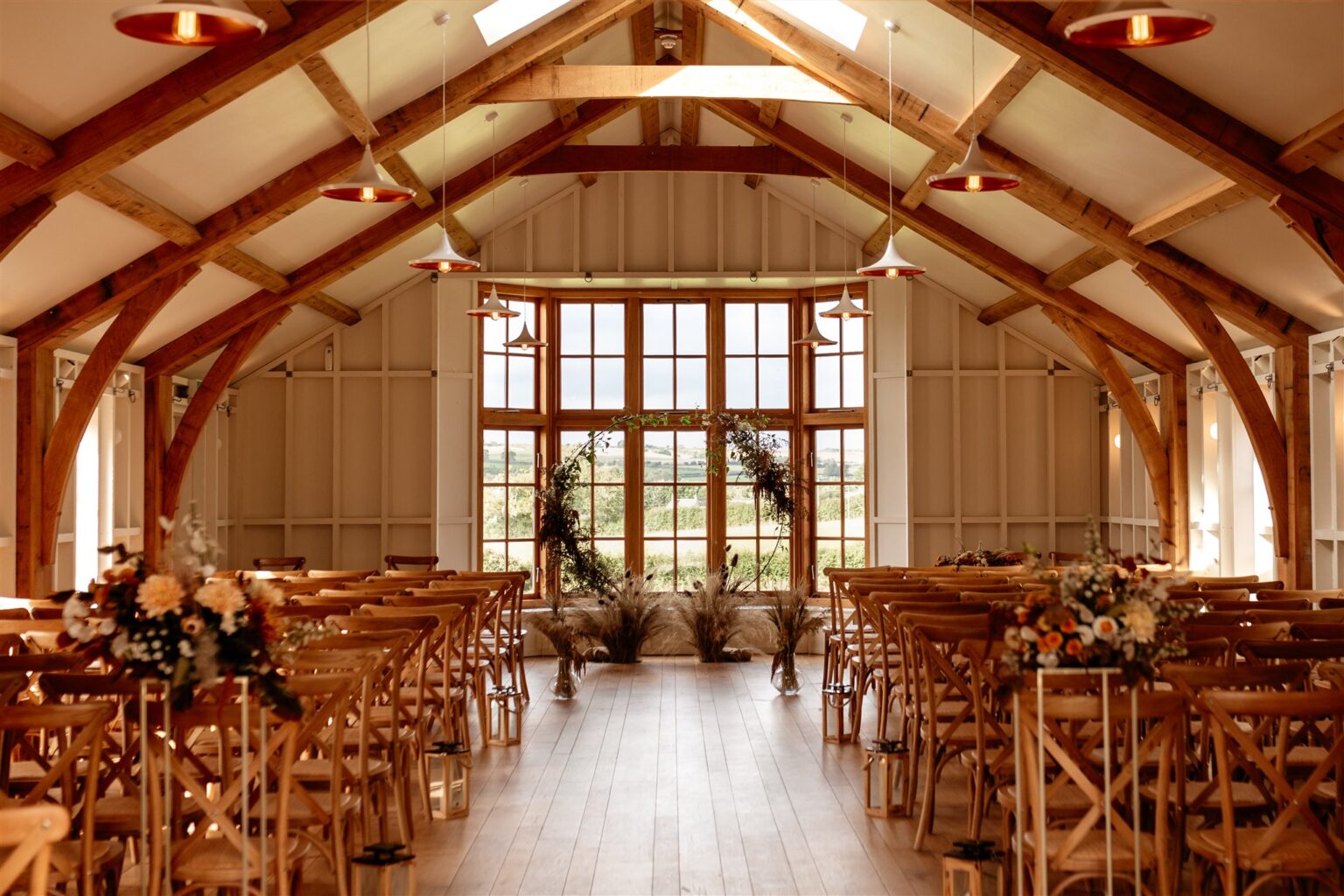 Laura Martha Photography, The Native Florist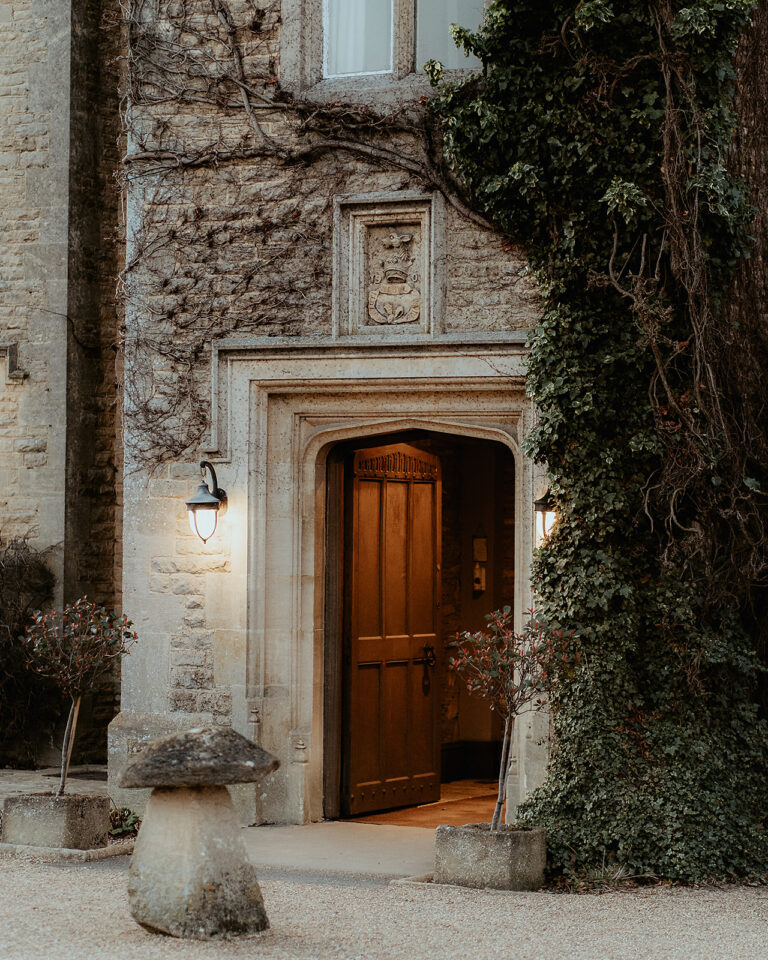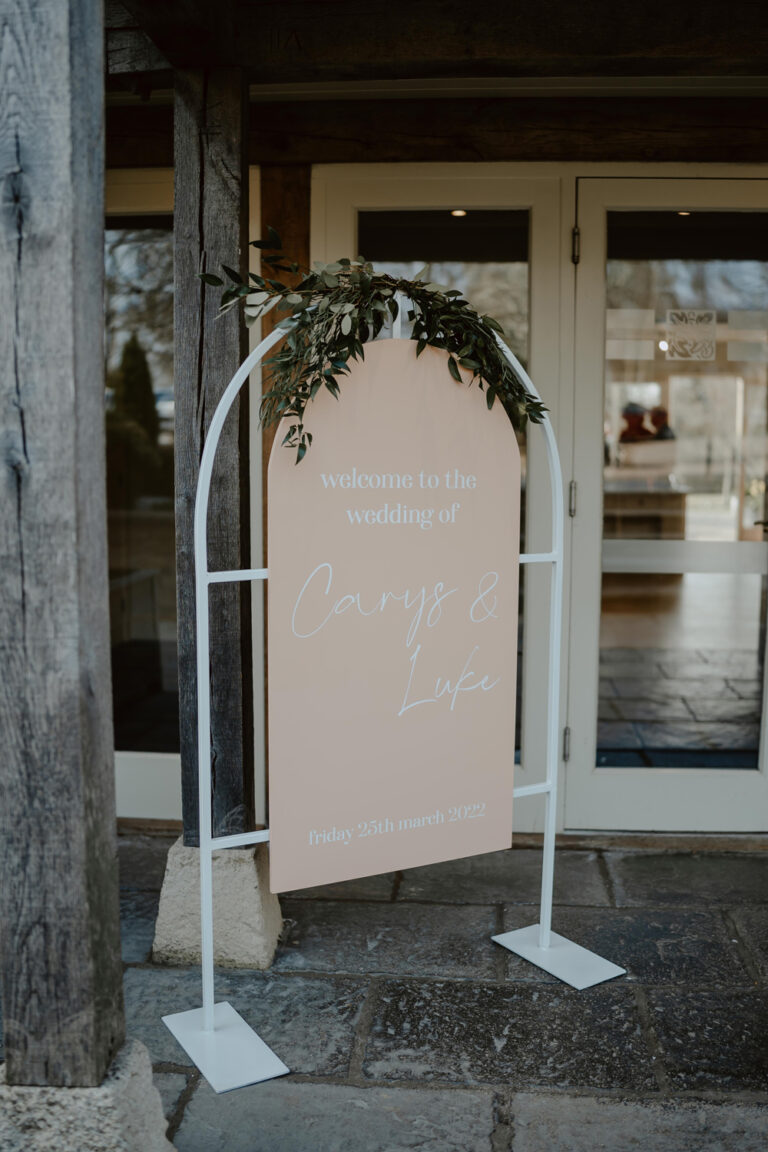 L- Patrick Partridge Photography, R- Joanna Brooks Photography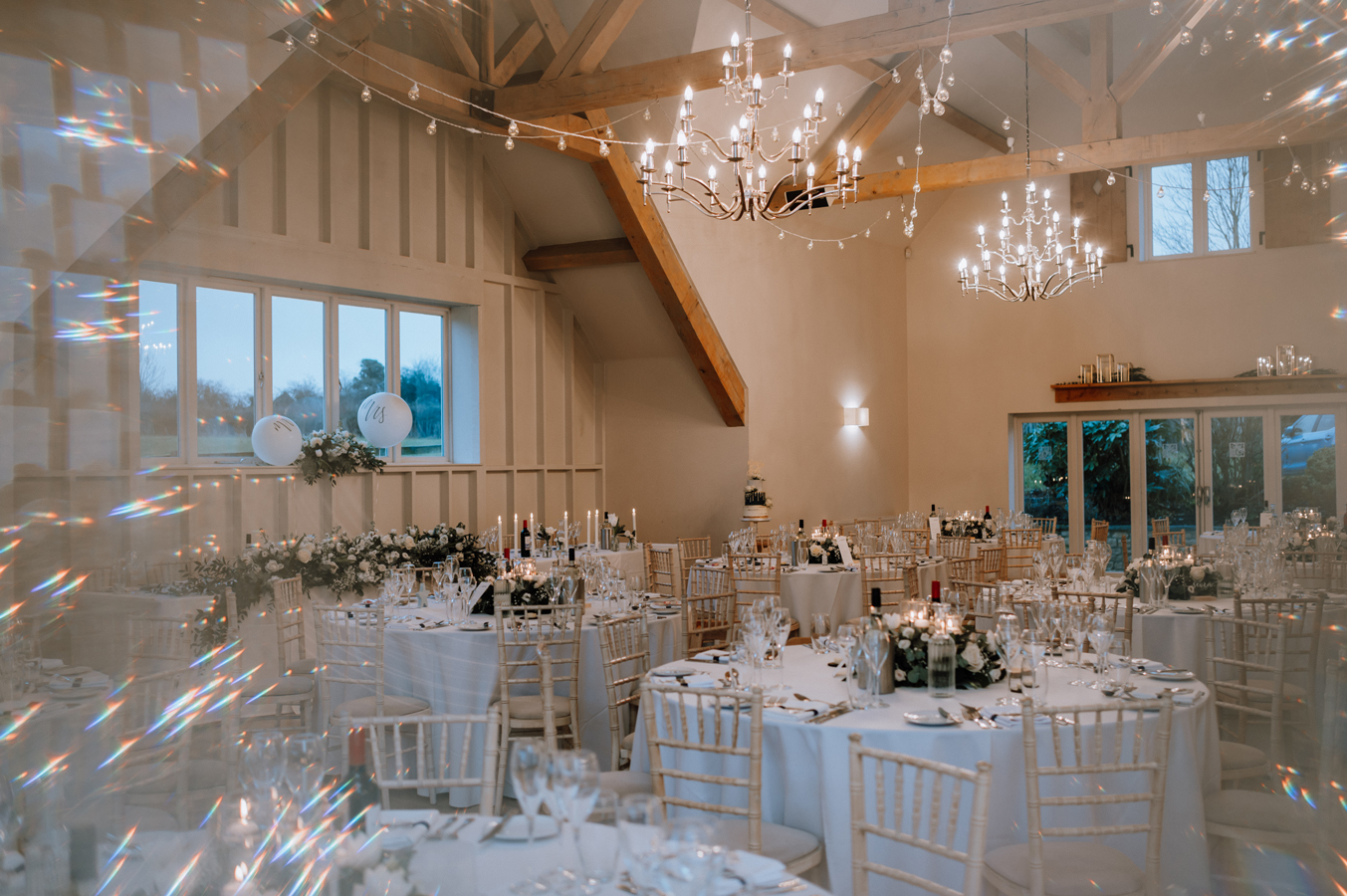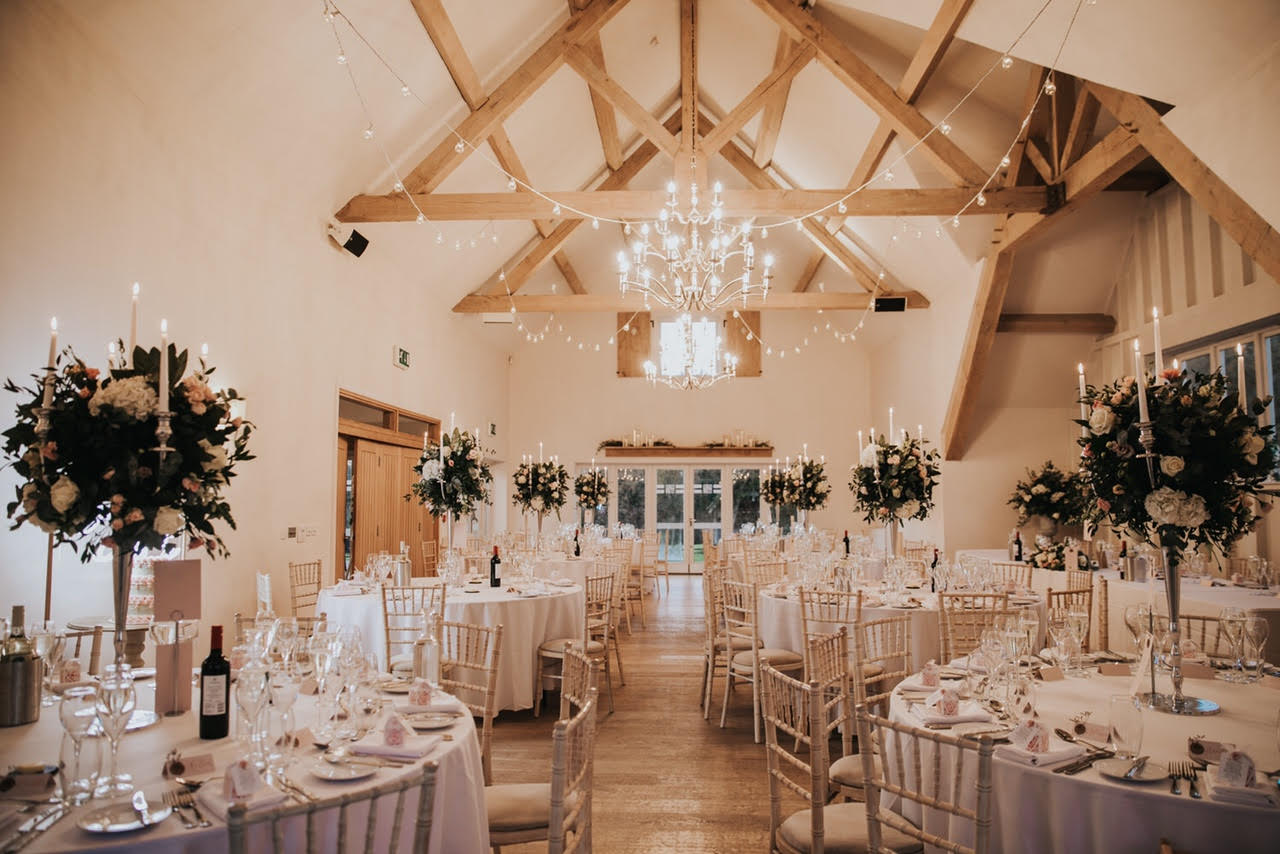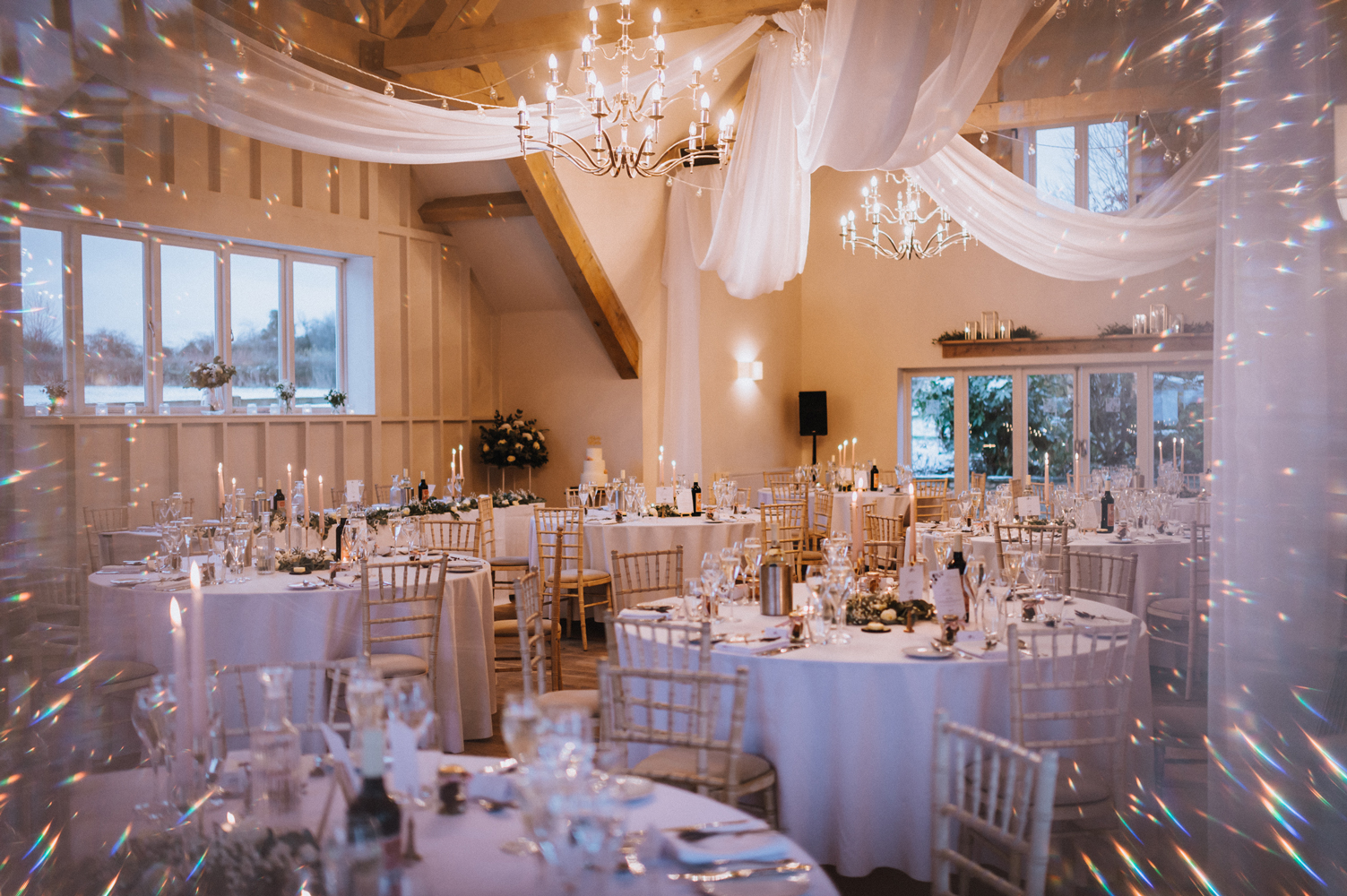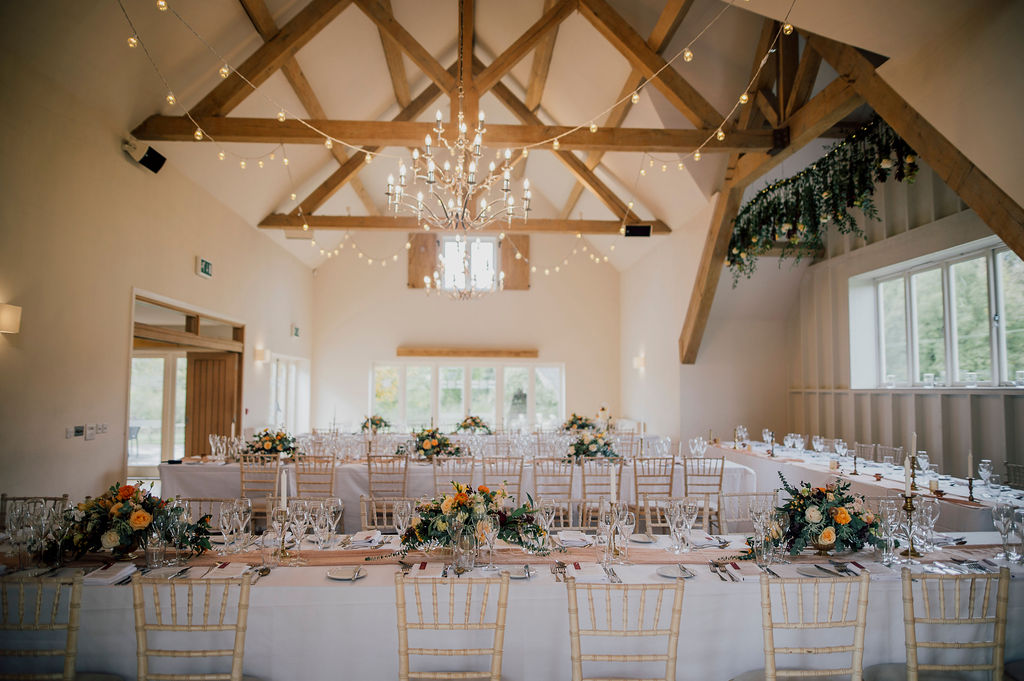 Top- bottom- Oobaloos Photography, Stephanie Saunders Flowers; Natalie Watts Photography, Stow Flower Shop; Oobaloos Photography, Faye's Flowers; Dearest Love Photography, Alex Boulton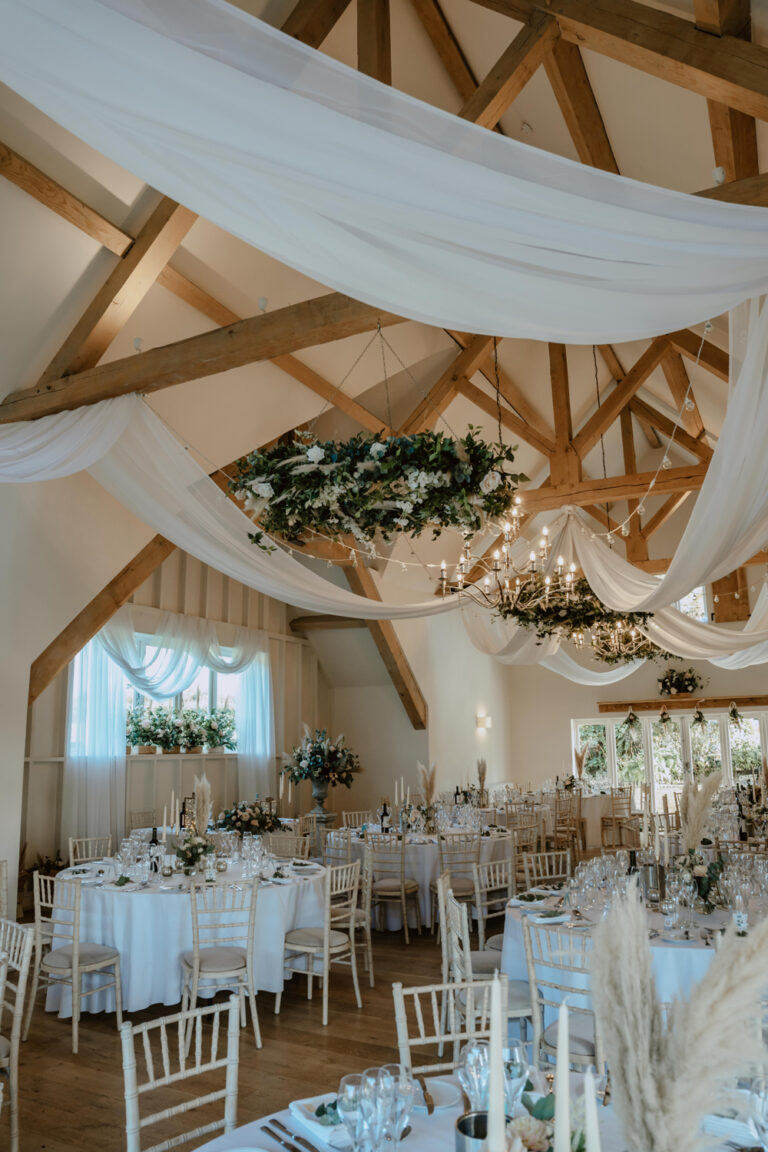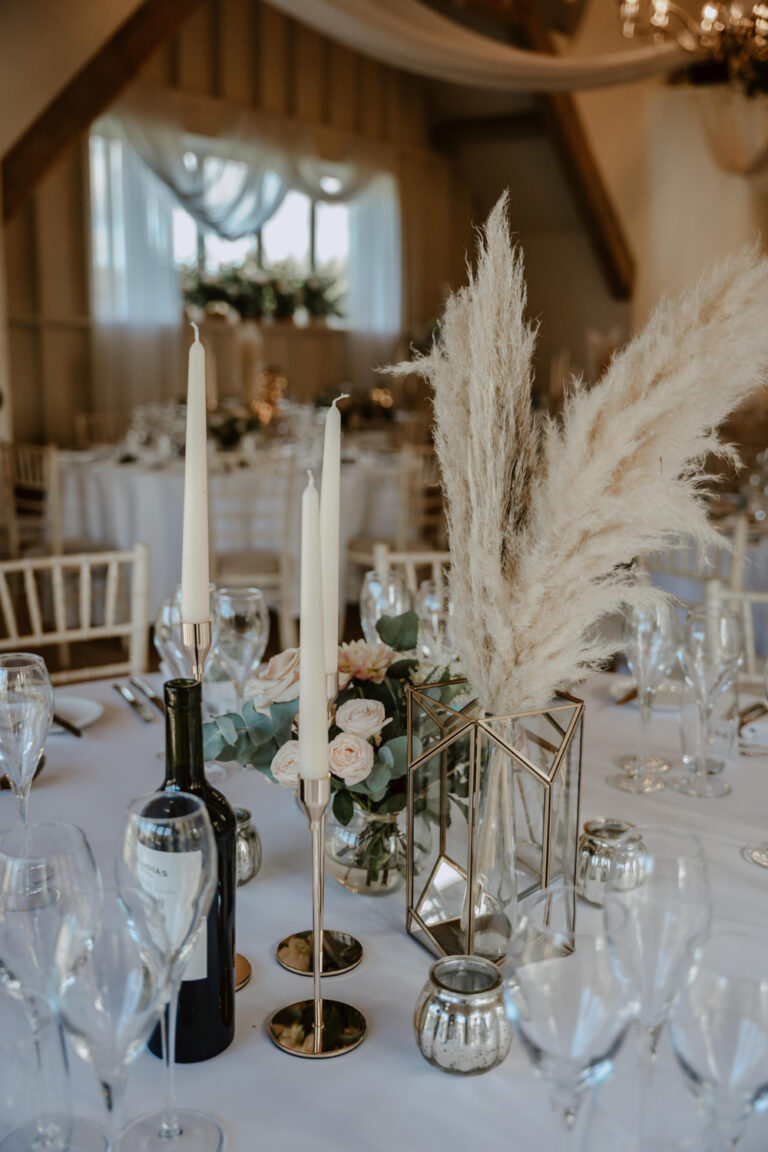 Joanna Brooks Photography, Green and Wild Flowers, White Fern Weddings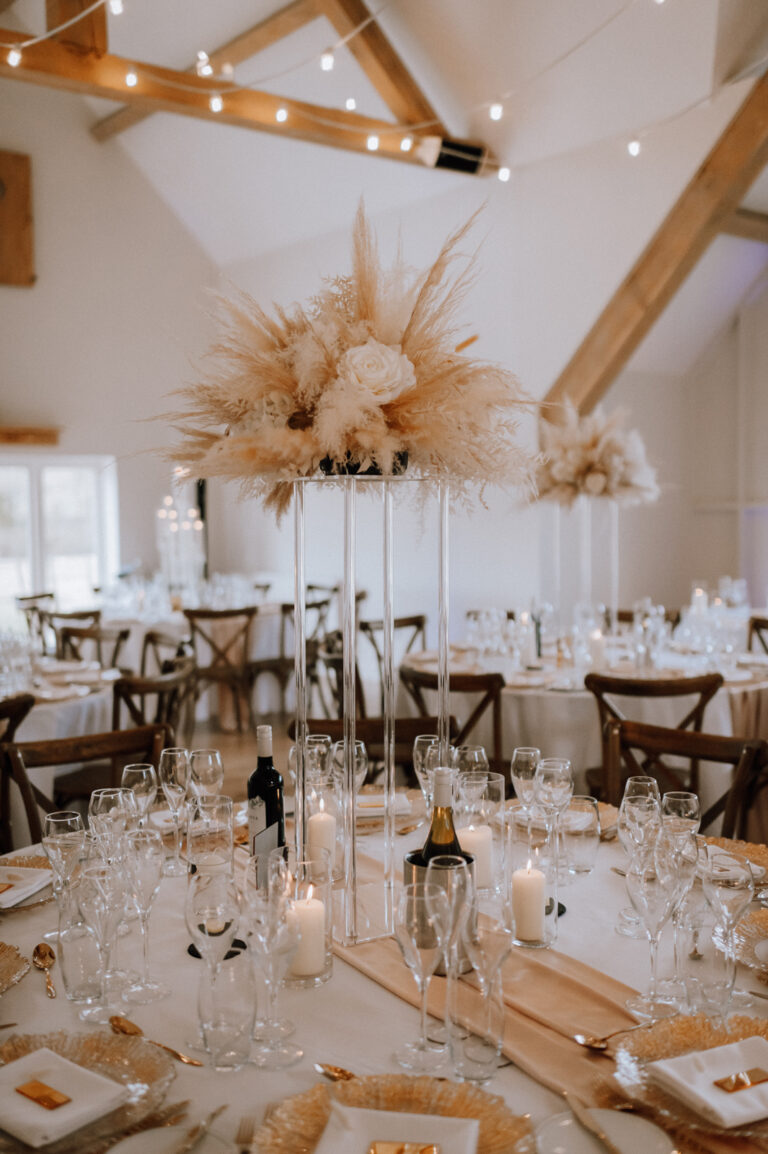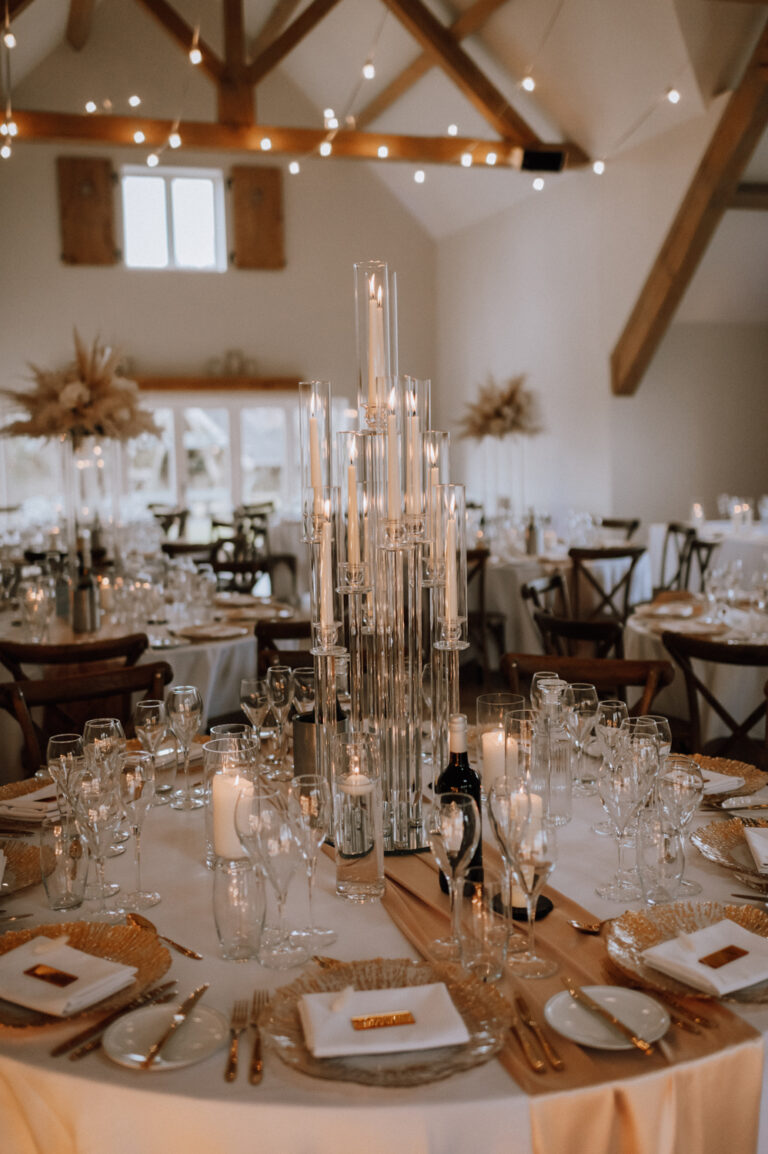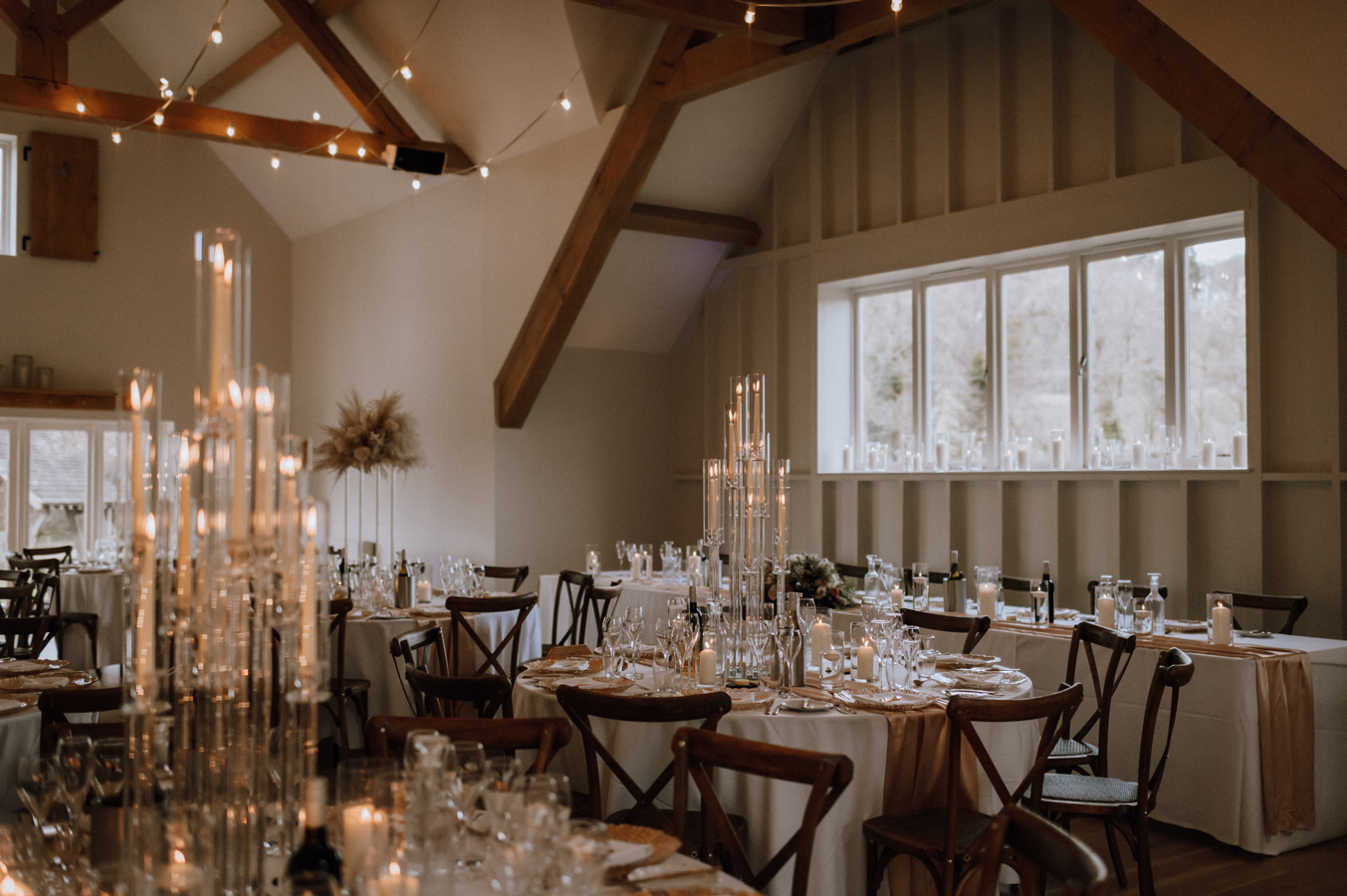 Oobaloos Photography, Etiquette Event Stylist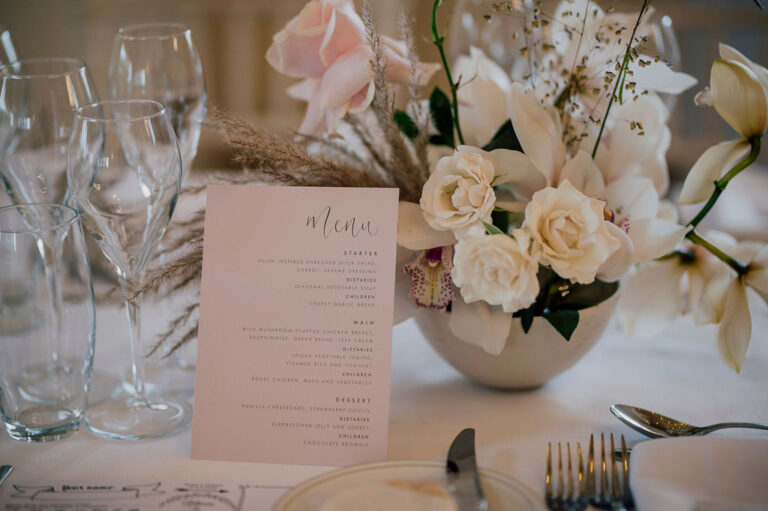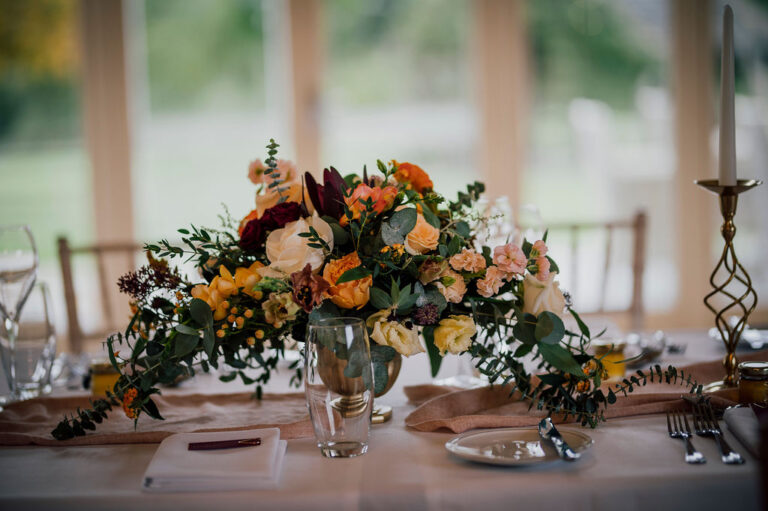 L- Joanna Brooks Photography, The Wilde Bunch, Top R- Dearest Love Photography, Haze Lea Floral Design, LouPaper Design, Bottom R- Dearest Love Photography, Alex Boulton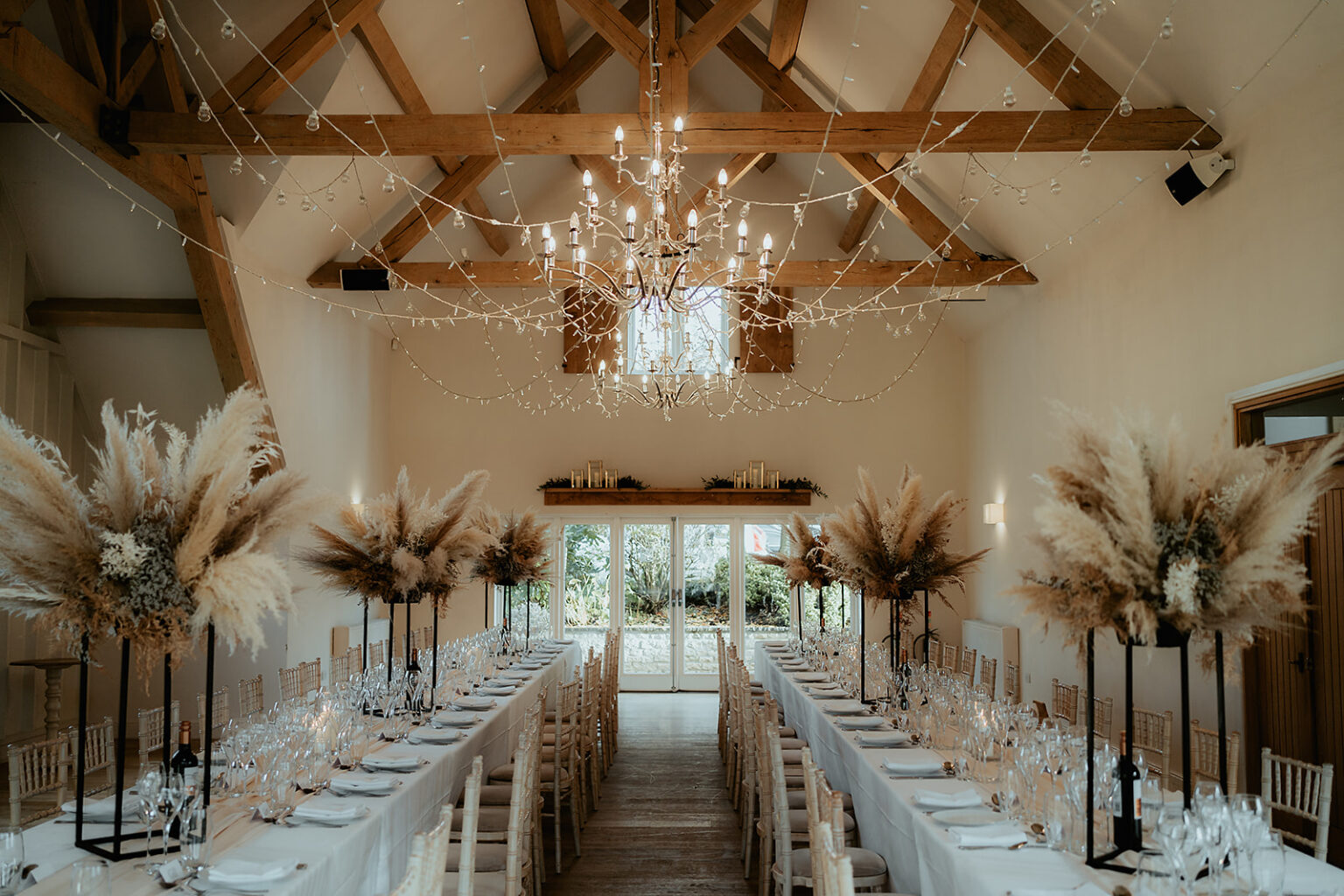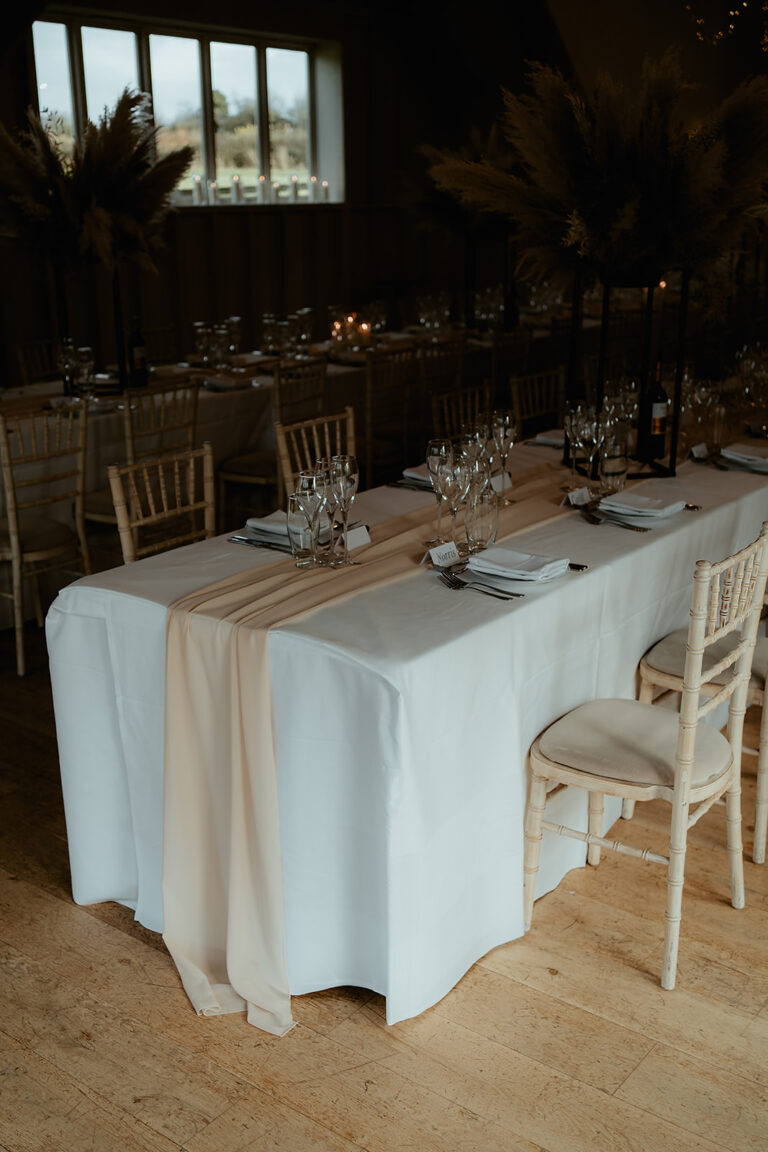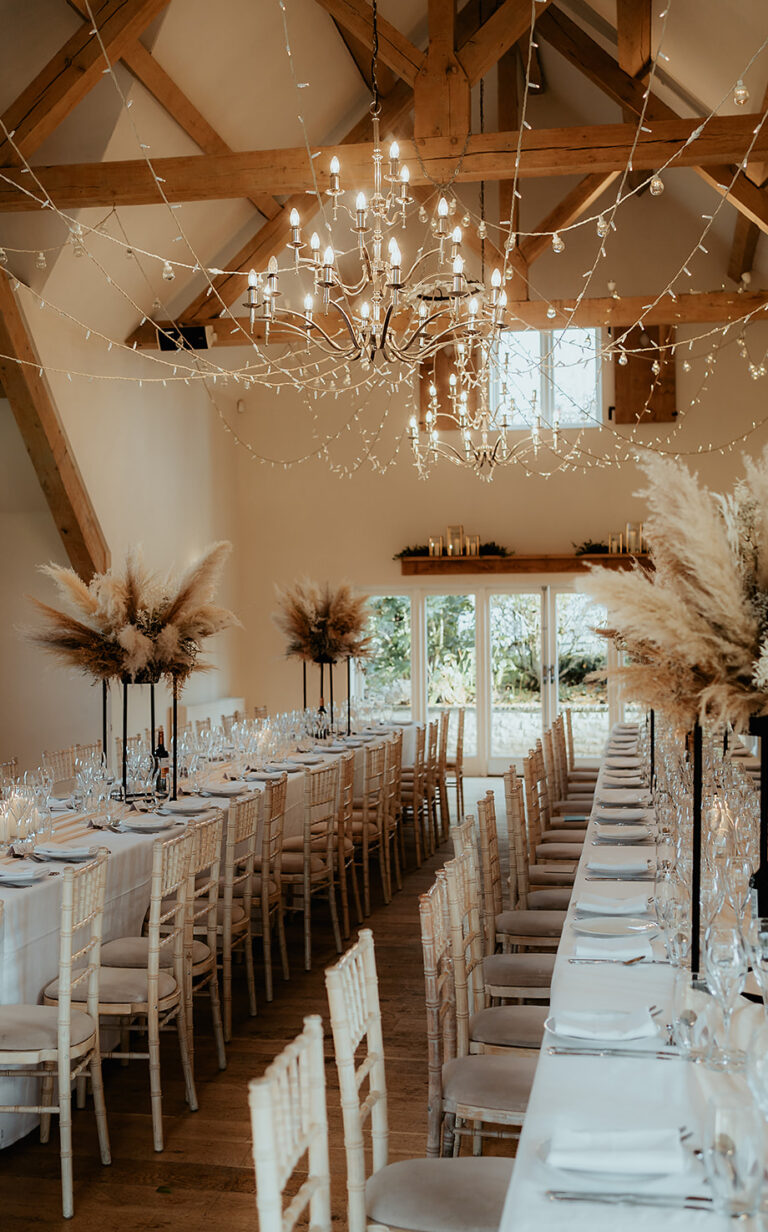 Patrick Partridge Photography, Dried and Tied, Cotswold Wedding Company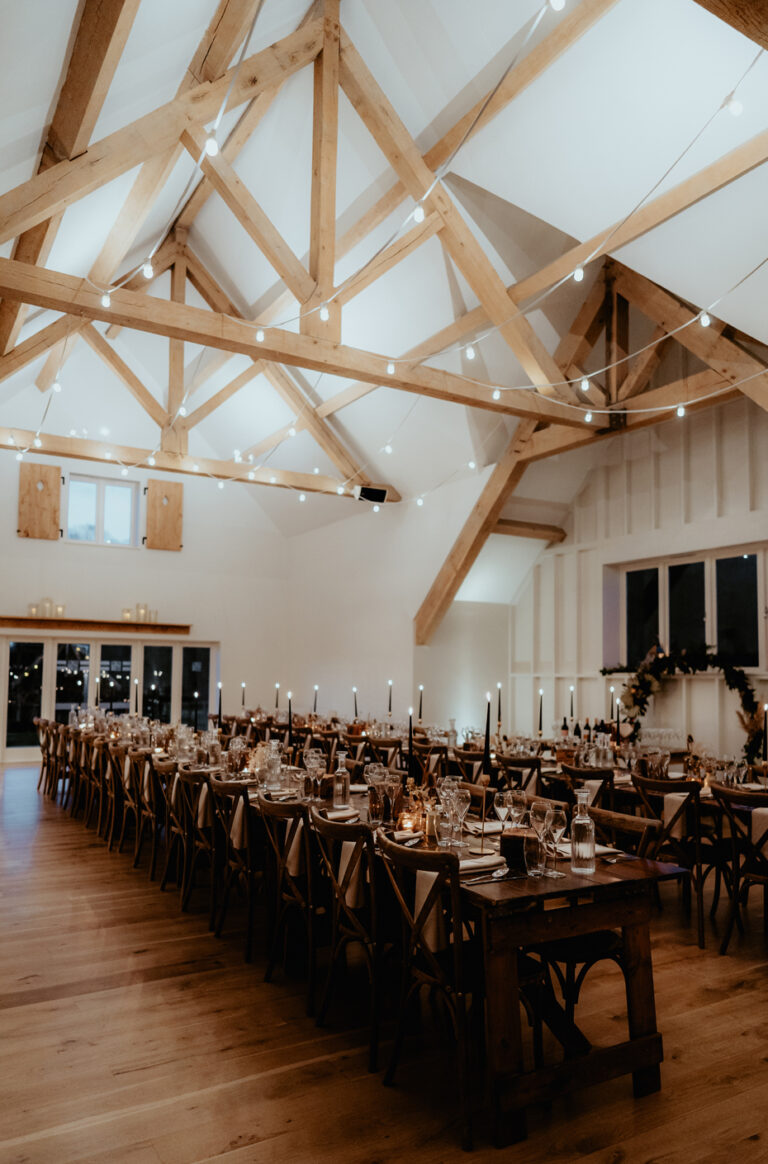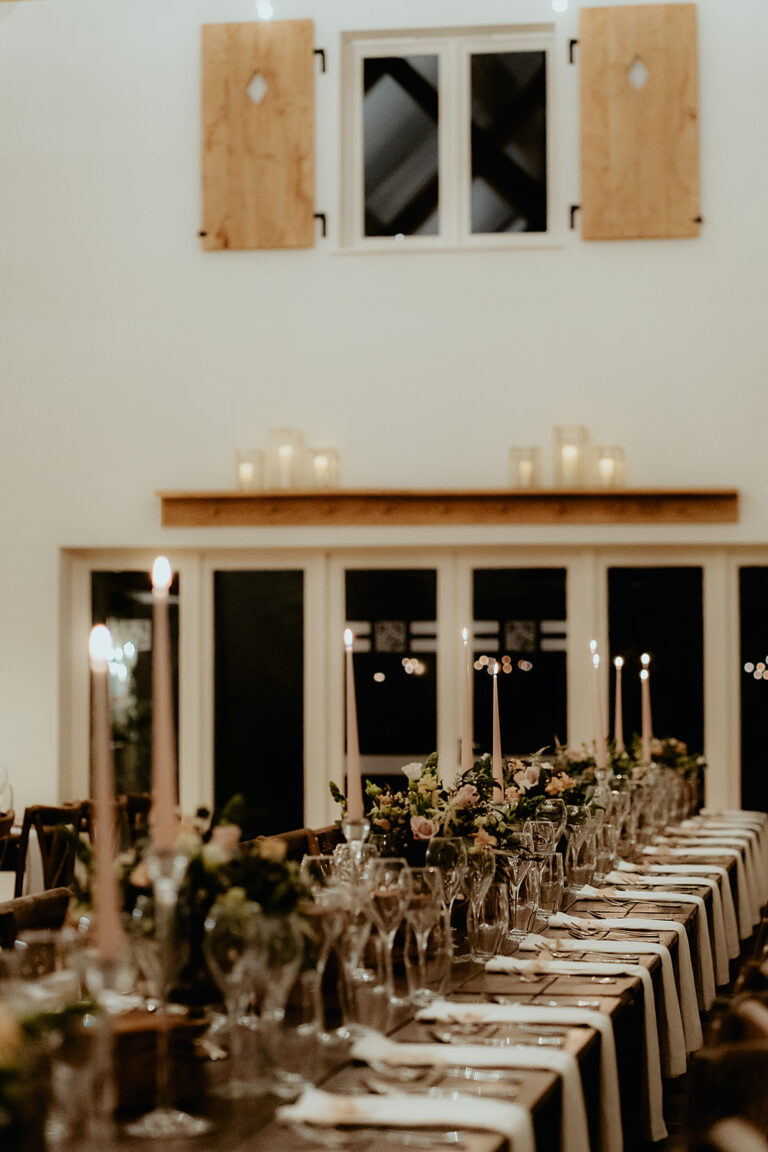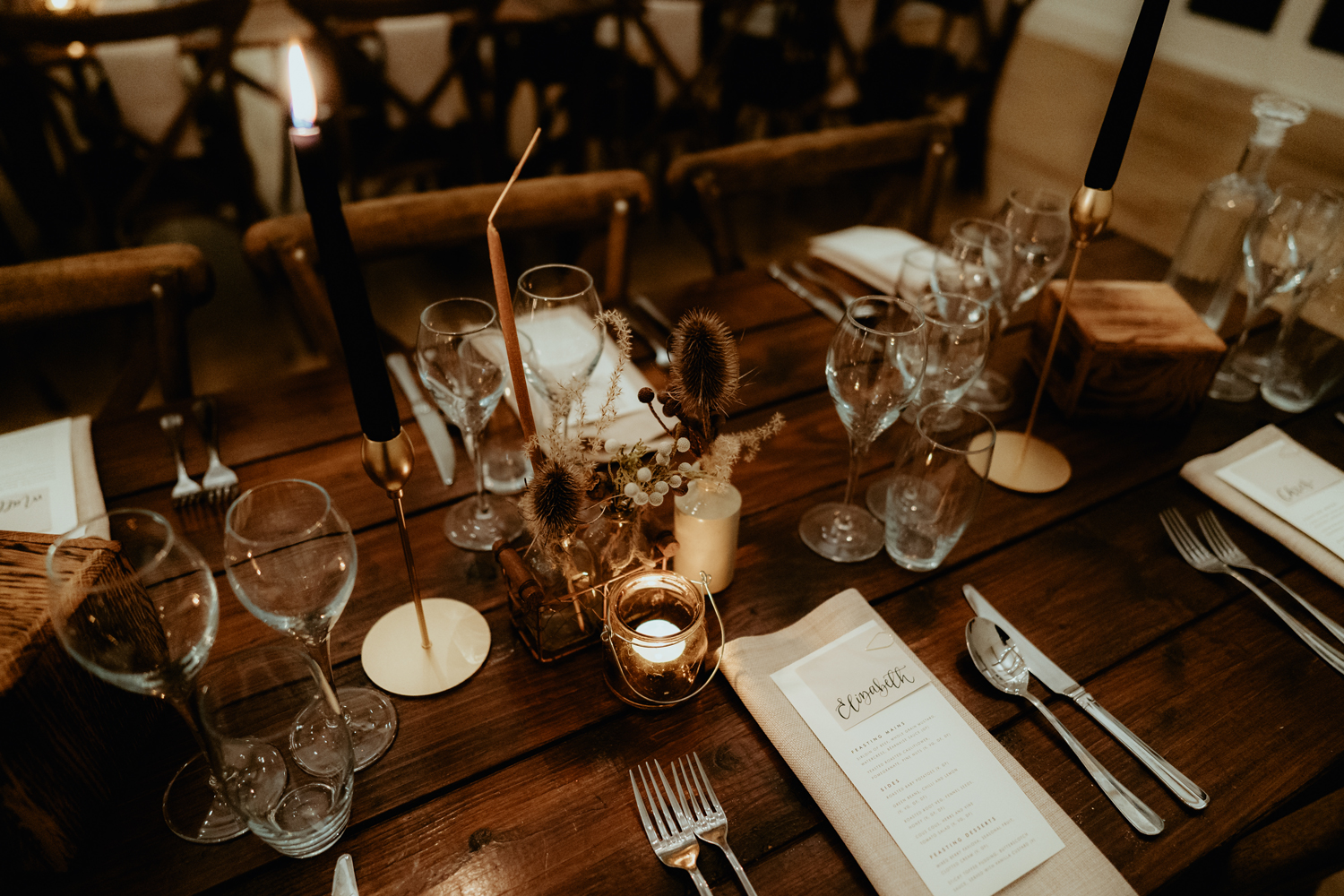 Patrick Partridge Photography, Forget Me Nots, Cotswold Wedding Company, LouPaper Design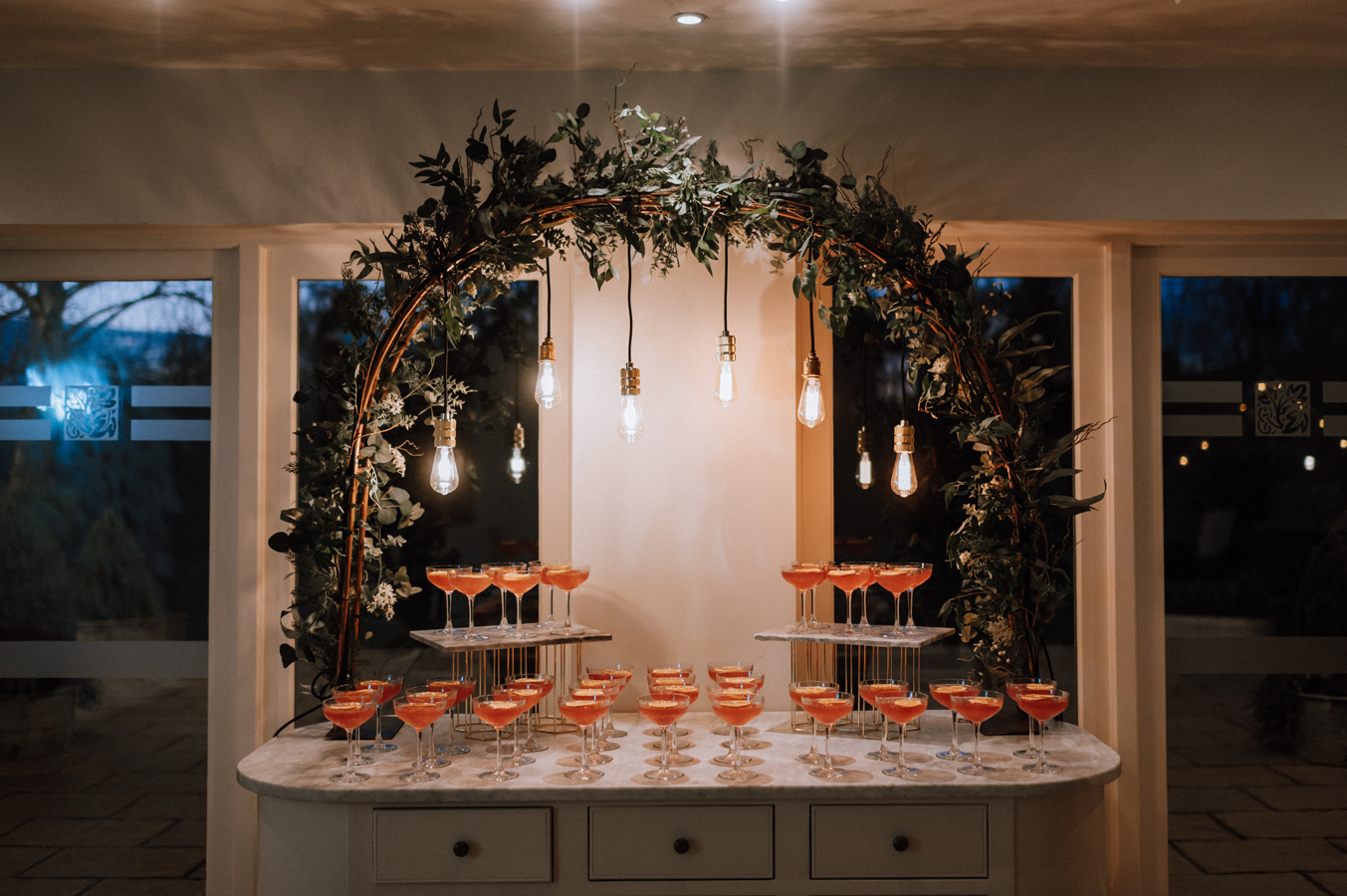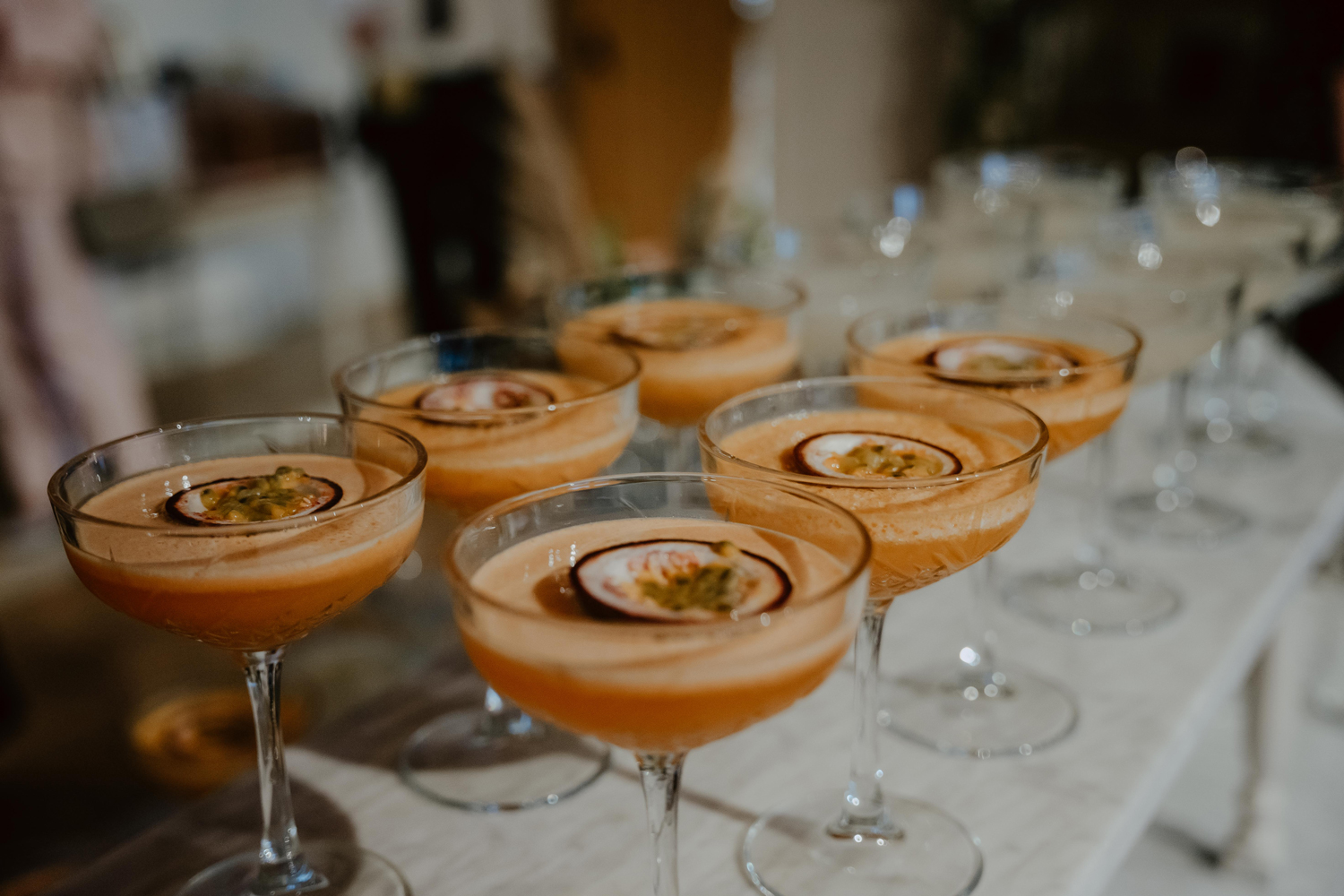 Top: Oobaloos Photography, Bottom: Joanna Brooks Photography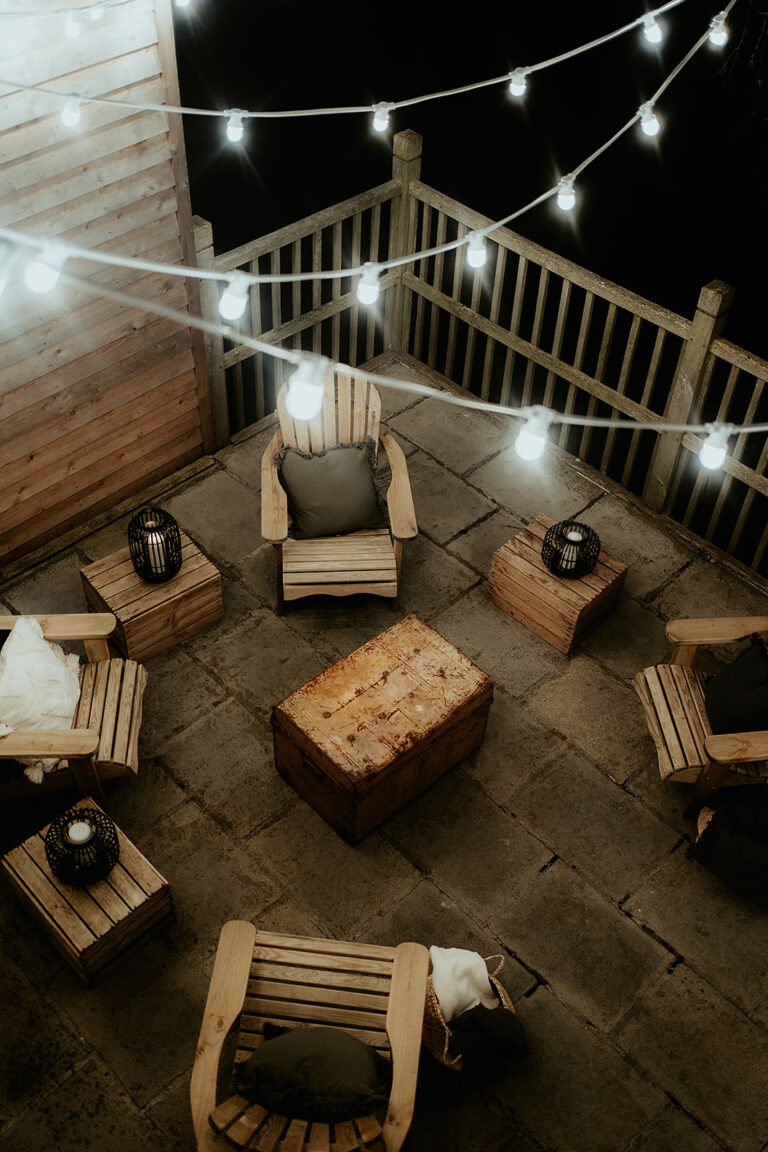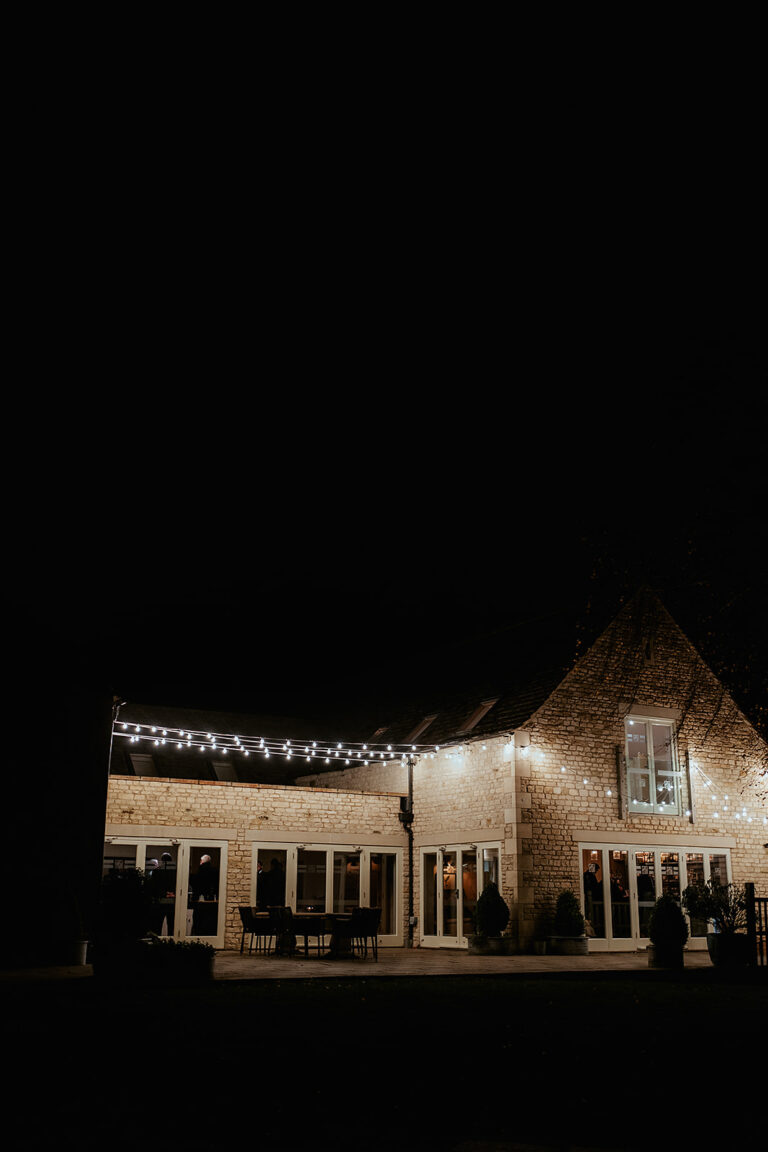 Top- Oobaloos Photography, Bottom L&R- Patrick Partridge Photography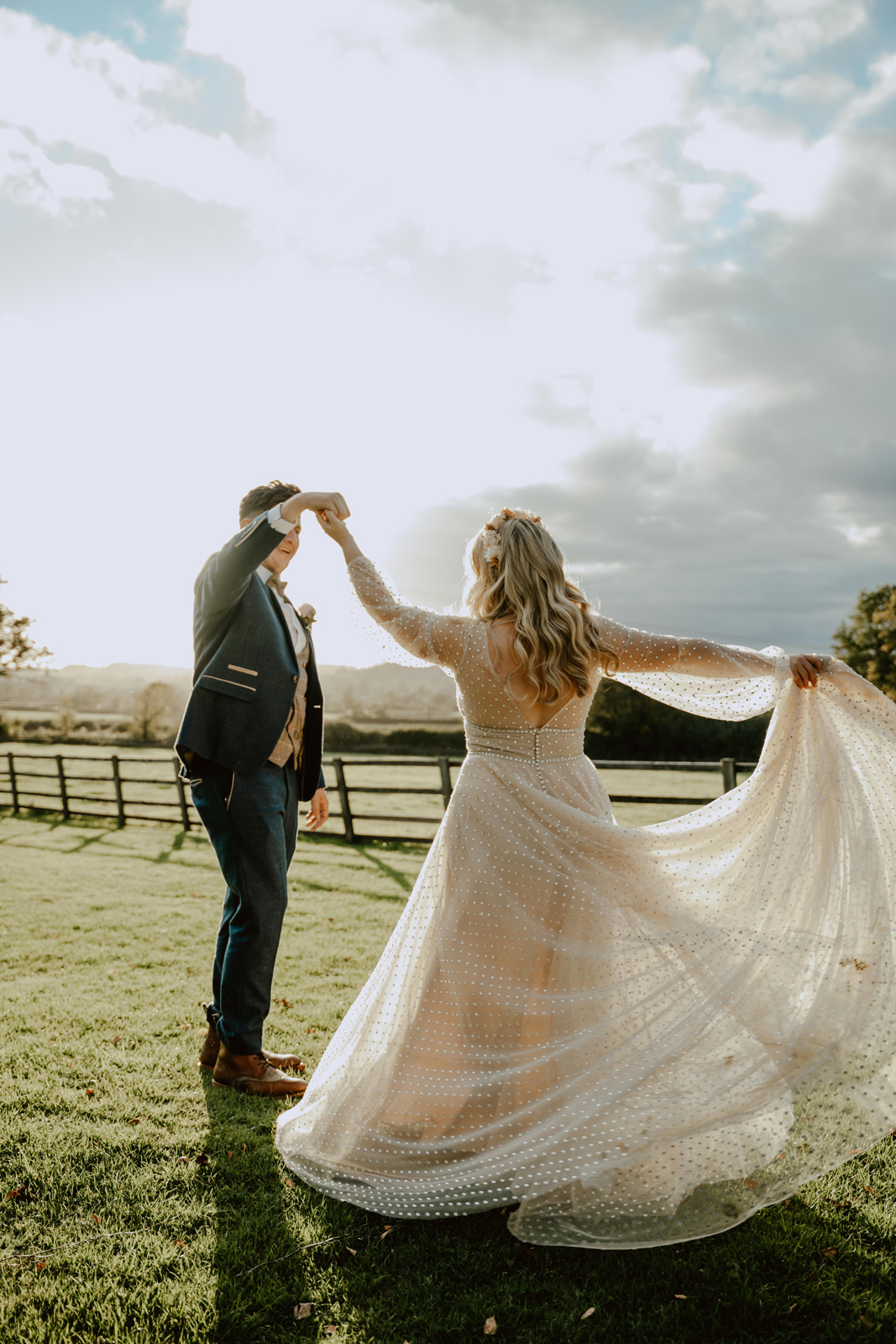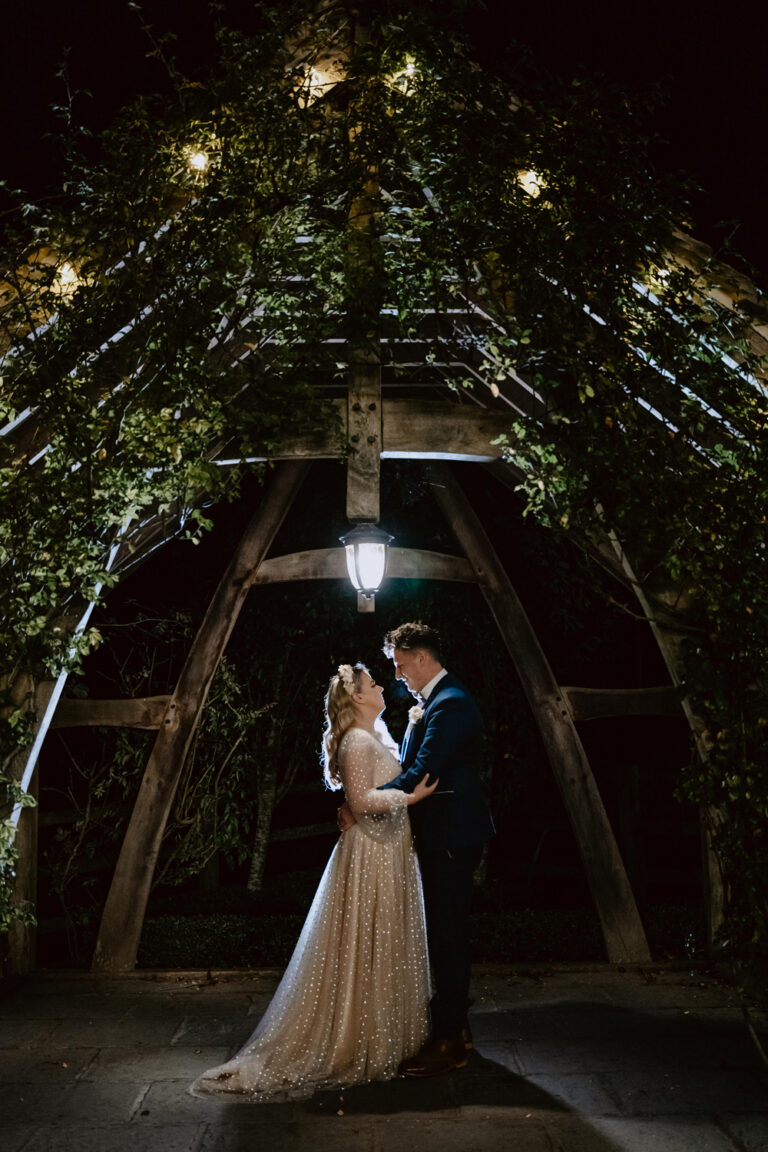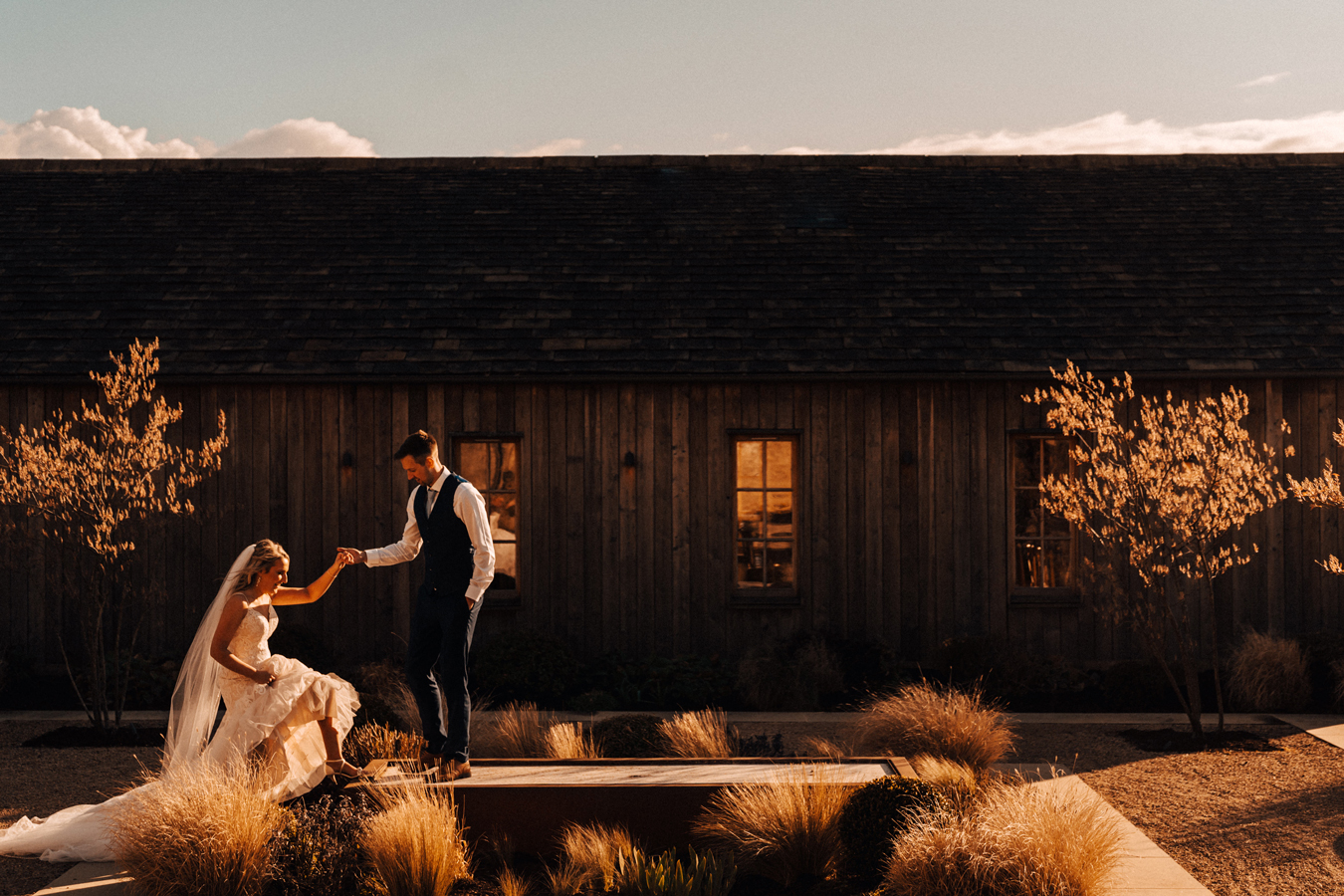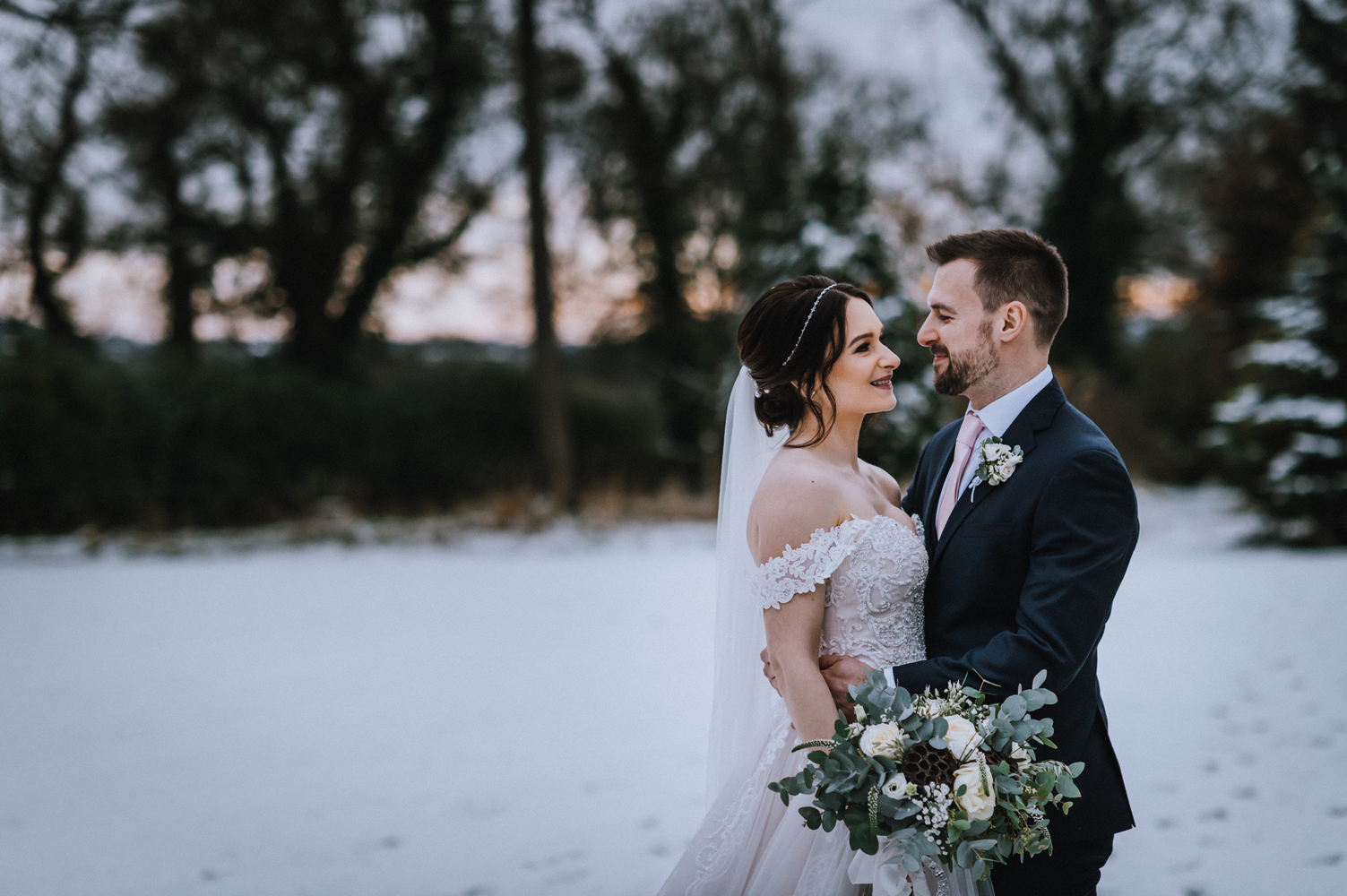 Top- James Fear Photography, Bottom- Oobaloos Photography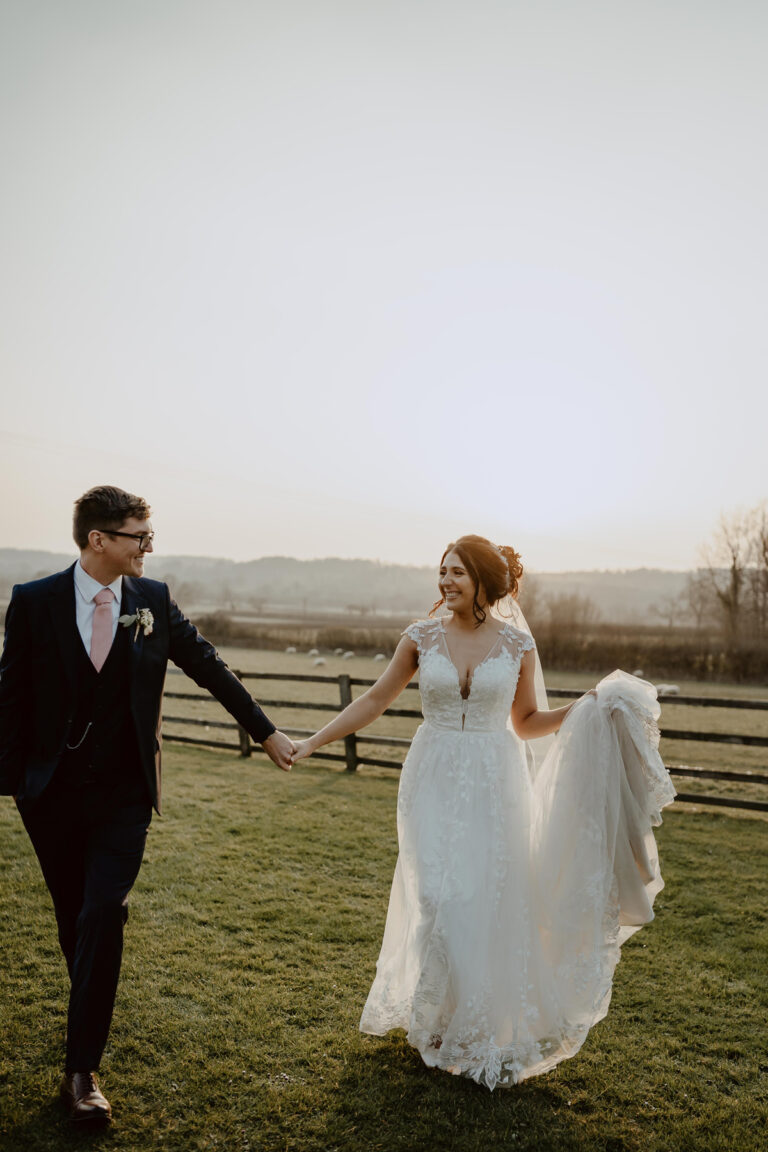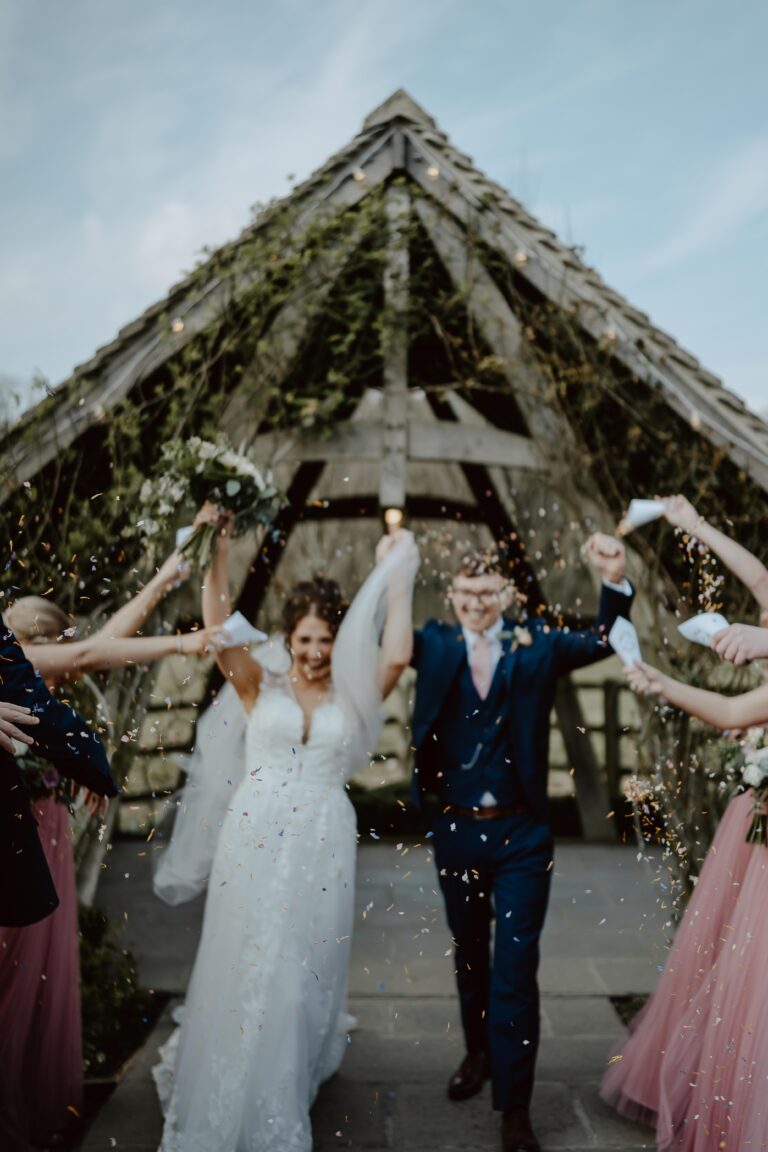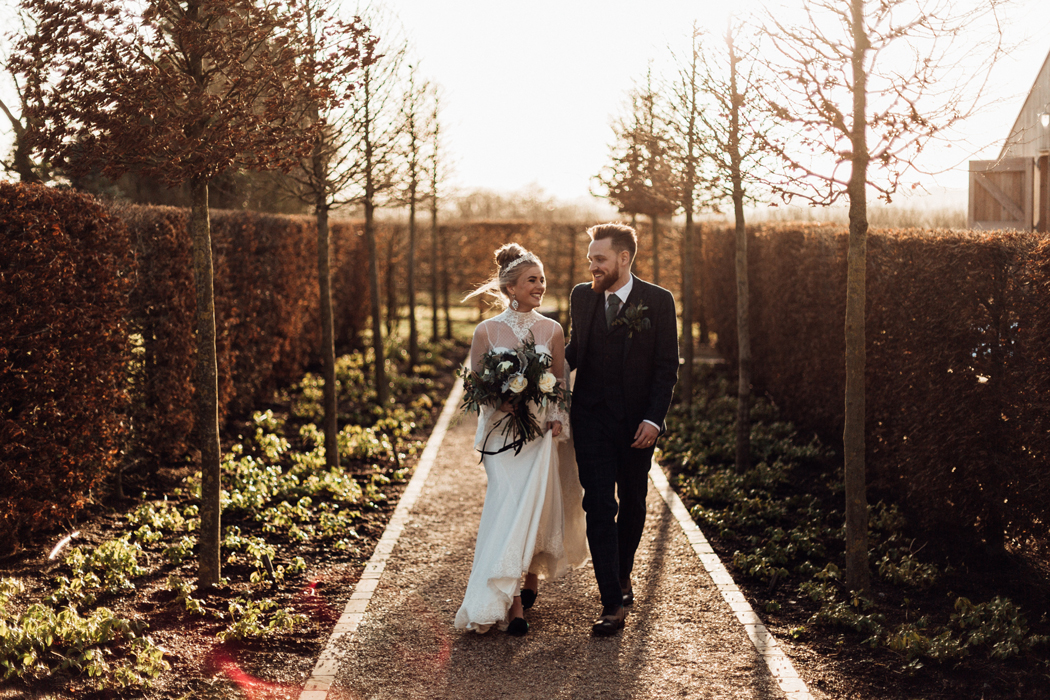 Top L&R- Joanna Brooks Photography, Bottom- Amy Rose Photography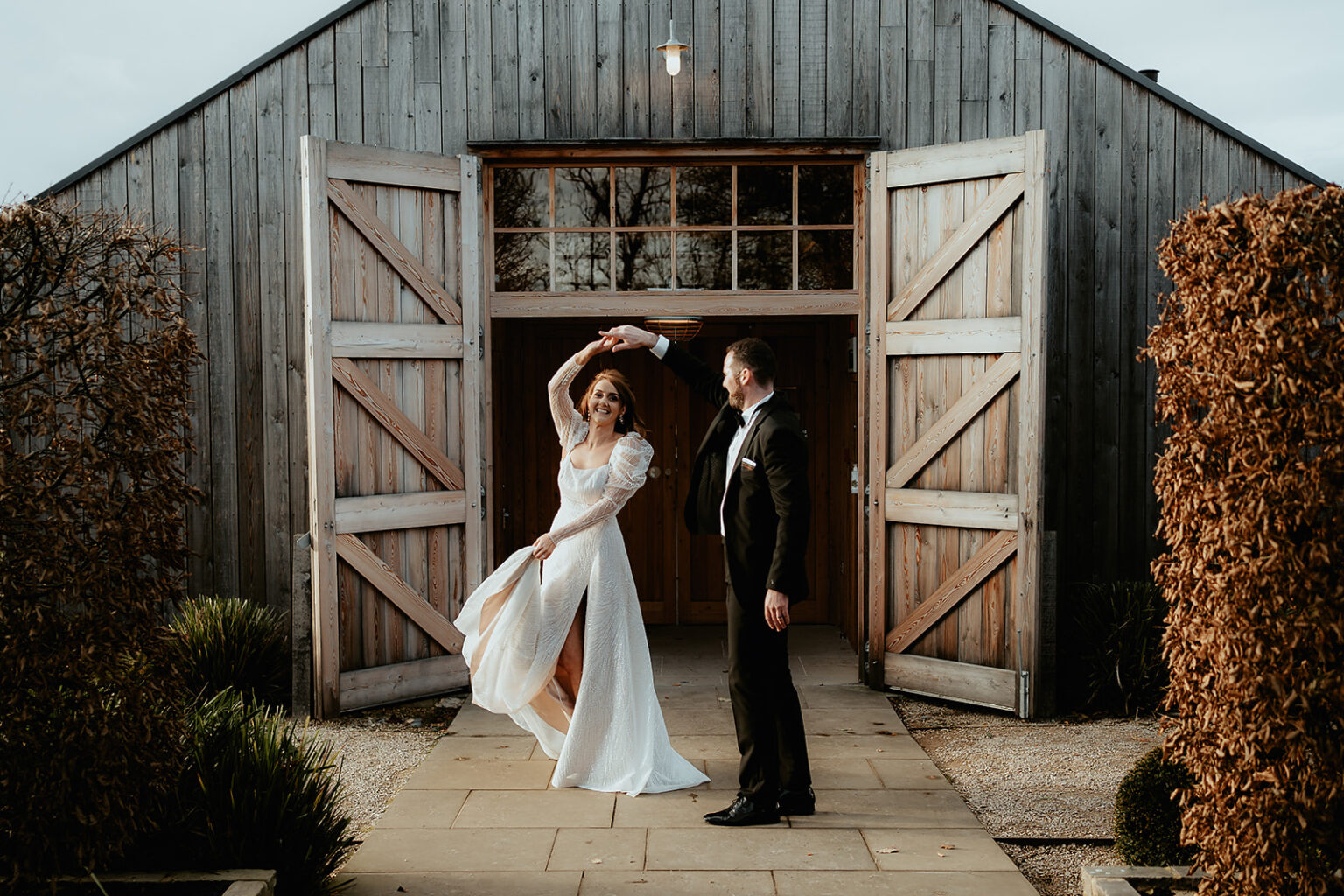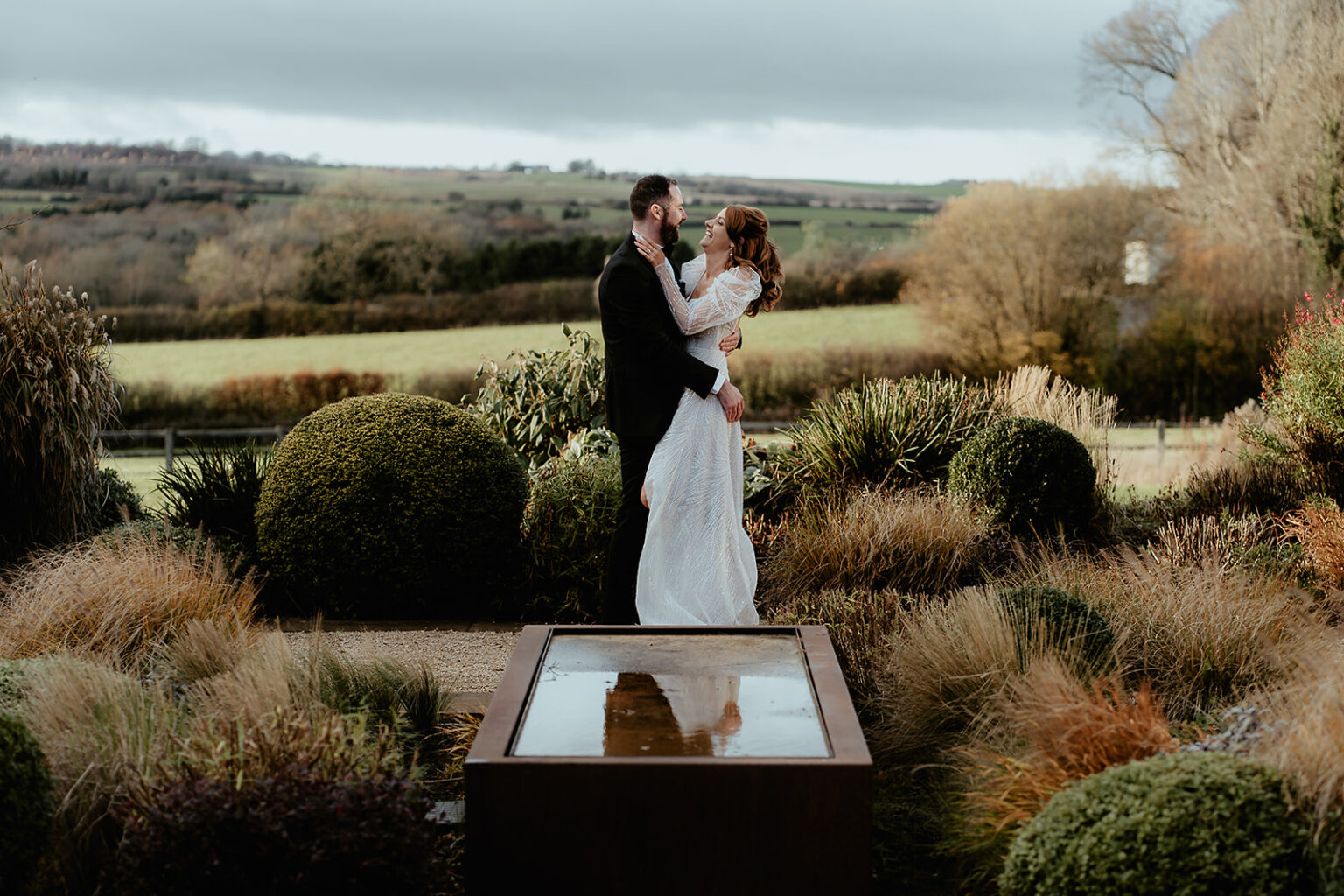 Hitched at Hyde : 22 / 02 / 22
The House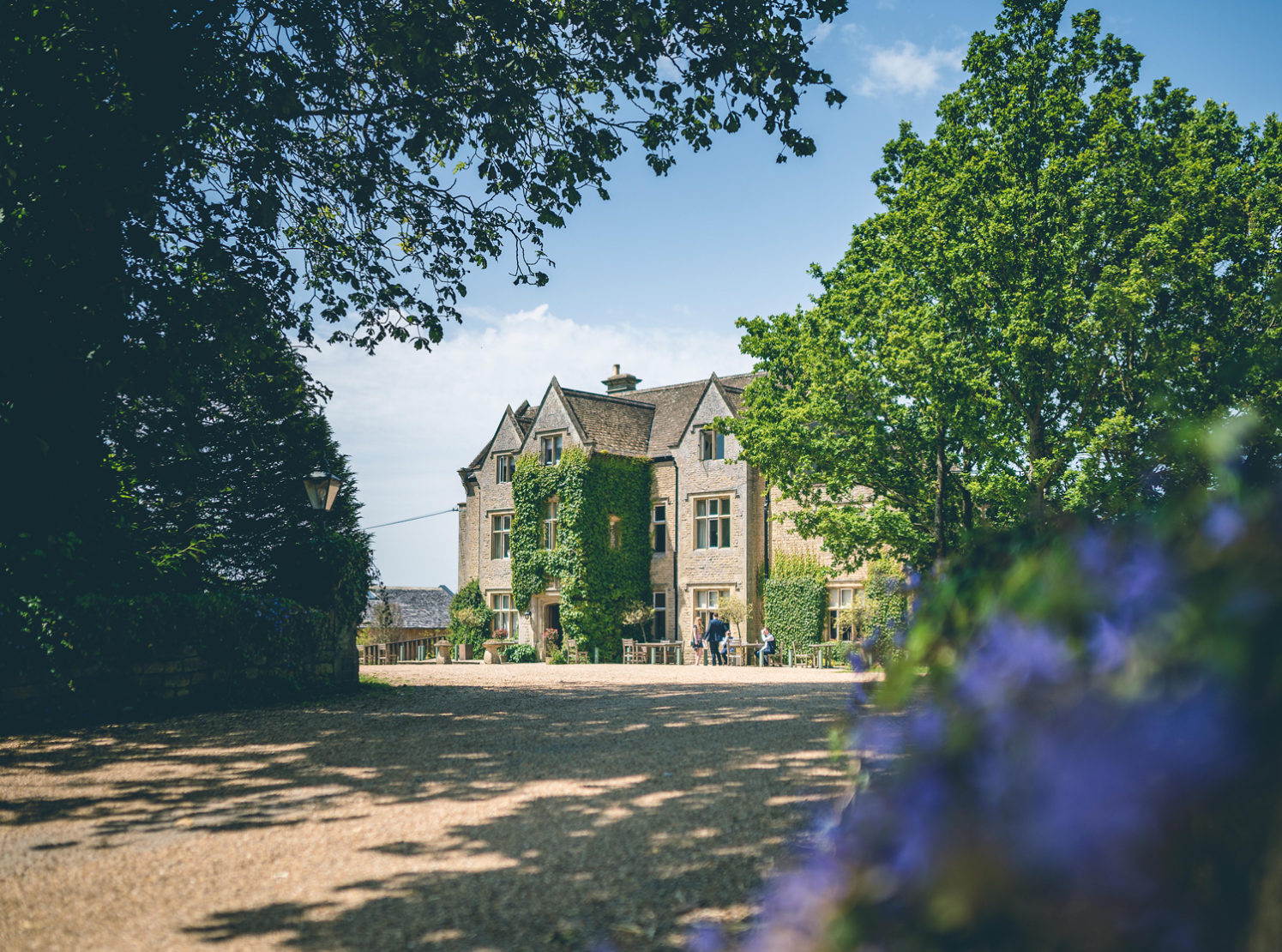 At the beginning of 2020 we closed our doors and gave the House a whole new look; little did we know that it would be quite a while before many of our Couples would get to see these wonderful changes in person. Since our doors have opened we have loved showing everyone around the newly refurbished spaces and have really enjoyed seeing so many positive reactions!
One of the biggest transformations that took place here at Hyde House was on the ground floor in a spacious room that was once the Planning Teams office and is now – the Library. Not only is the library a wonderfully designed, cosy room for people to relax in, it is also used on Wedding Day mornings for one half of the Wedding Party to get ready in. It really is the perfect private space to spend those special pre-Wedding hours with your closest friends and family.
The other drastic transformation was in the Bedrooms where every single room was re-furnished and re-decorated. The Bridal Suite is now complete with a four-poster bed, elegant new furnishings and a freestanding copper bathtub, in the bedroom no less, and all of the other 19 bedrooms have been made even more luxurious than before so you'll always have a good nights sleep at Hyde House!
So please do scroll away to see the exciting changes. Xx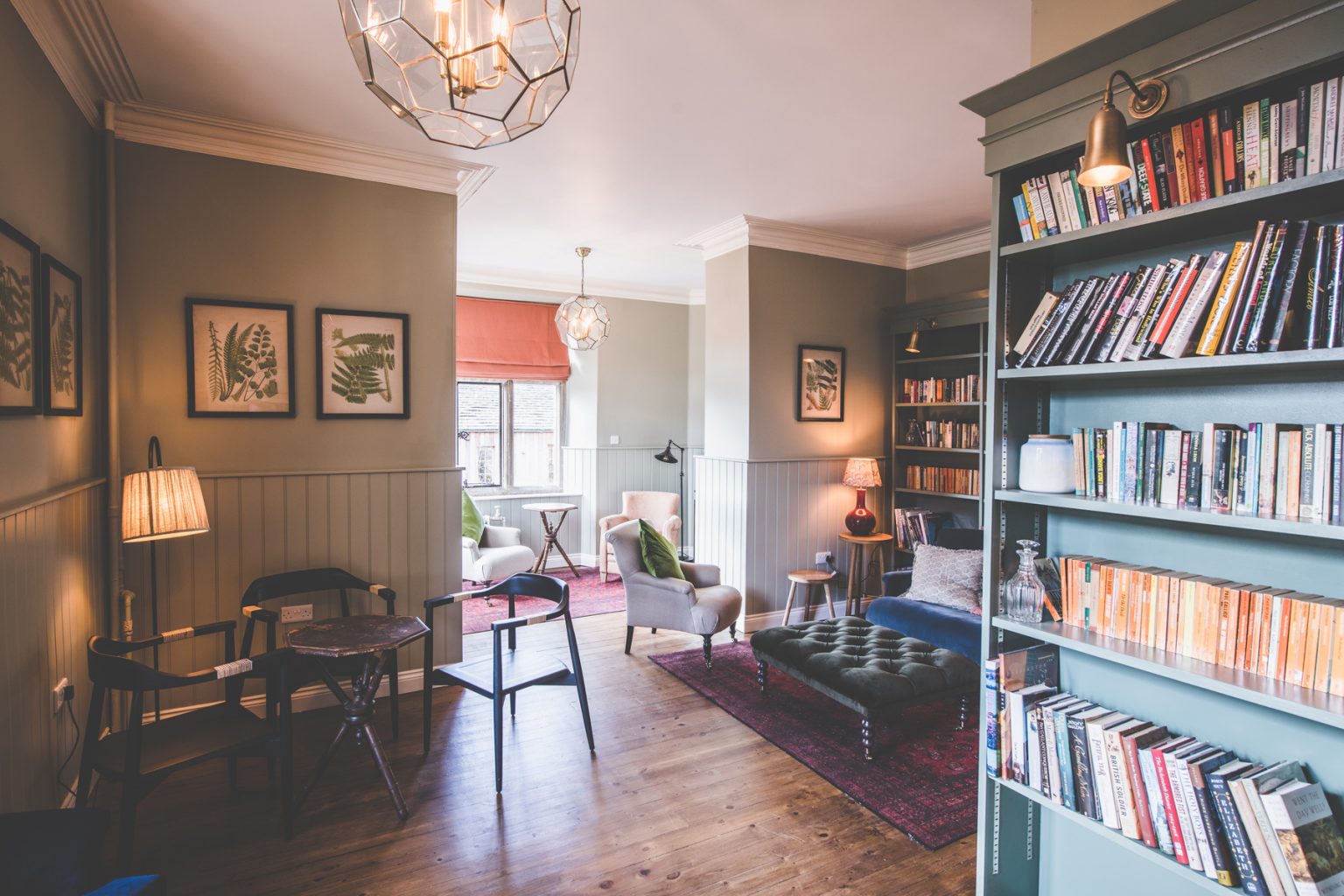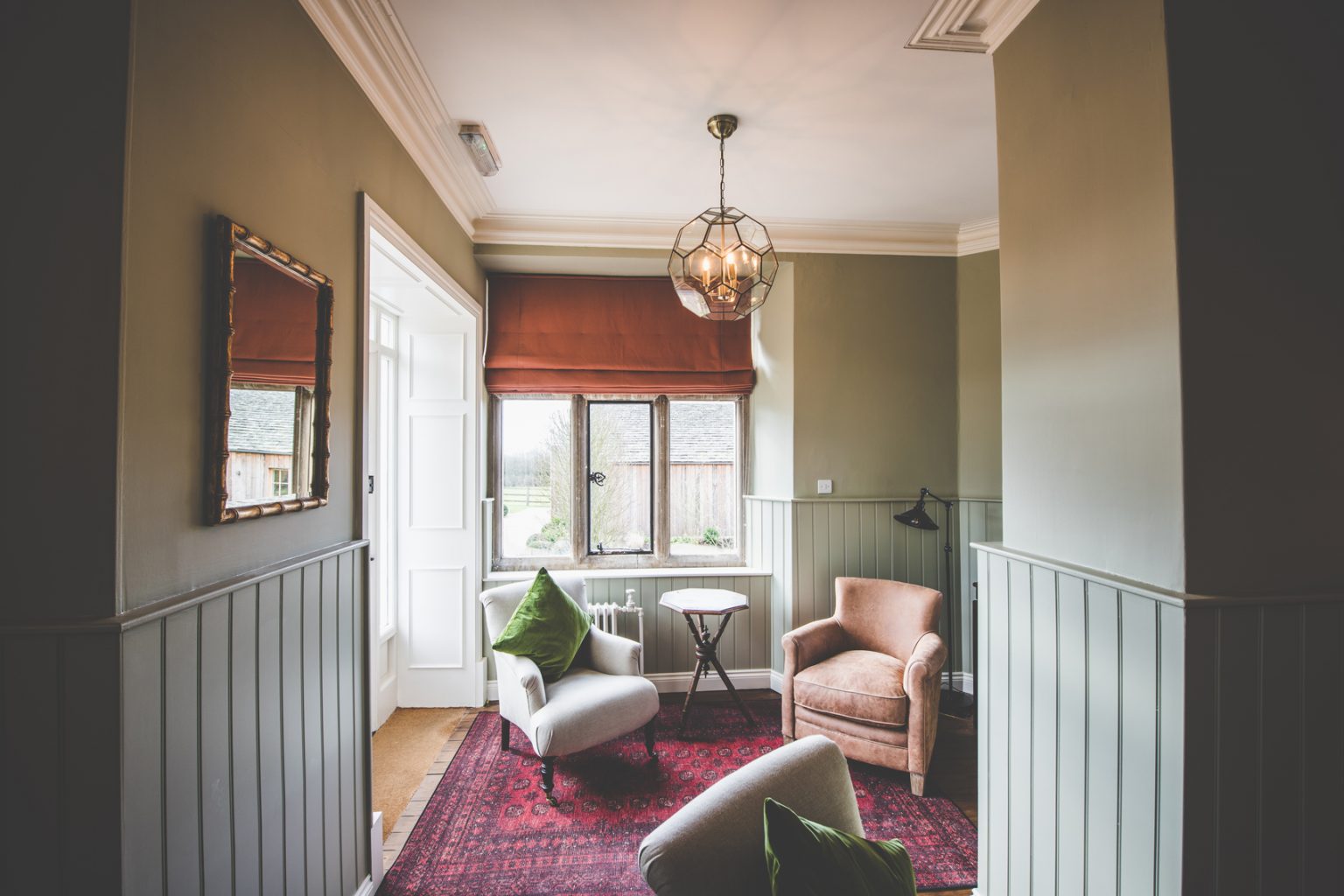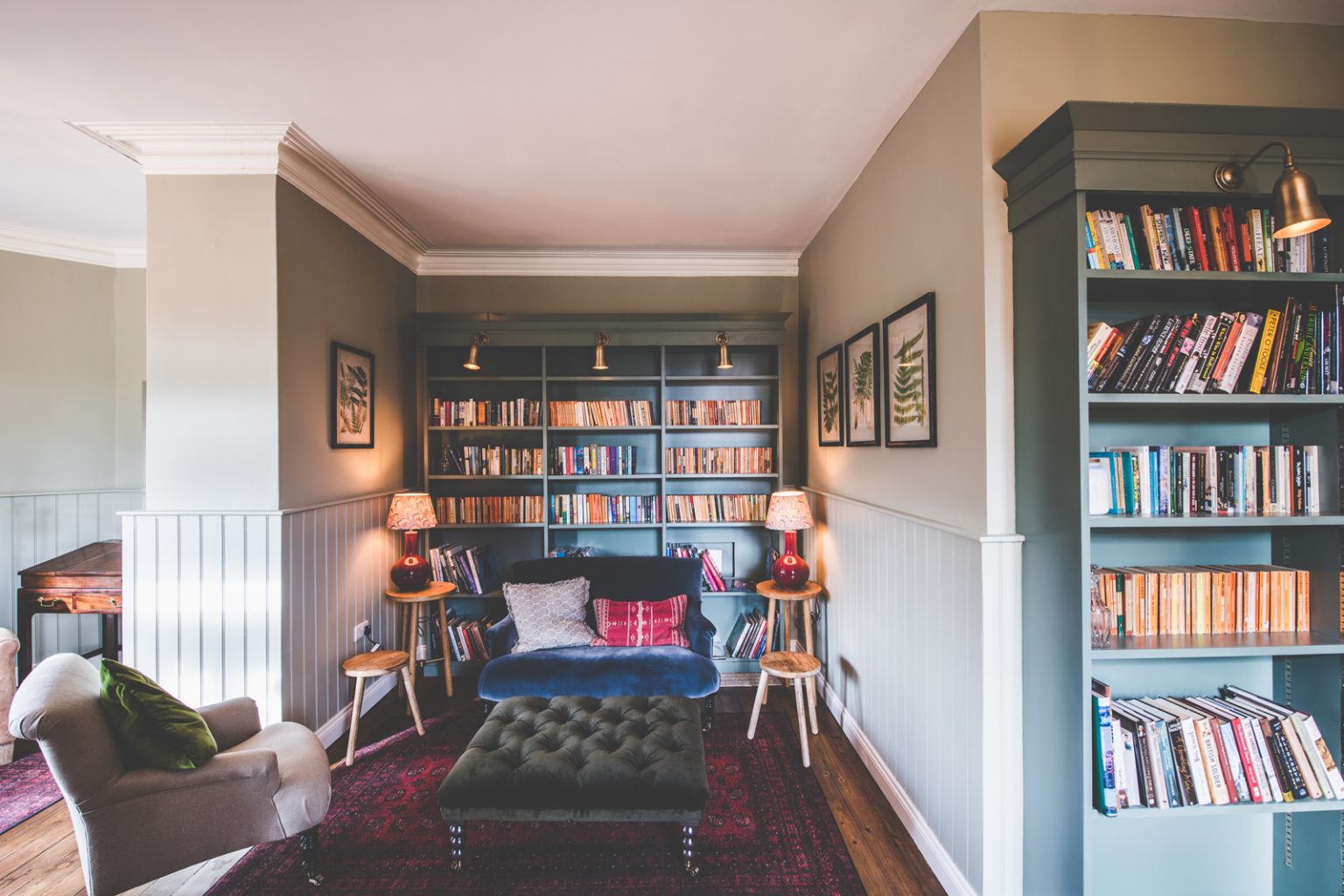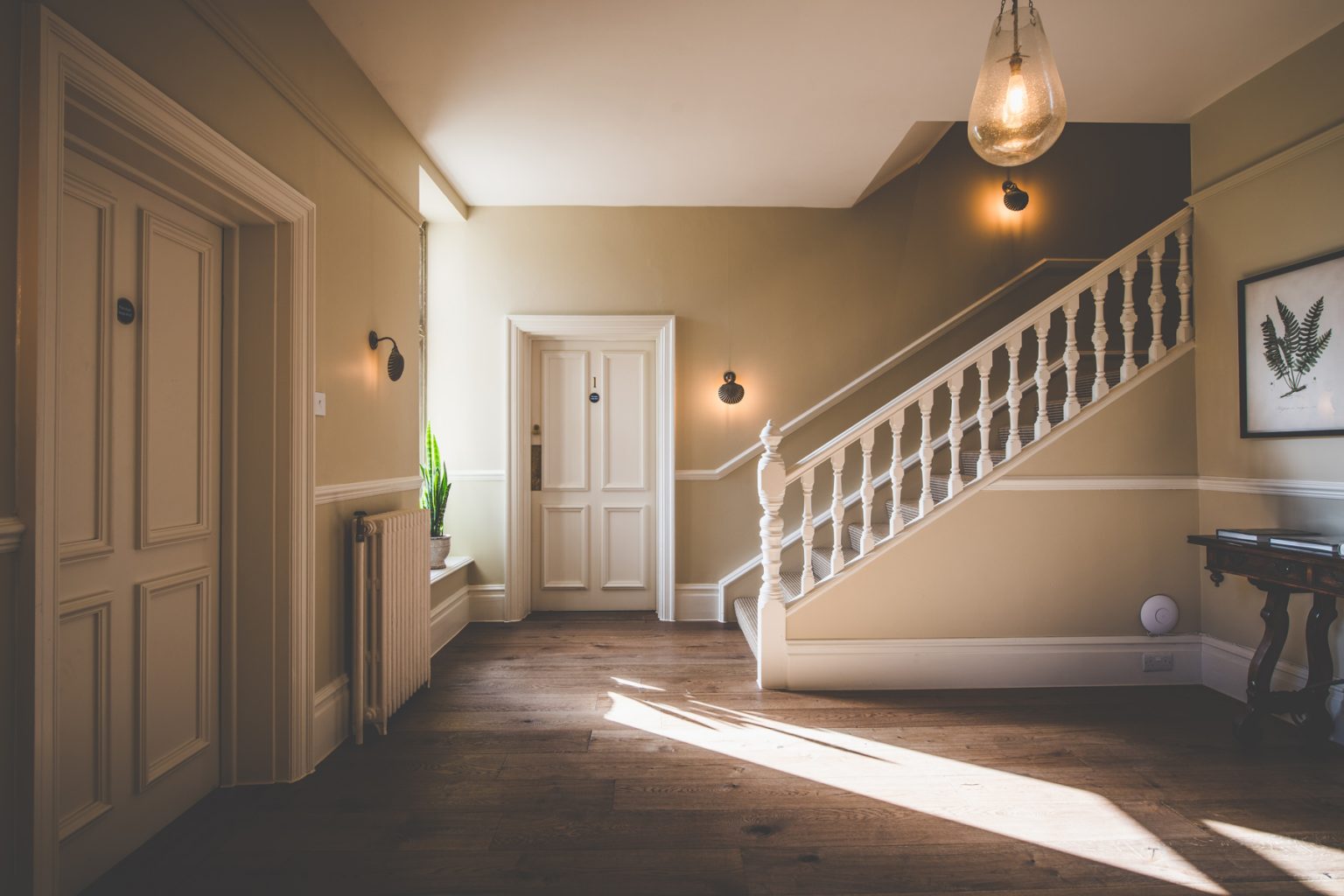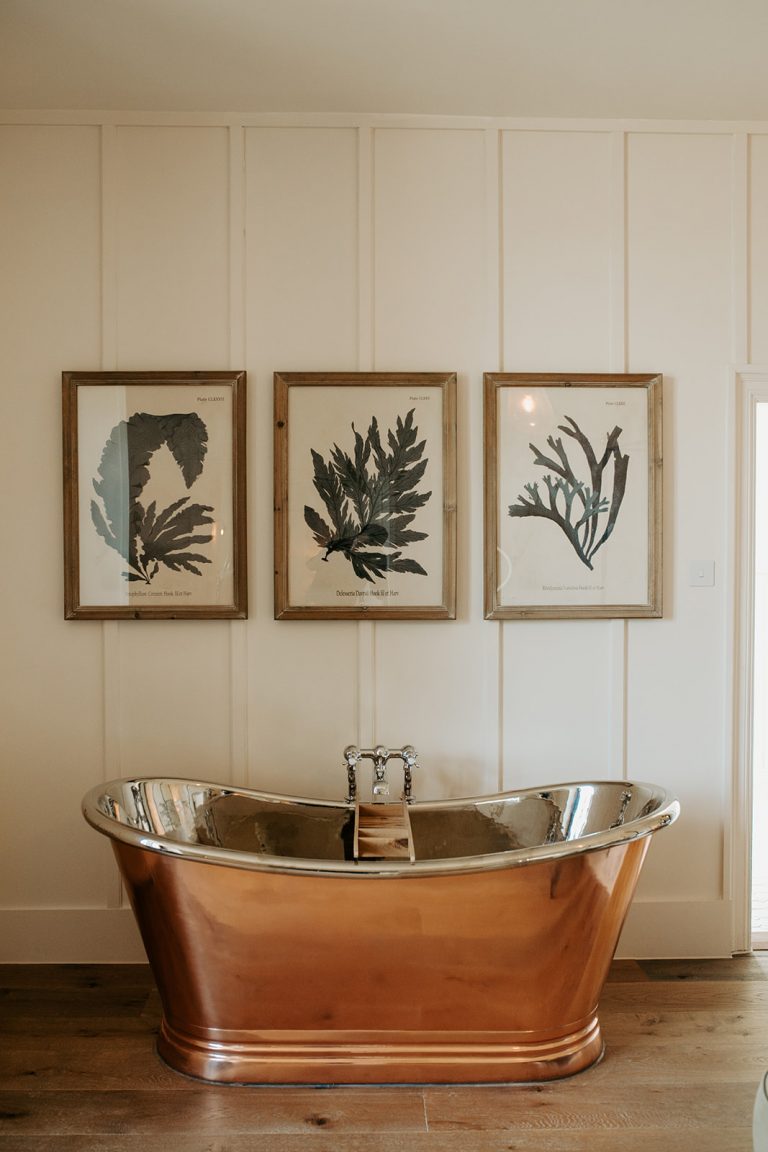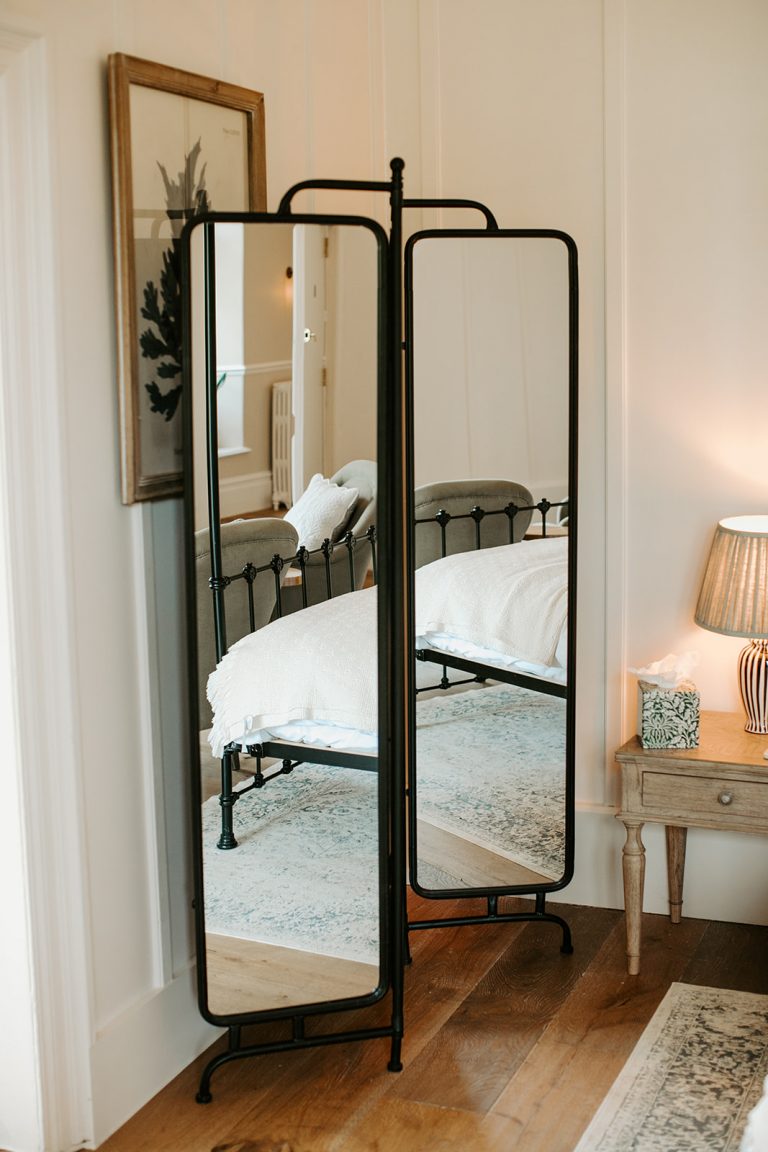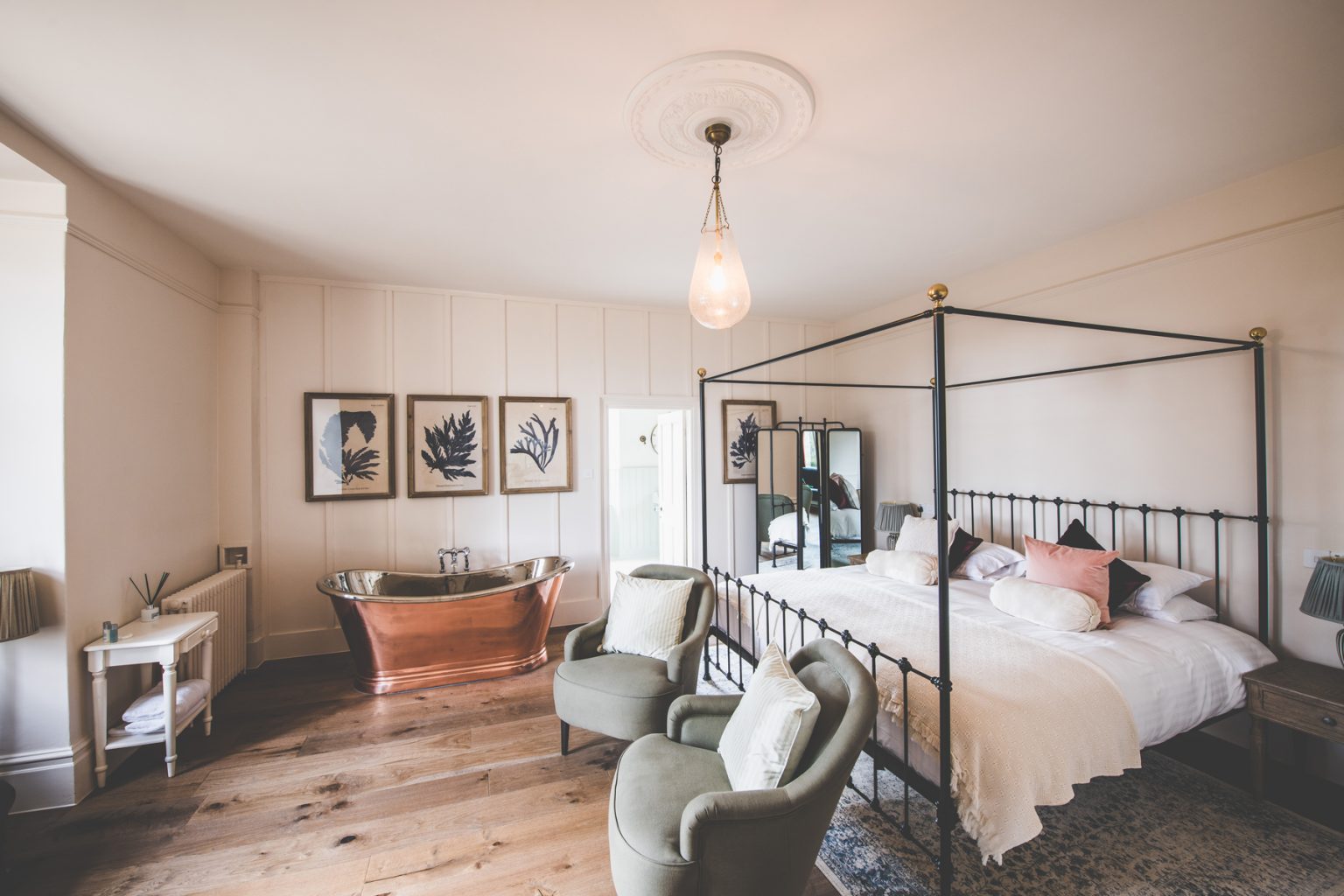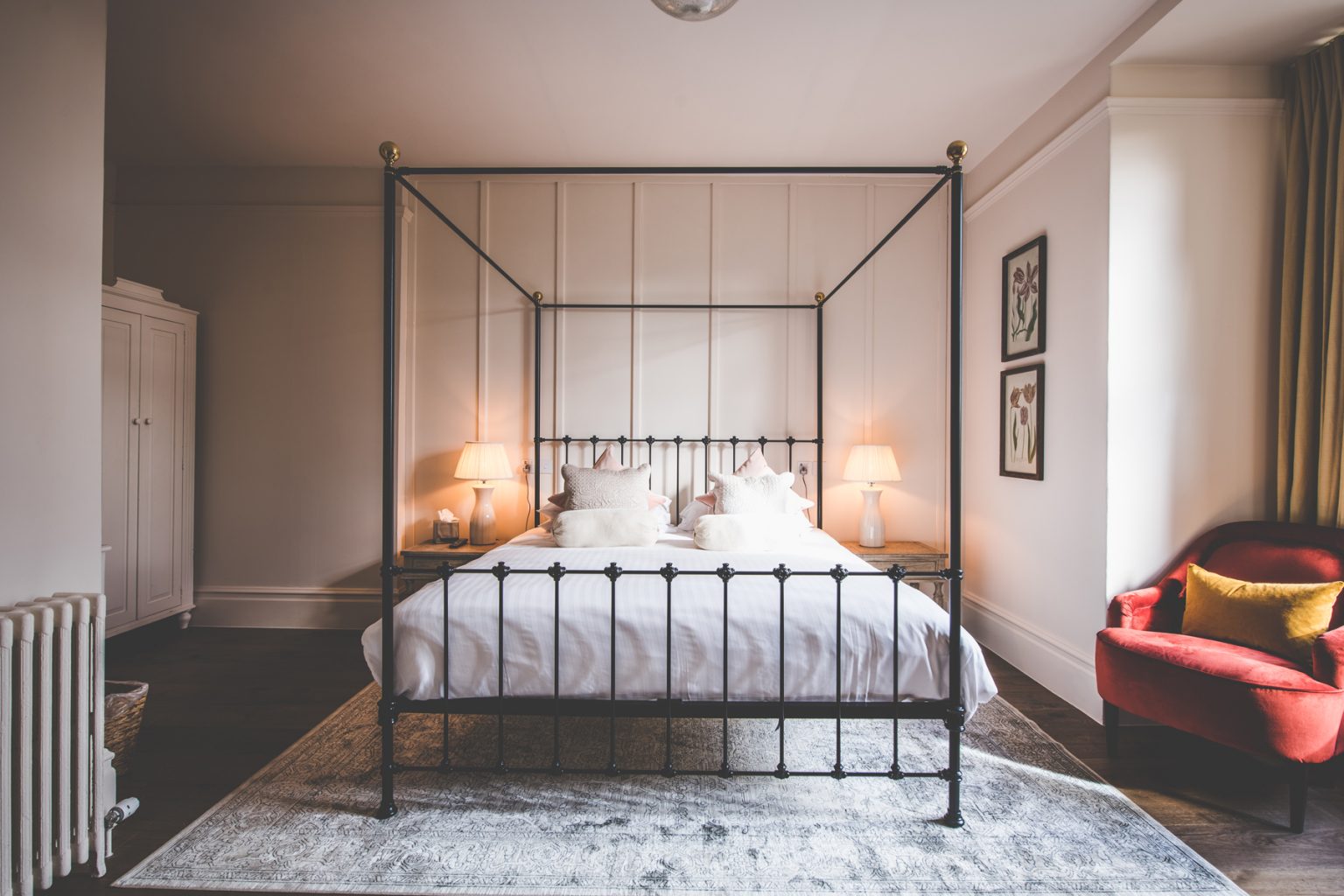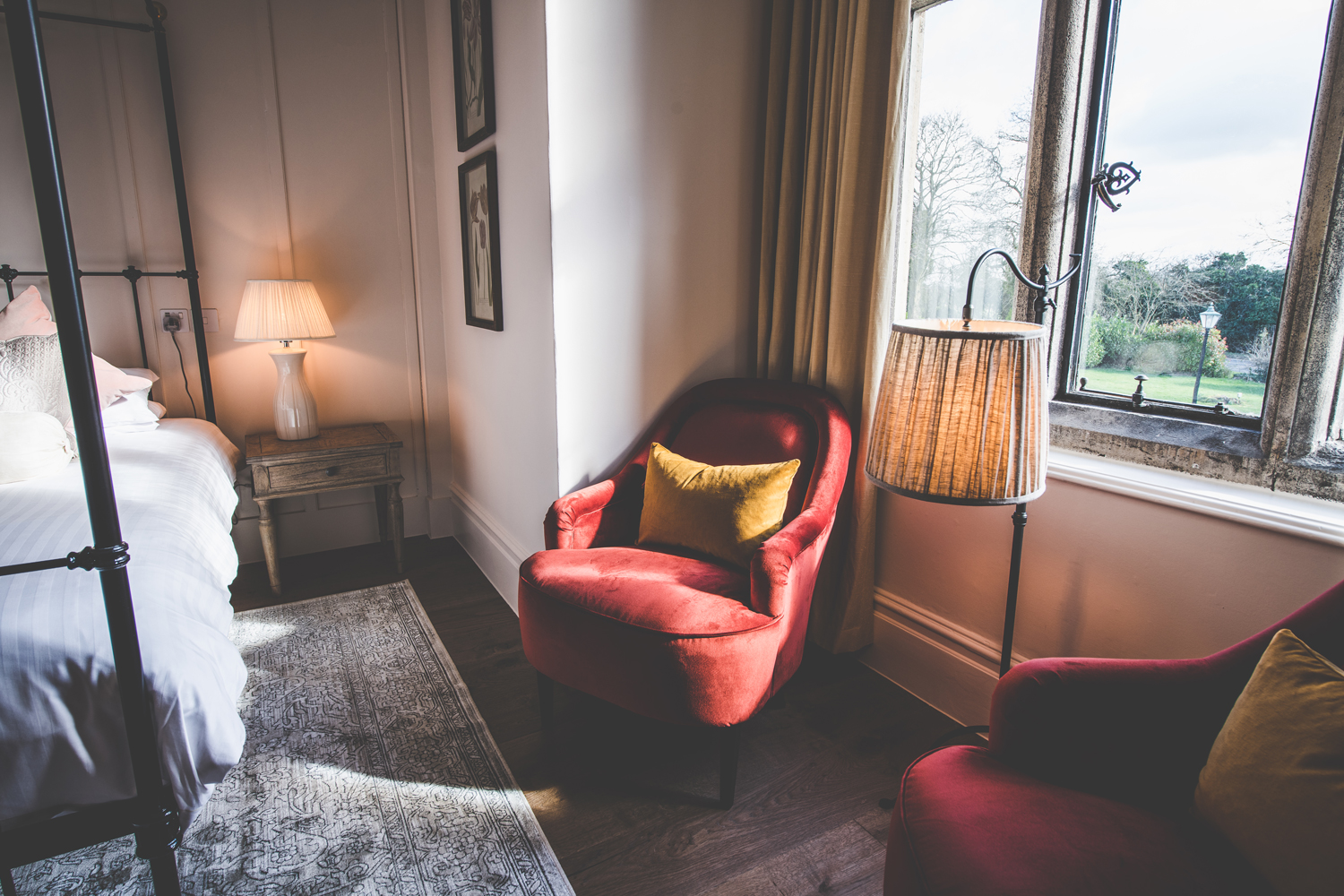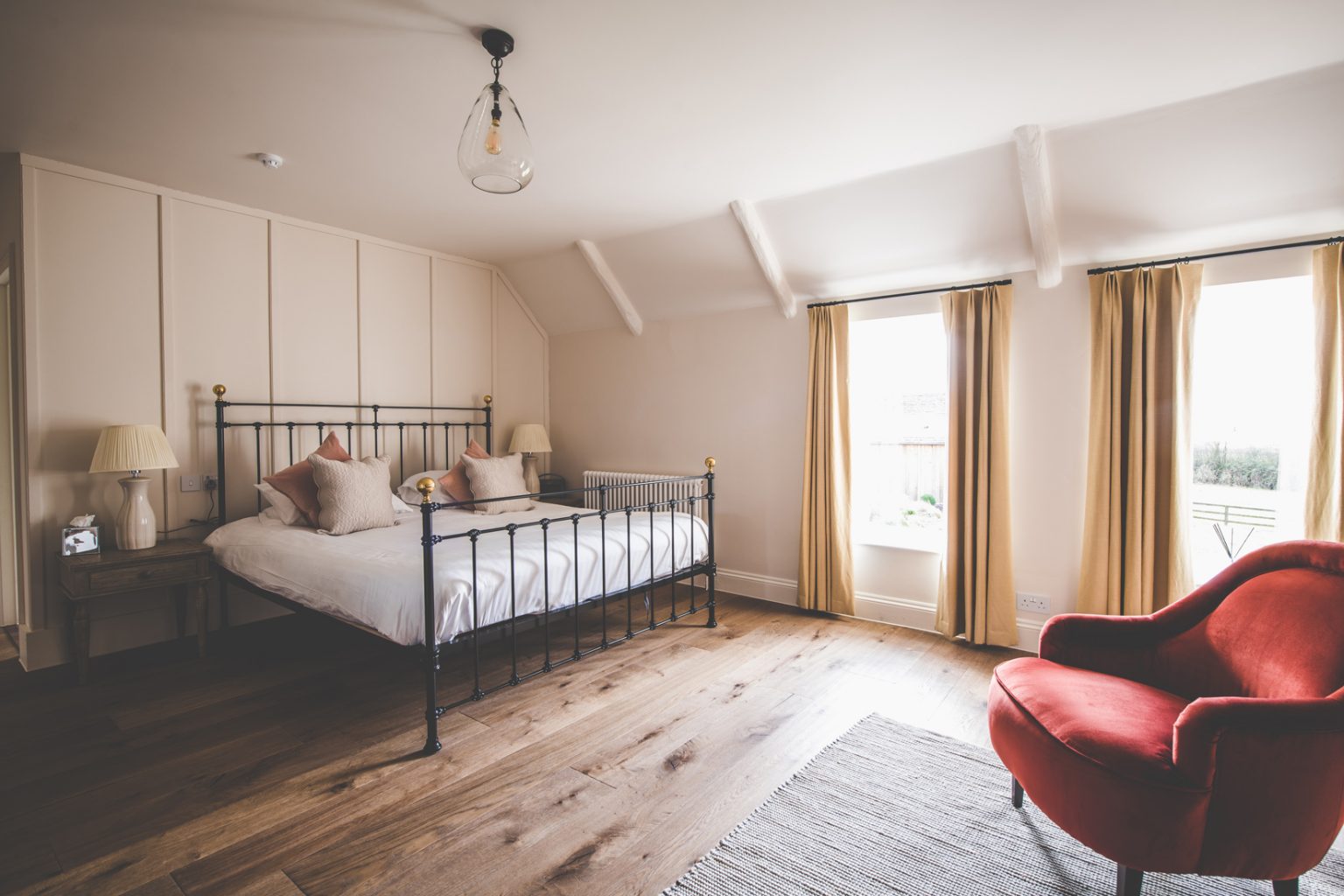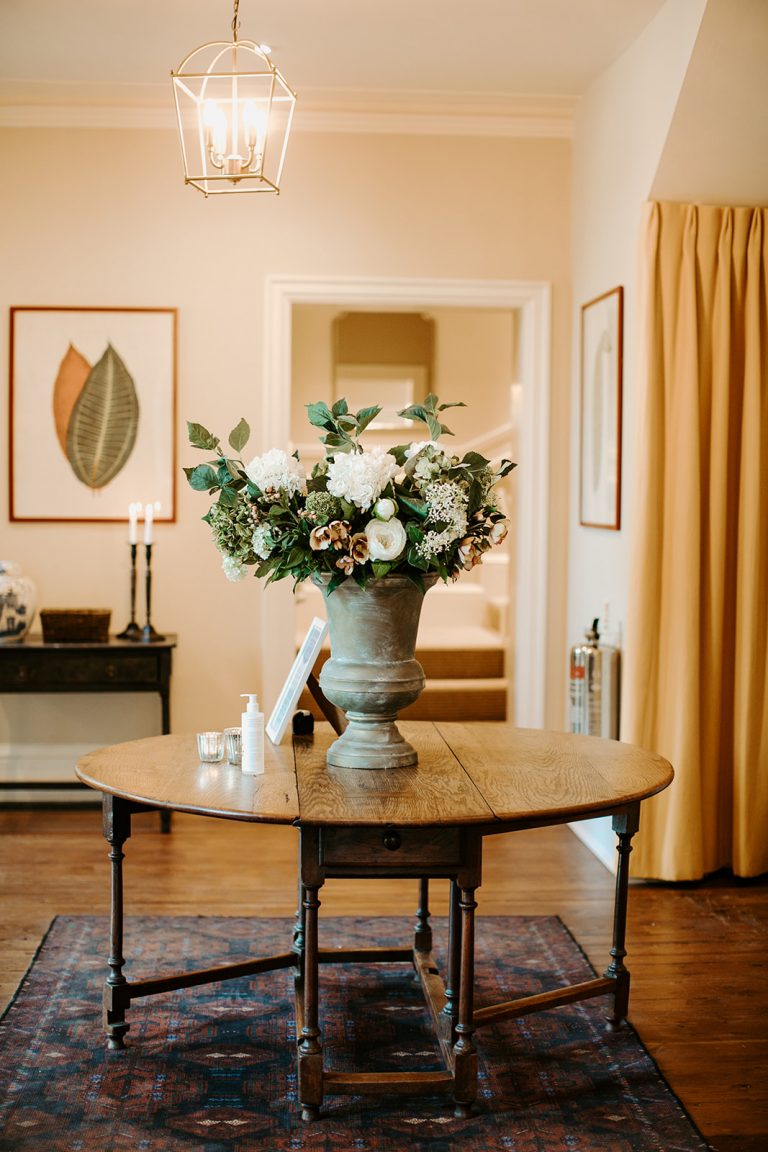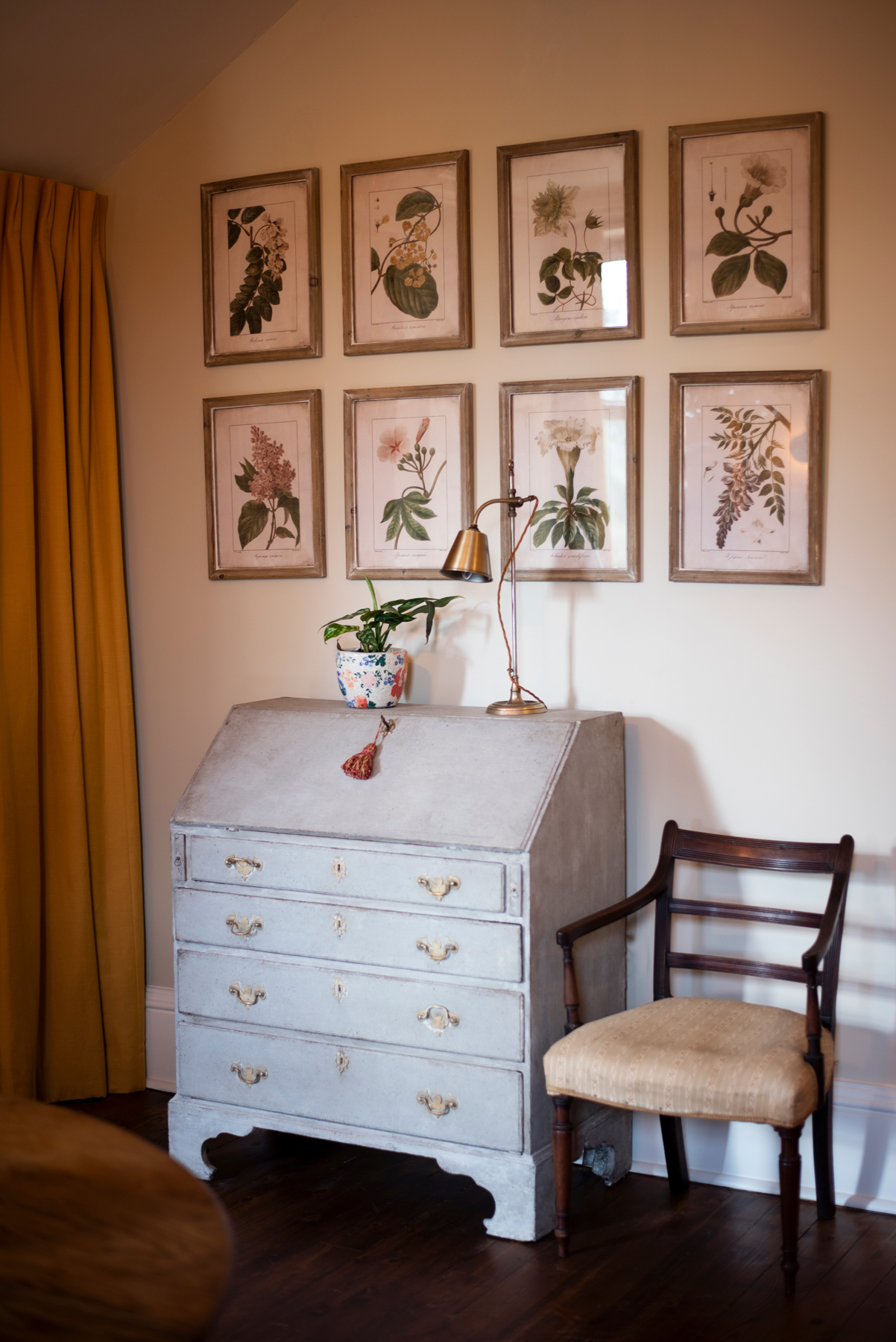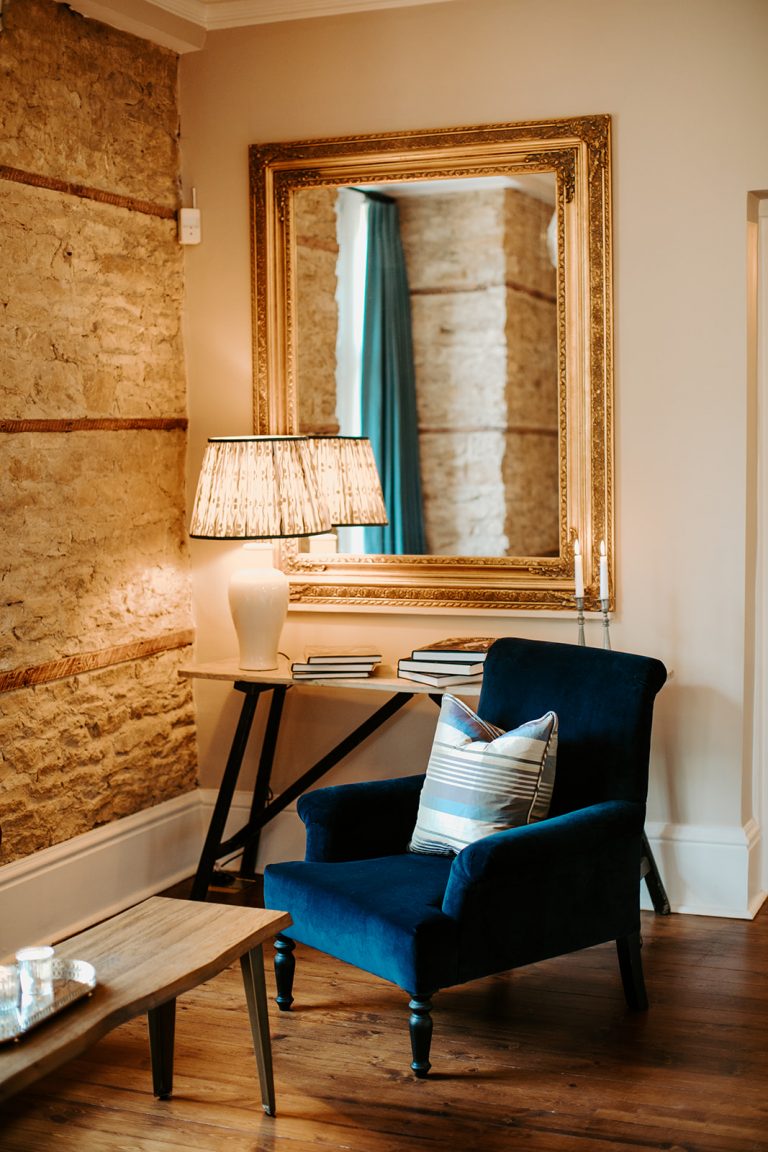 Images by Cotswold Pictures, Laura Harvey Photography and Green Antlers Photography
Hitched at Hyde : 31 / 01 / 22
The New Plated Menu at Hyde House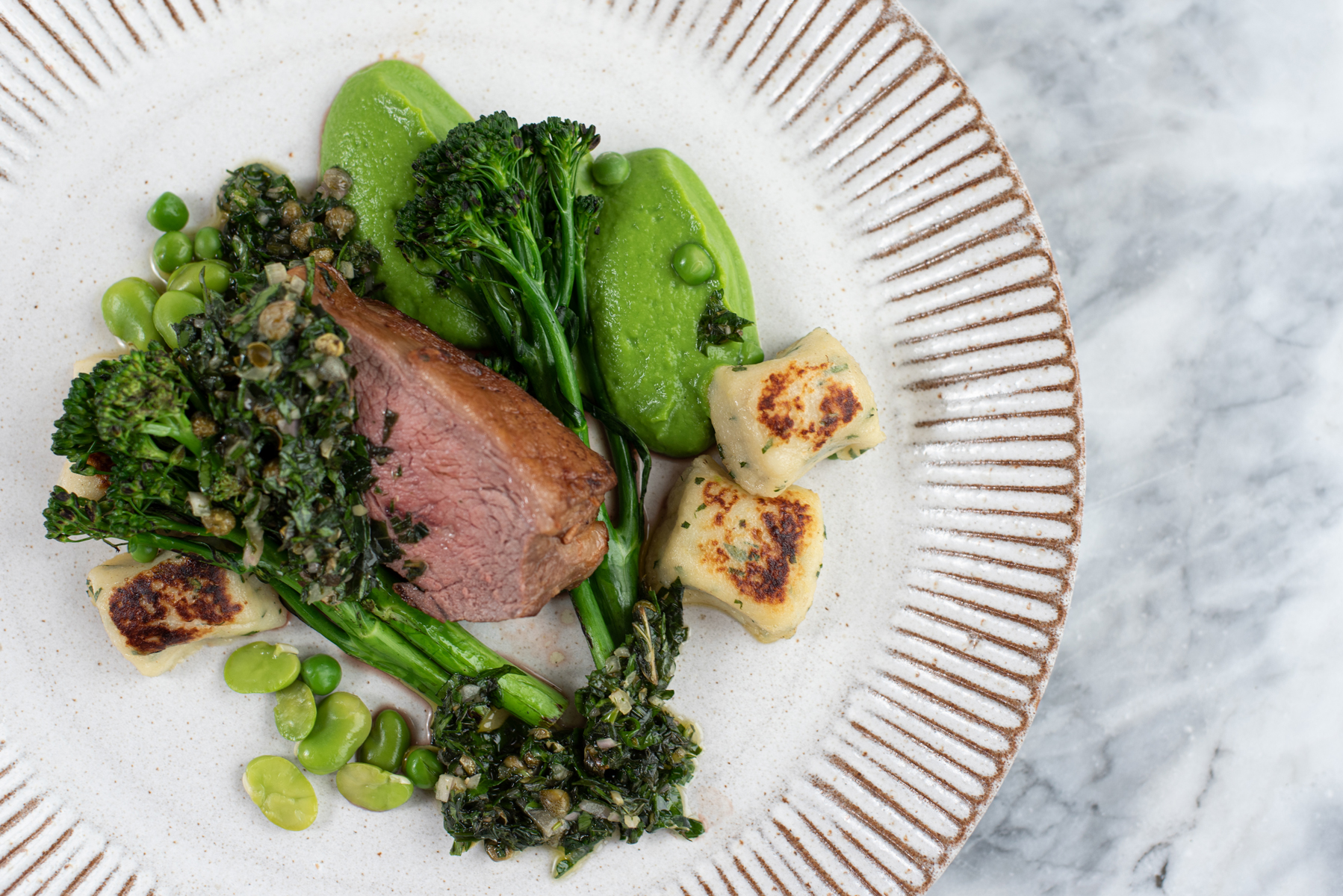 Today is our third and final journal post about our brand new 2022 Menu and we're sharing all things plated dishes!
Our fabulous Chefs have created a Menu where there is something, if not many things, for everyone. We have flavourful meat dishes, mouth-watering fish dishes, seasonal veggie and vegan dishes and a delicious mix of desserts.
As you may have seen from our earlier Journal posts, alongside our plated options we also have our Feasting Menu and just in case you can't quite decide whether they would like more formal plated dishes or interactive feasting options for your own Wedding Day, you can mix and match between the courses giving you the best of both worlds for you and your guests to enjoy.
We hope you enjoy looking through the final images from our Menu Shoot with Laura Harvey Photography and if you haven't had the chance to try our new dishes at one of our Tasting Evenings just yet we hope you love them when you do!
Starters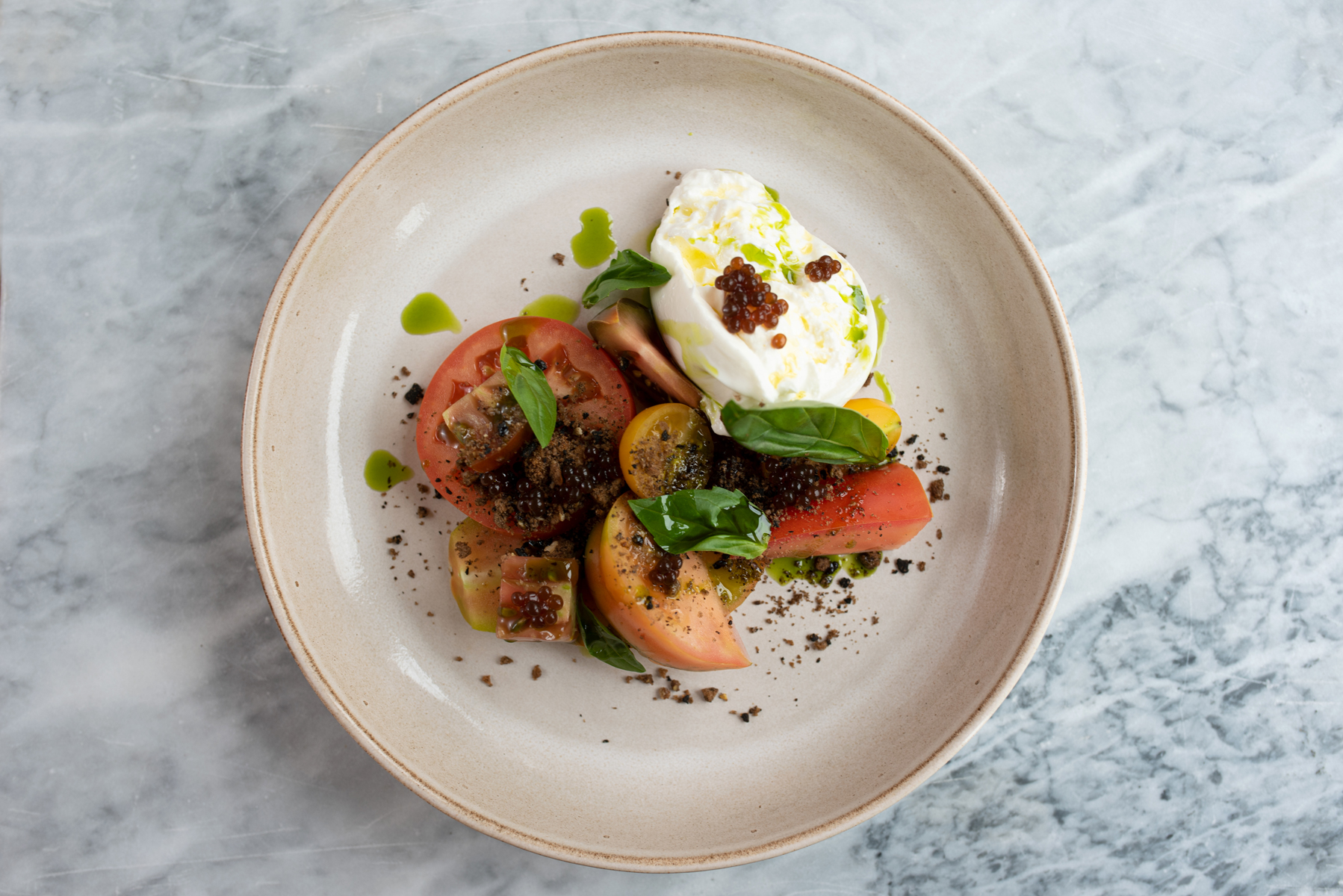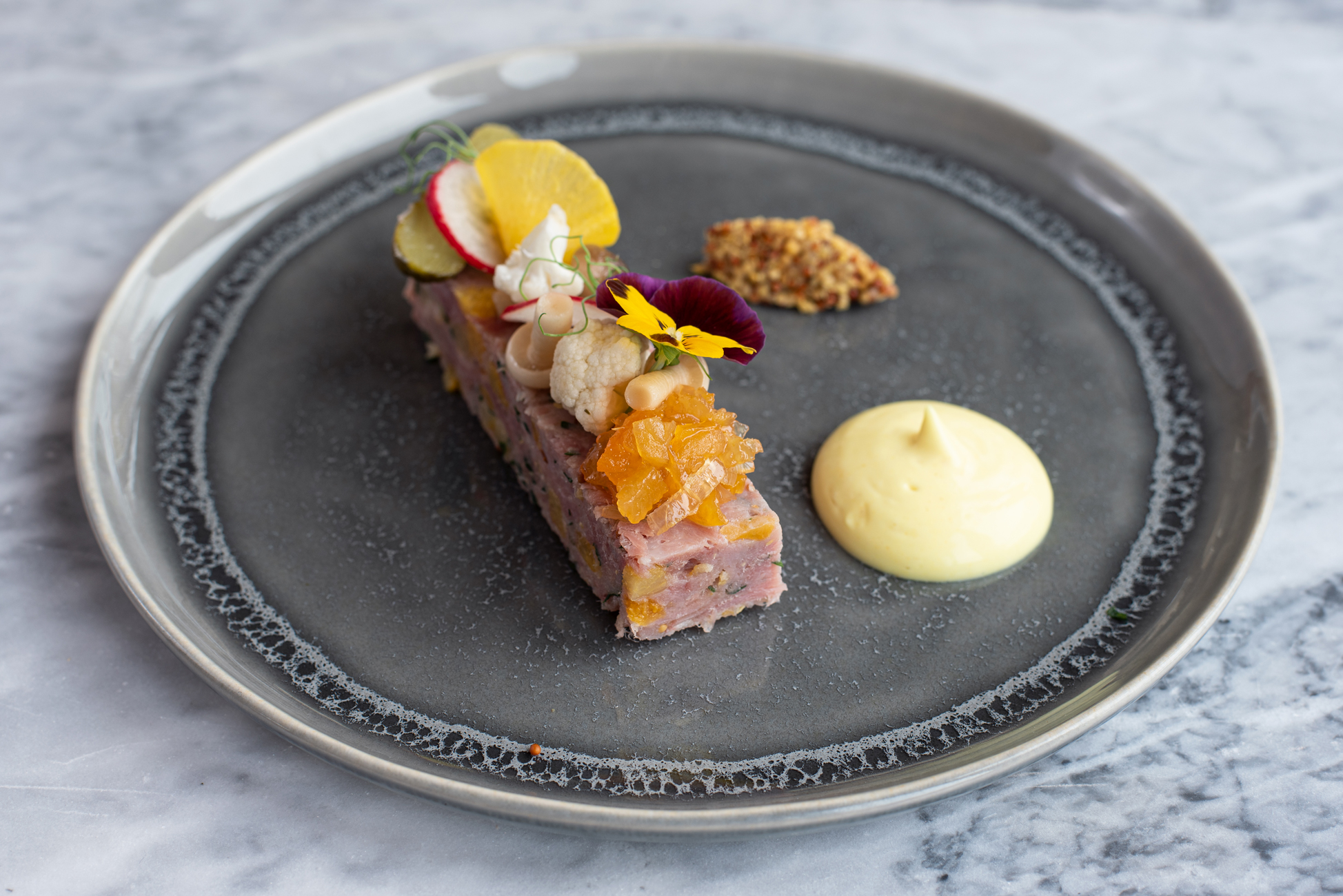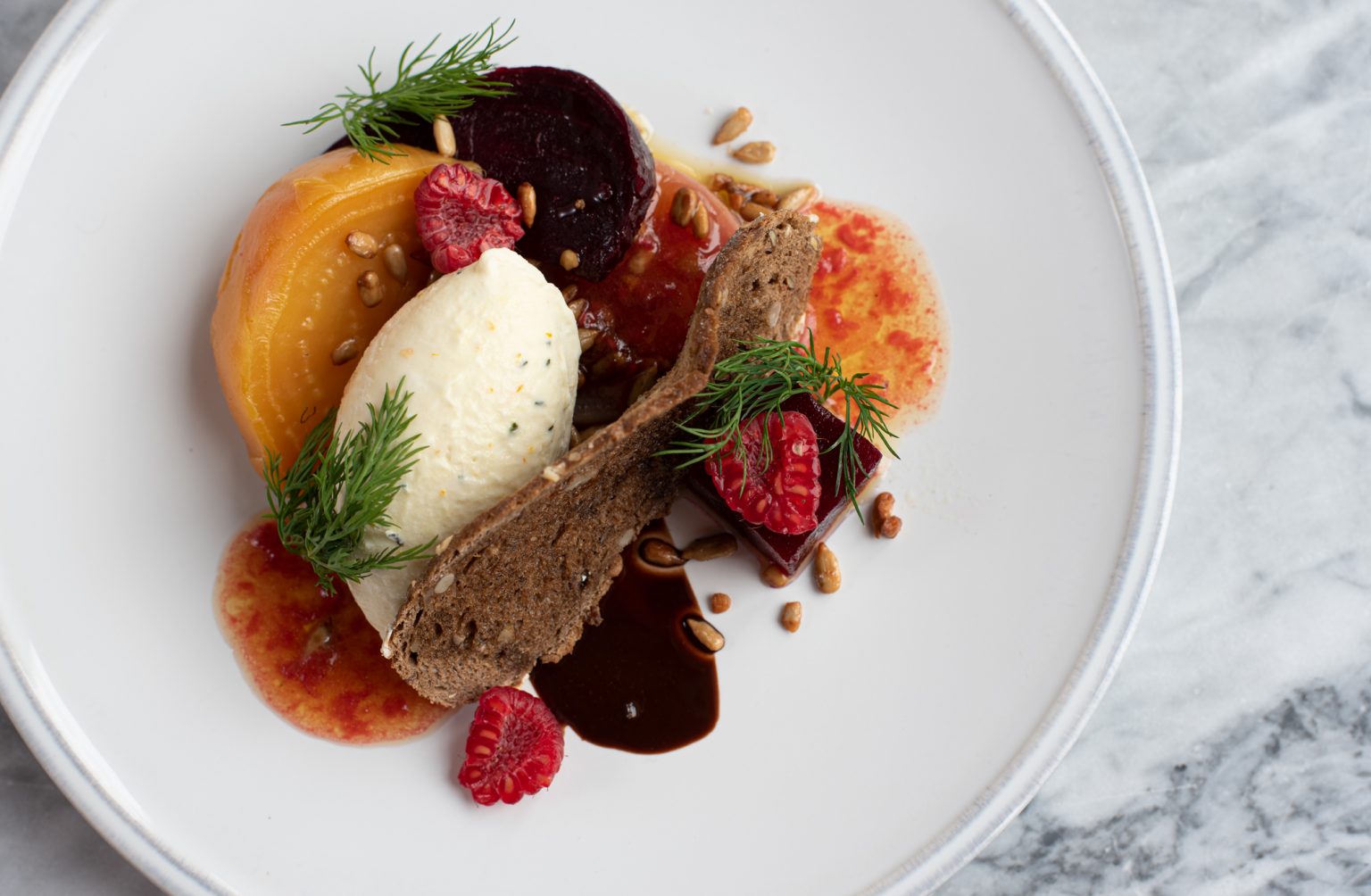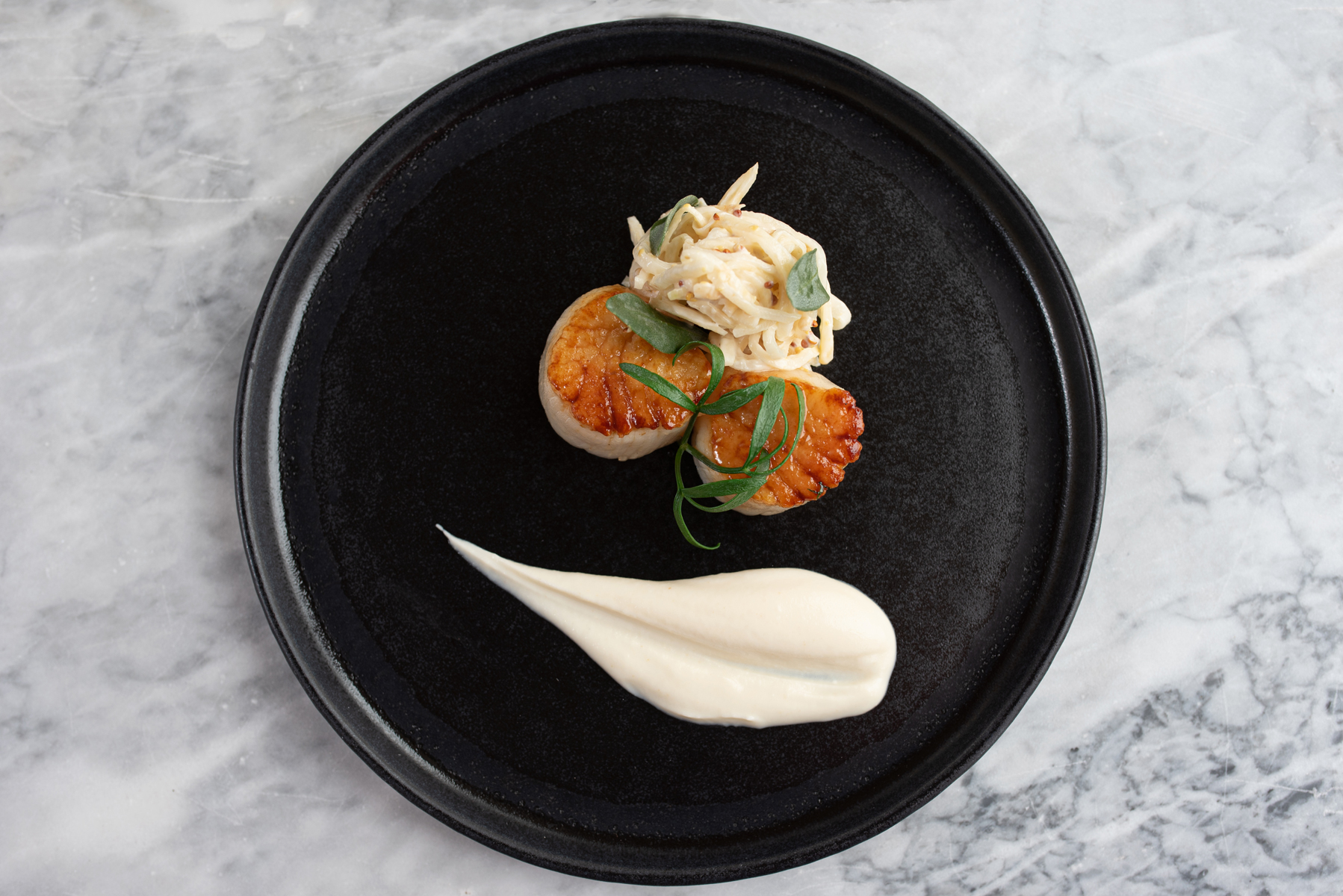 Top to Bottom: Burrata, heritage tomatoes, basil, balsamic vinegar (v, gf), Pressed ham terrine, pickled vegetables, apricot chutney, sourdough toast (df); Rainbow beetroots, orange and honey whipped goat's cheese, candied sunflowers seeds (v); Pan fried scallops, celeriac purée, rémoulade, pickled apple (gf) (£2.50pp)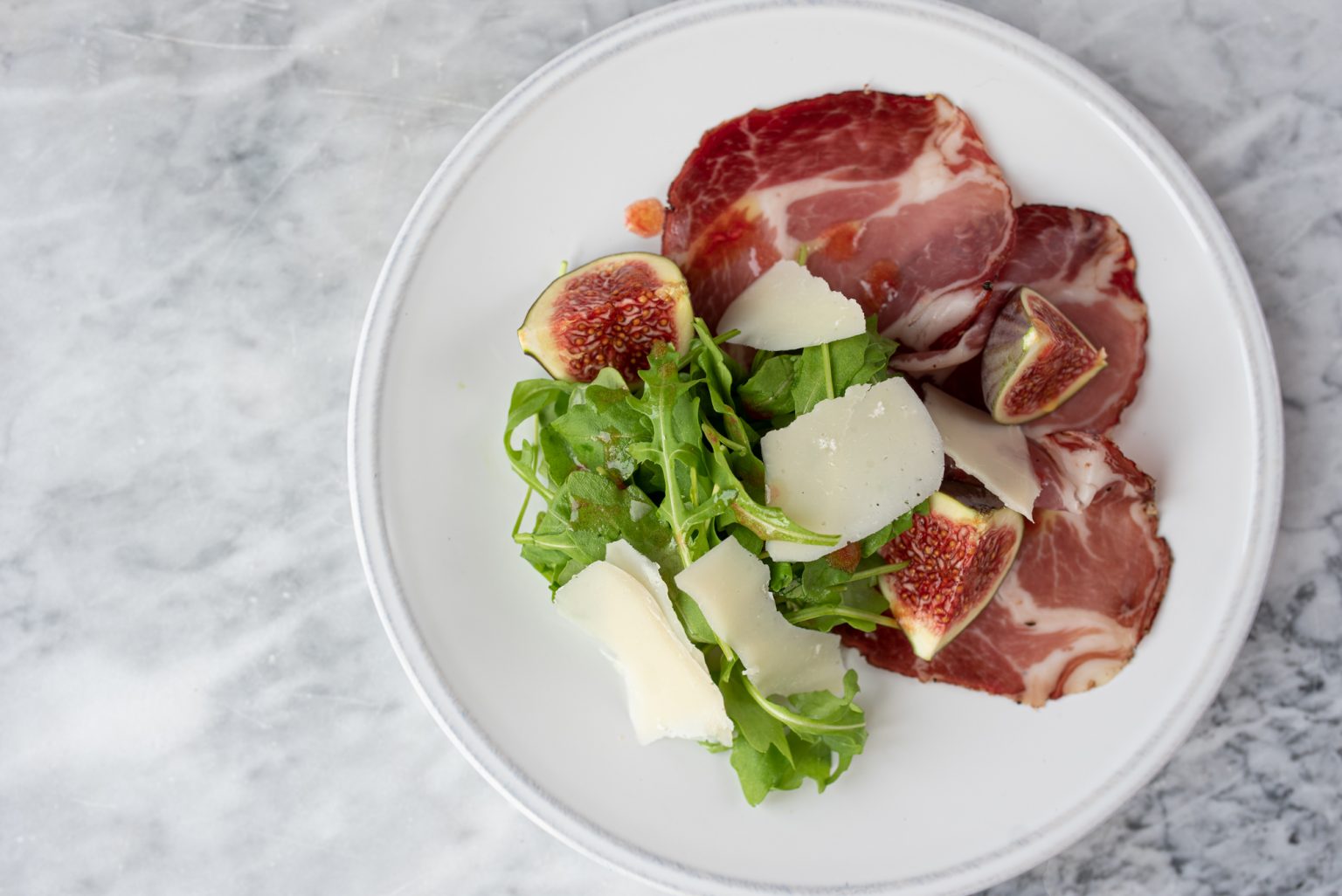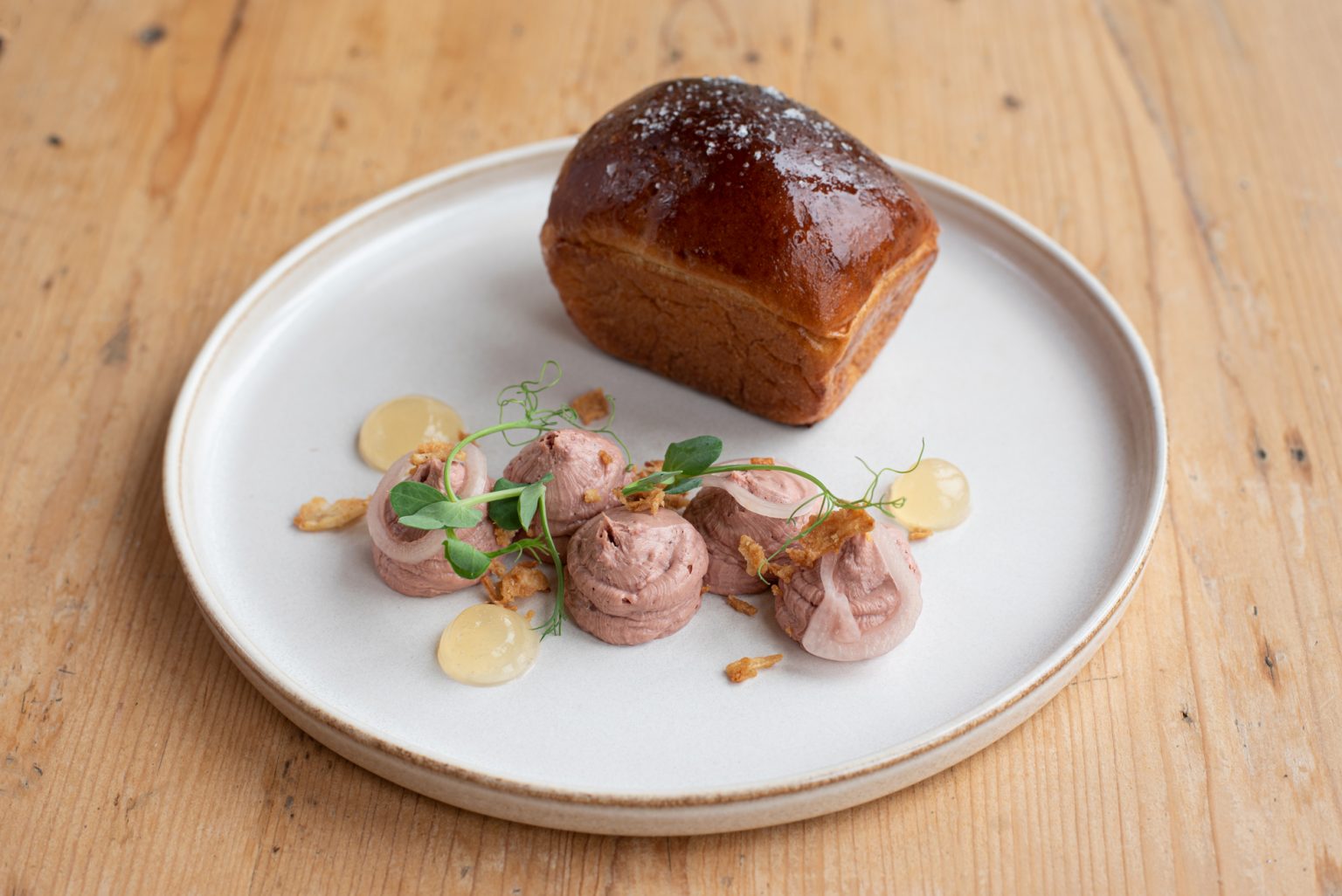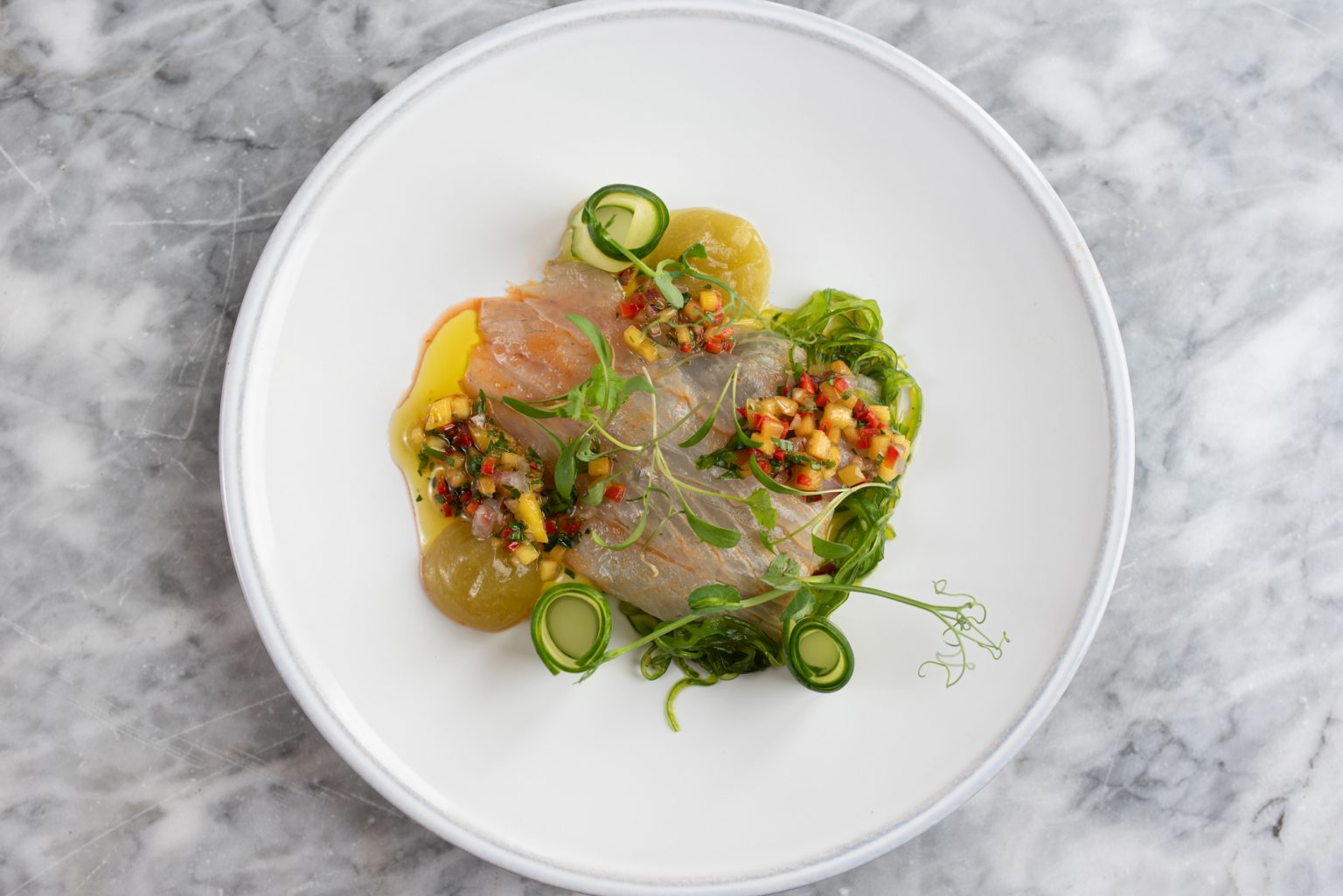 Top to Bottom: Trealy farm coppa ham, black figs, sherry vinegar, shaved parmesan (gf); Duck liver parfait, sauternes jelly, mini brioche; Sea bass ceviche, cucumber, mint and mango salsa (gf, df)
Main Courses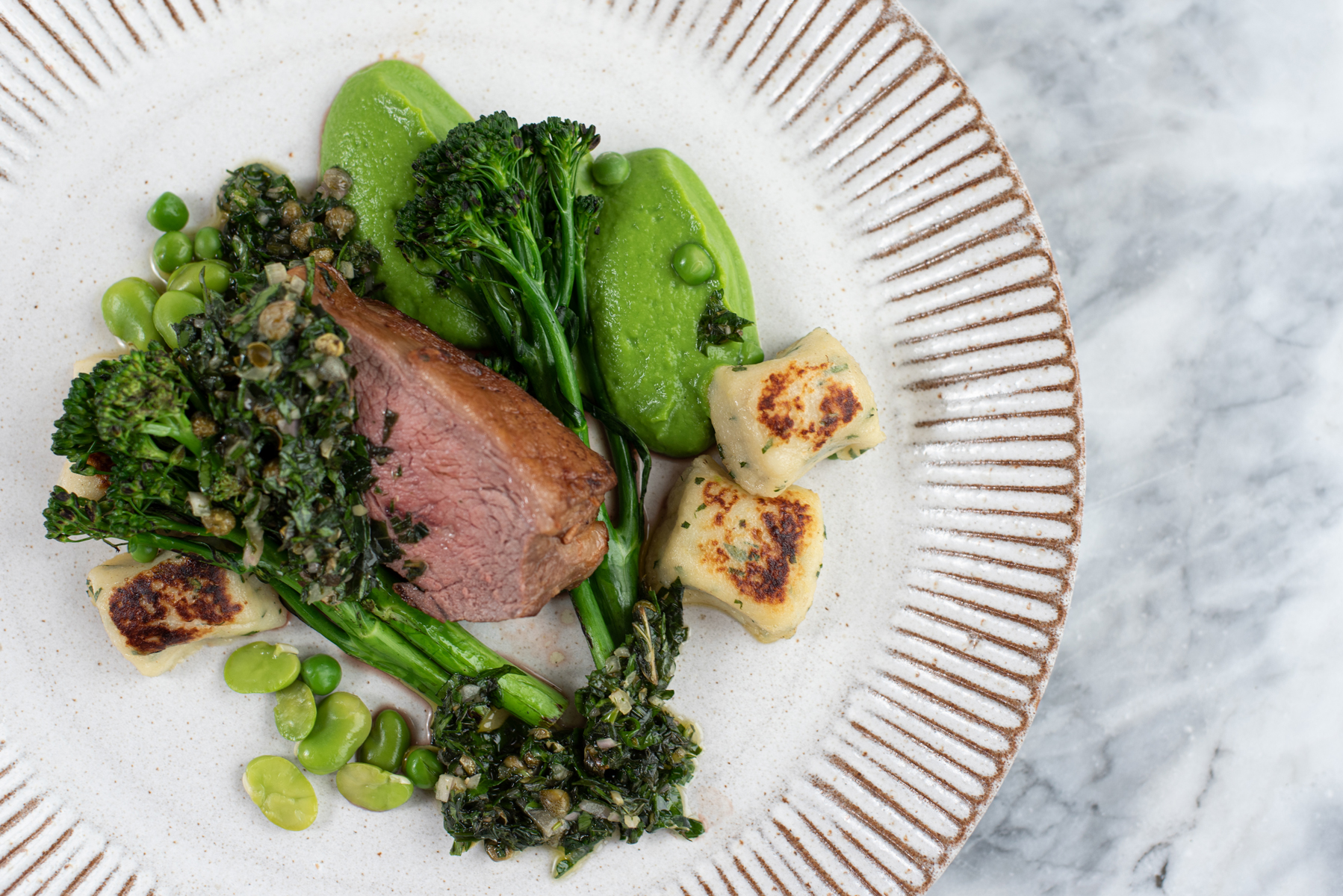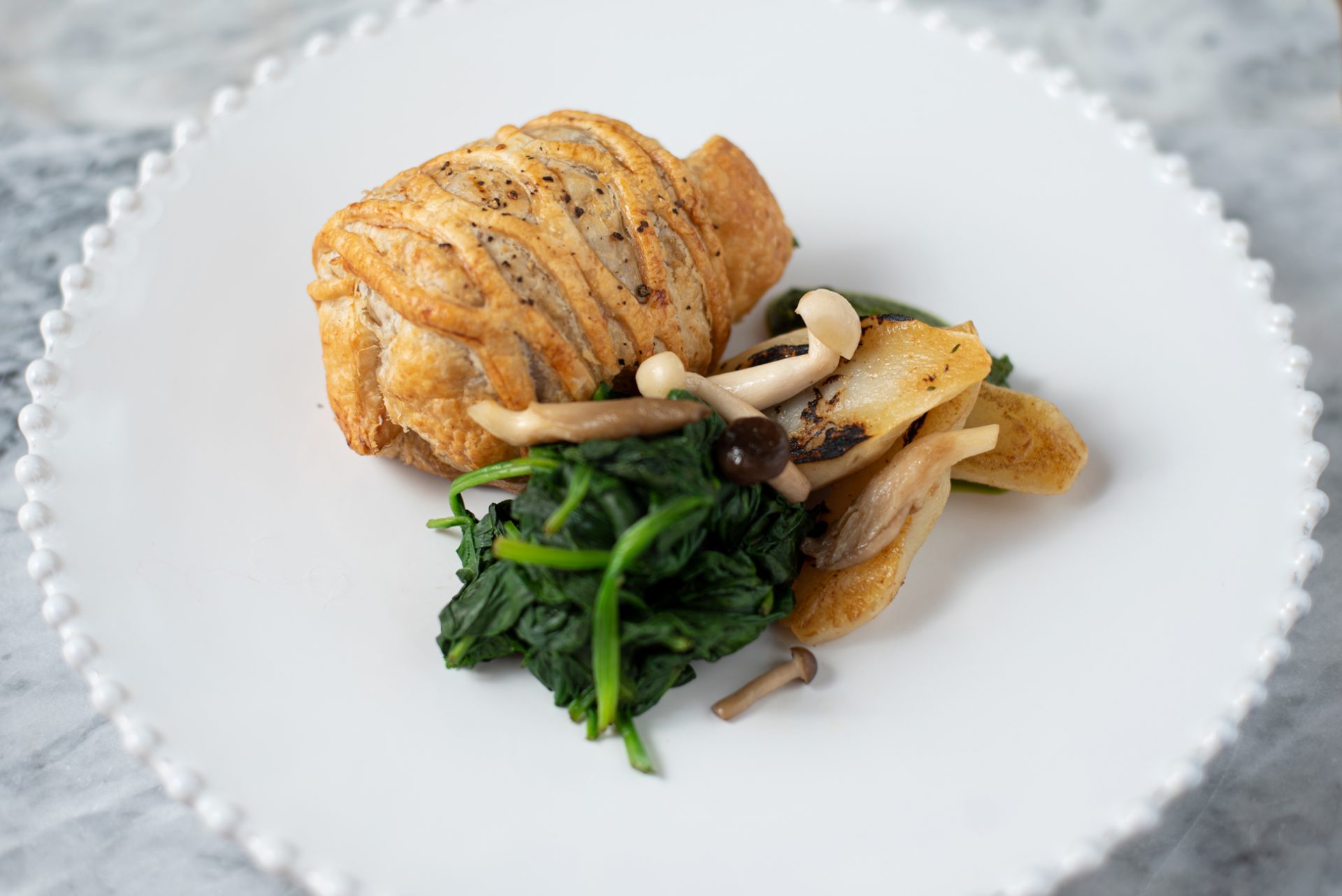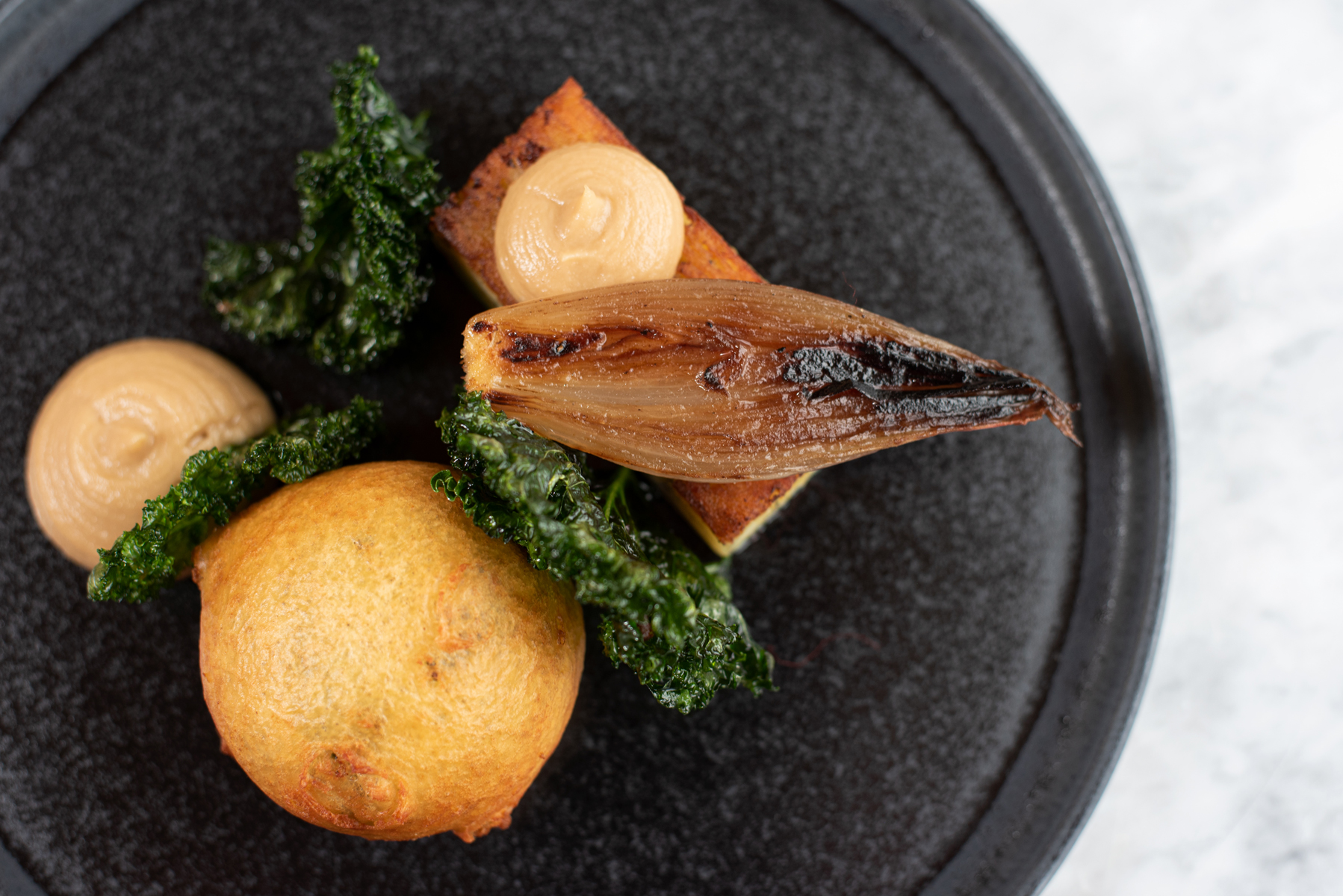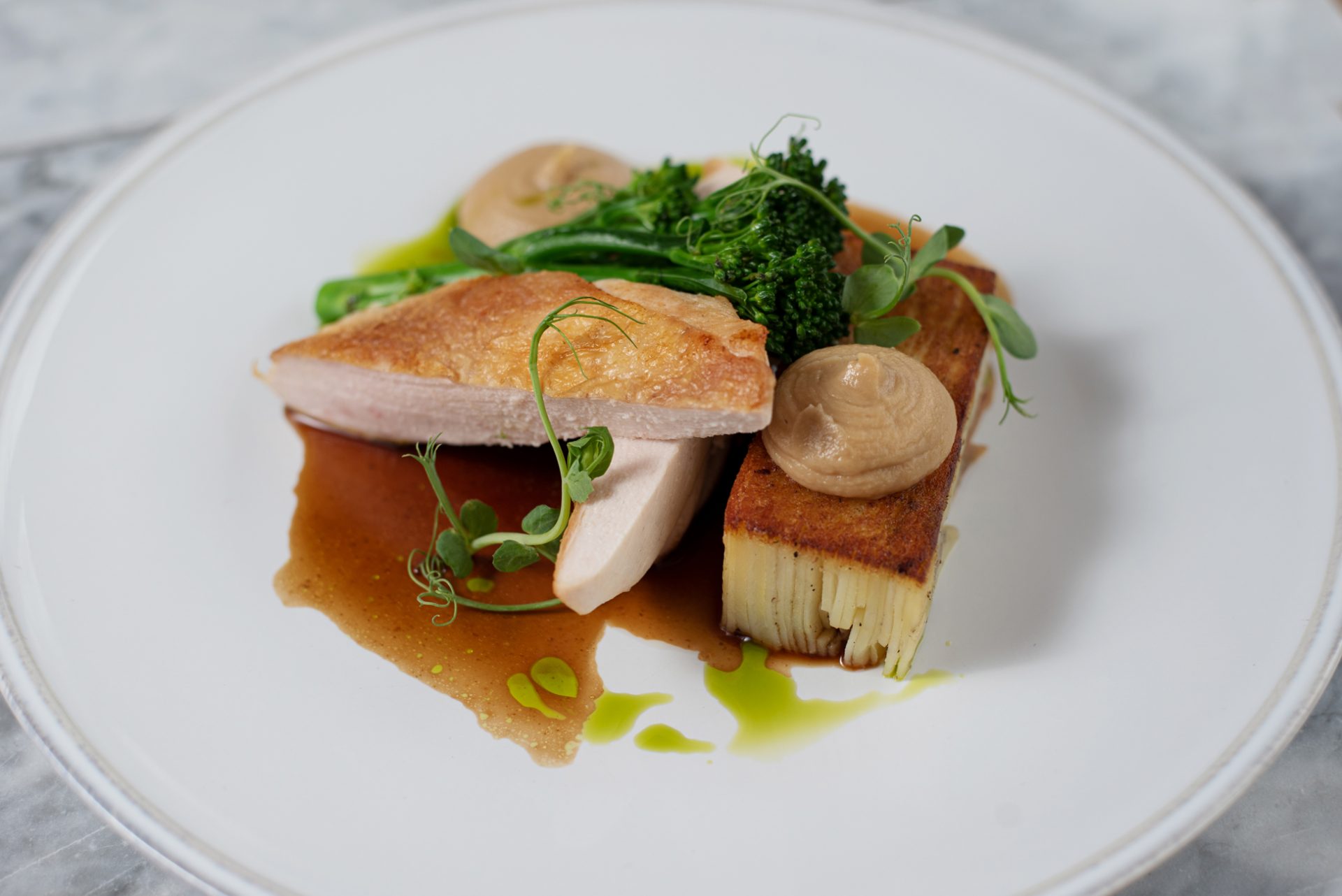 Top to Bottom: Rump of Cotswolds lamb, pea purée, herb gnocchi, charred broccoli, peas, broad beans, salsa verde (+£3pp); Sweet potato wellington, wild mushroom, roasted Jerusalem artichoke, spinach, Salmoriglio (v, vg, gf, df); Crispy Kale doughnut, parmesan, pressed potato, shallot puree, crispy kale, spring onion oil (v); Cotswolds white chicken, pressed potato, shallot puree, tenderstem broccoli, spring onion oil, madeira jus (df, gf)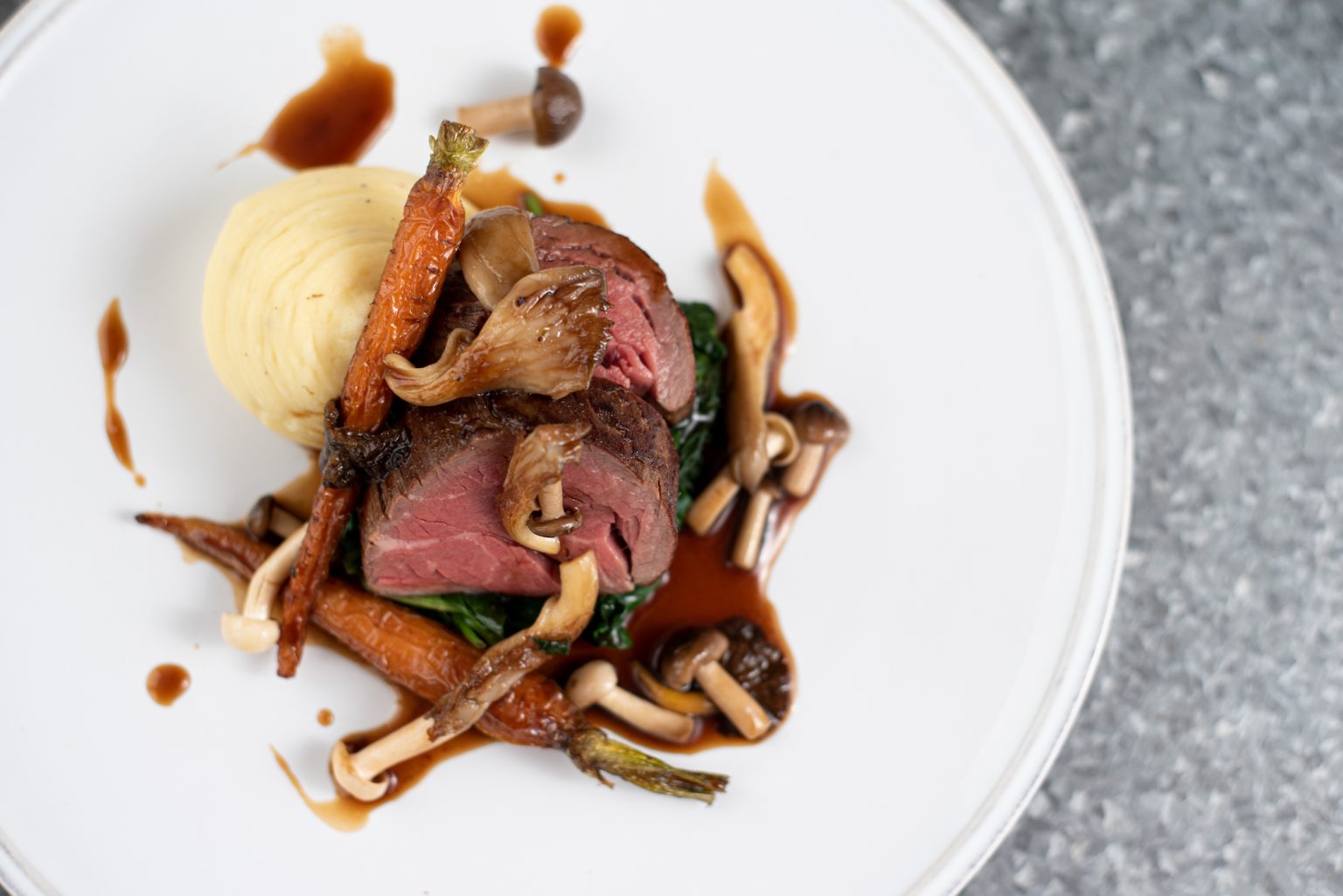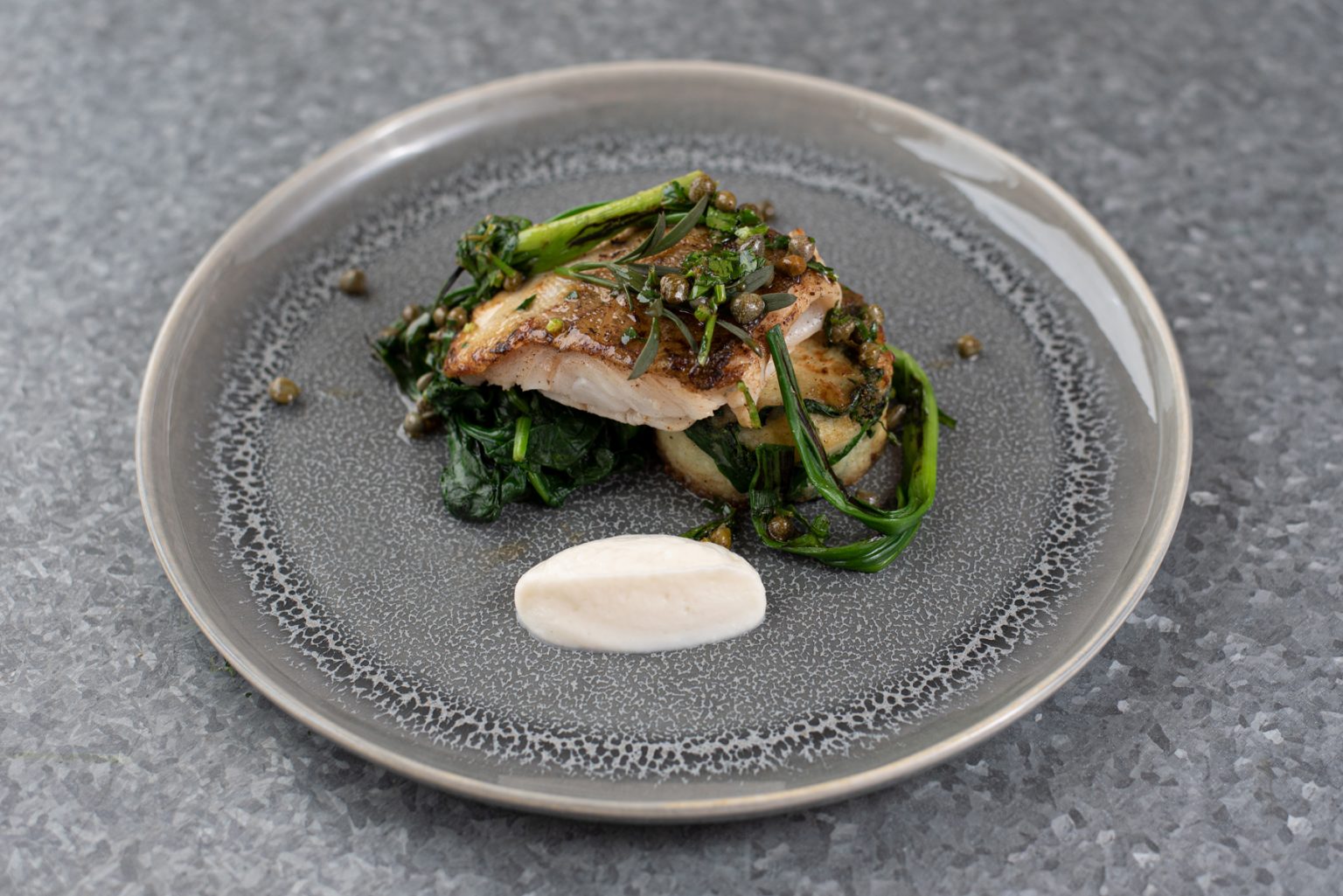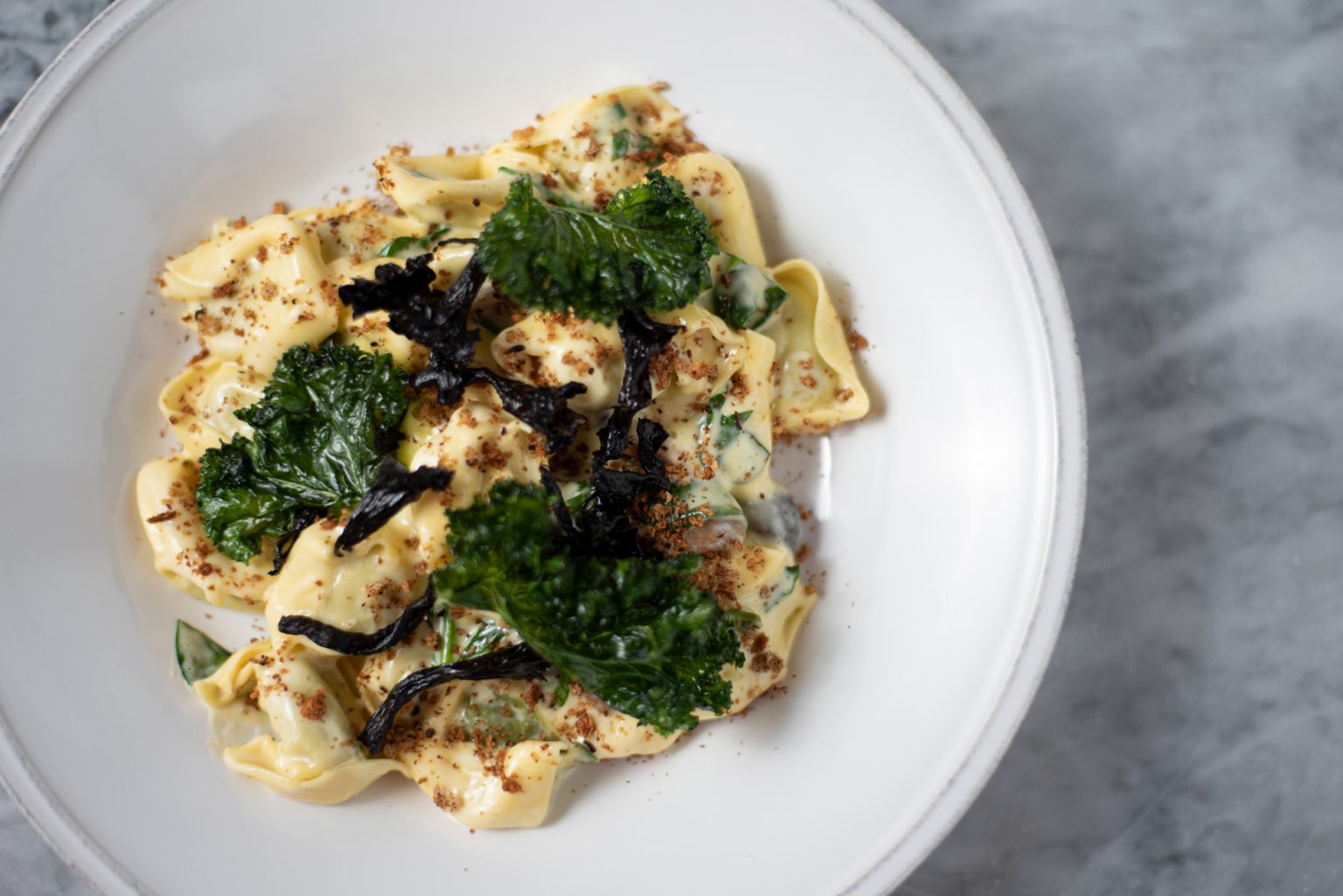 Top to Bottom: Roasted Beef fillet, creamed potato, candied carrot, wild mushrooms, truffle (+ £7pp) (gf); Pan fried cod, bubble and squeak, cauliflower puree, spinach, caper and raisin burnt butter (gf); Seasonal tortellini, crispy trumpet mushrooms (v)
Desserts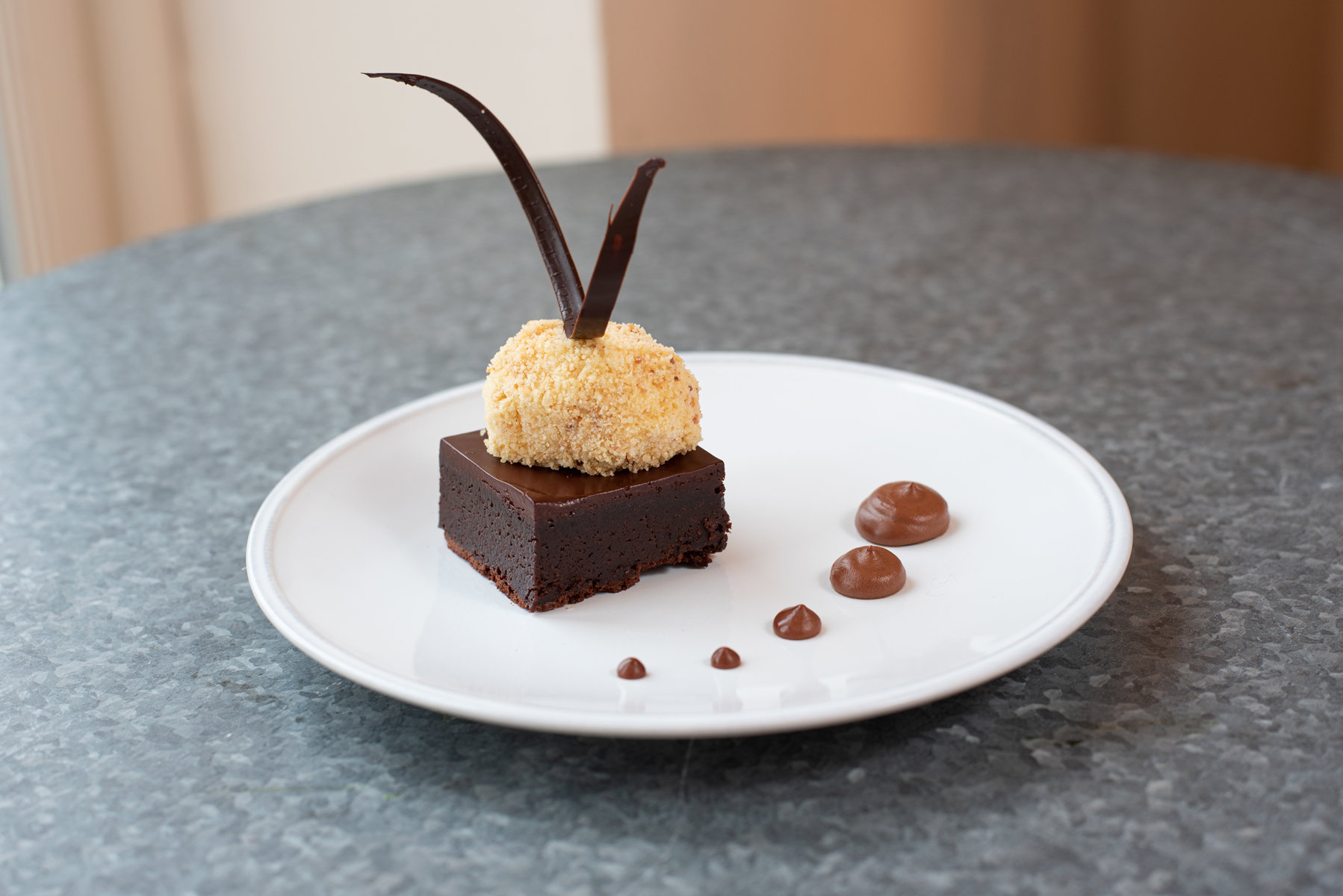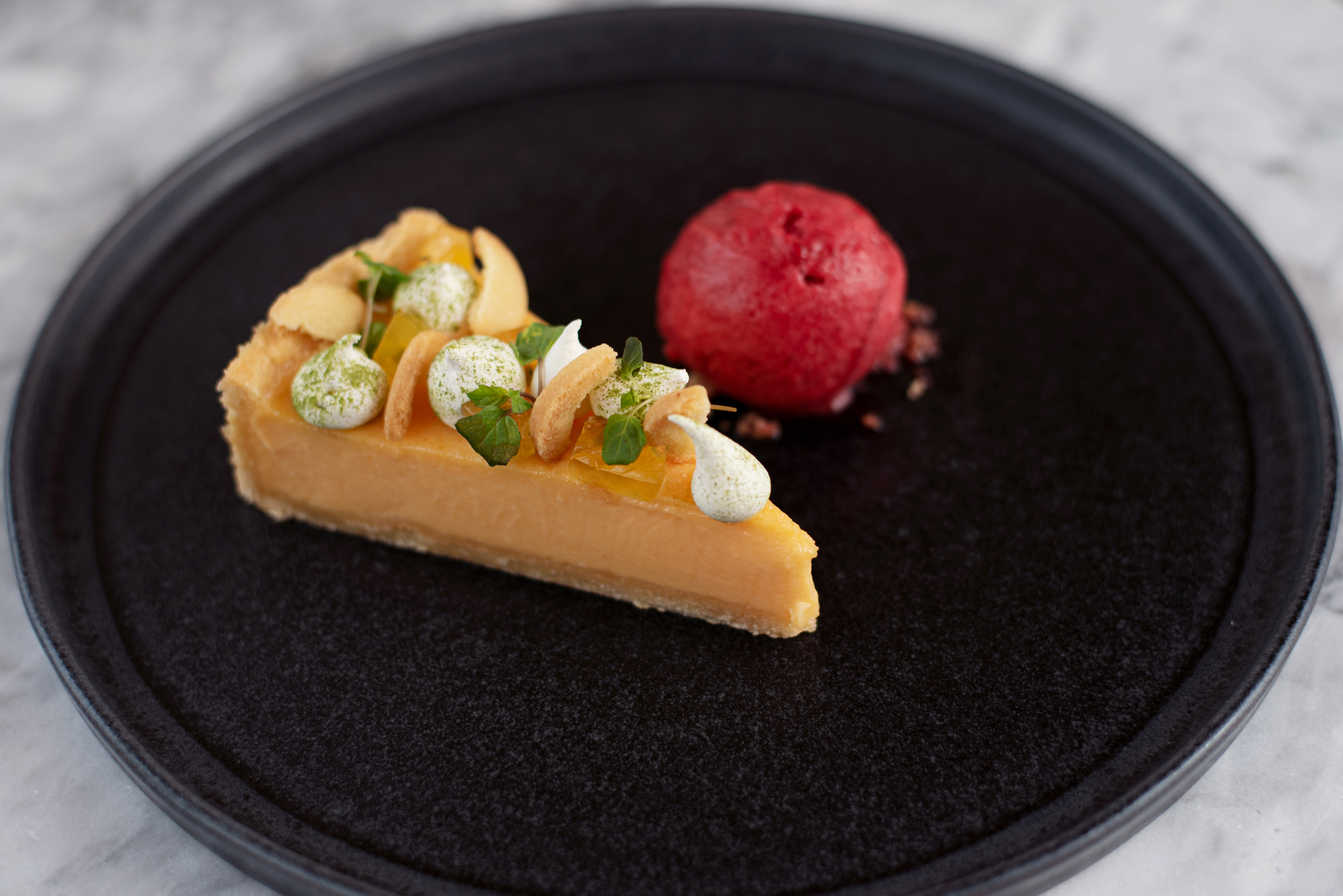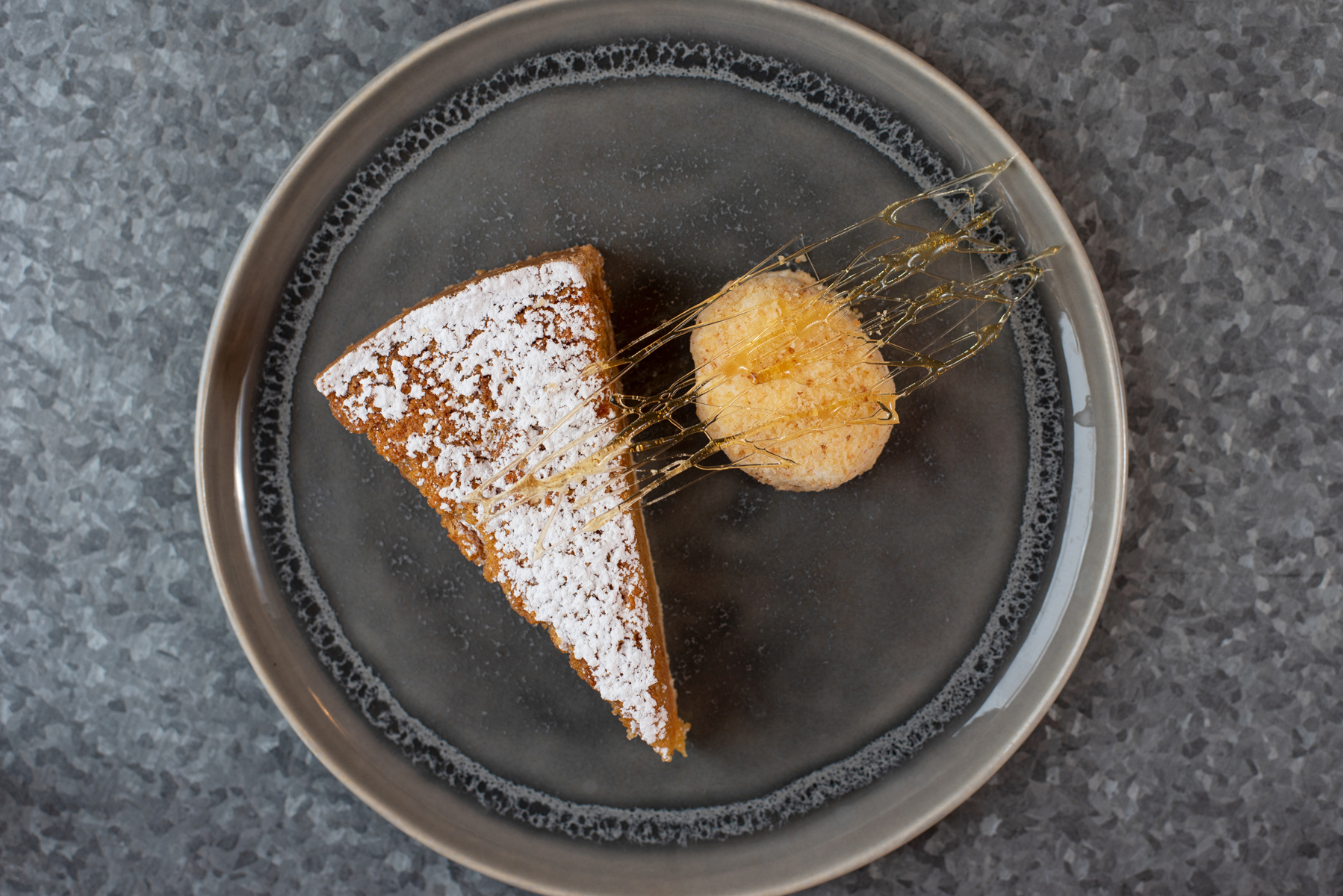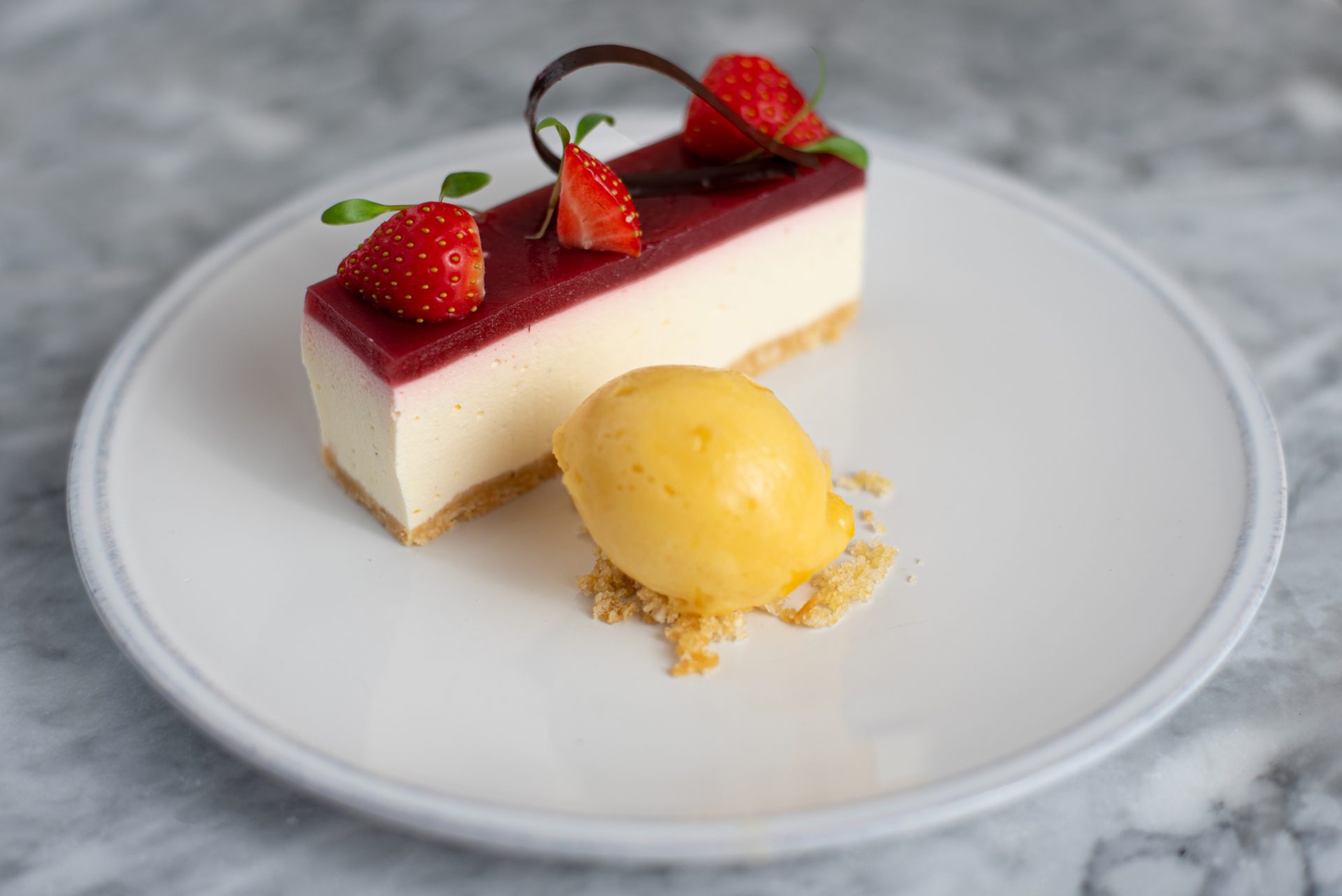 Top to Bottom: Chocolate and buttermilk brownie, chocolate sauce, vanilla dream ice cream (v), Treacle tart, salted caramel ice cream; Strawberry and tonka bean cheesecake, passionfruit and mango (v)
Hitched at Hyde : 27 / 01 / 21
Spring and Summer Wedding Inspiration at Hyde House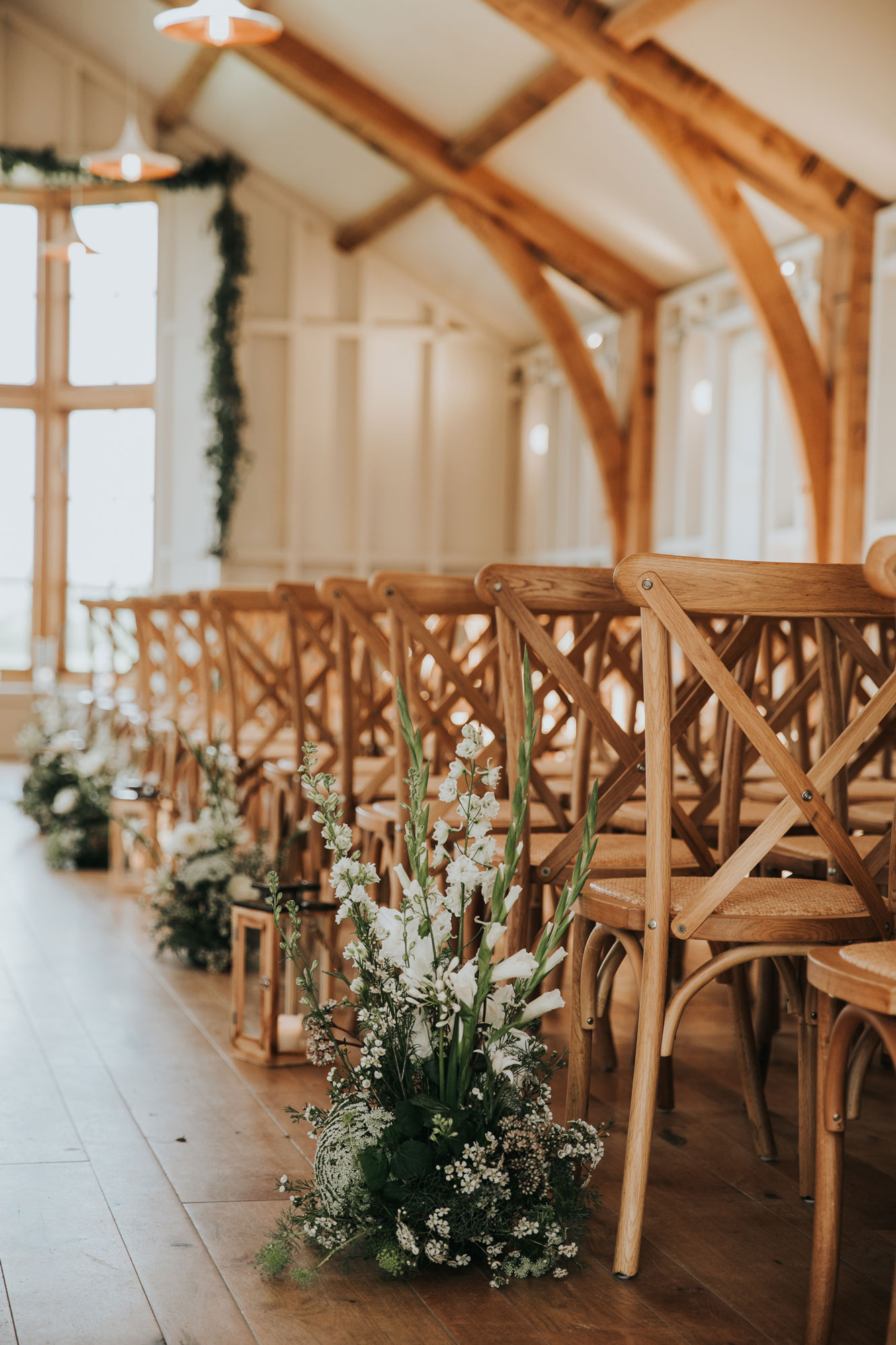 Here at Hyde House, both The Grange and The Barn are beautiful, open spaces that are neutral in design and offer endless styling opportunities to our Couples for both The Ceremony and Wedding Breakfast; so whatever the Season, your style or preferences, our Barn's are your blank canvas that can bring your vision to life without limitation.
As a Team, we really love this about the Venue because no Wedding Day is ever the same and we are constantly amazed at how creative Couples and their wonderful Suppliers are and how they are able to put their own stamp on Hyde House.
Knowing where to start when planning your Big Day can be overwhelming, so we wanted to put together some gorgeous imagery from Spring and Summer Ceremonies and Wedding Breakfasts at Hyde House, including breathtaking Outdoor Ceremonies underneath The Arbor, to give you all some inspiration as you embark on this exciting process!
The Grange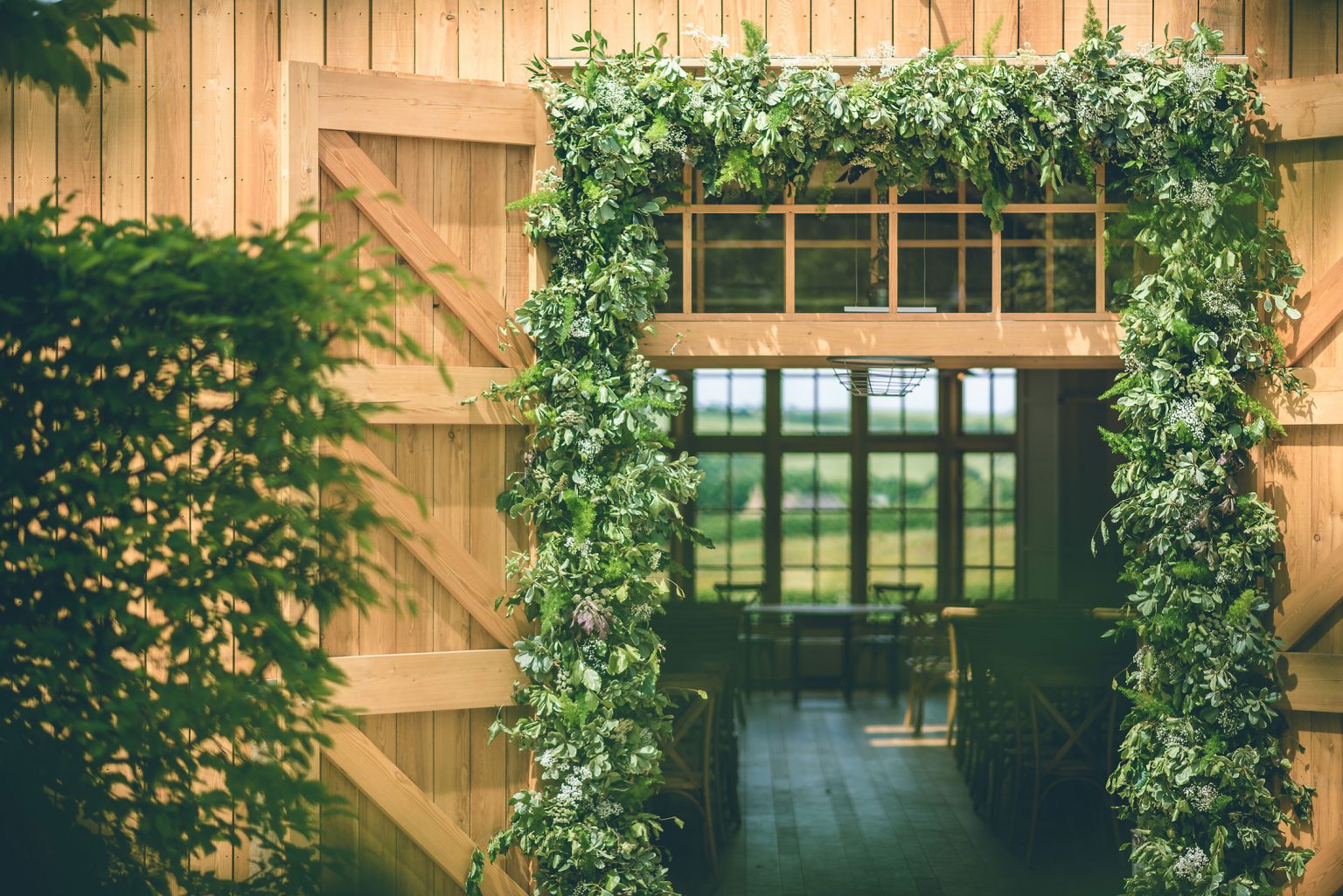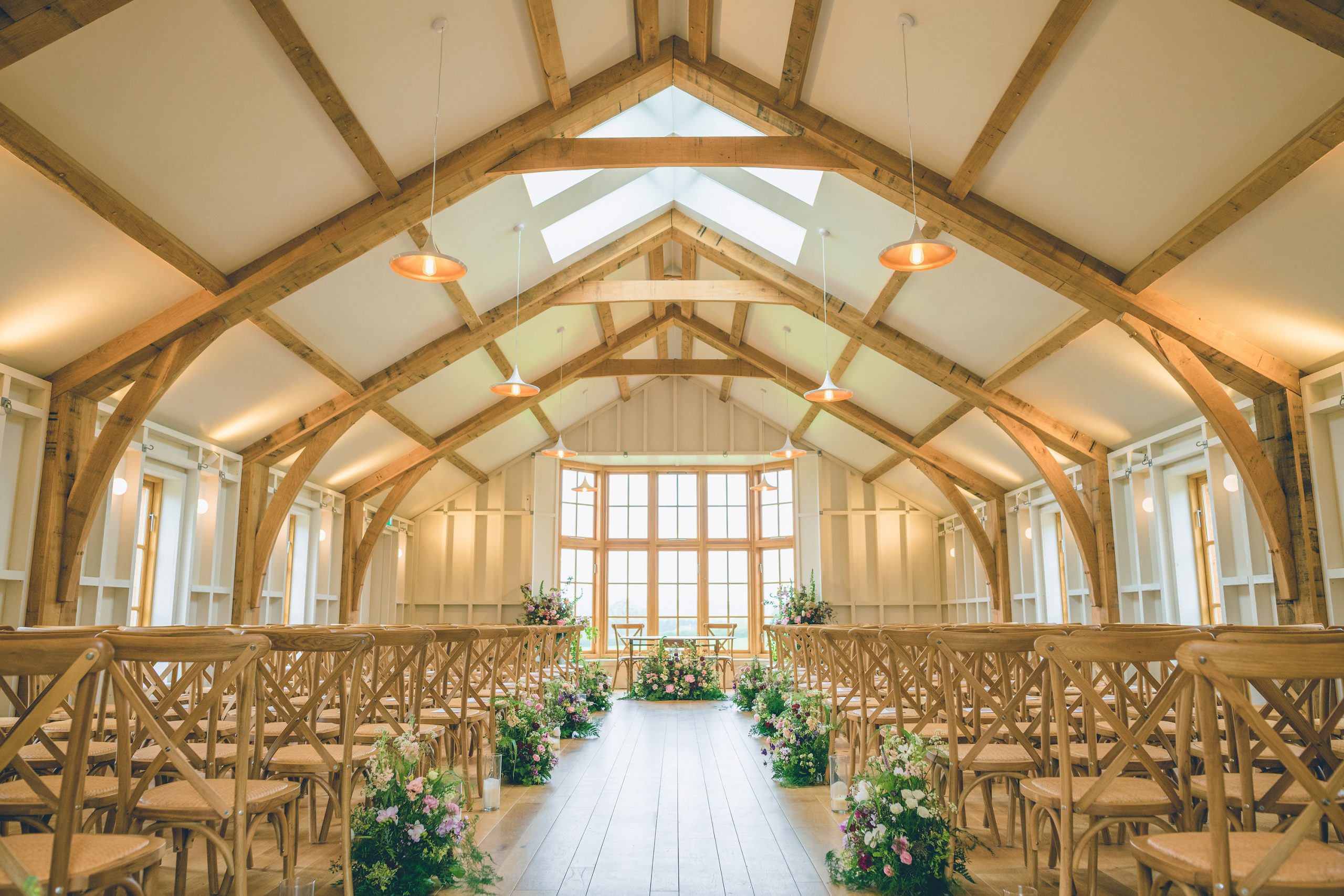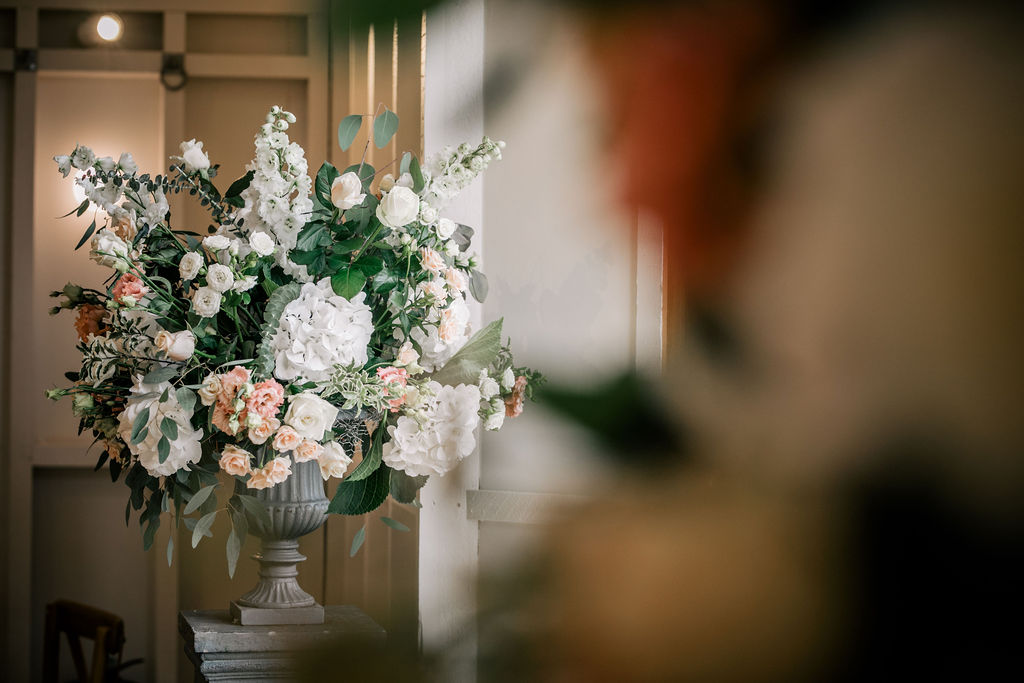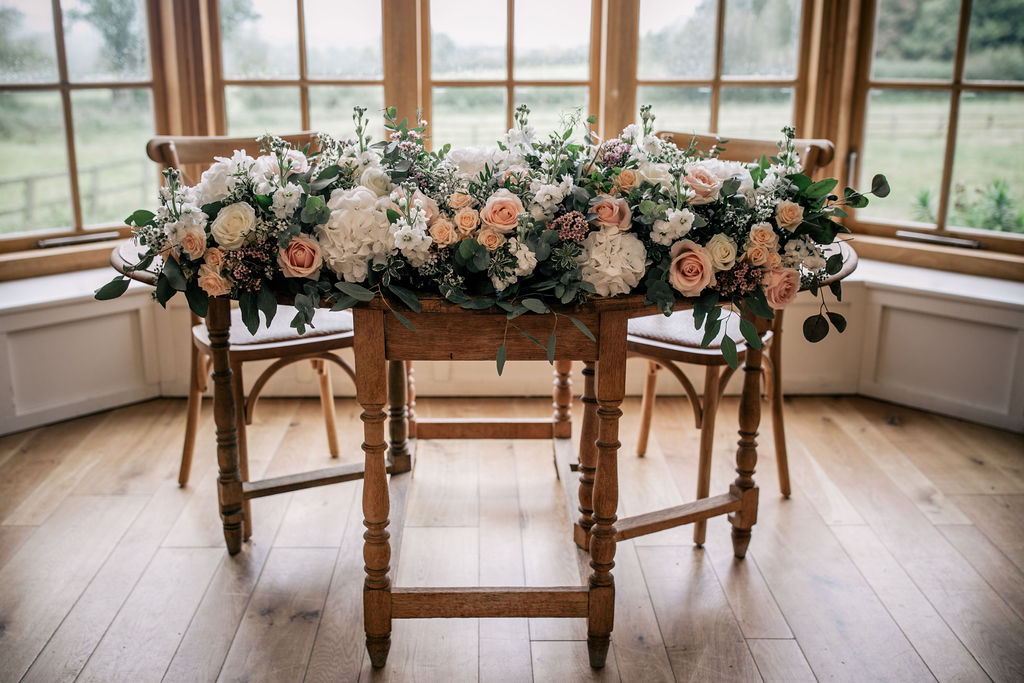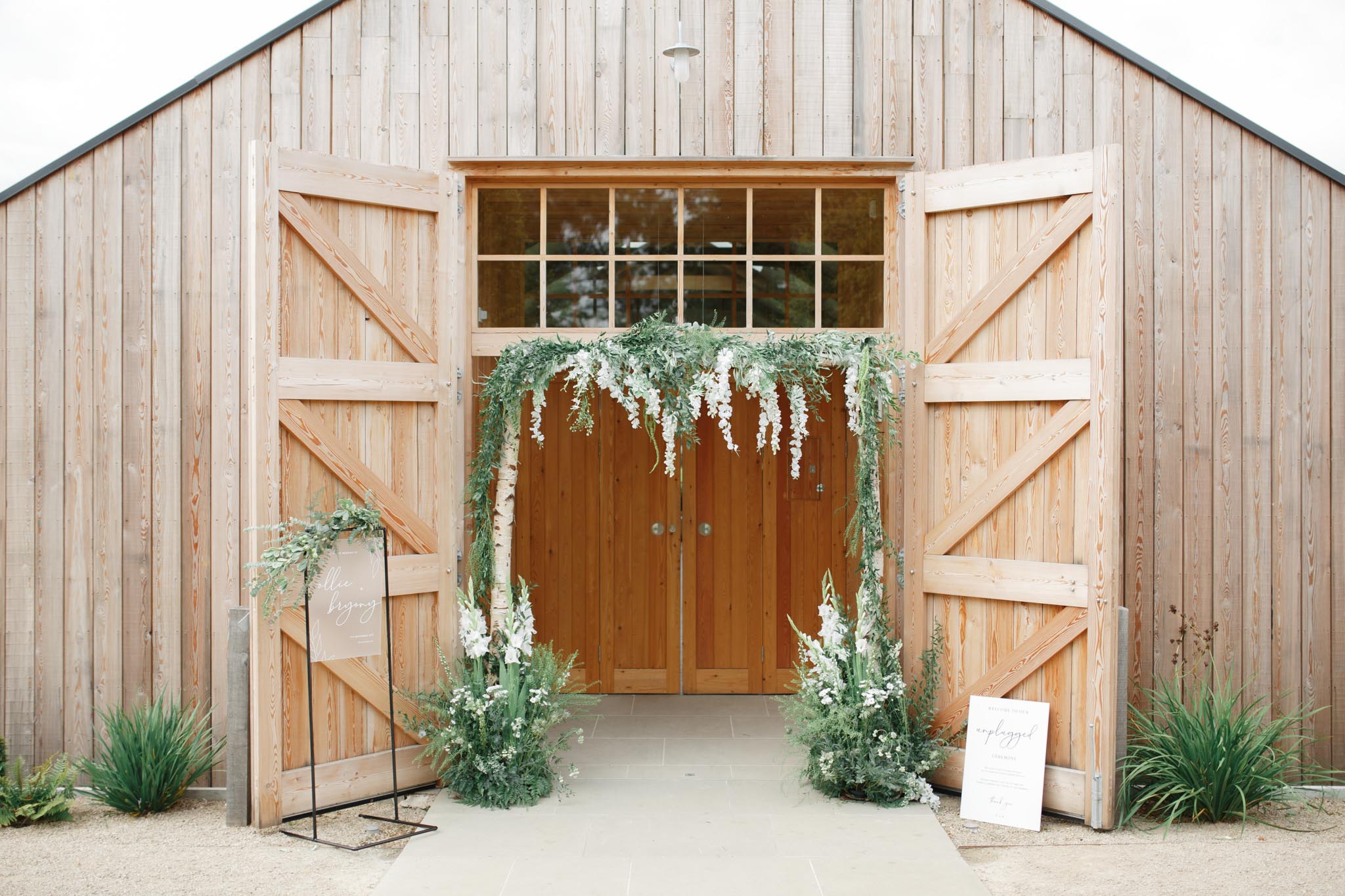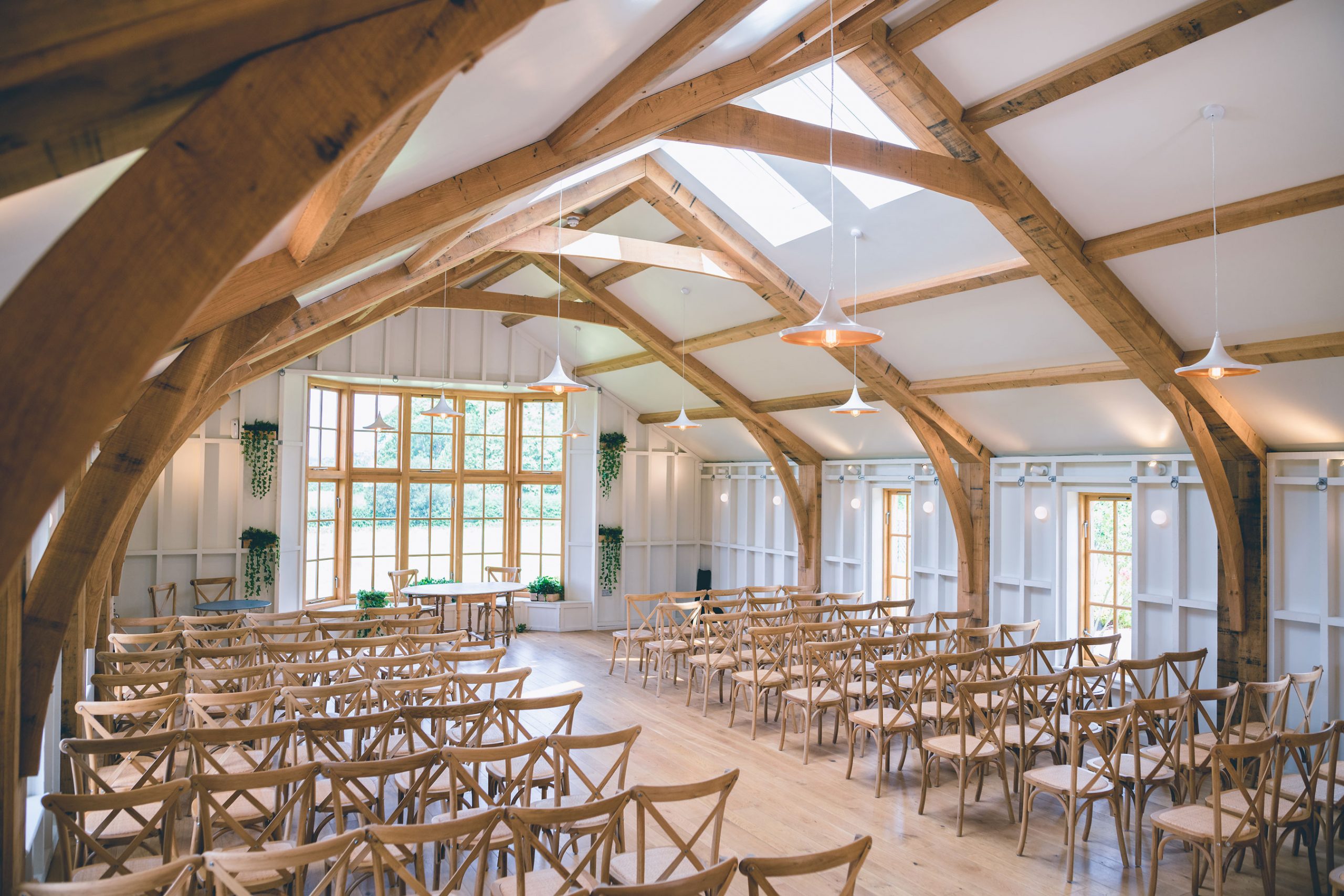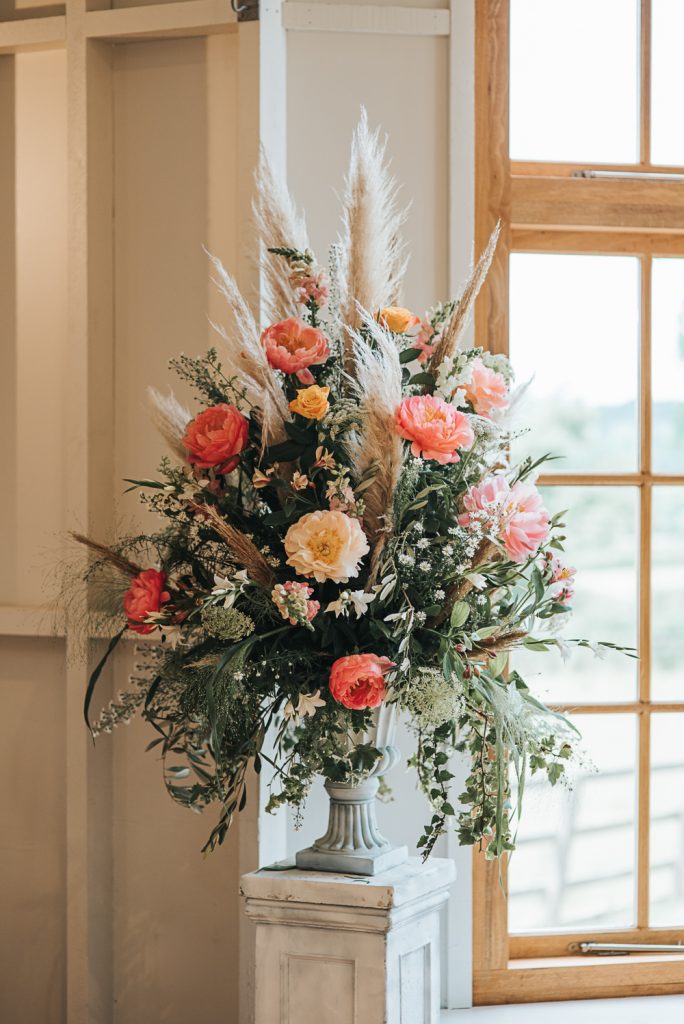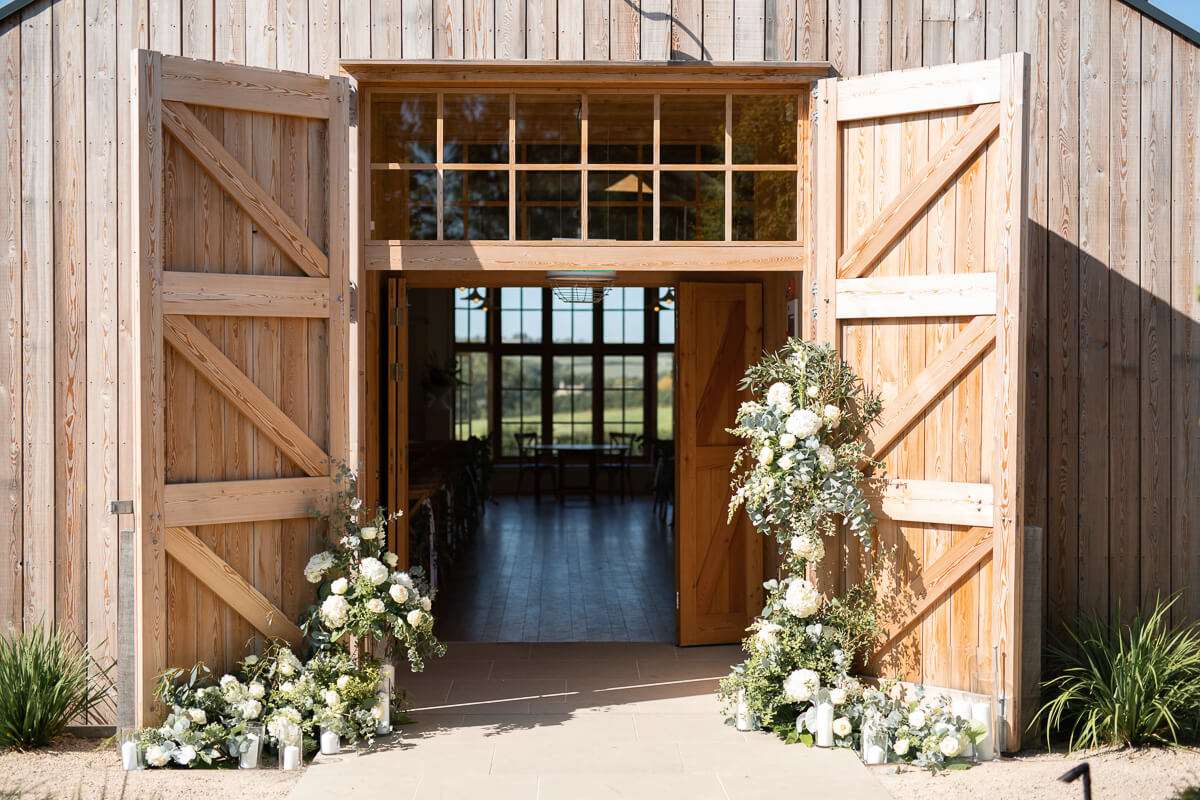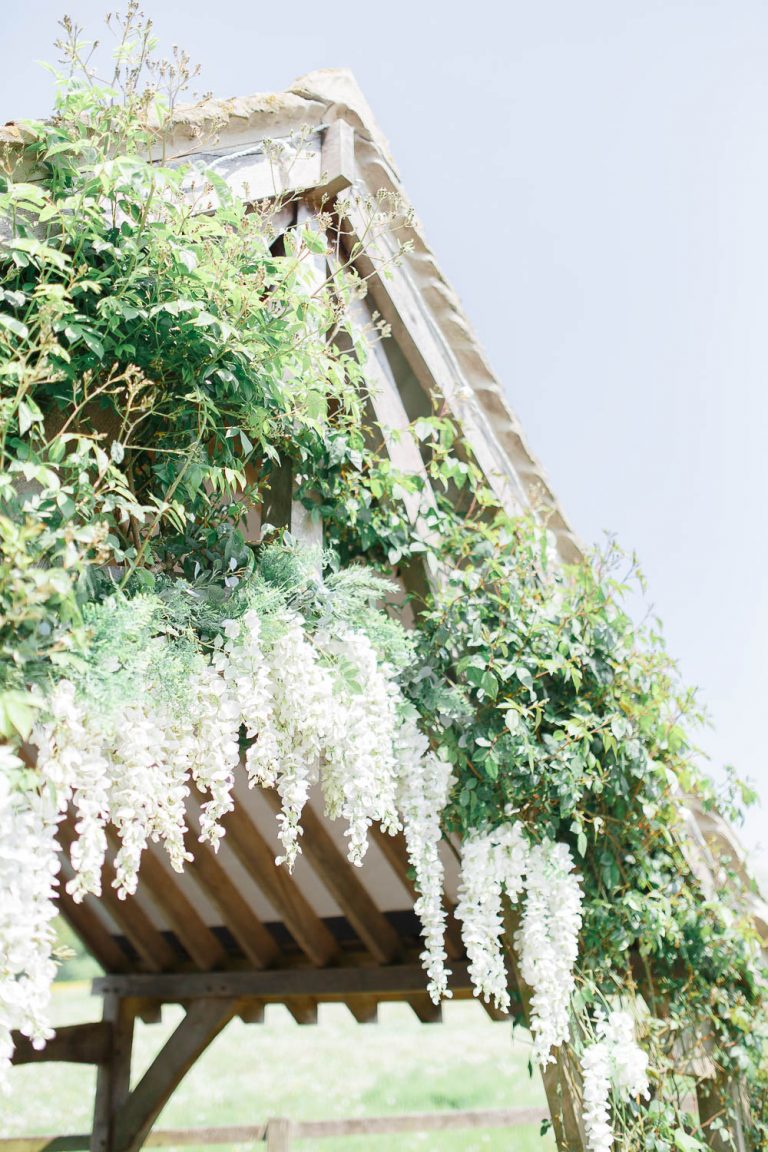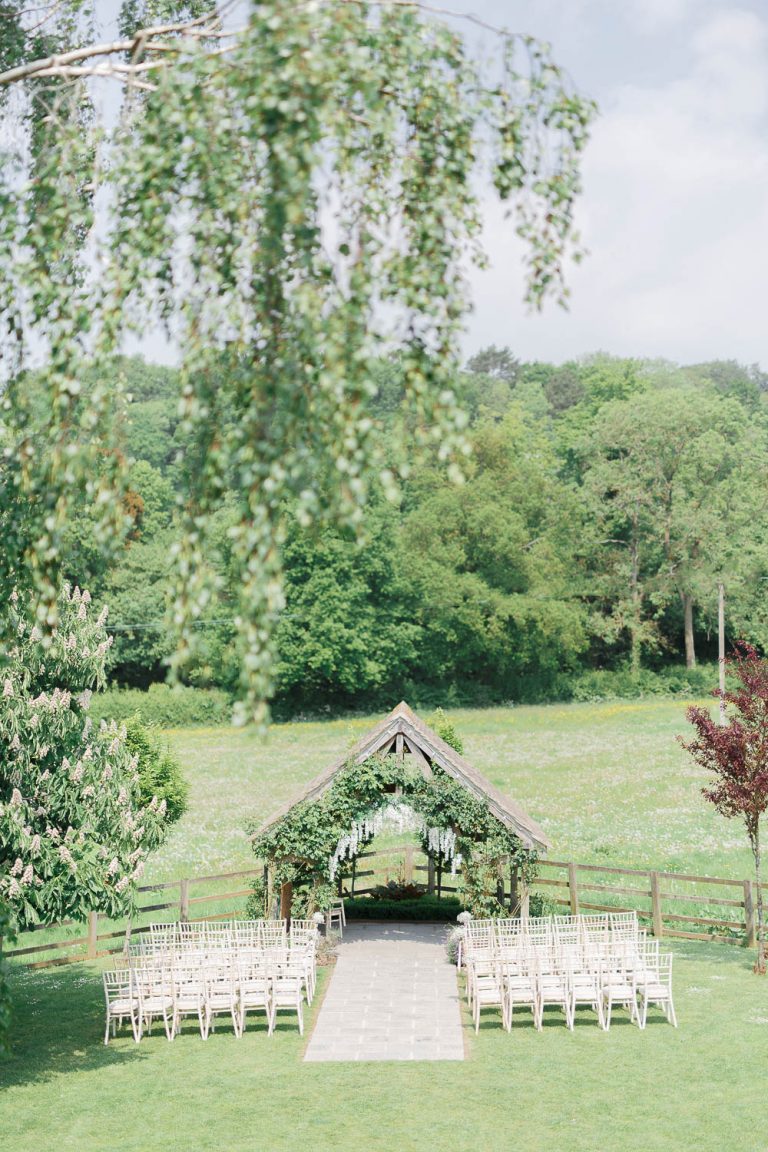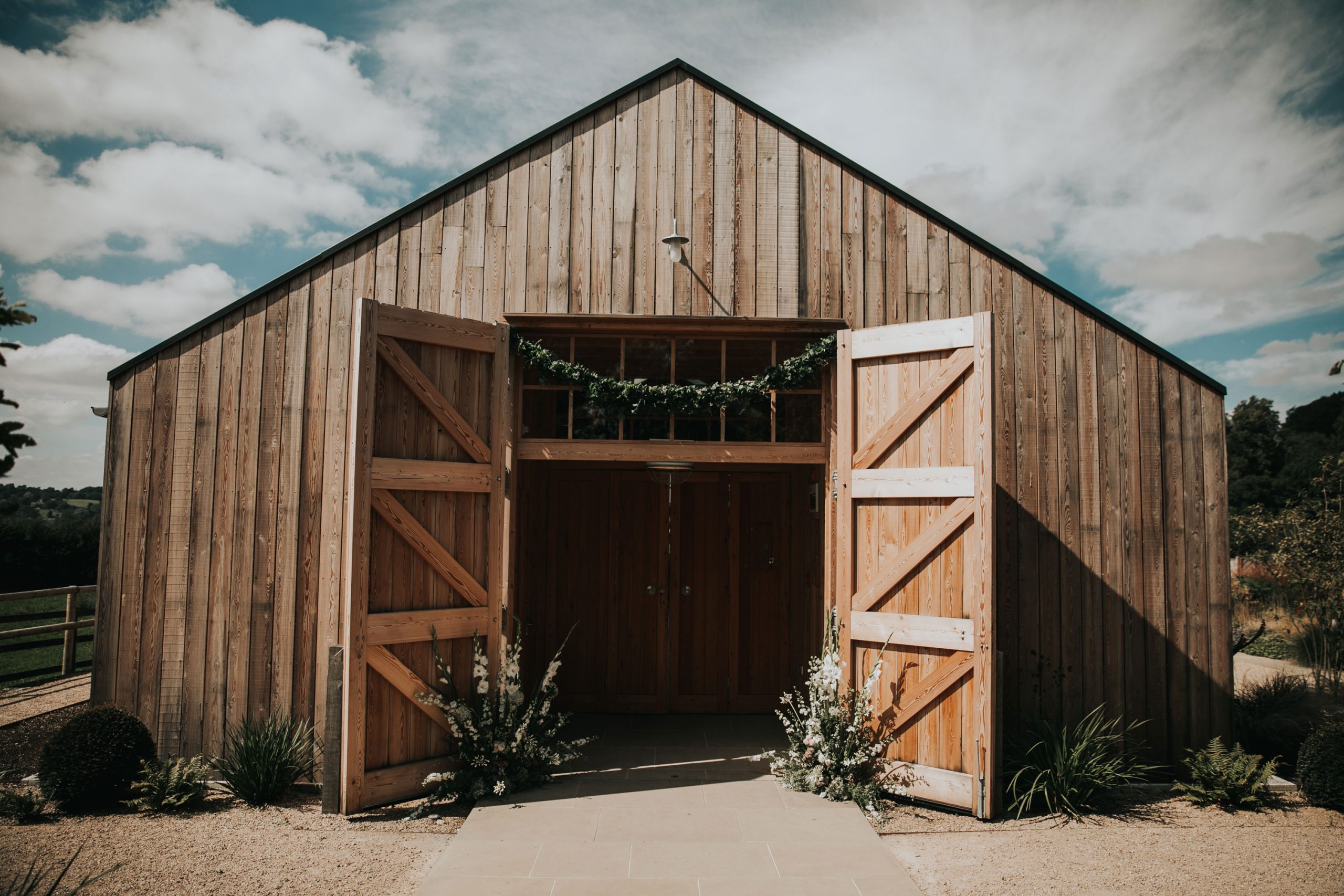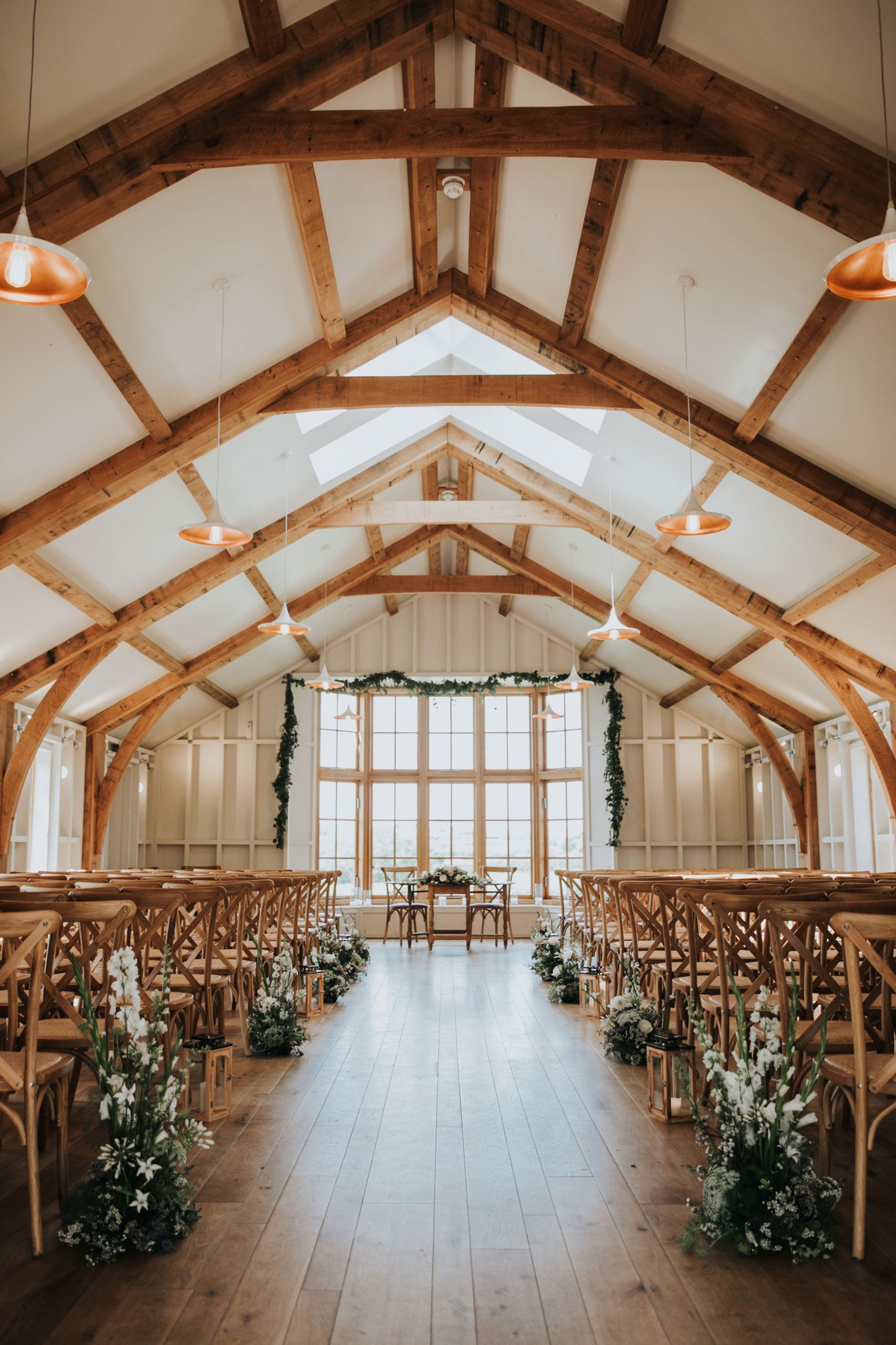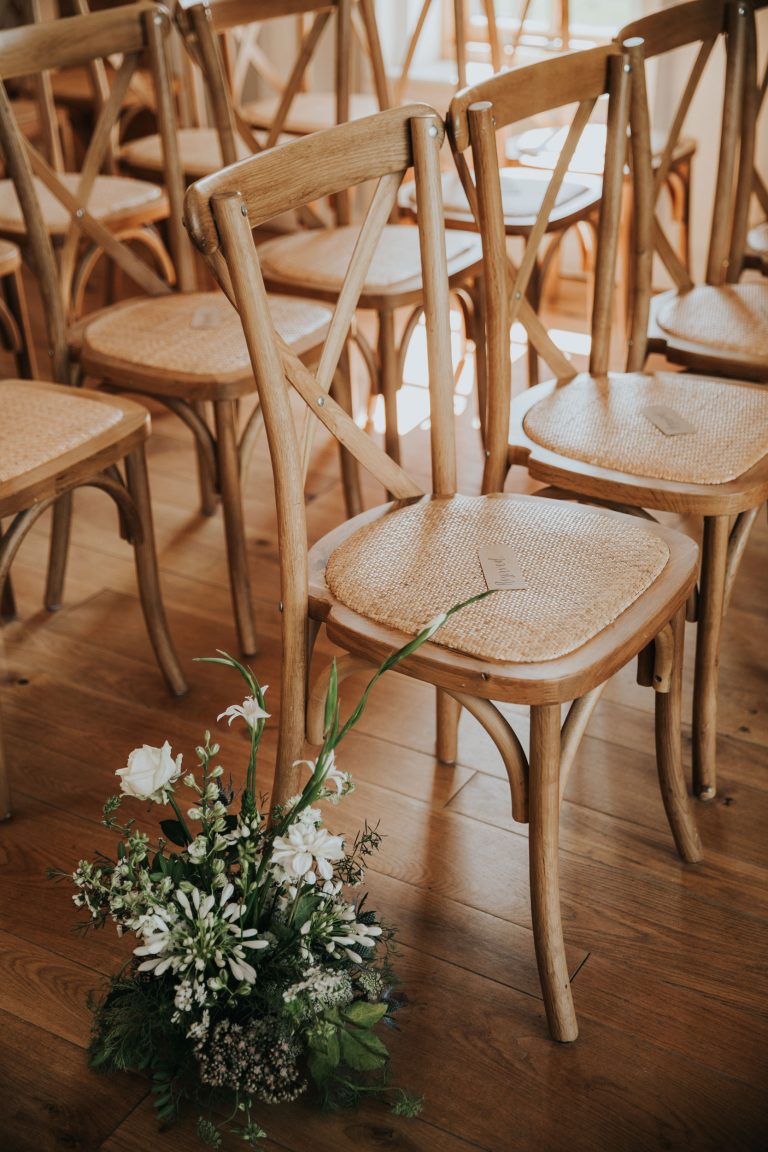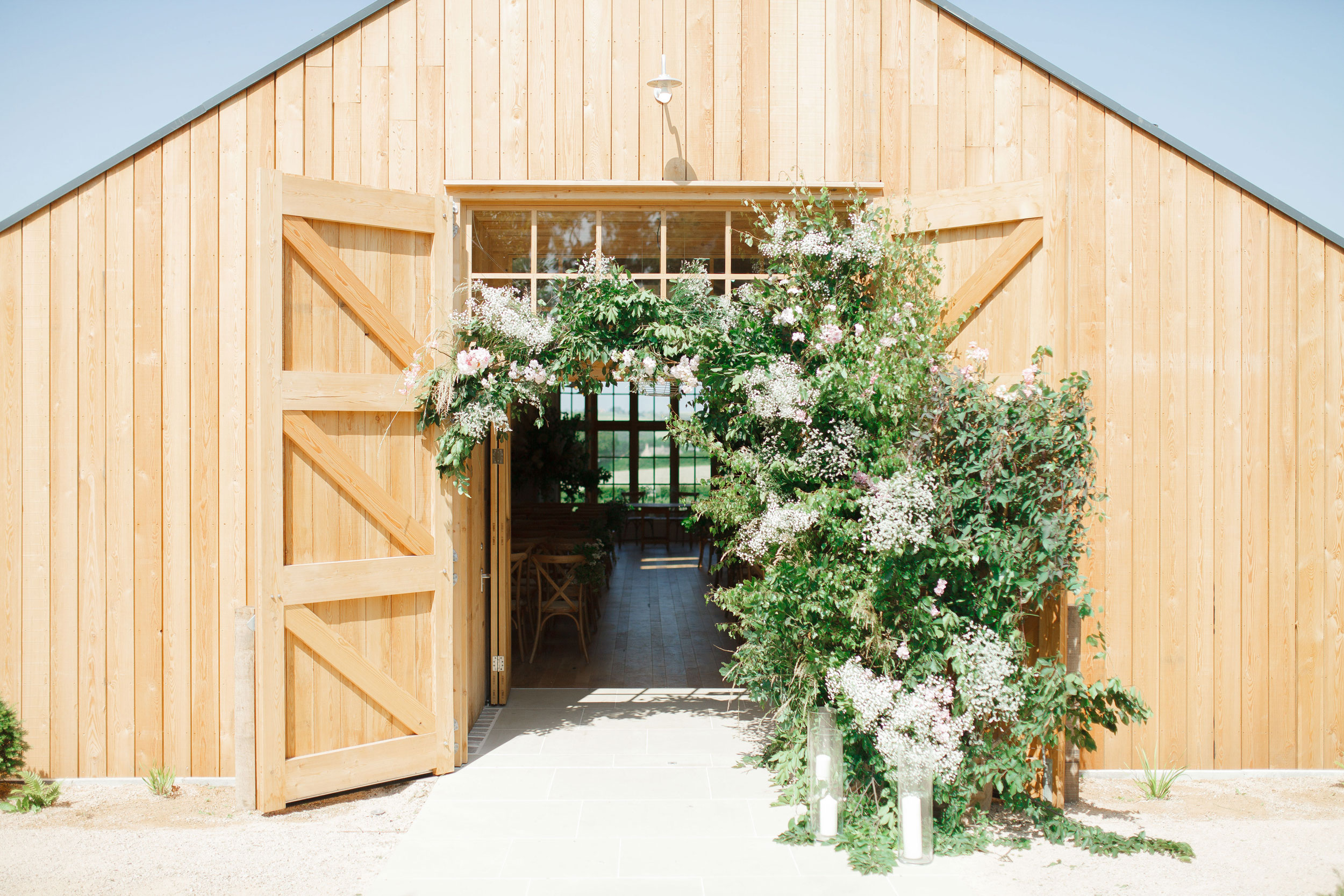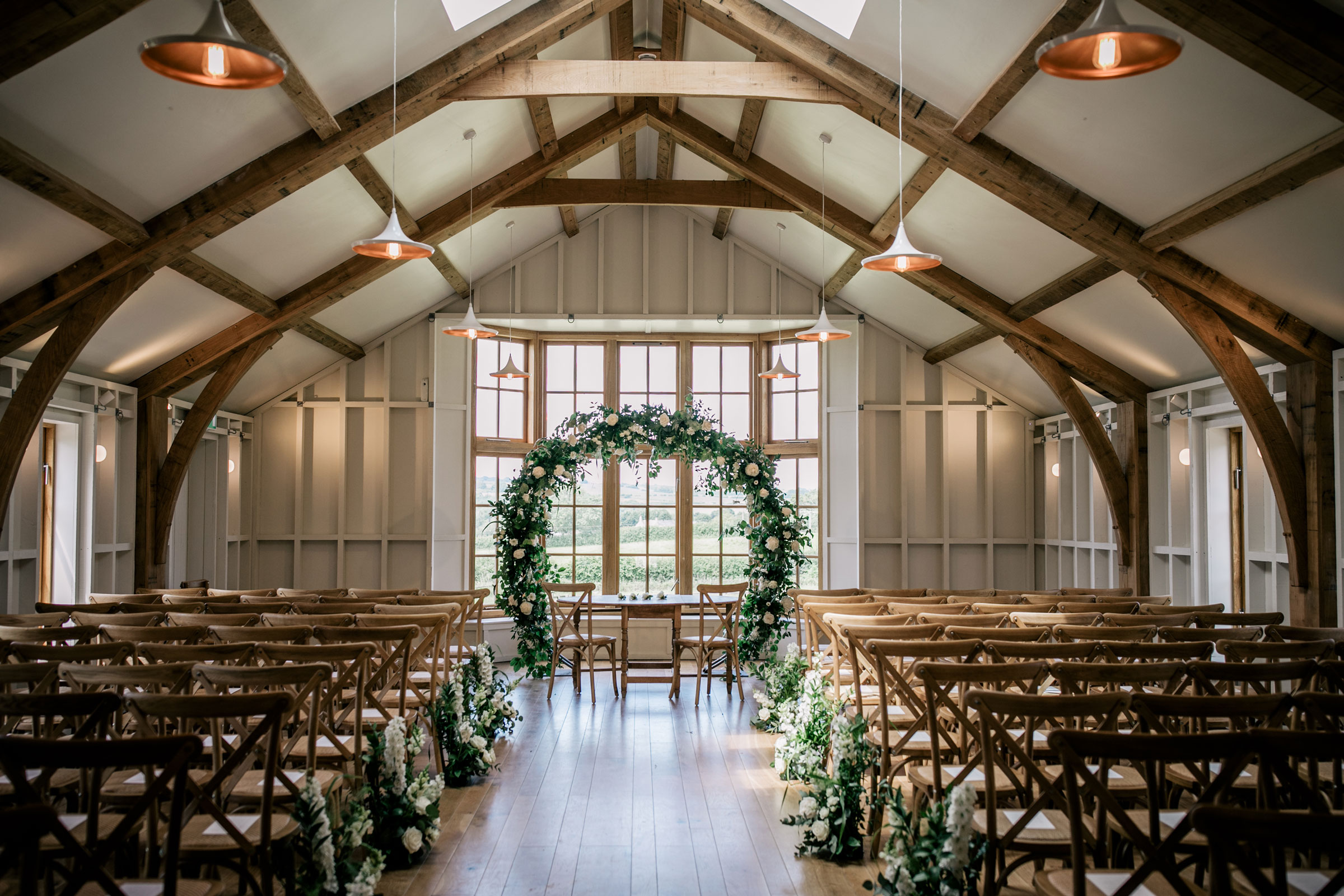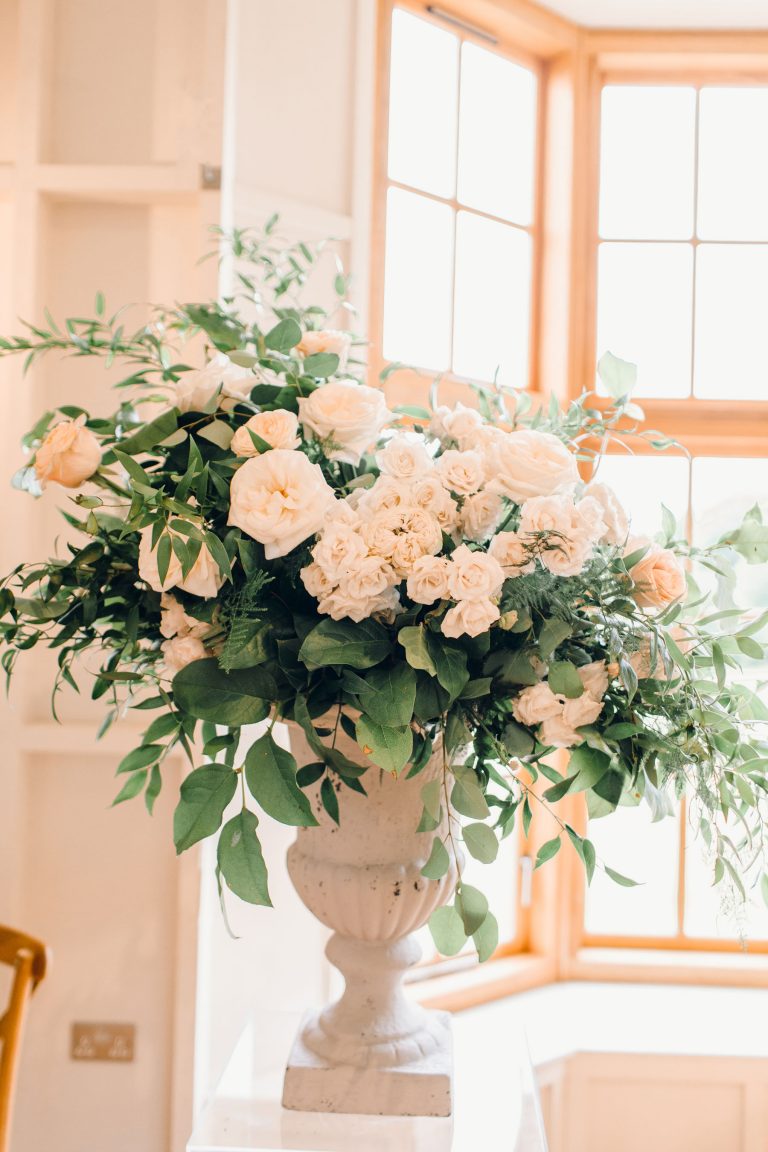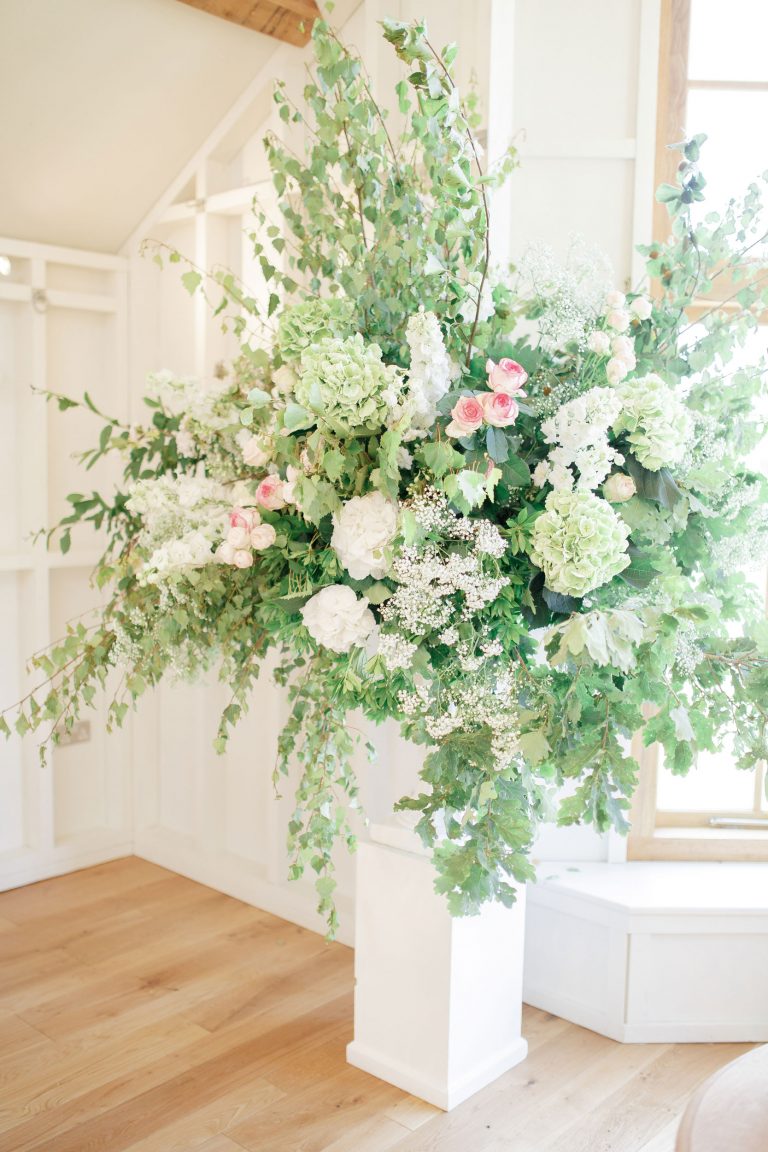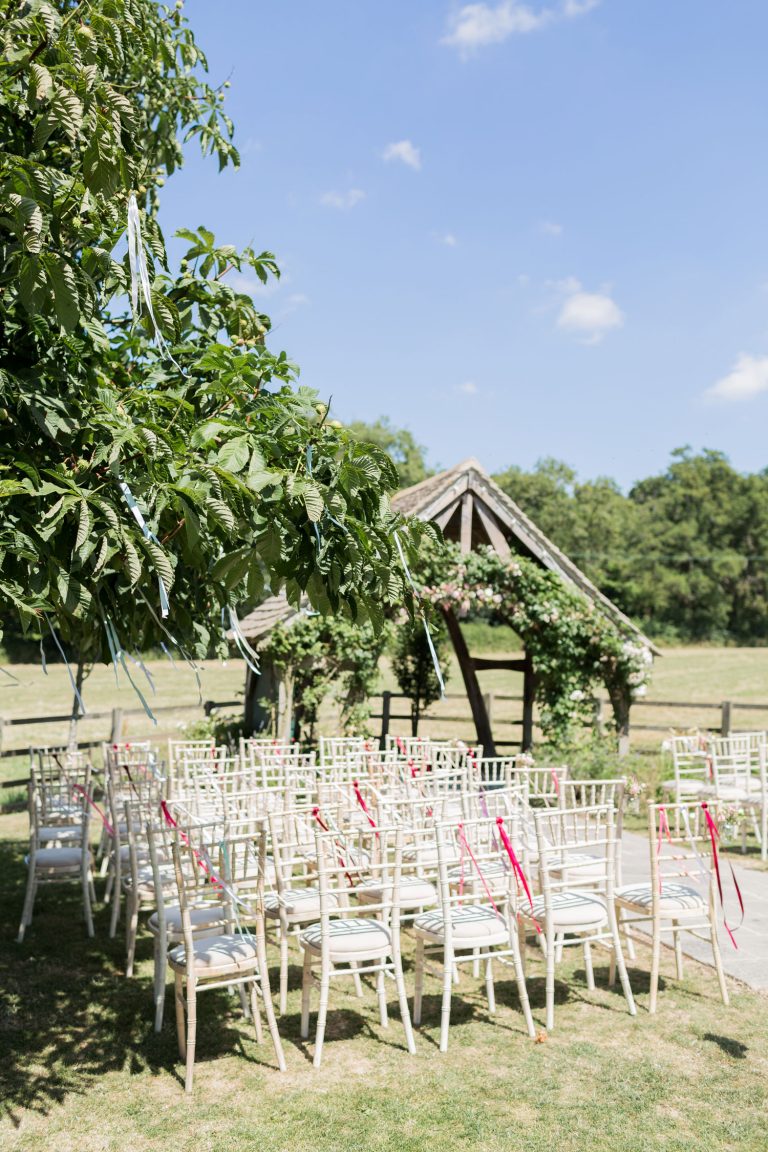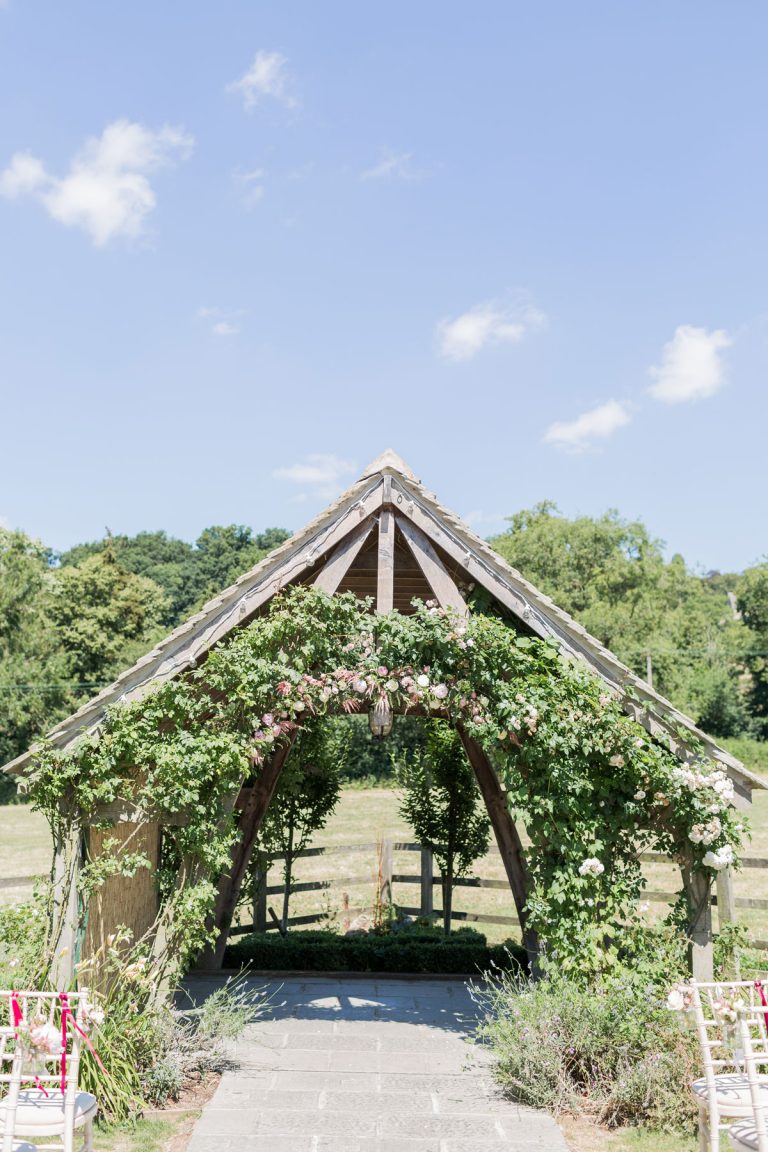 Bowtie and Belle Photography | Cotswold Blooms
The Barn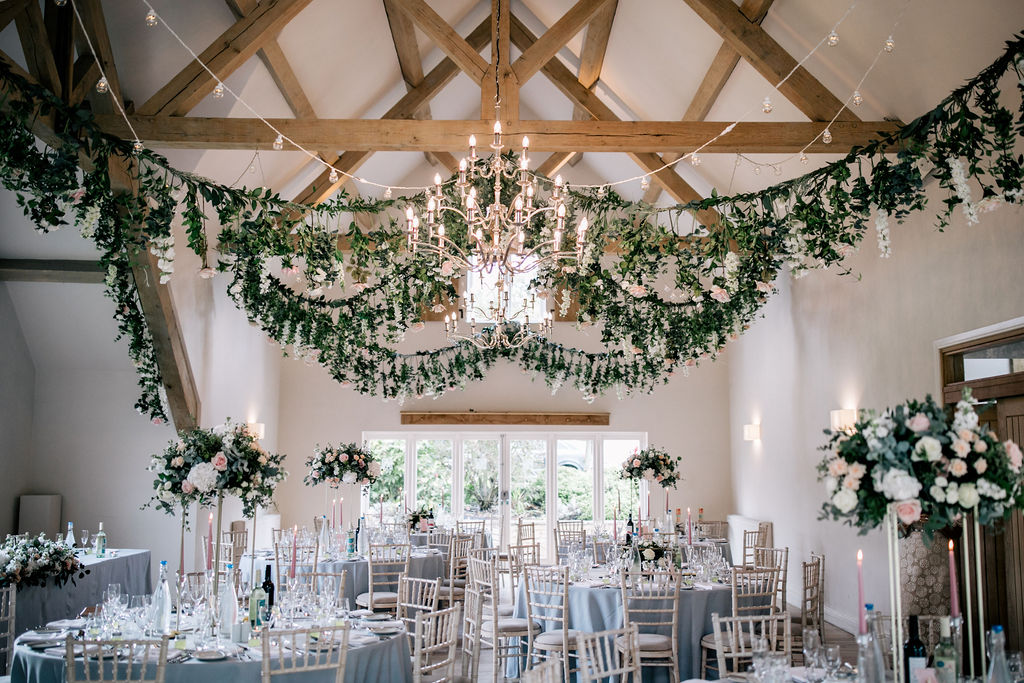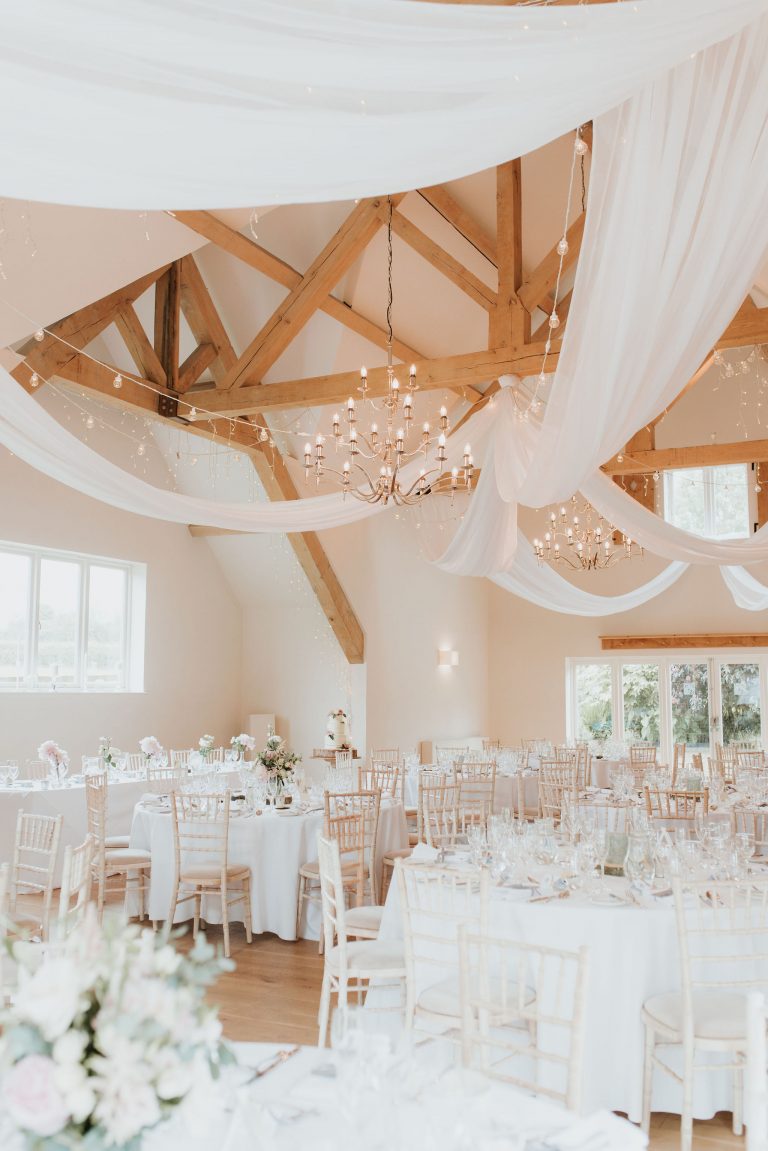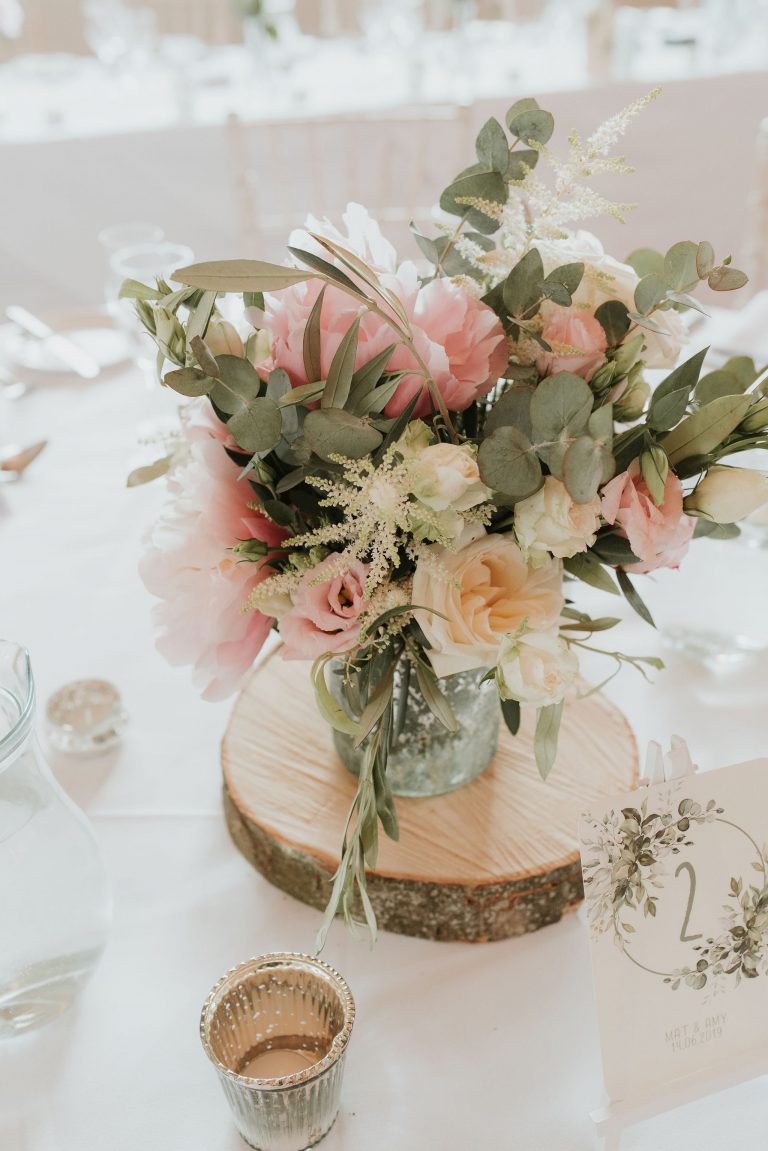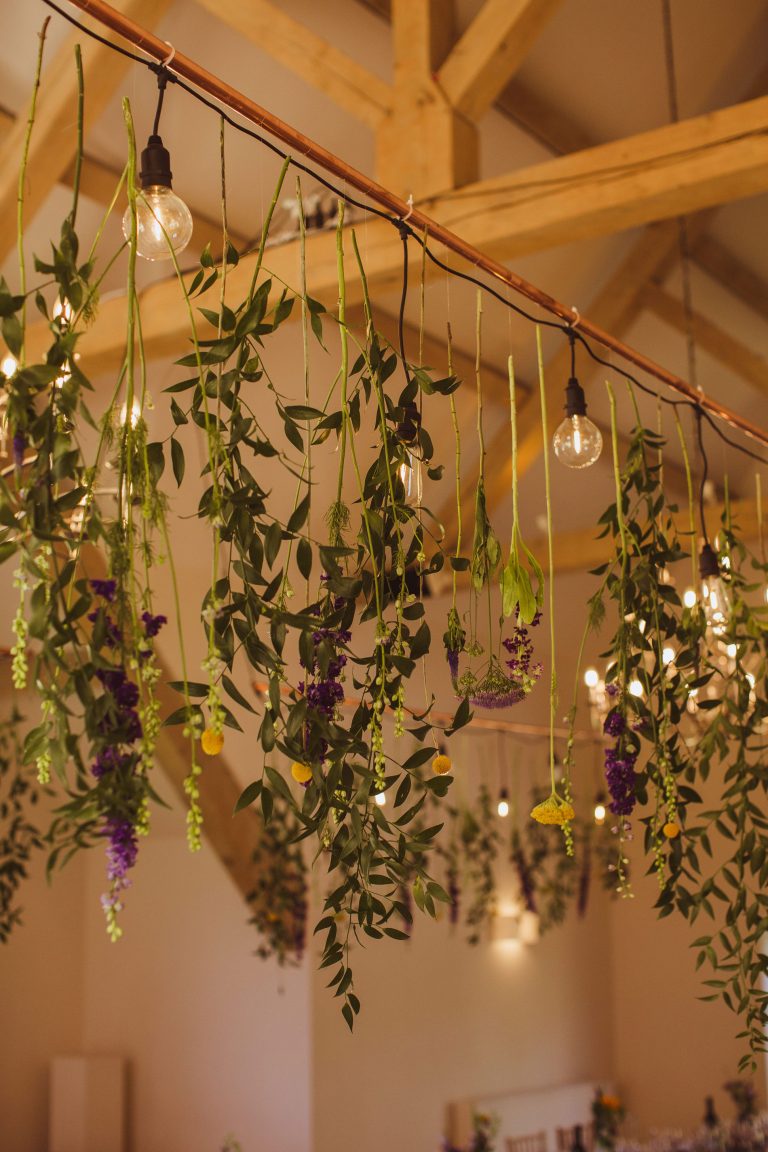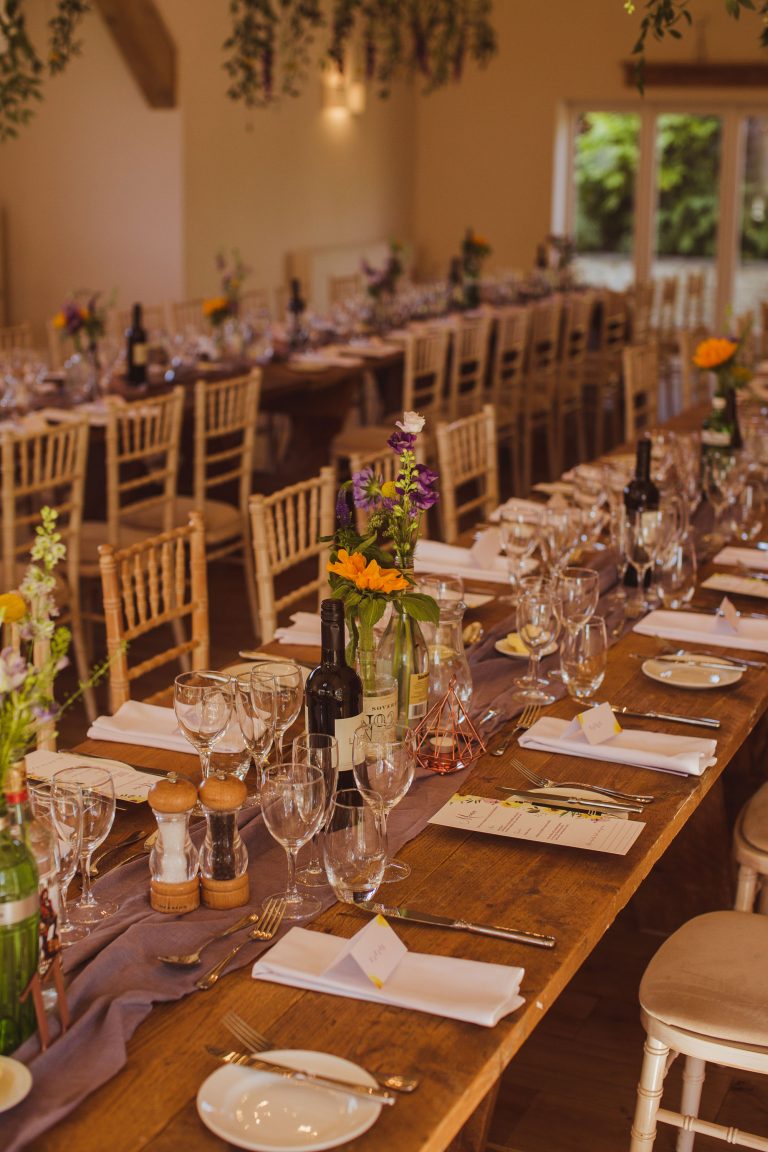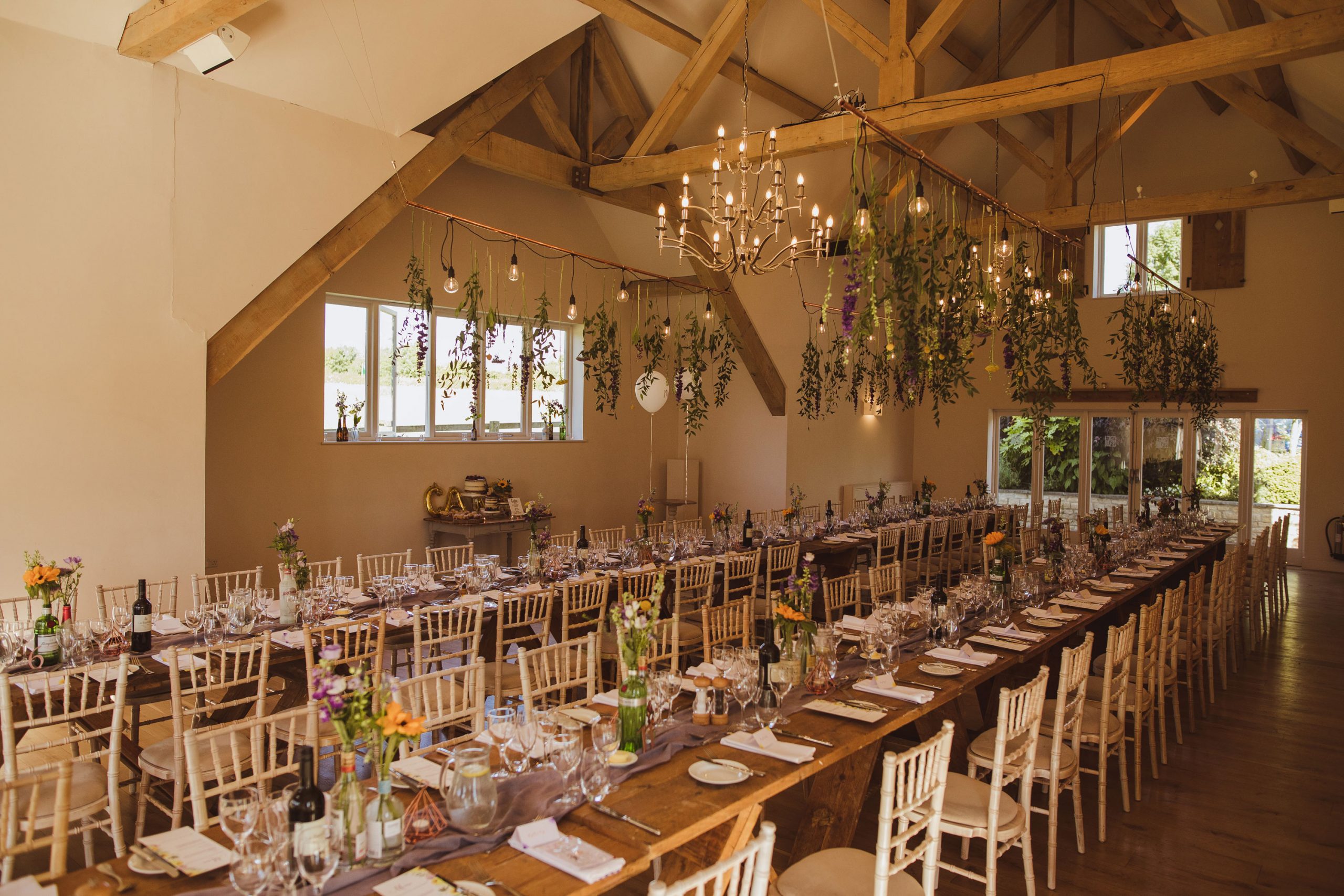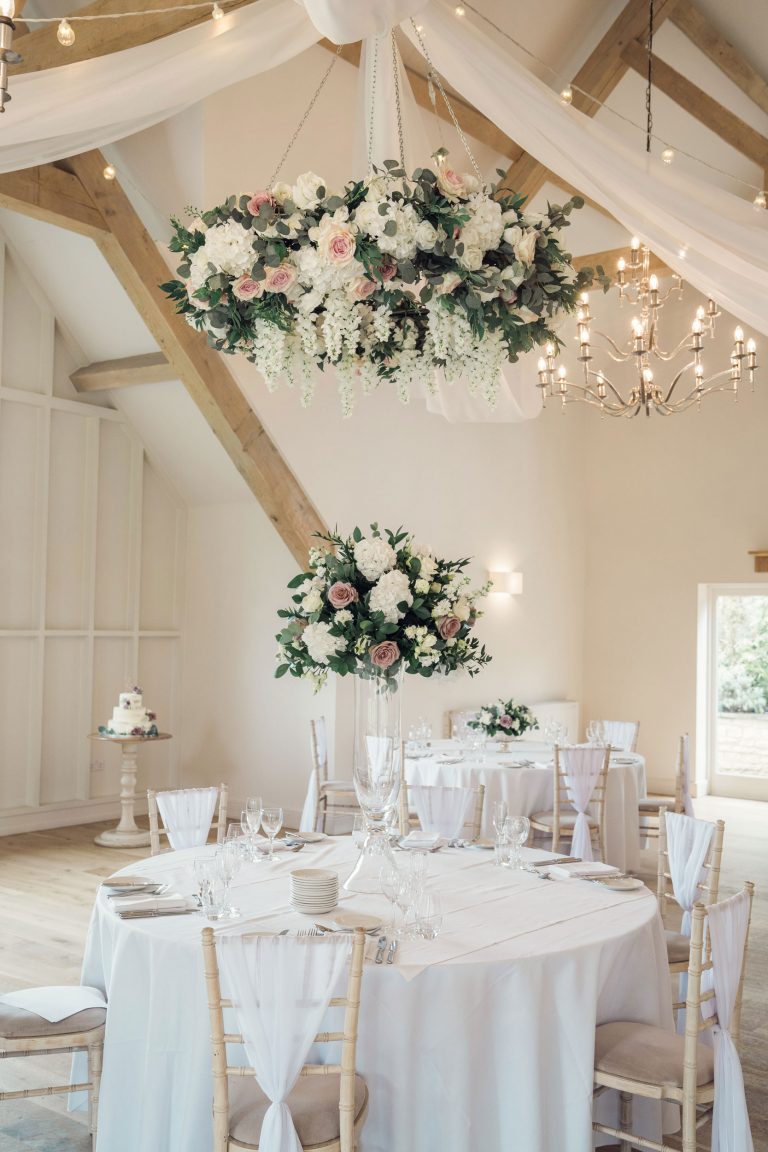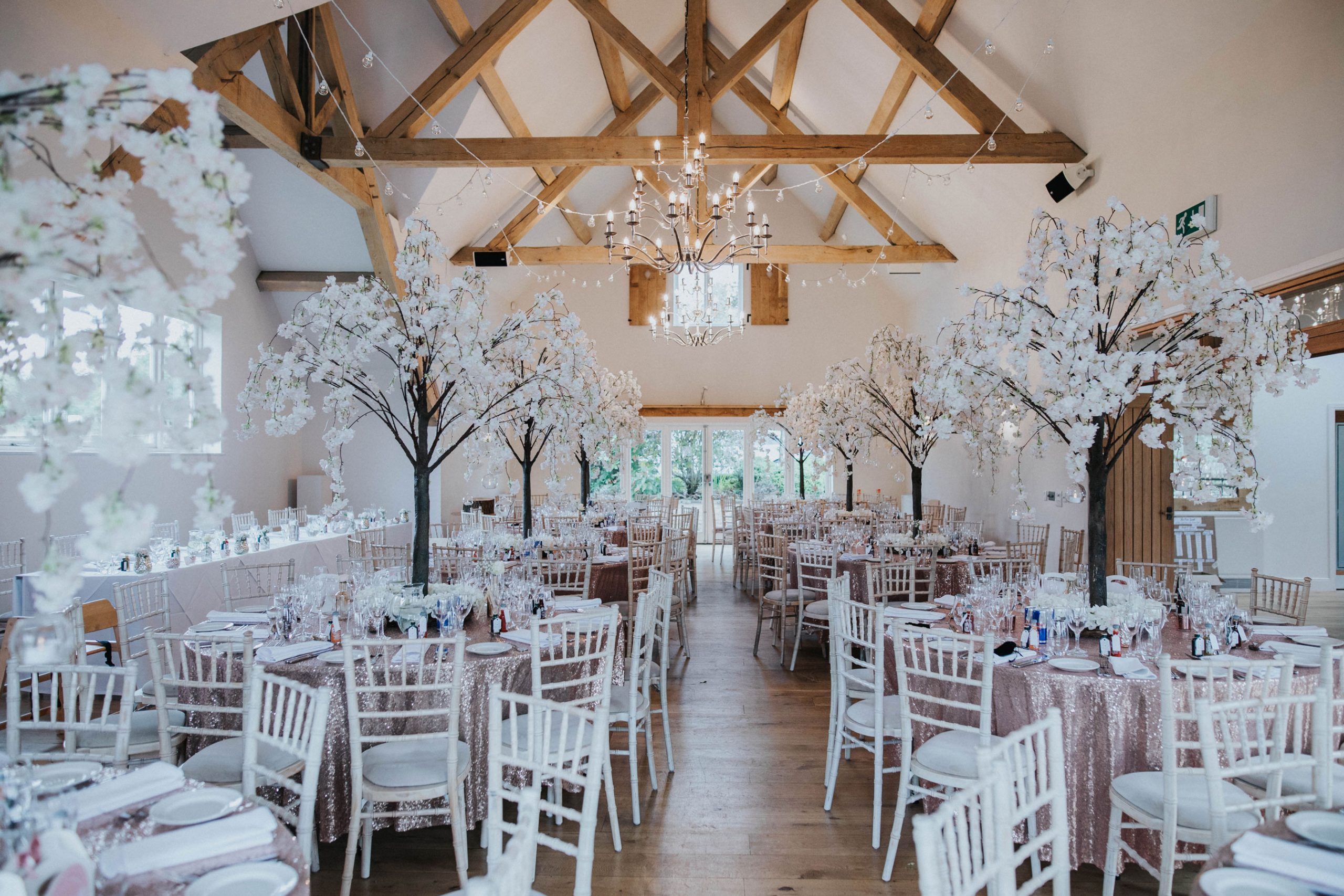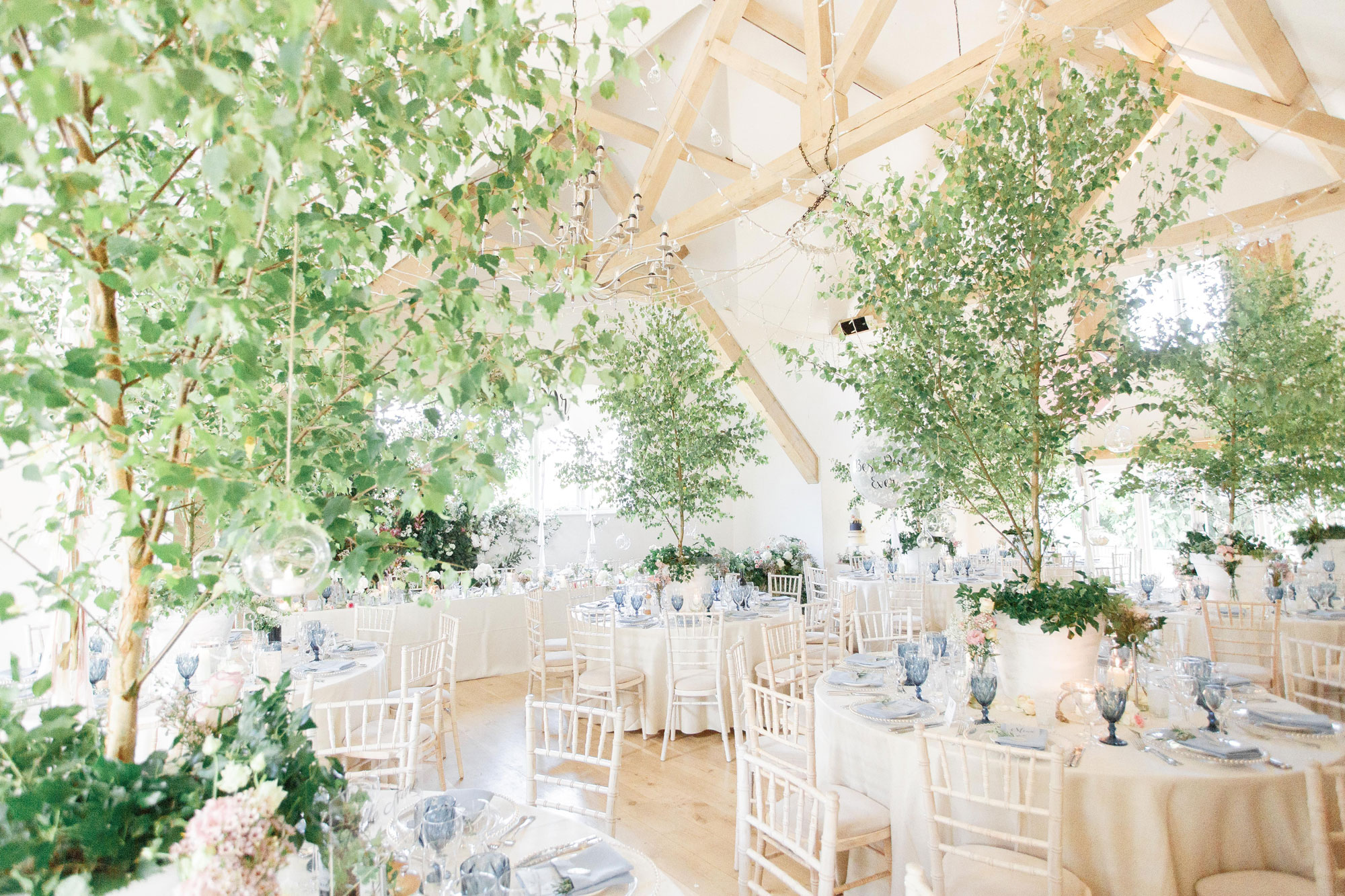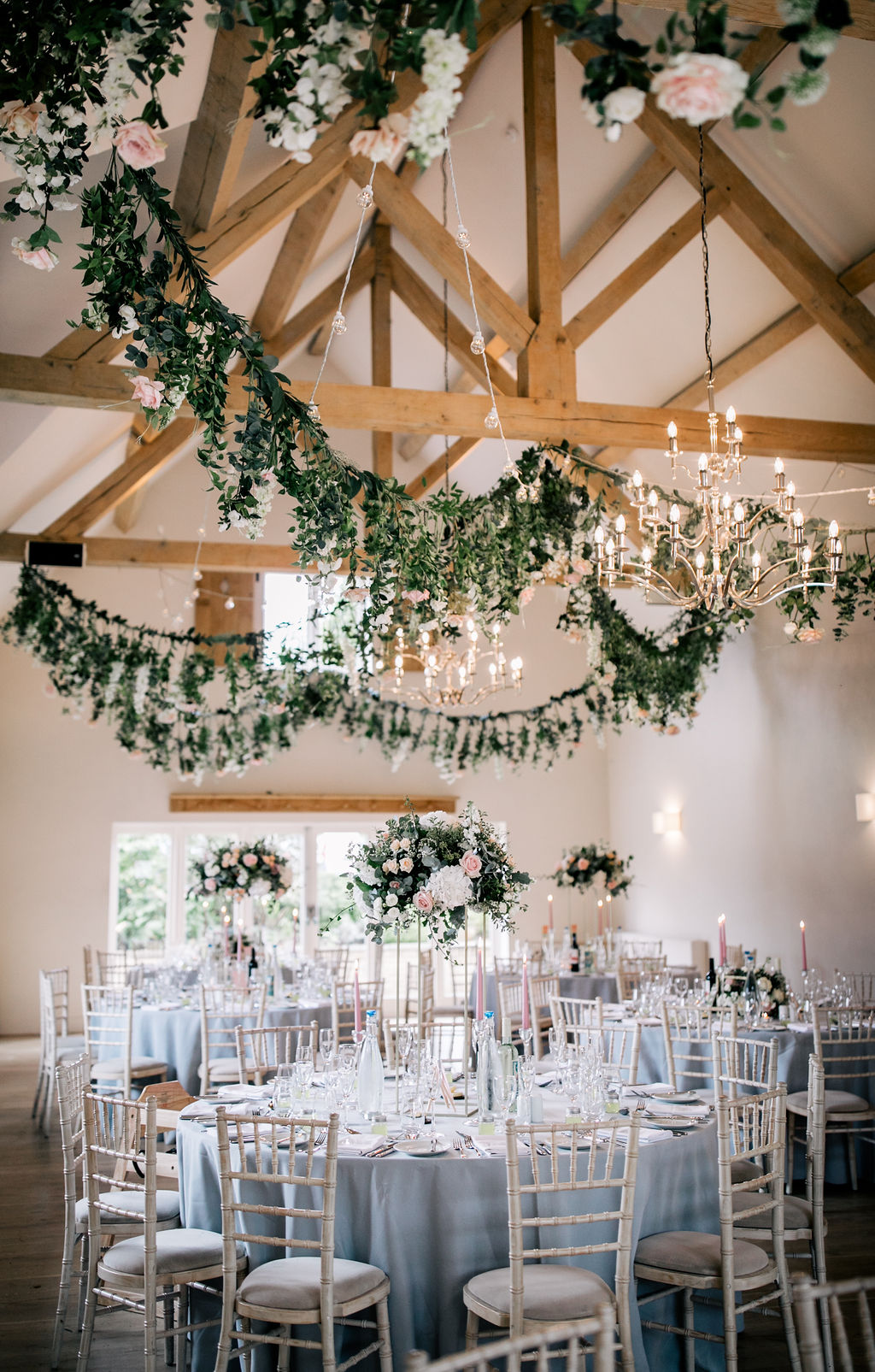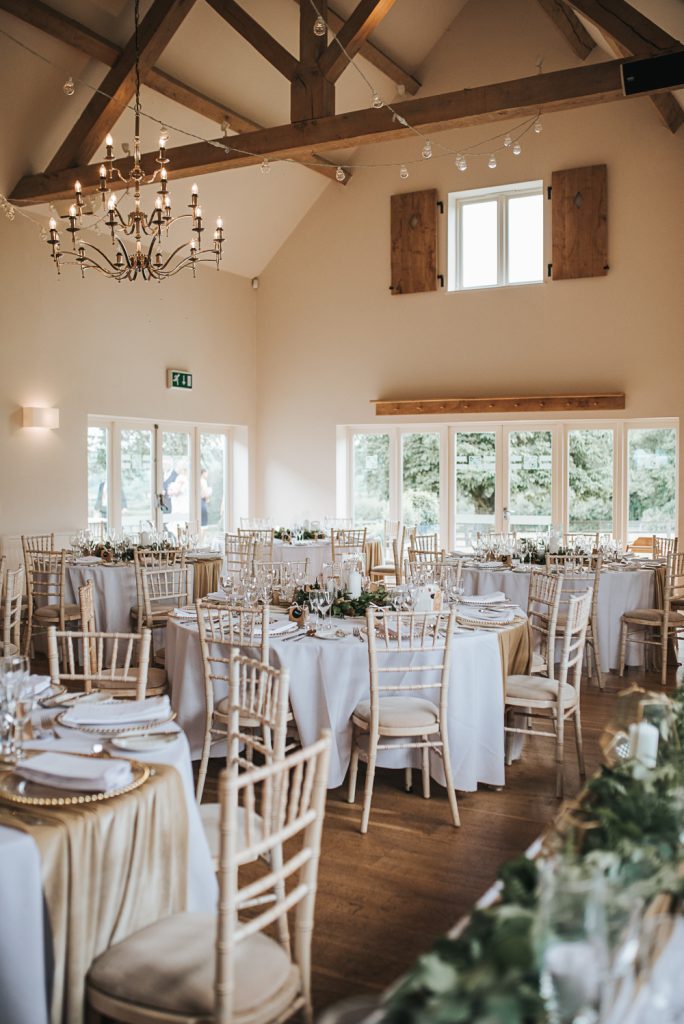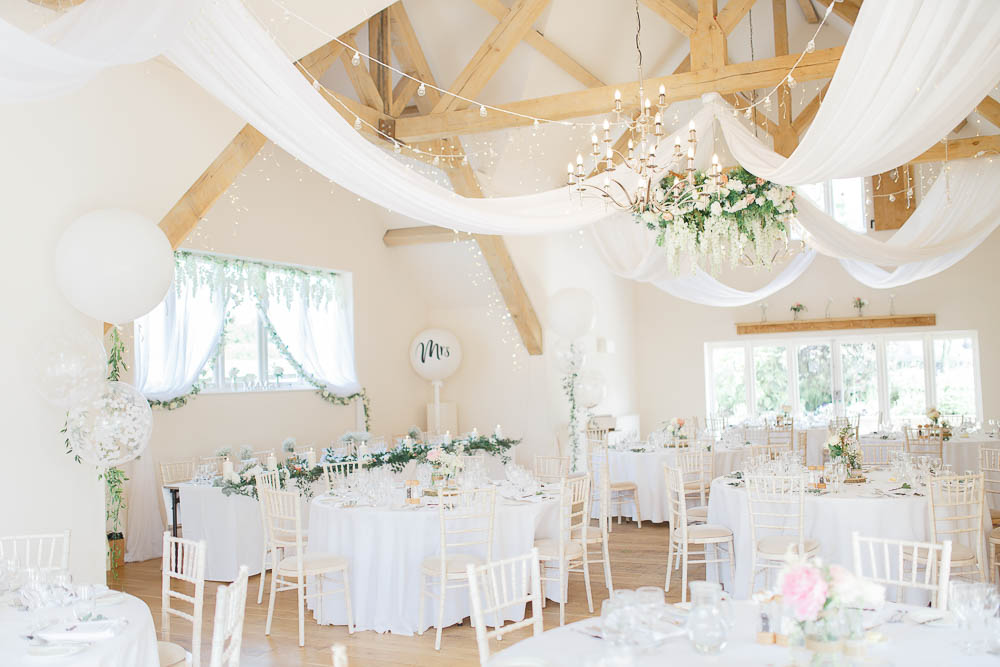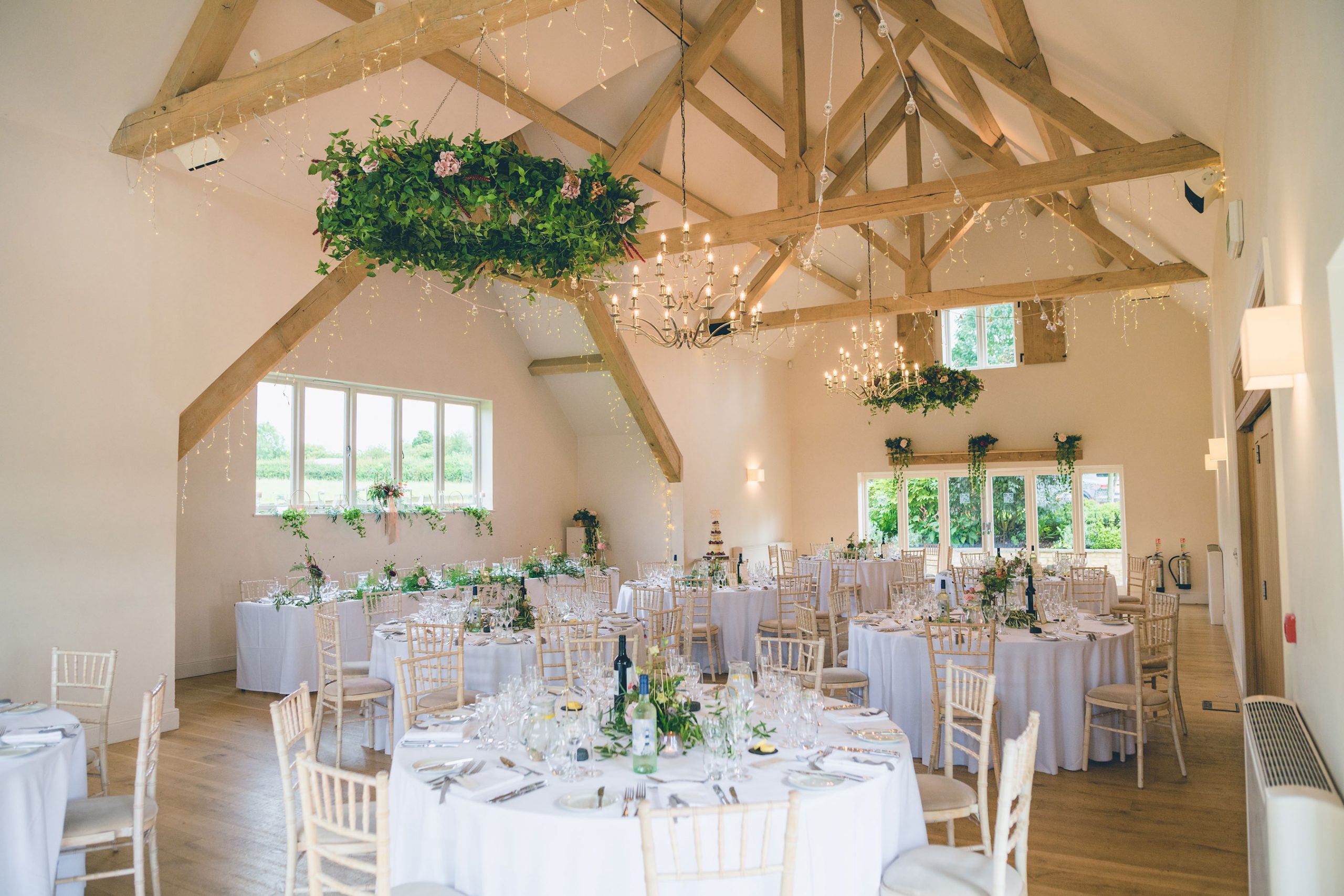 For more inspiration, follow us on Instagram. You can find us @hyde_house.
Hitched at Hyde : 27 / 01 / 21
Autumn and Winter Wedding Day Inspiration at Hyde House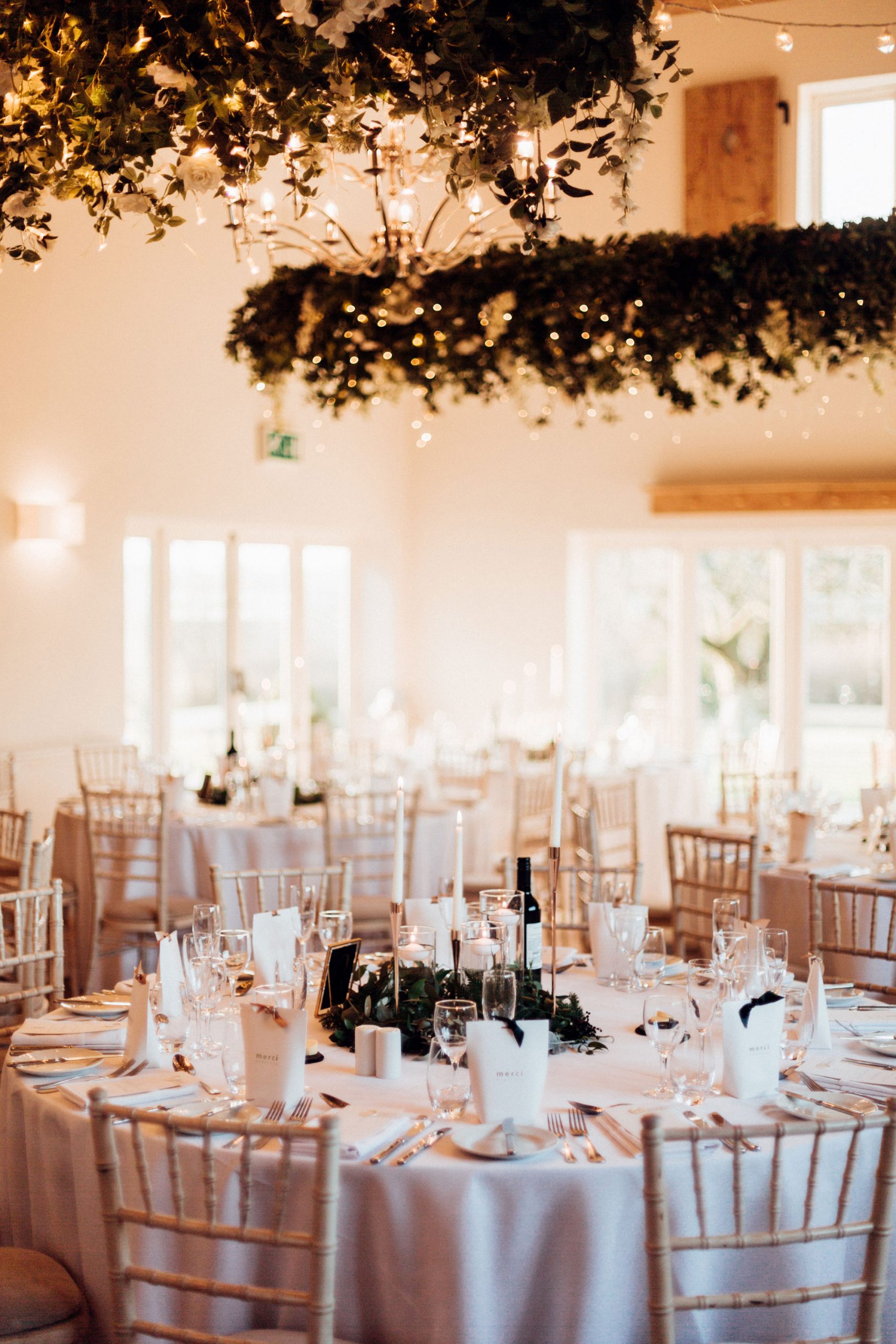 We adore Autumn and Winter Wedding Days here at Hyde House! From the romantic seasonal blooms, the stunning use of foliage, the warm Autumnal tones and the use of fairy and candlelights (to name but a few) we love seeing how the different spaces are transformed!
The Grange and The Barn offer endless possibilities when it comes to your floral and styling vision and when it comes to The Ceremony, there are so many ways you can make The Grange your own; whether that be by dressing the Entrance to make an impact on arrival, creating an aisle adorned with florals or foliage, tying beautiful pew ends to our cross back chairs, having abundant floral arrangements on plinths either side of the window or perhaps framing it with a garland instead… you really can take your pick, or even do something that hasn't been done before!
And when it comes to The Barn you can choose to keep it minimal and let the gorgeous Barn features speak for themselves or completely make it your own for your Wedding Breakfast by filling the space with all of the flowers, floral/foliage/leafy chandeliers, additional lighting that you would like.
Sometimes deciding upon your vision when there are very few limitations can be overwhelming, so we wanted to share just some of the ways our Couples alongside their exceptionally talented Wedding Suppliers have dressed both The Grange and The Barn in those wonderful Autumn and Winter months in the hopes that it will inspire you and get your creative juices flowing for your own Big Day!
The Grange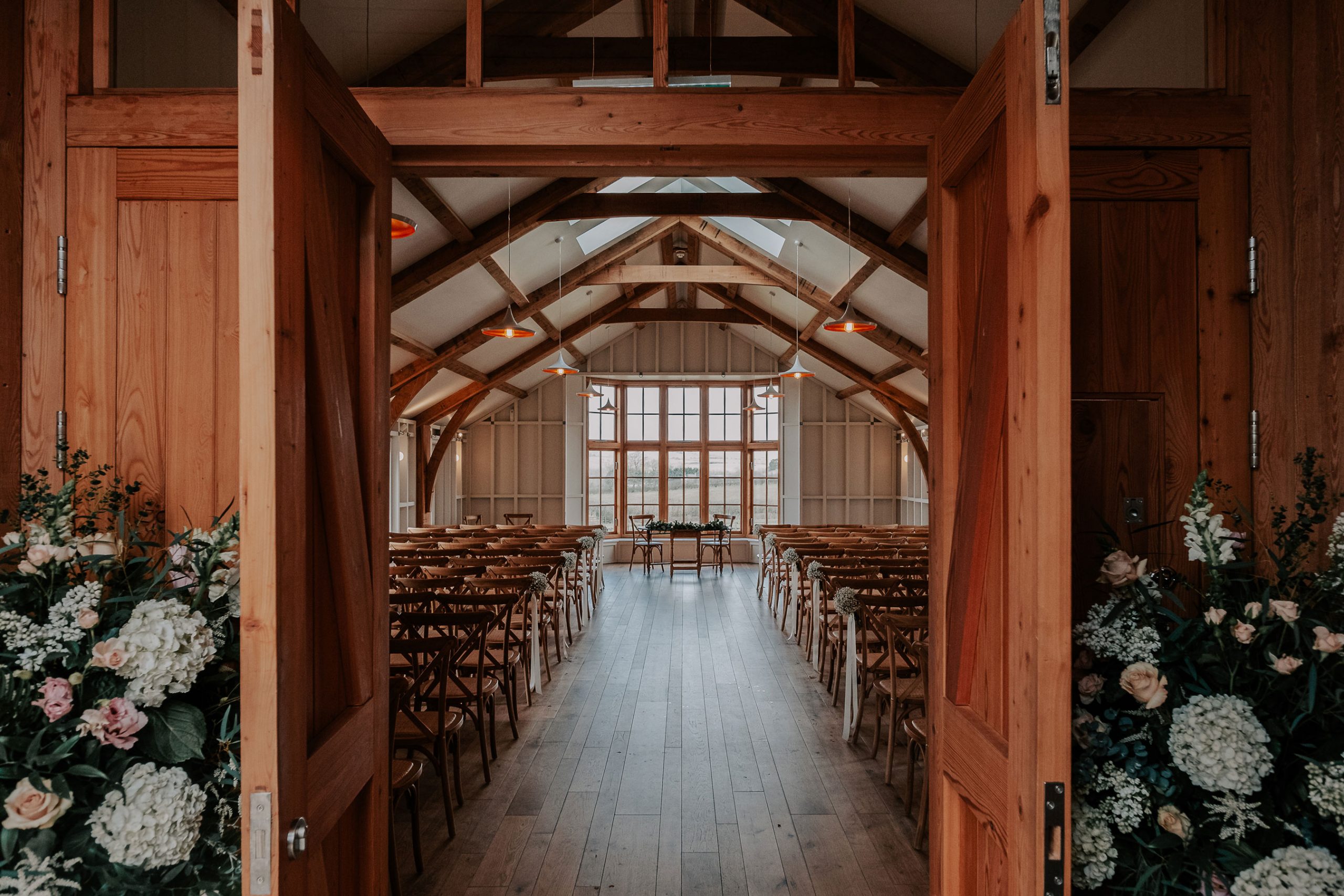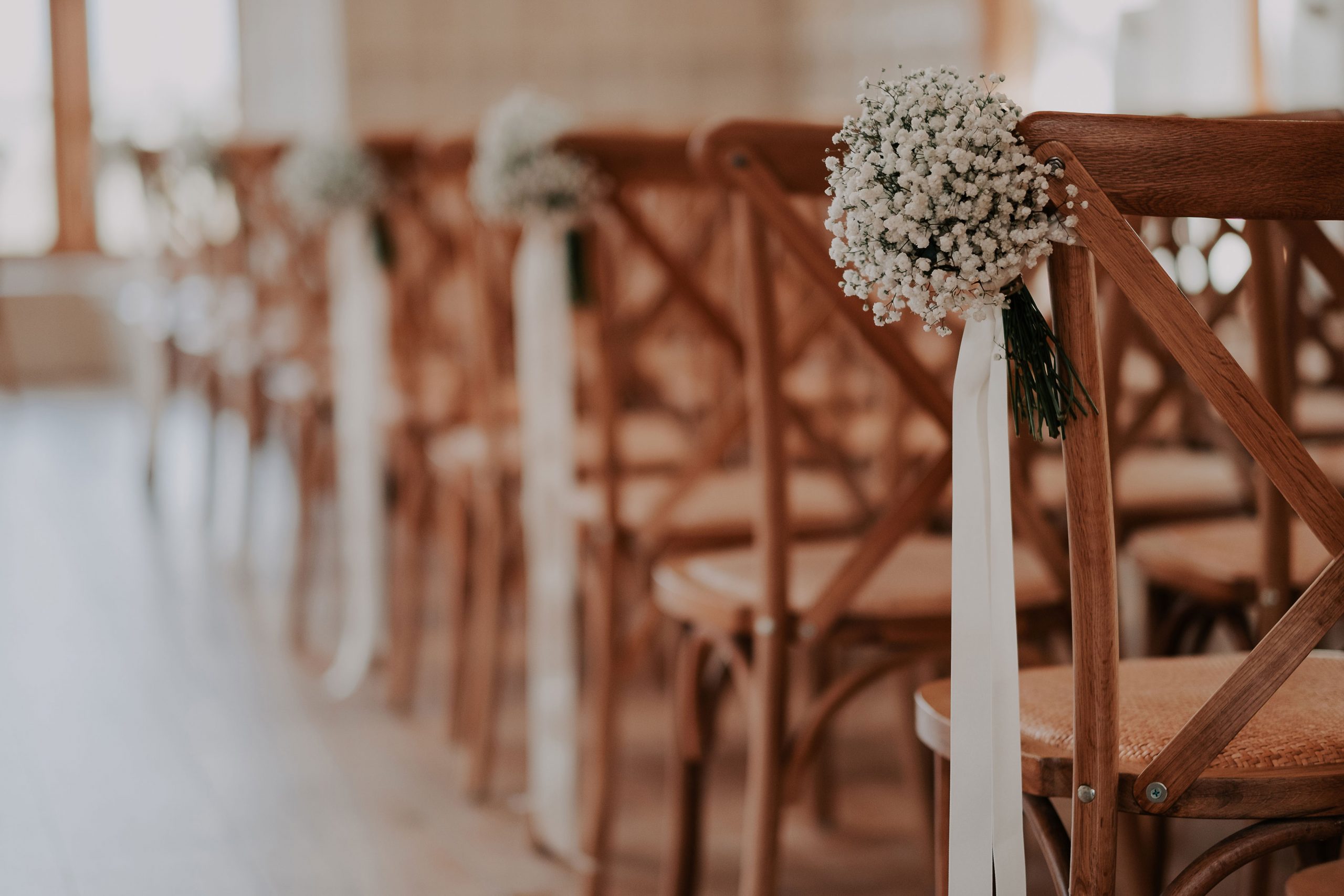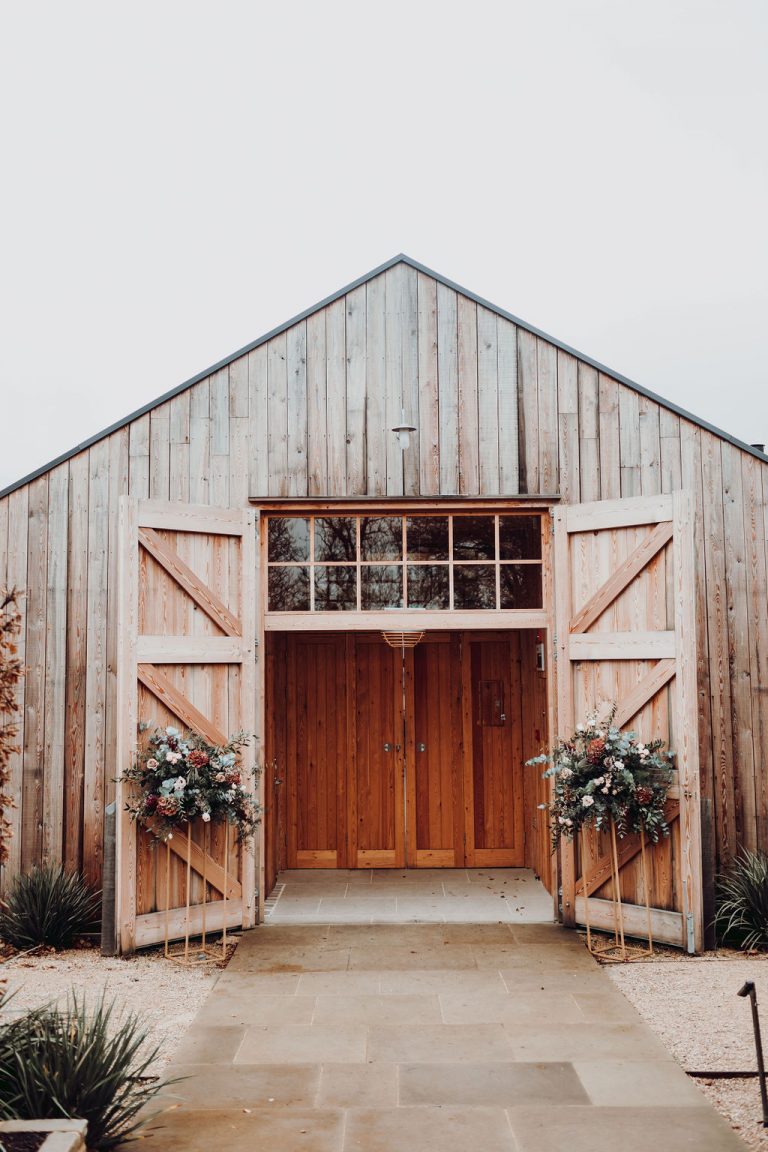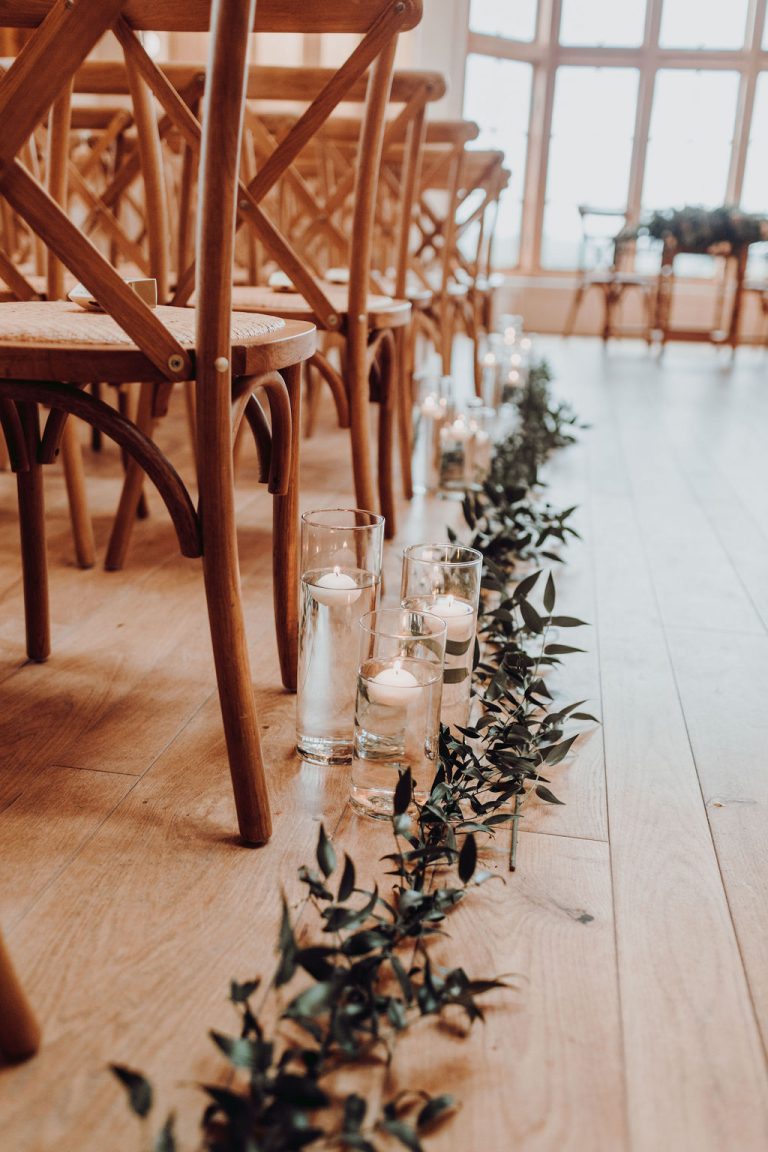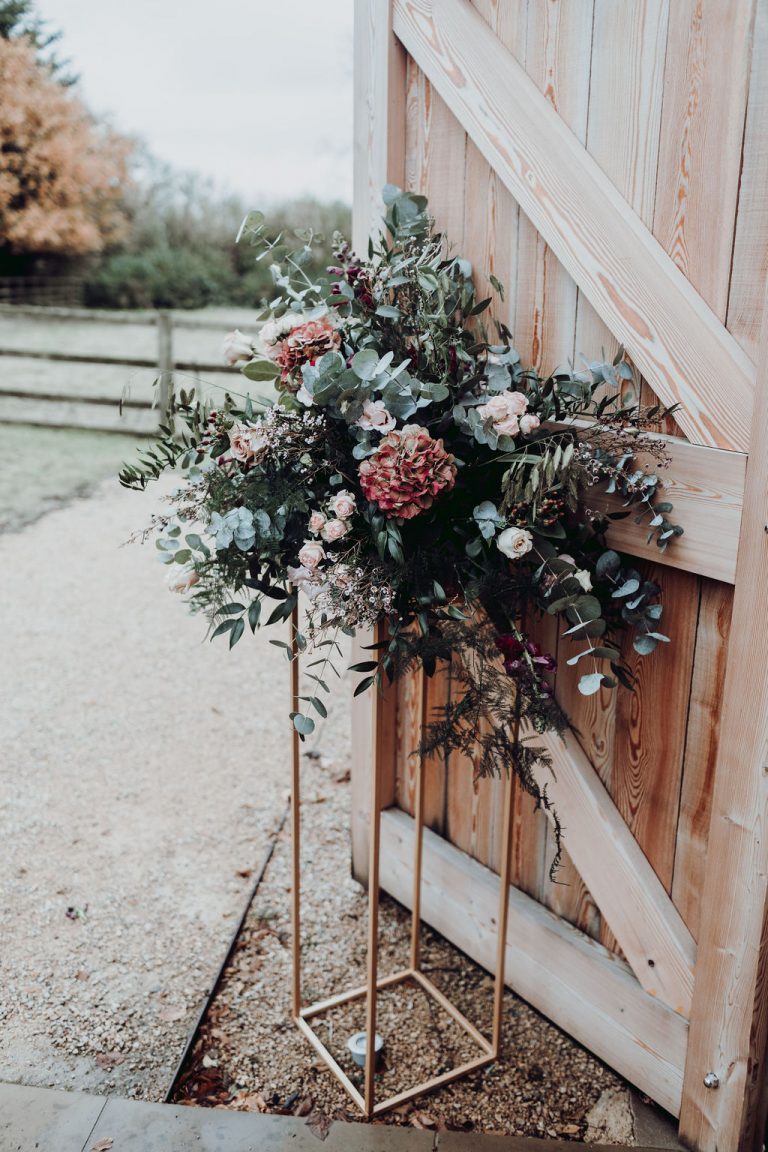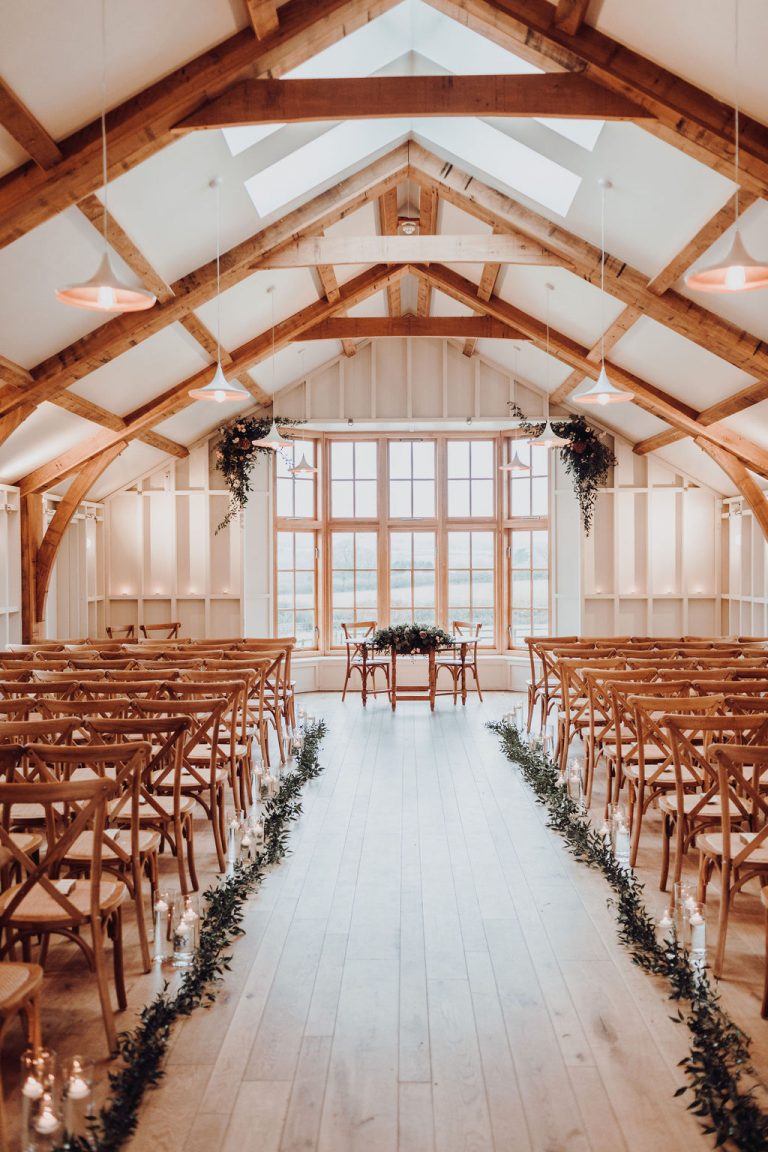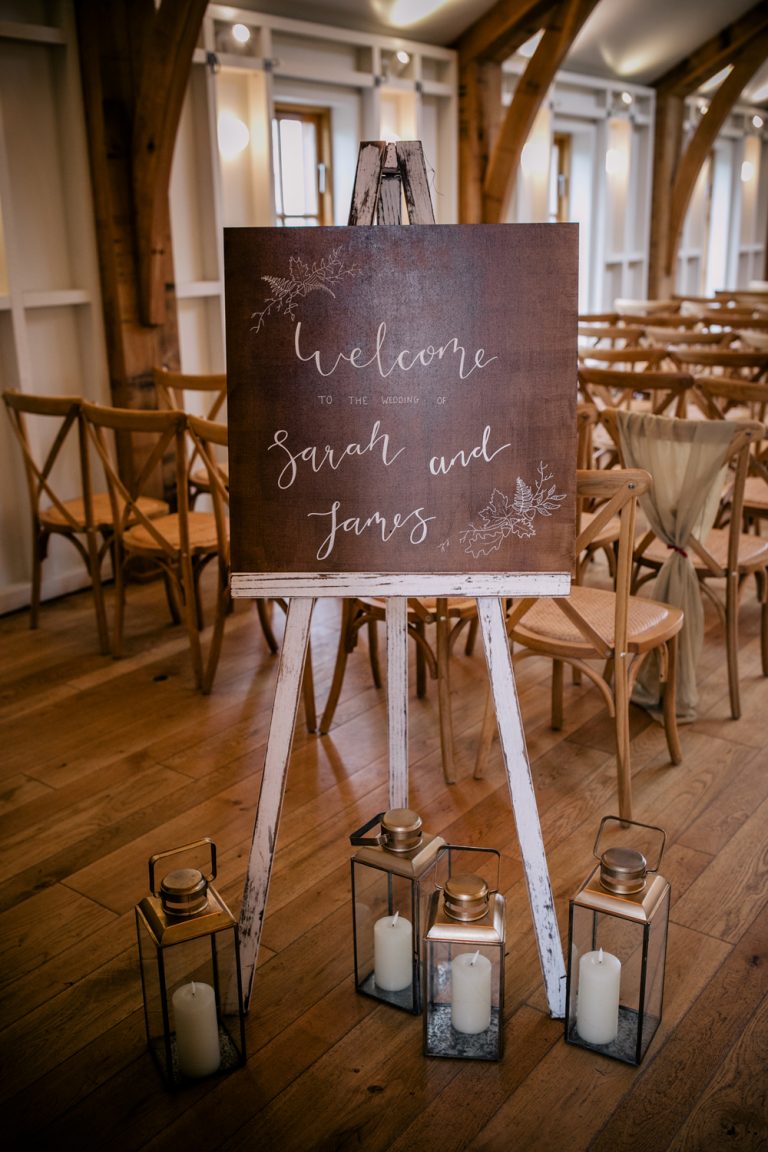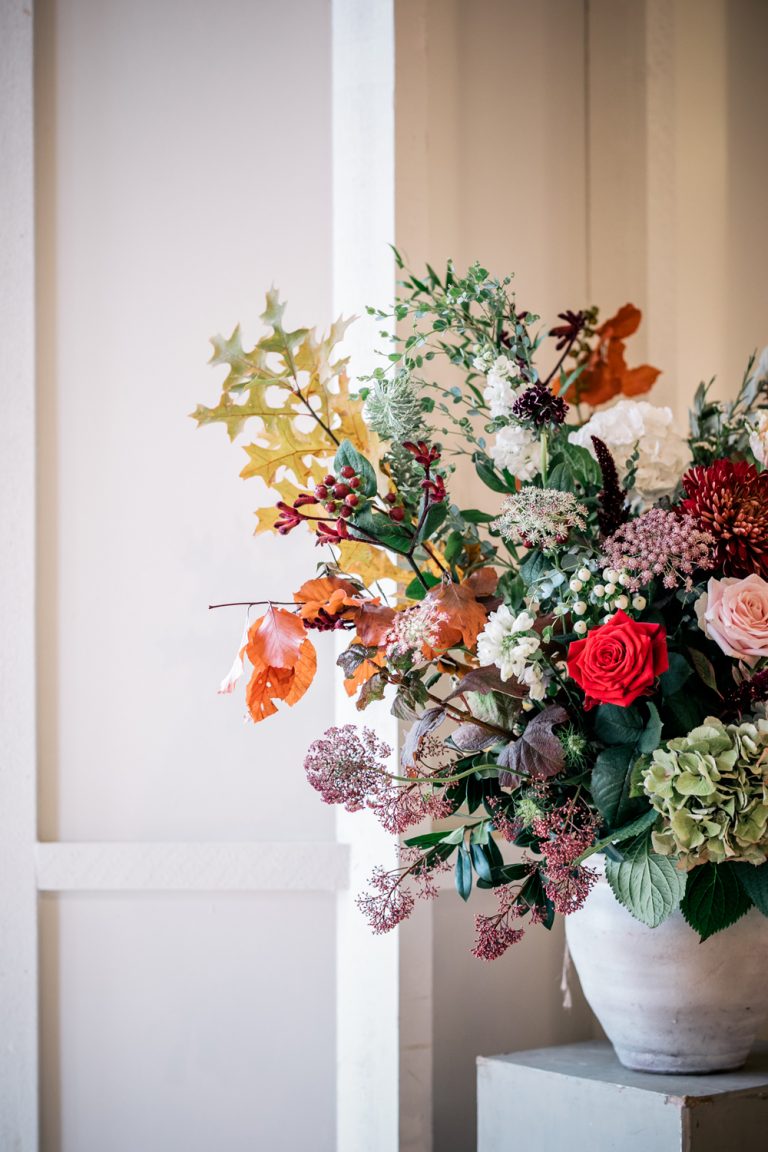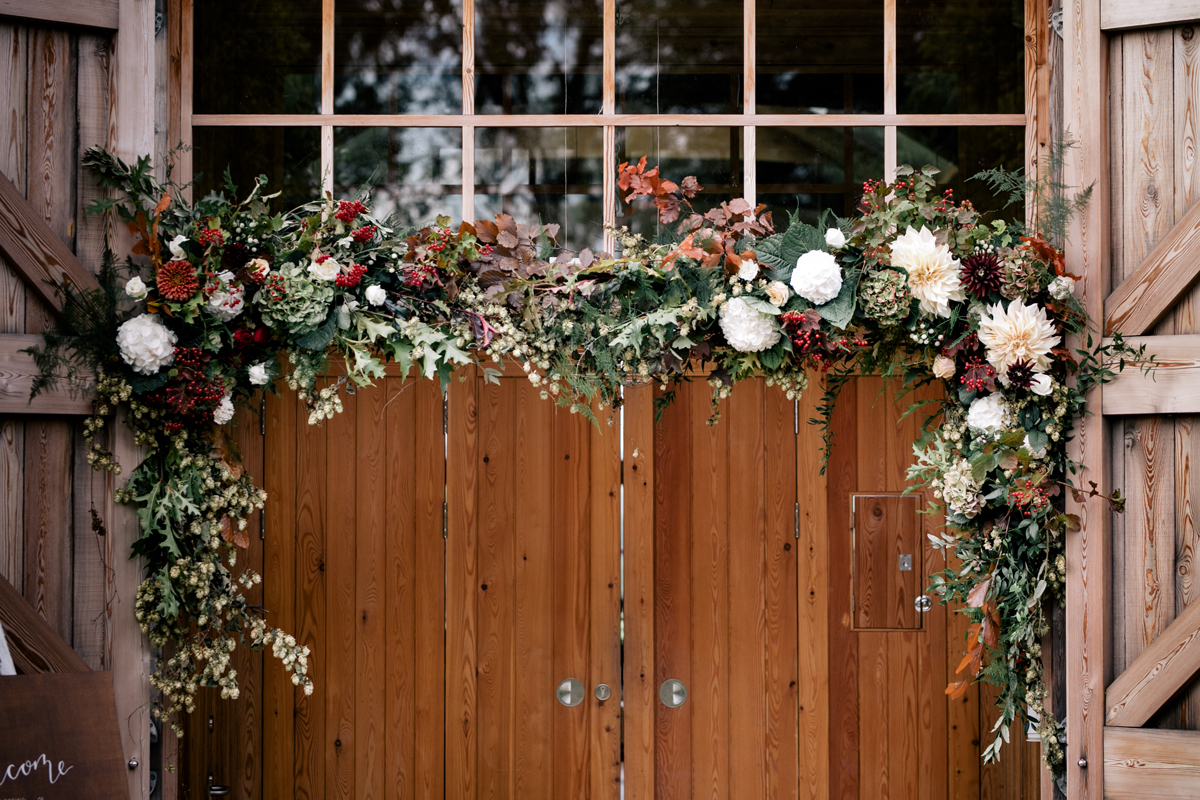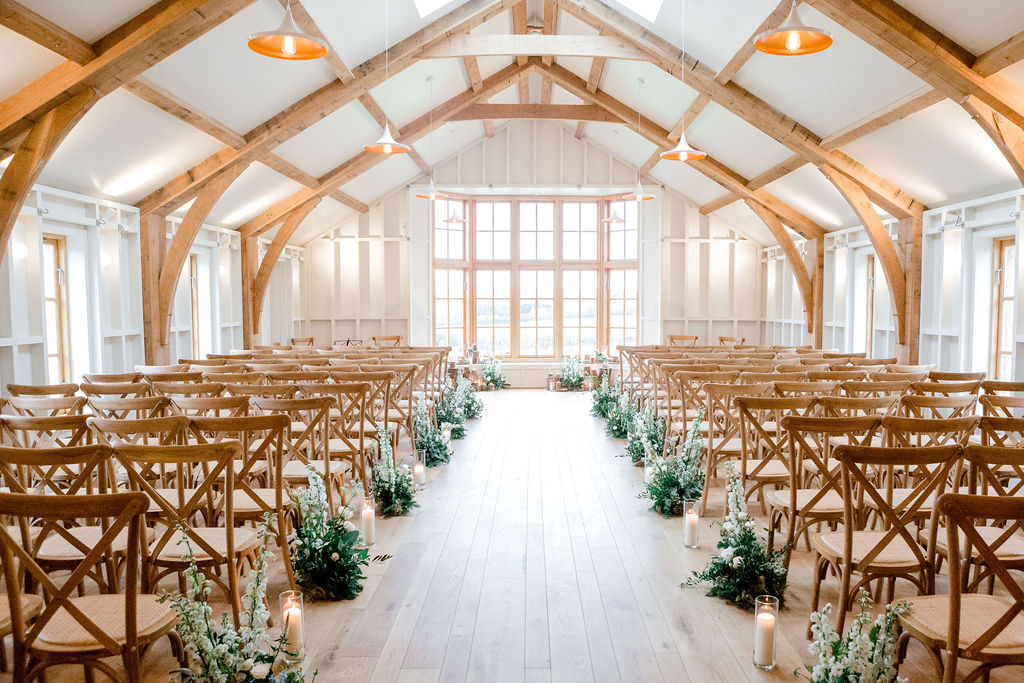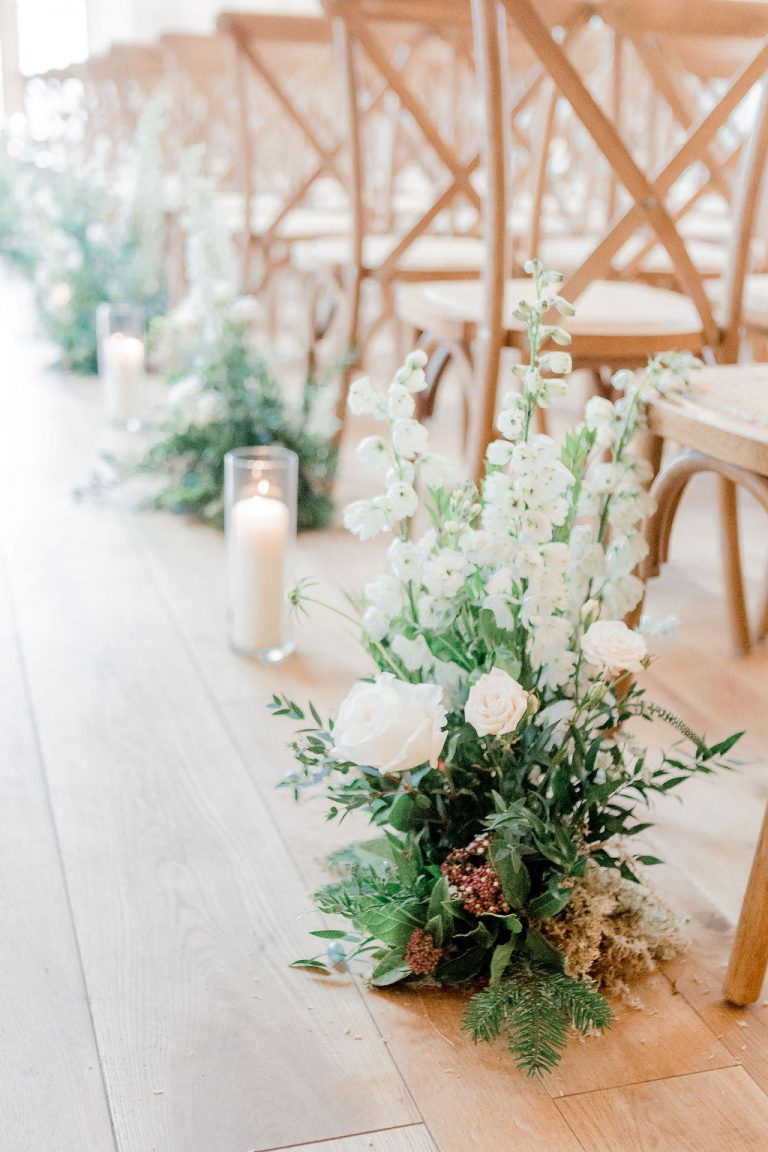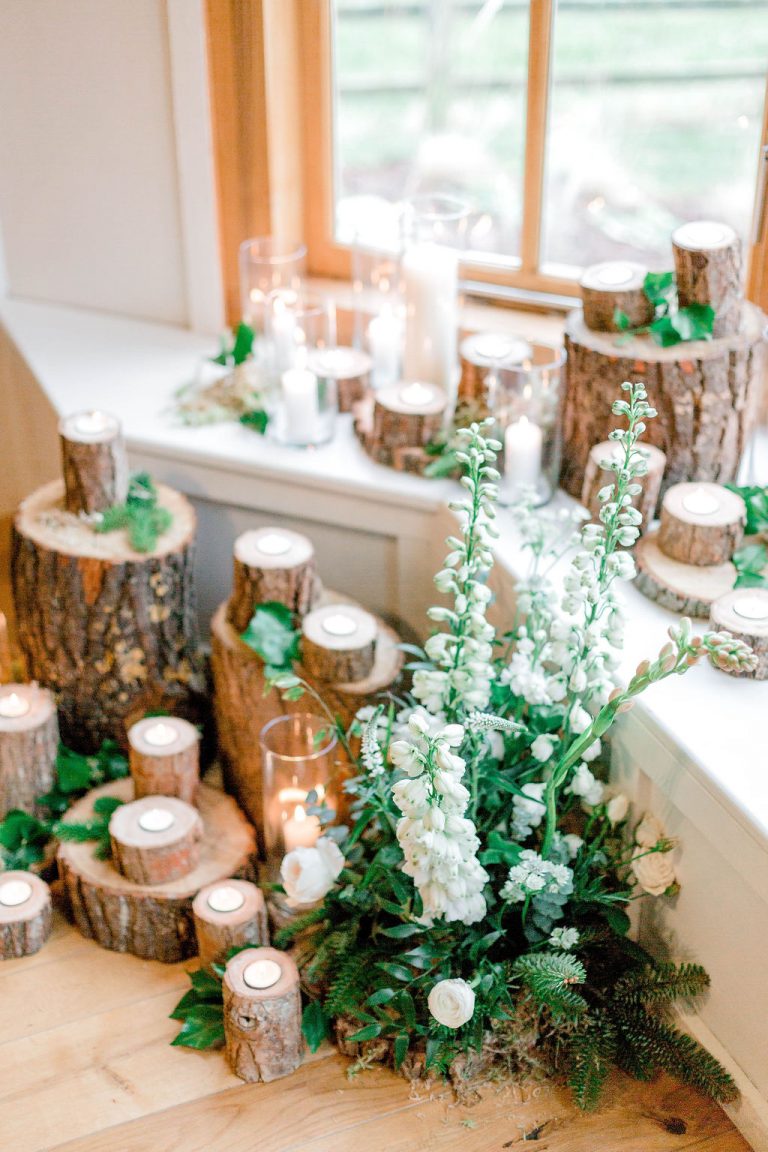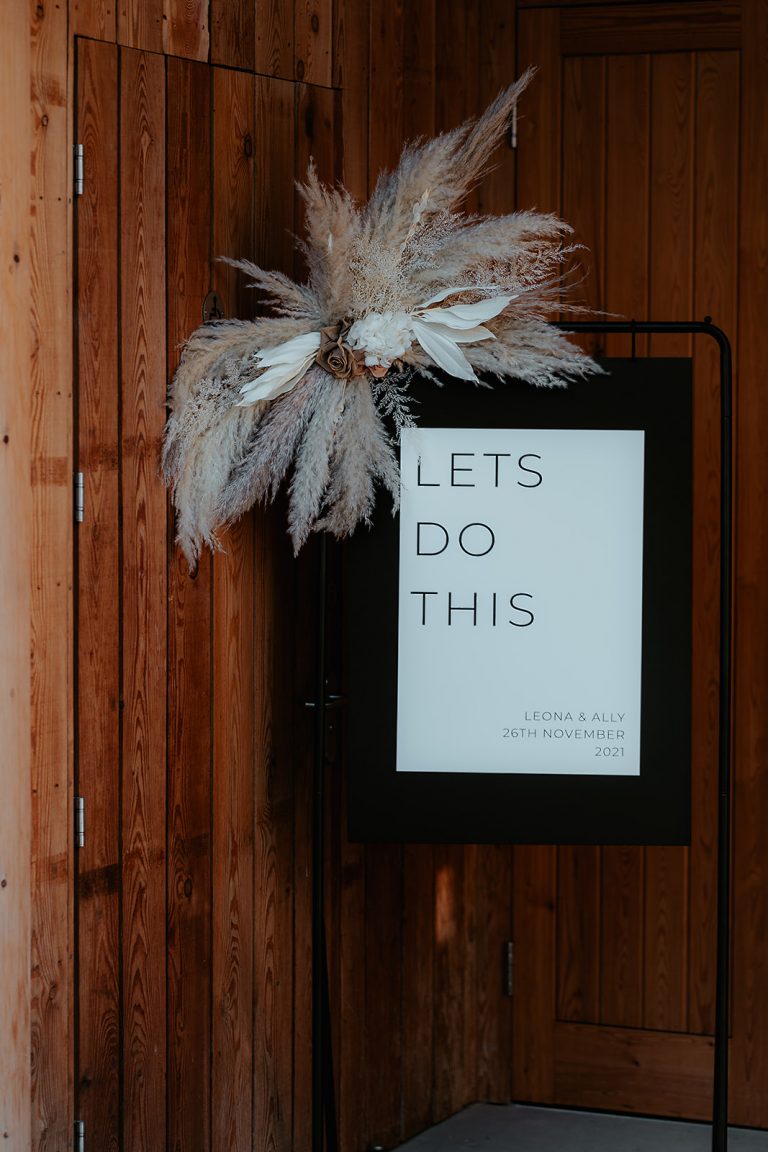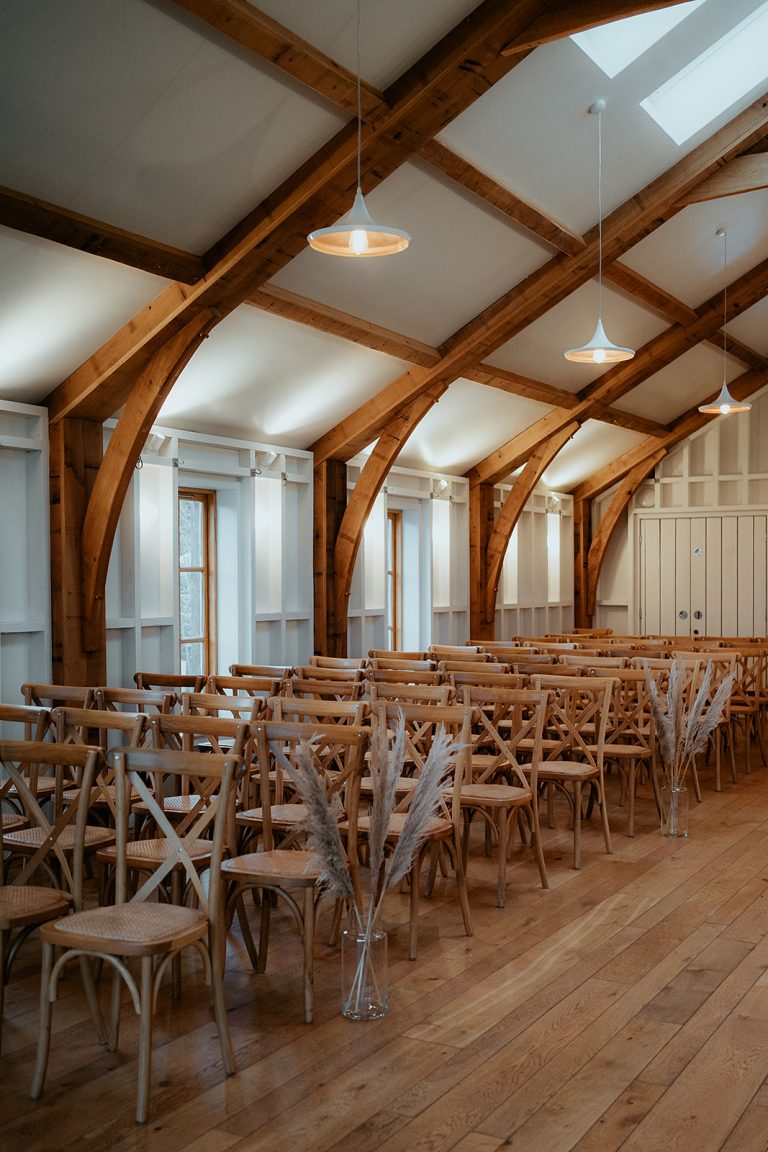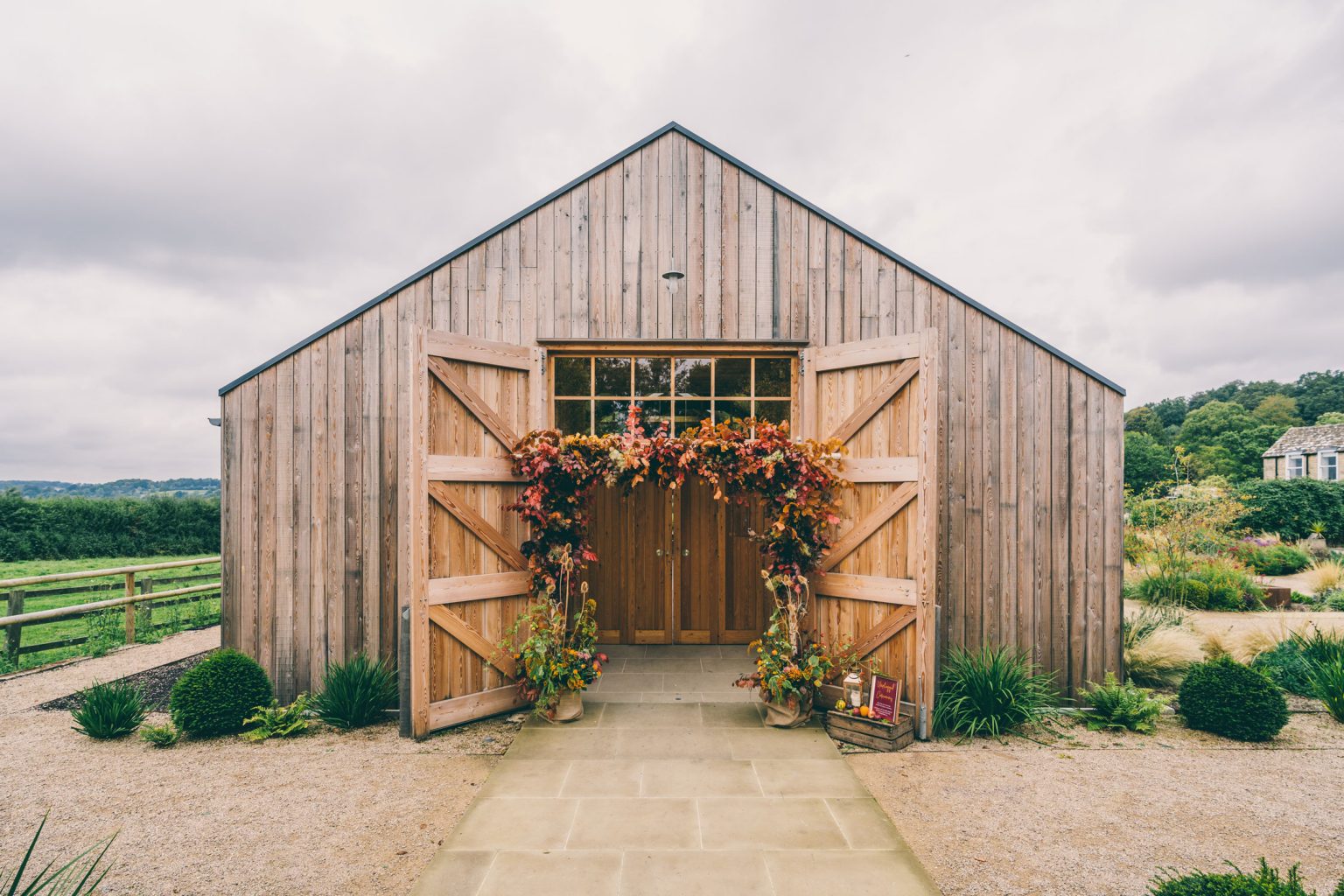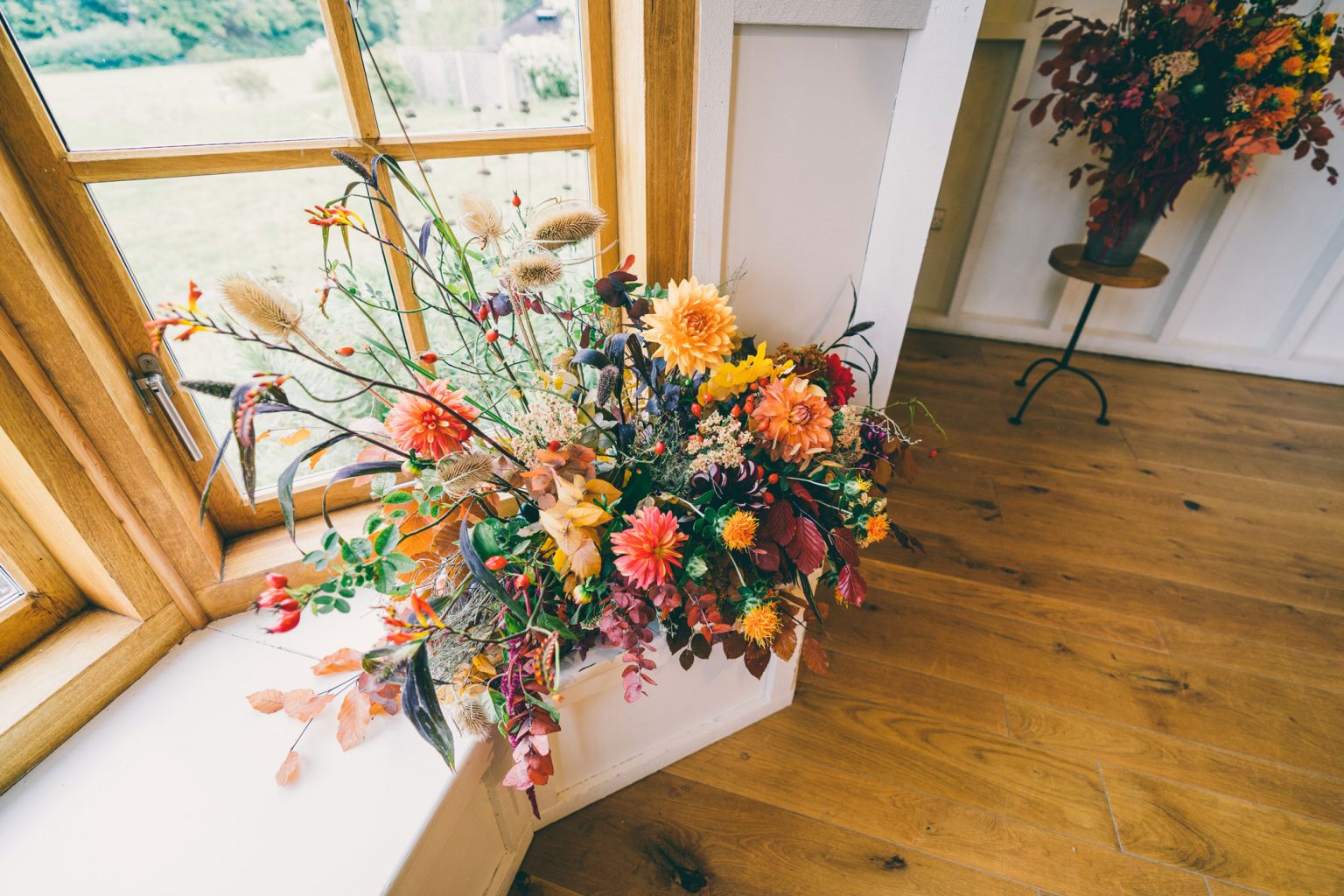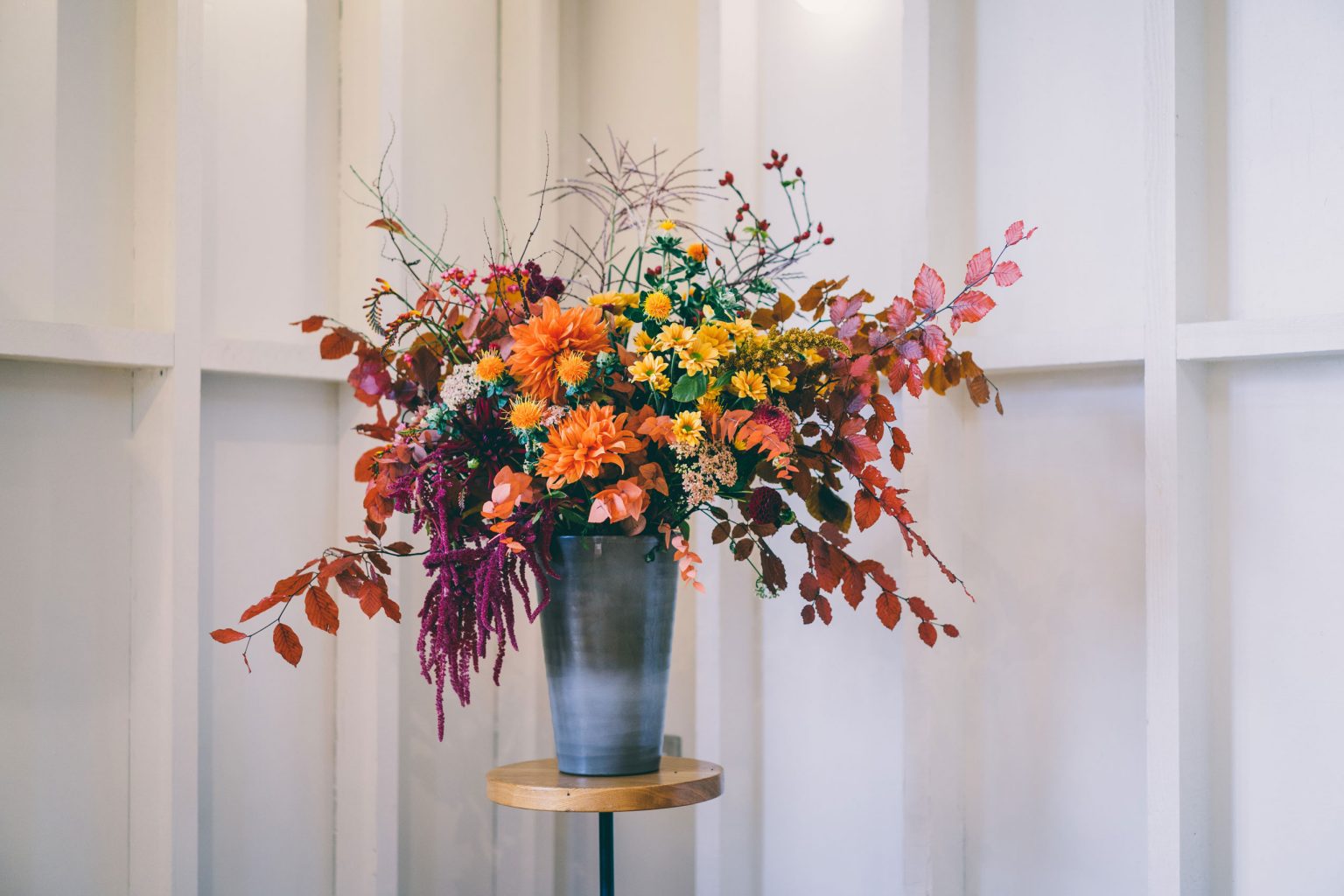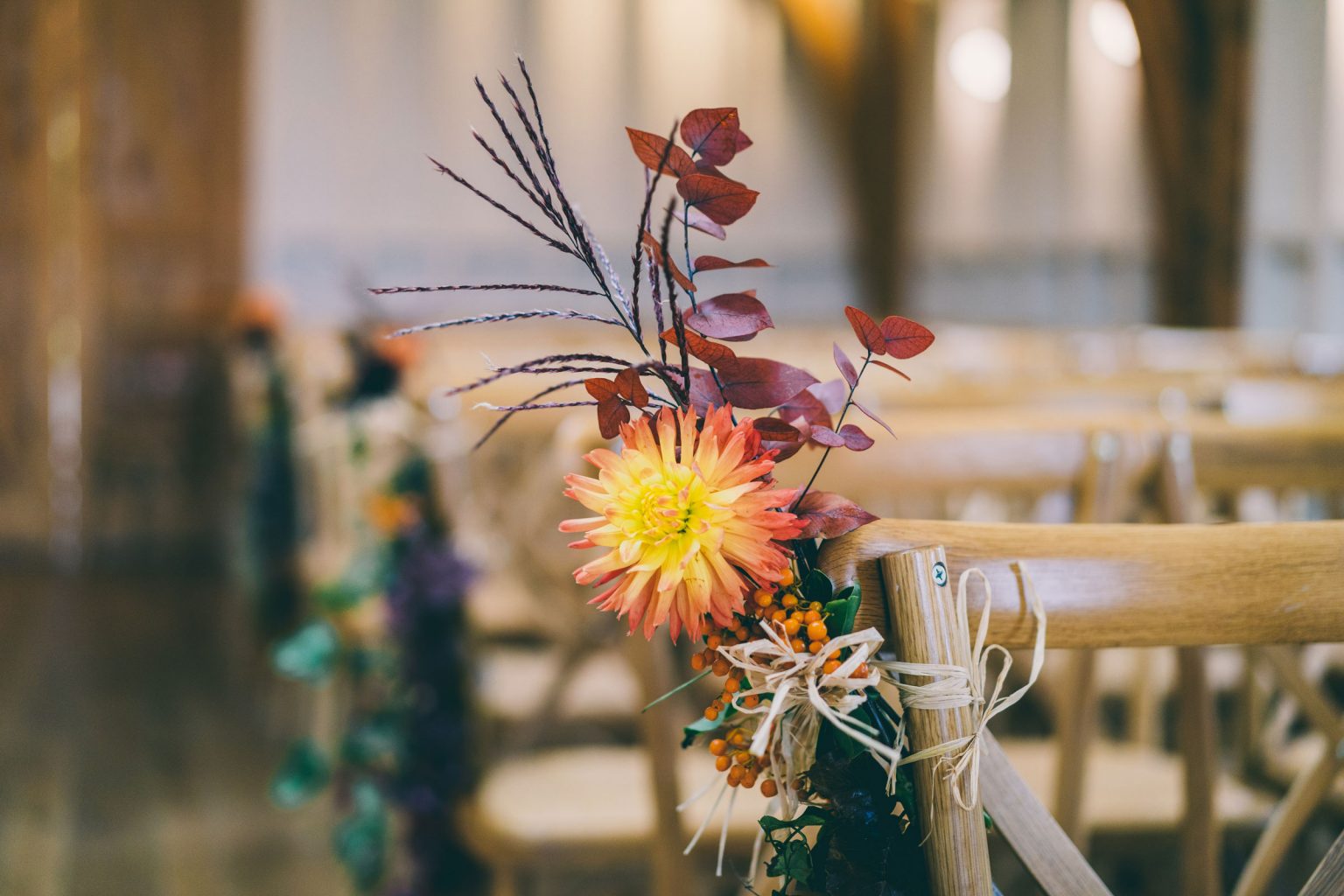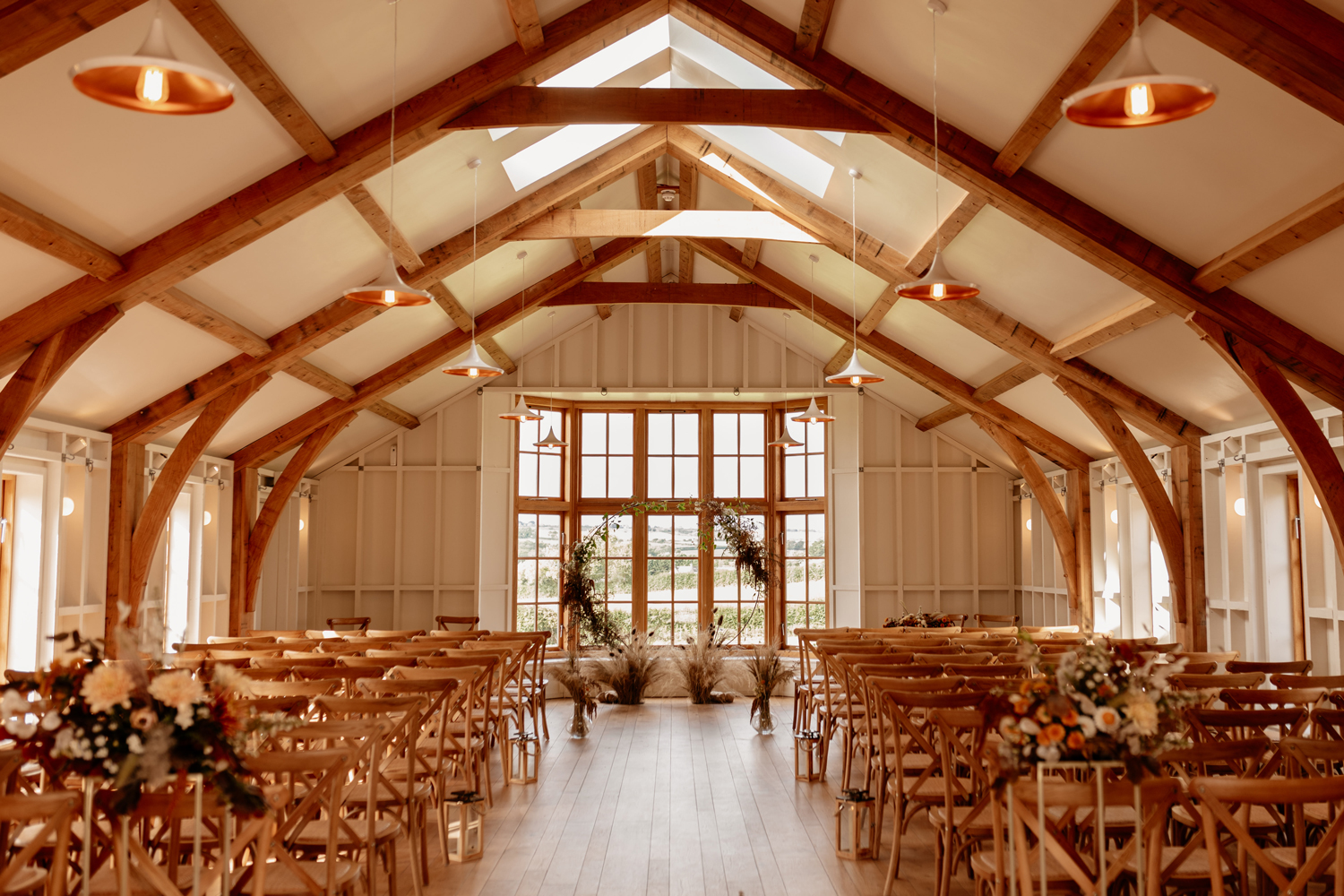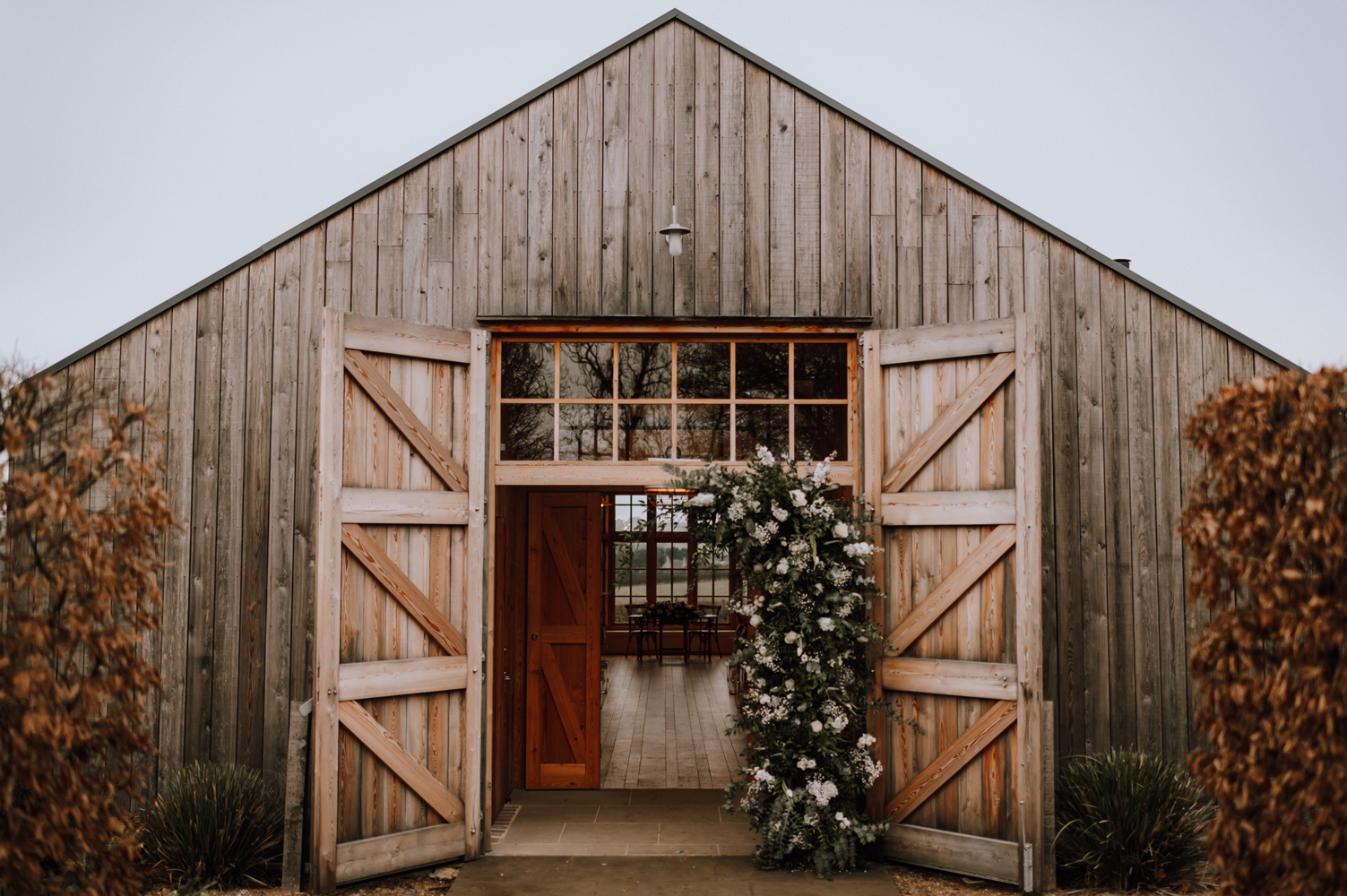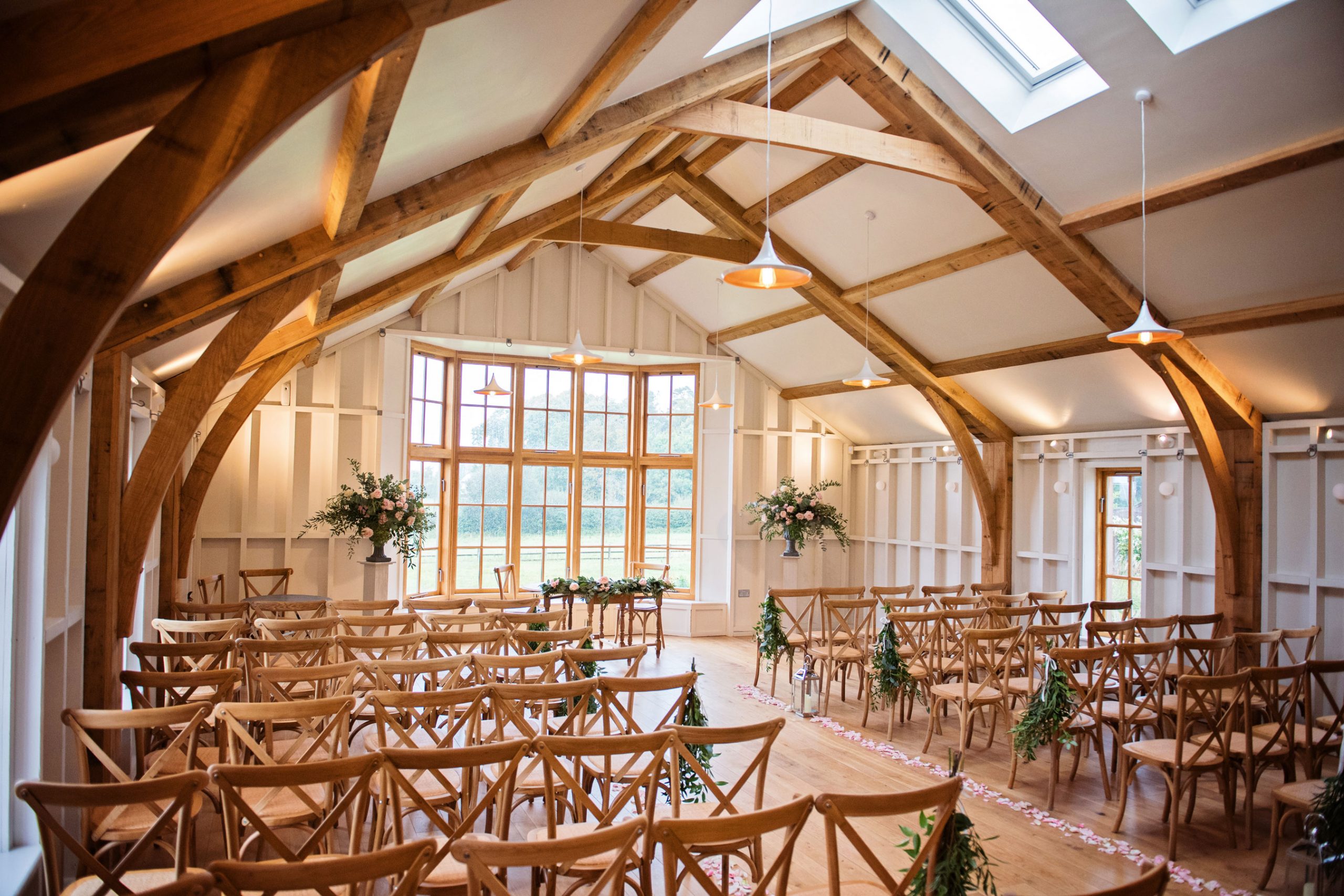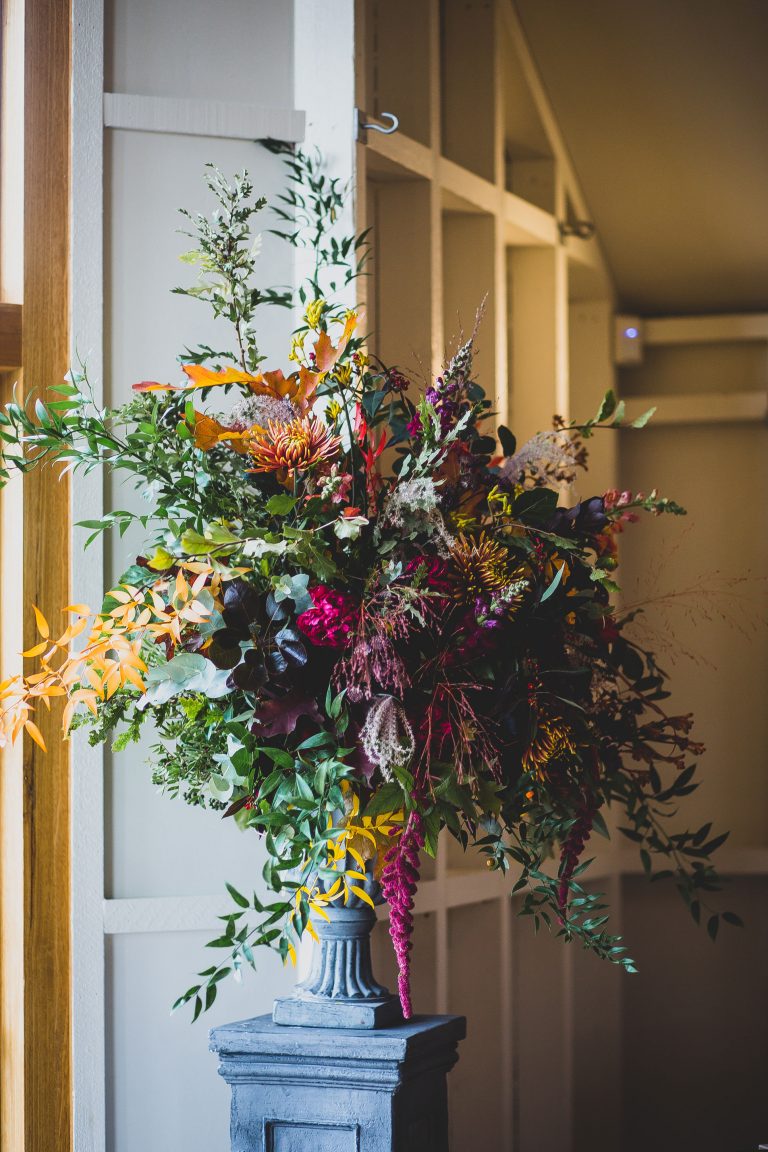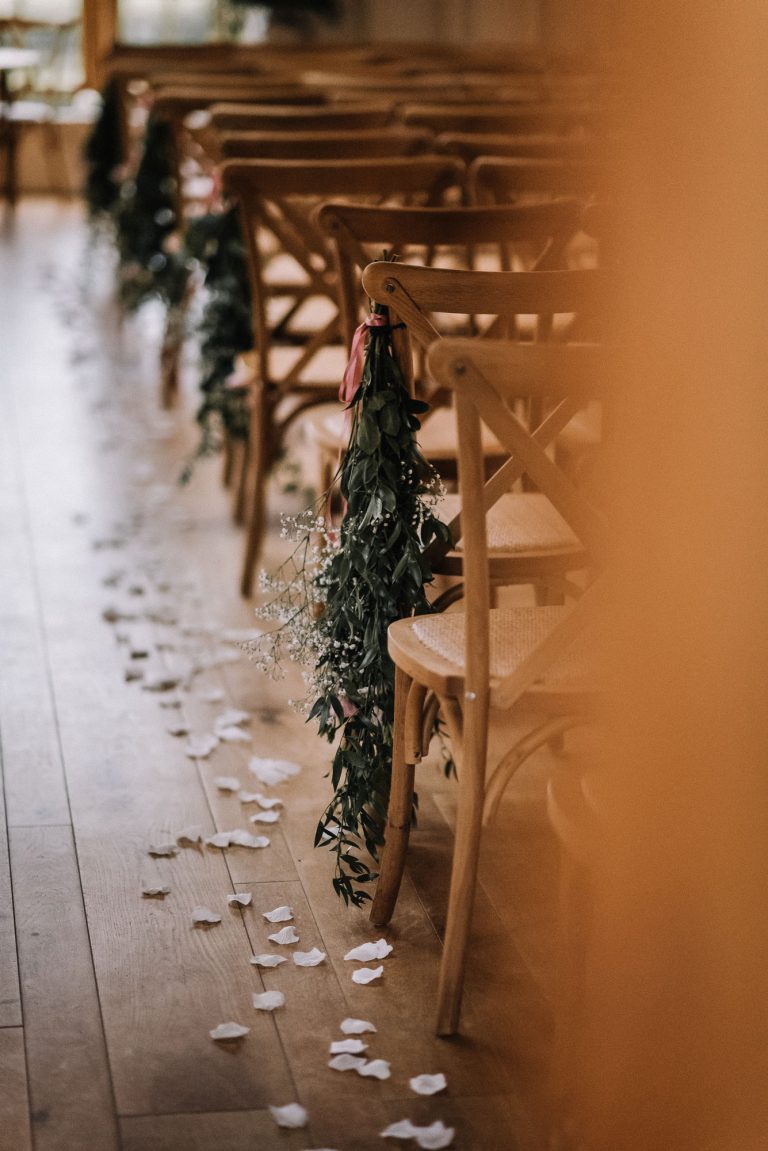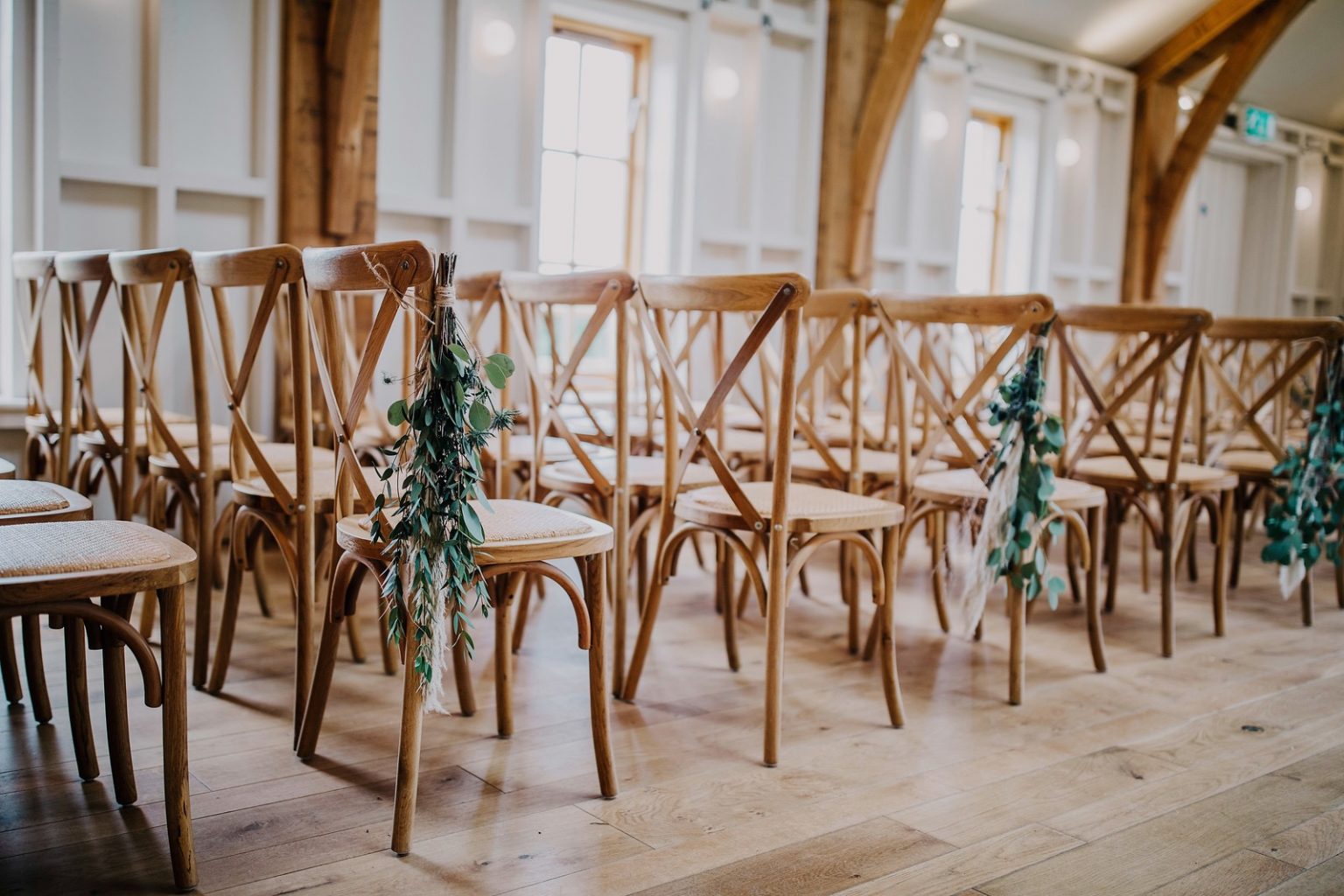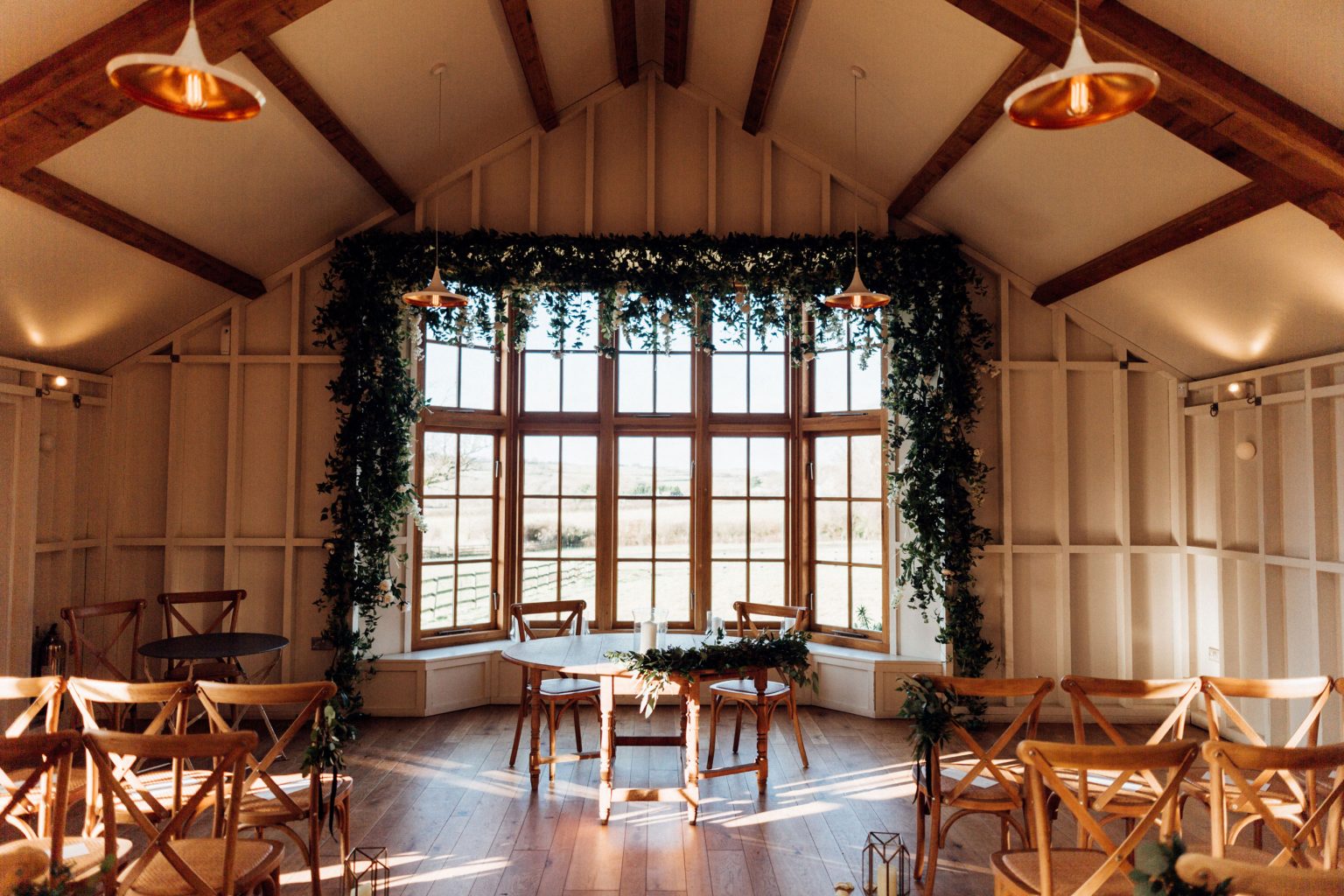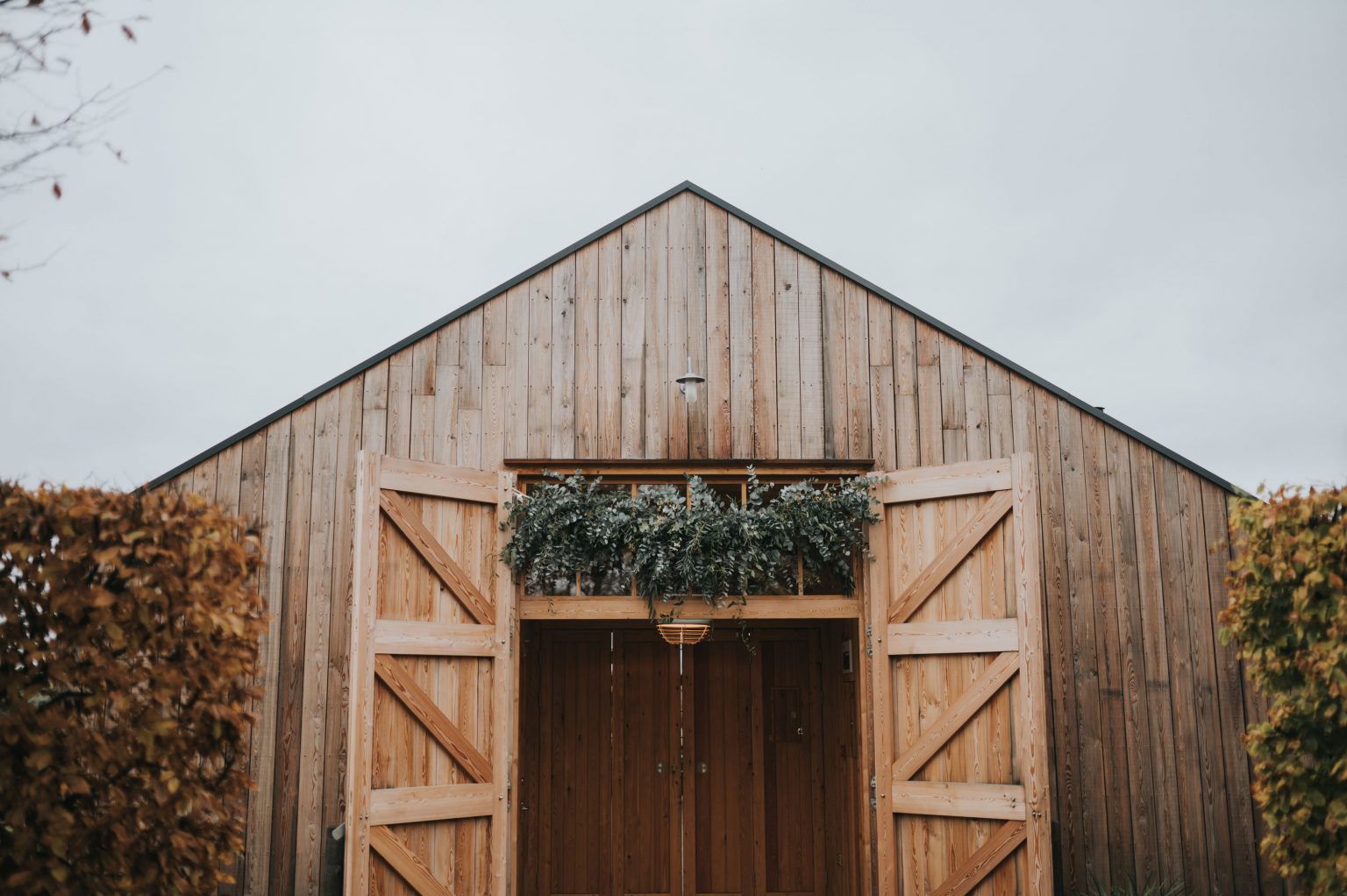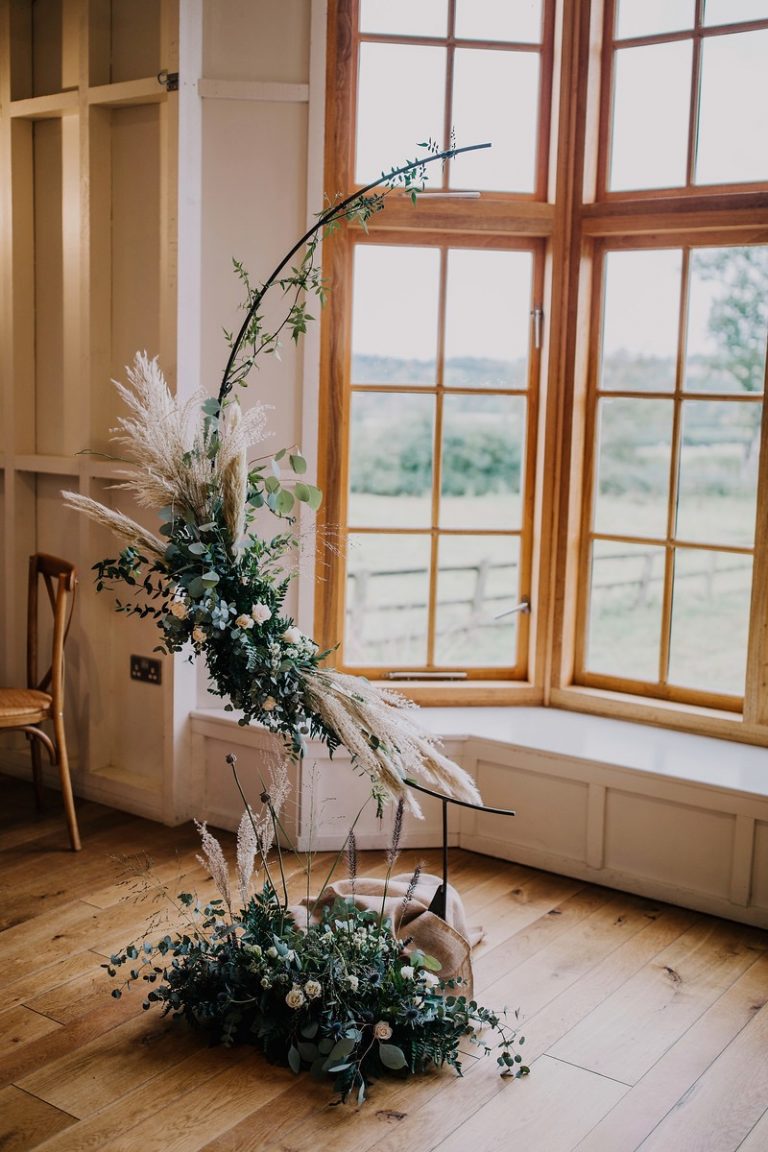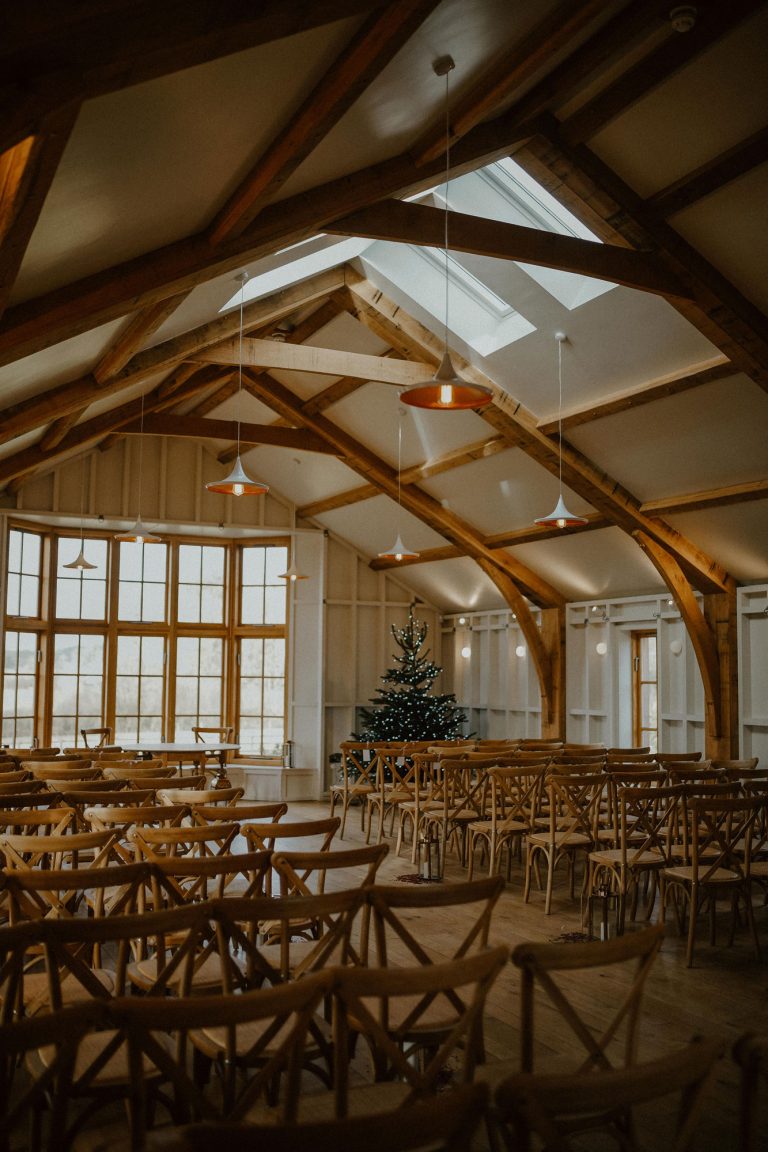 The Barn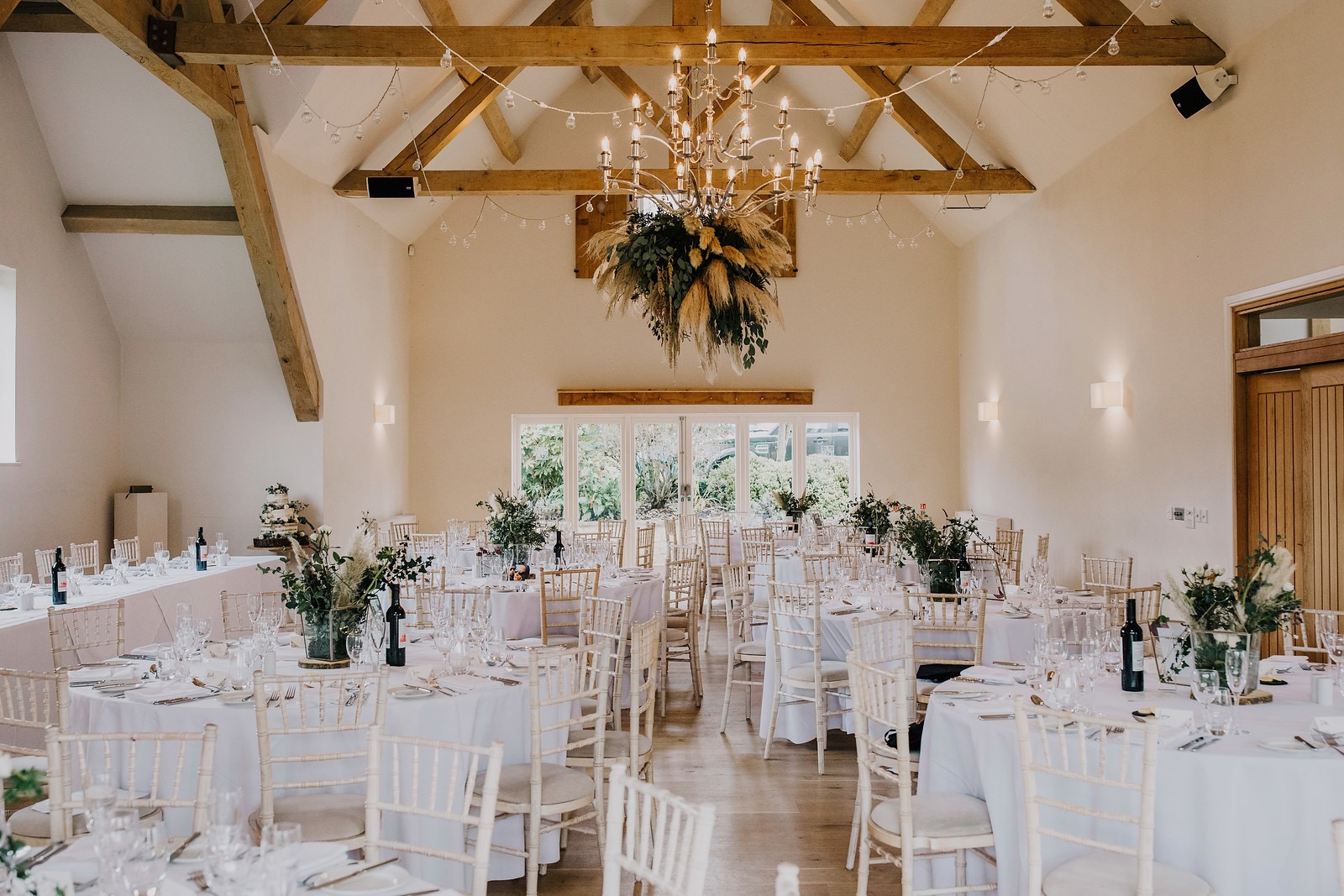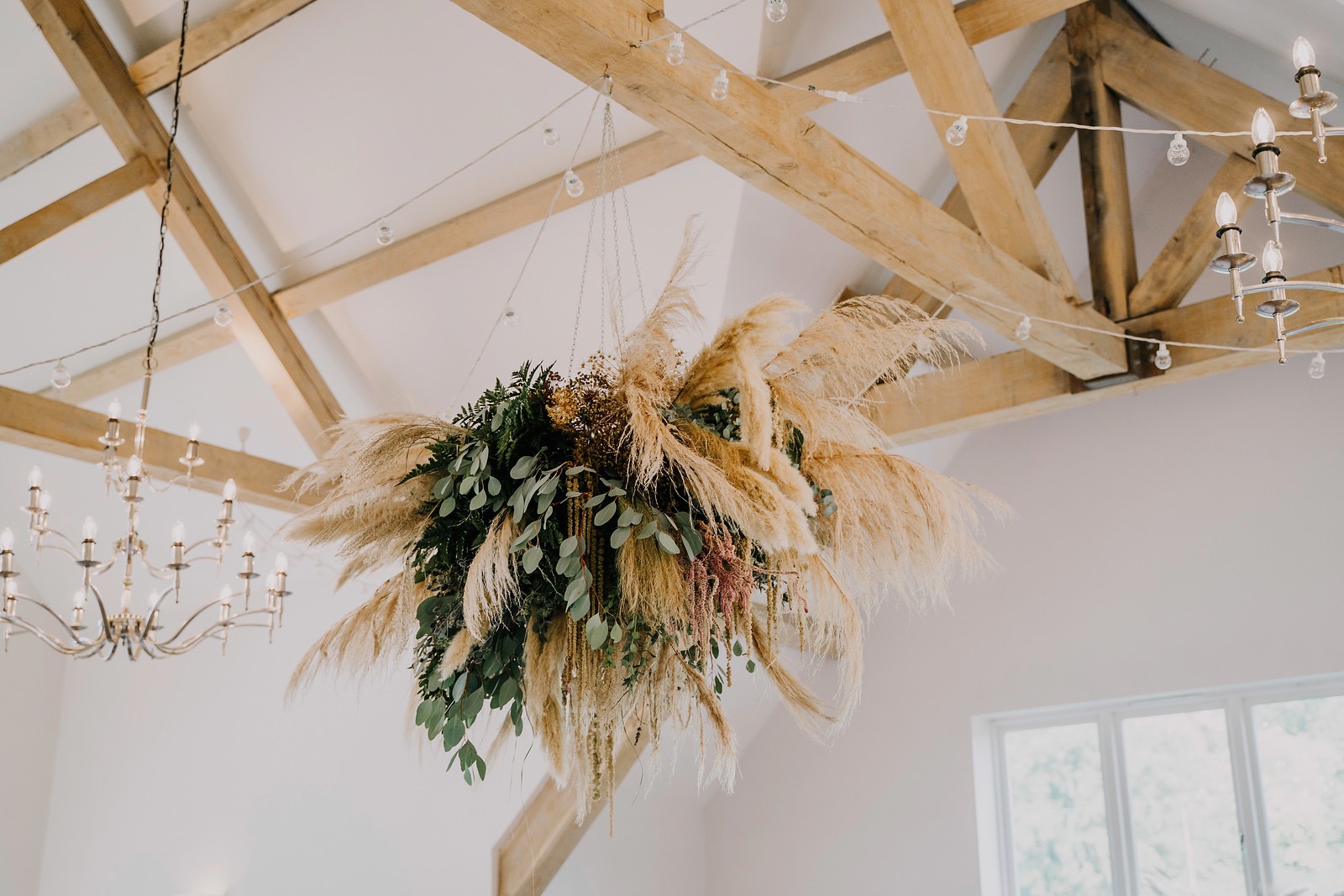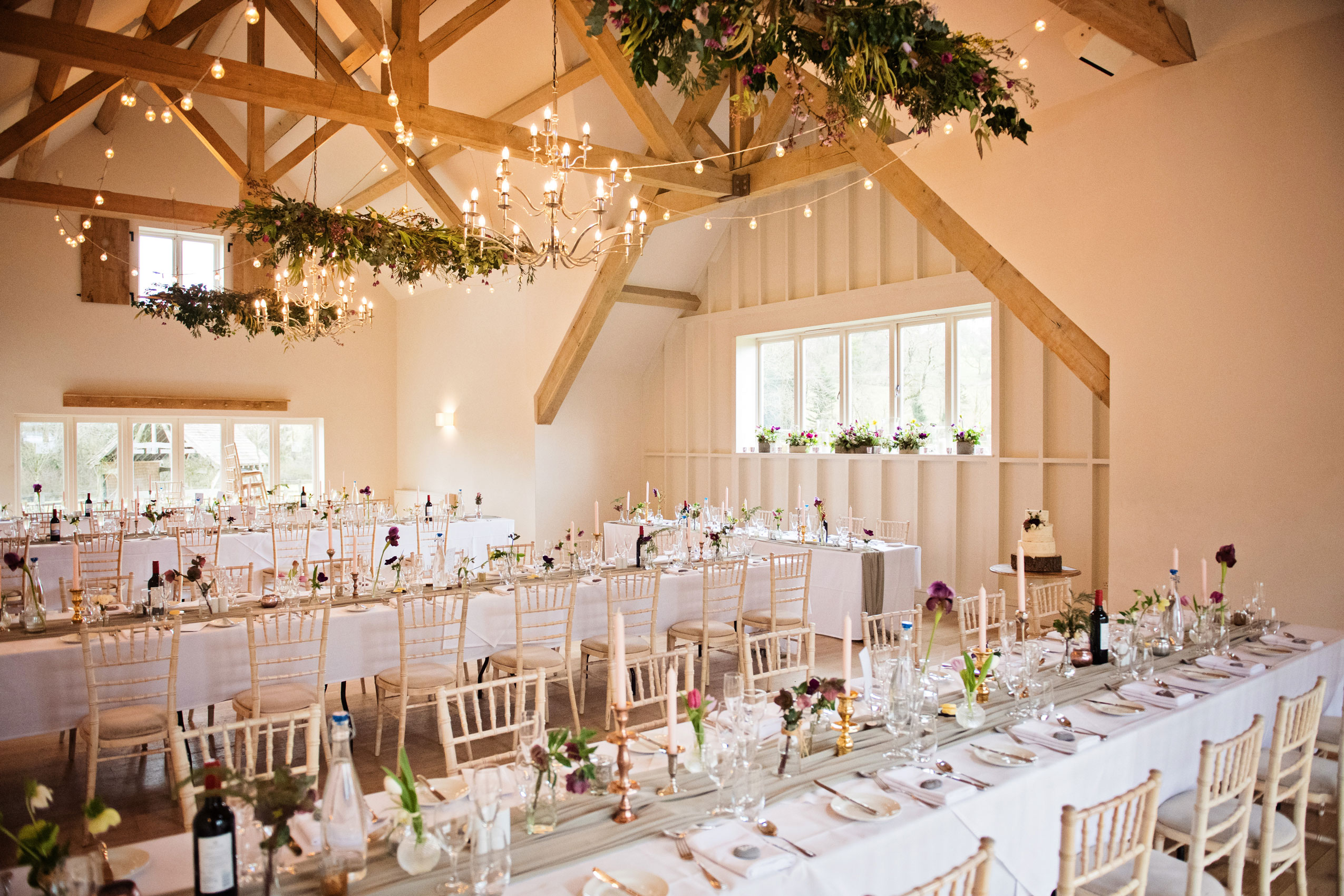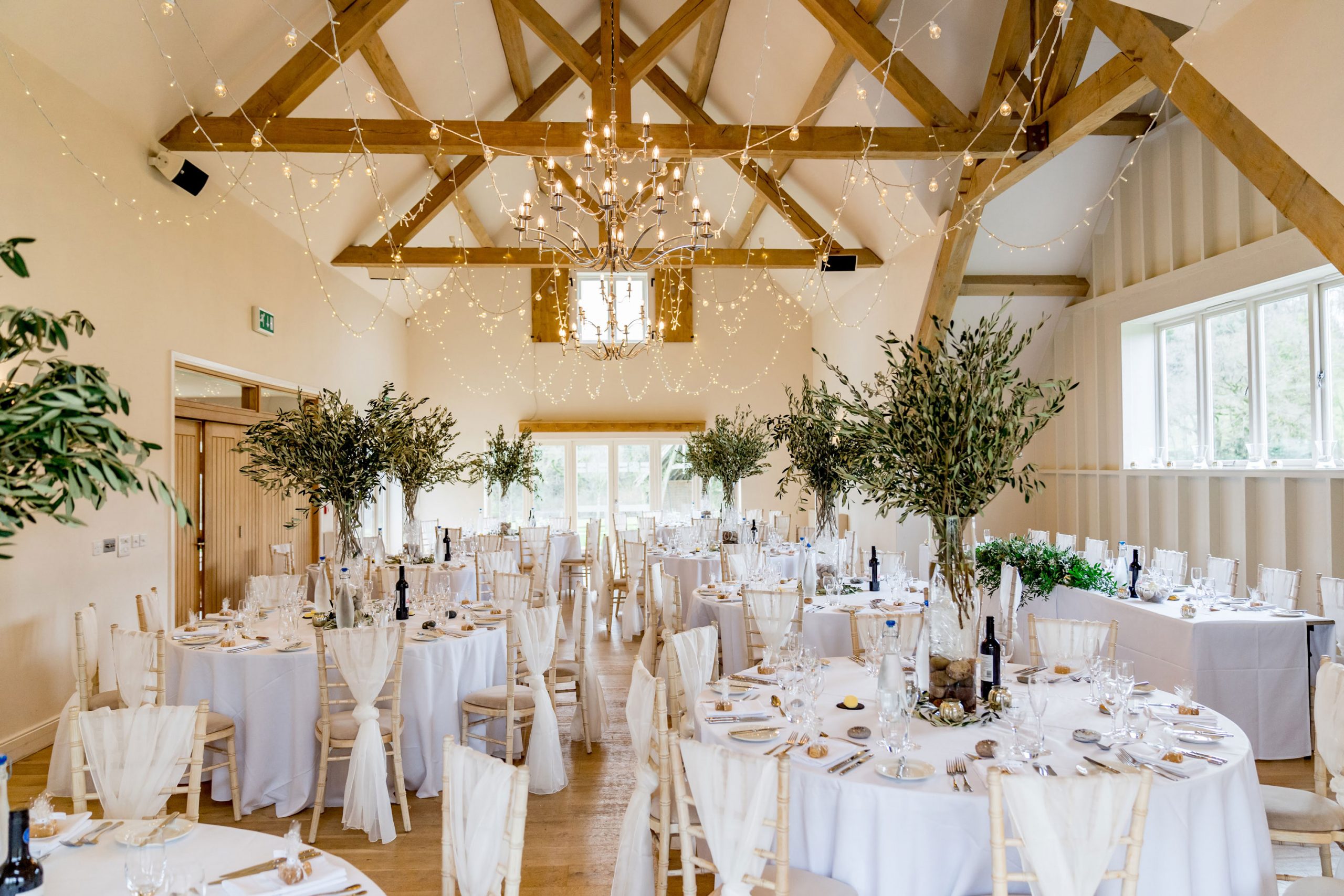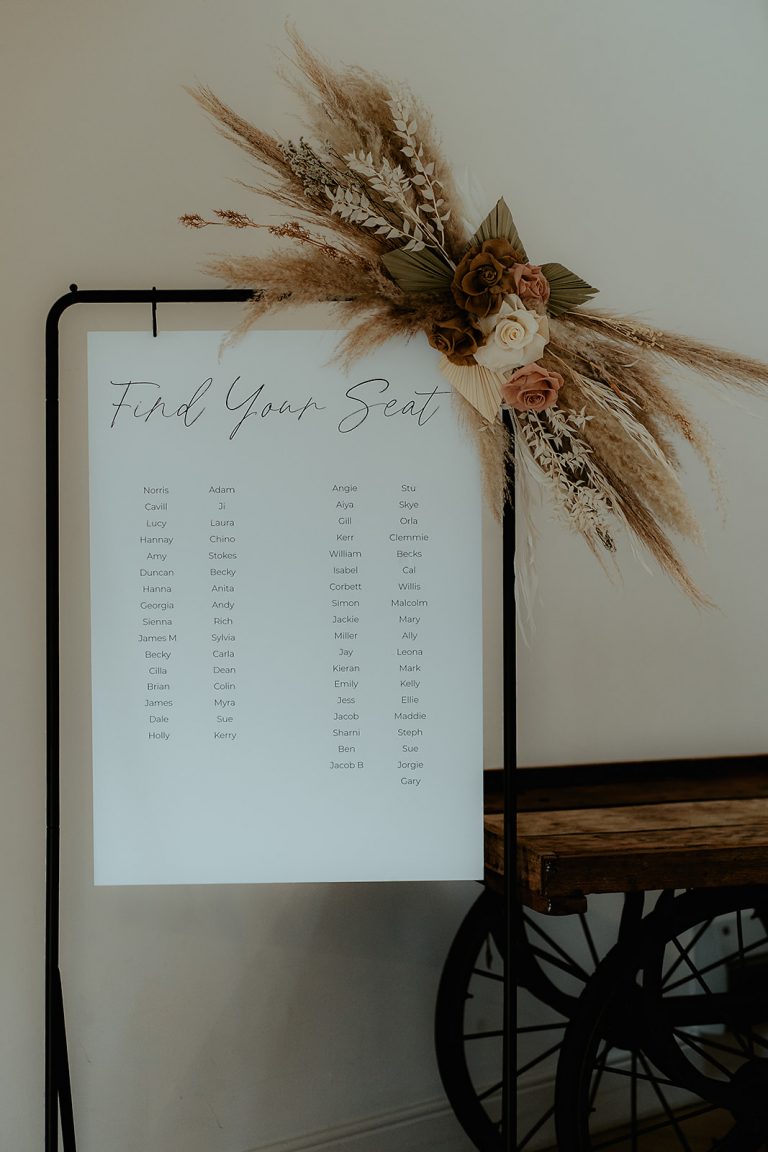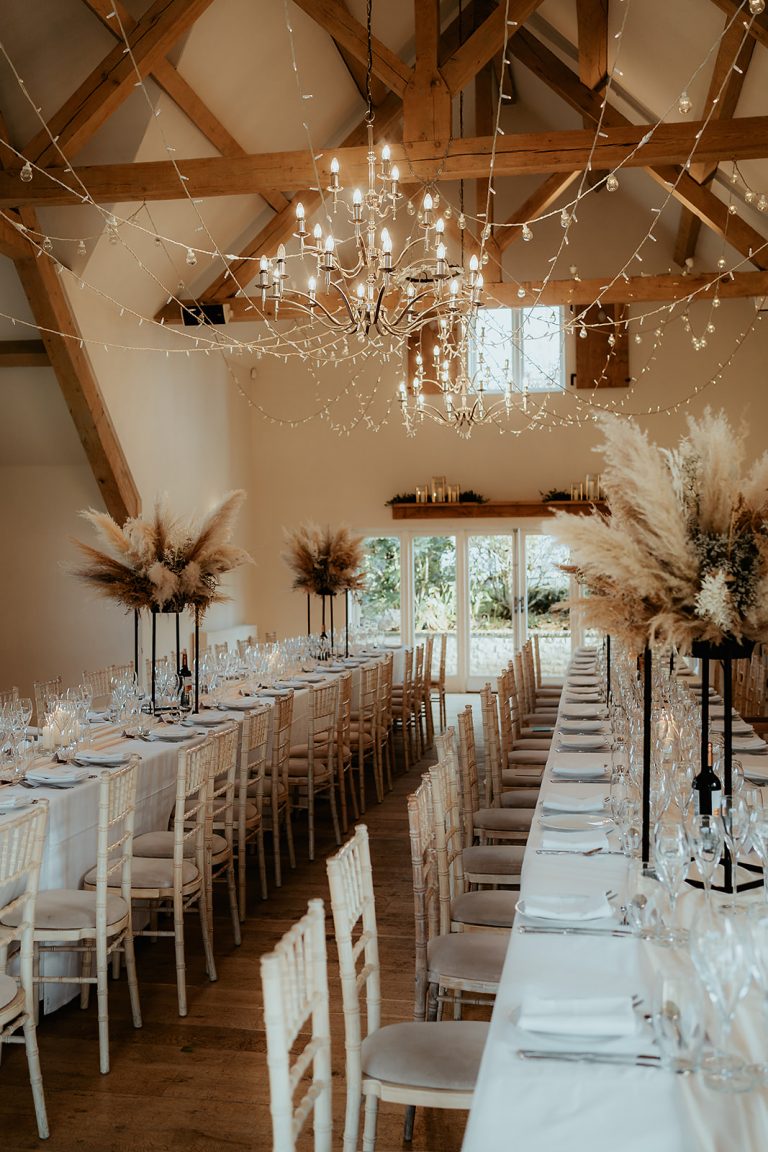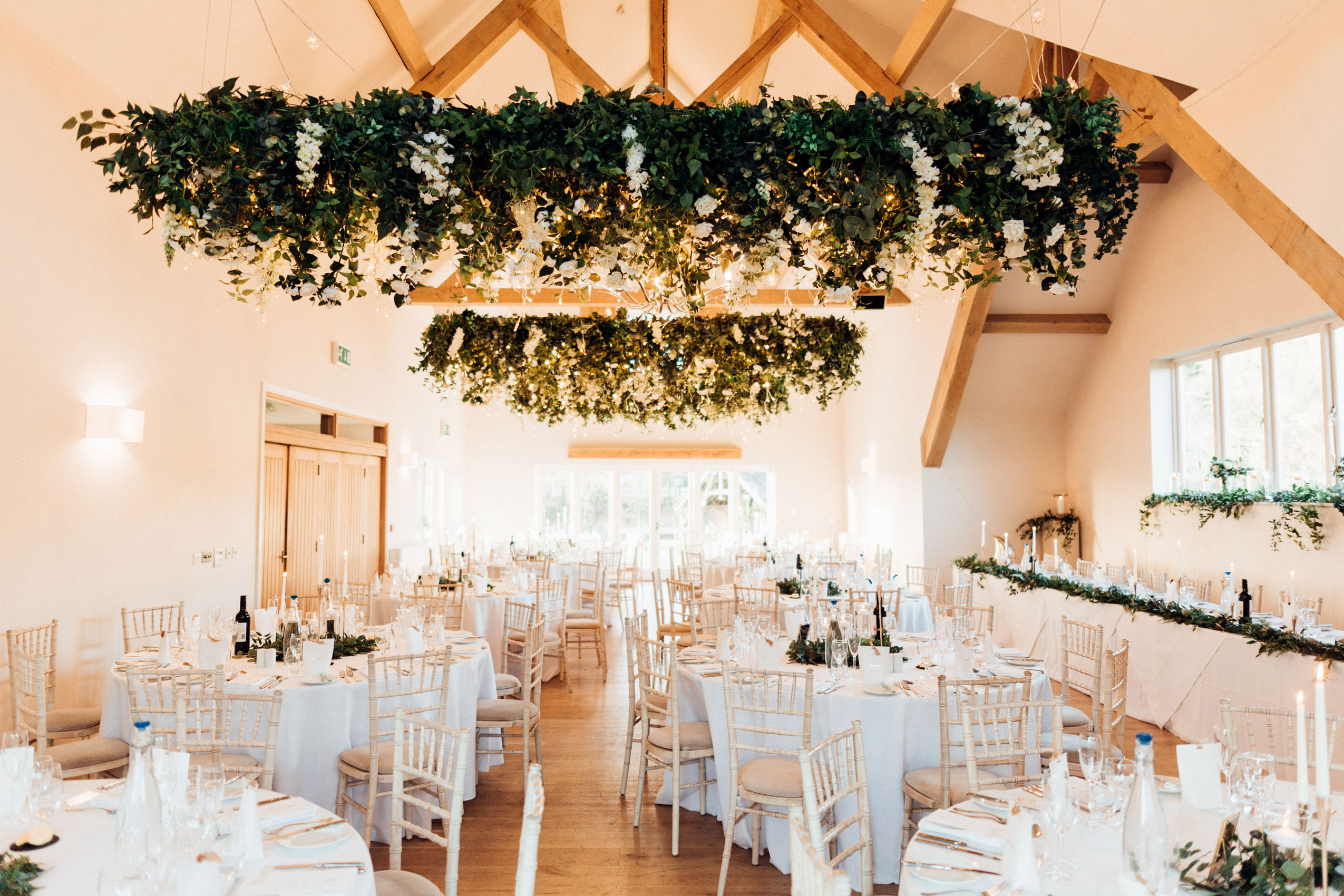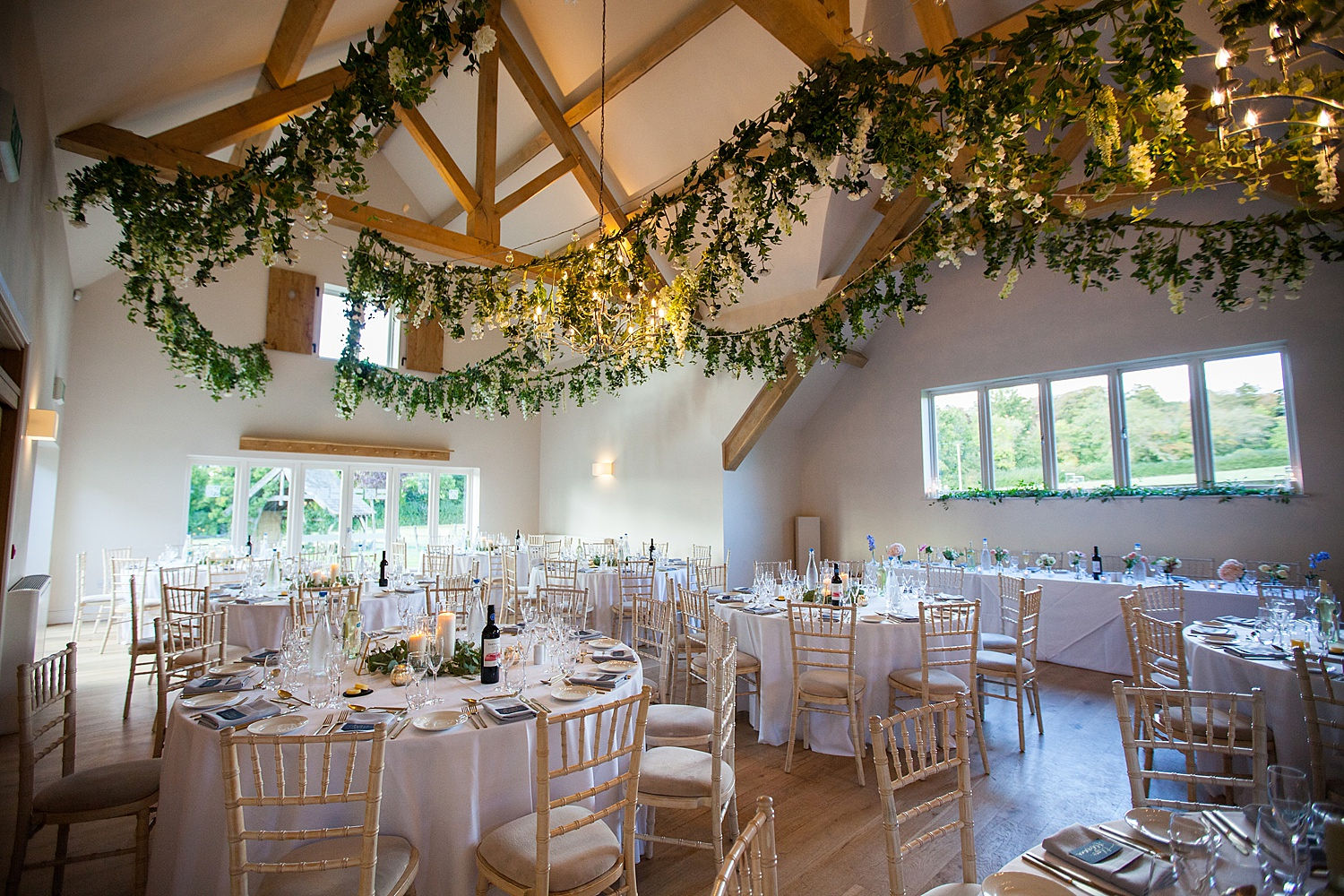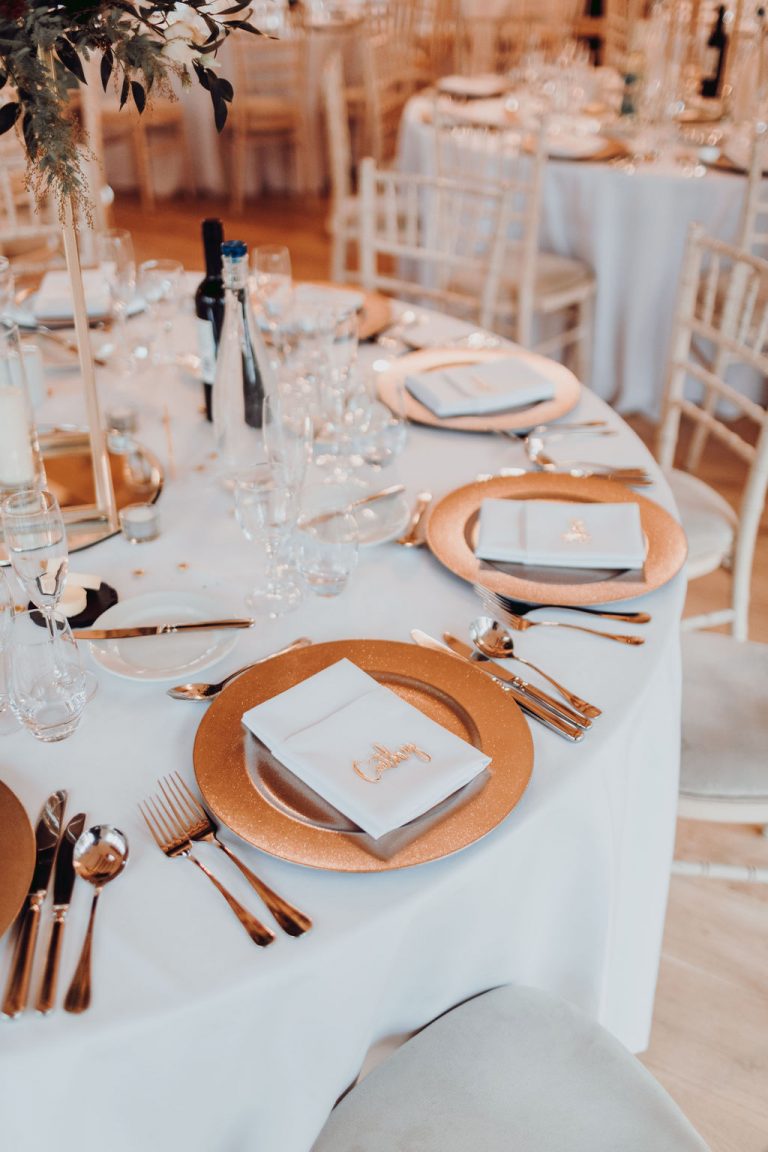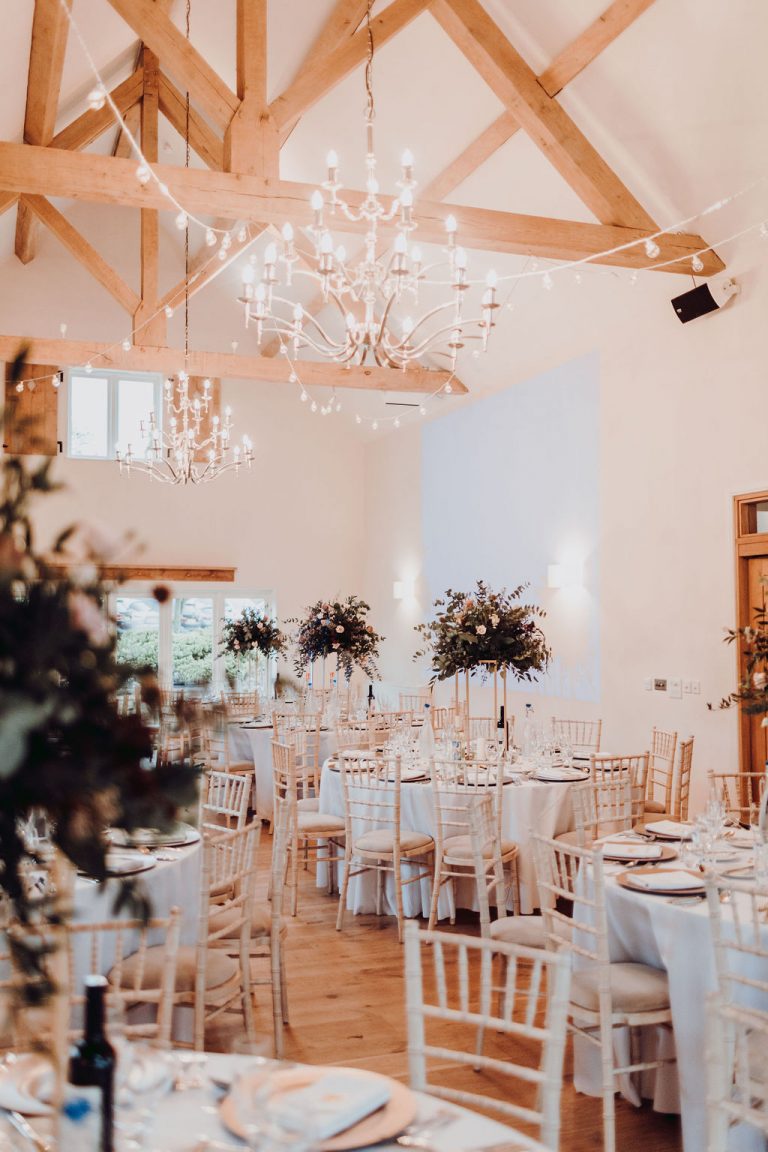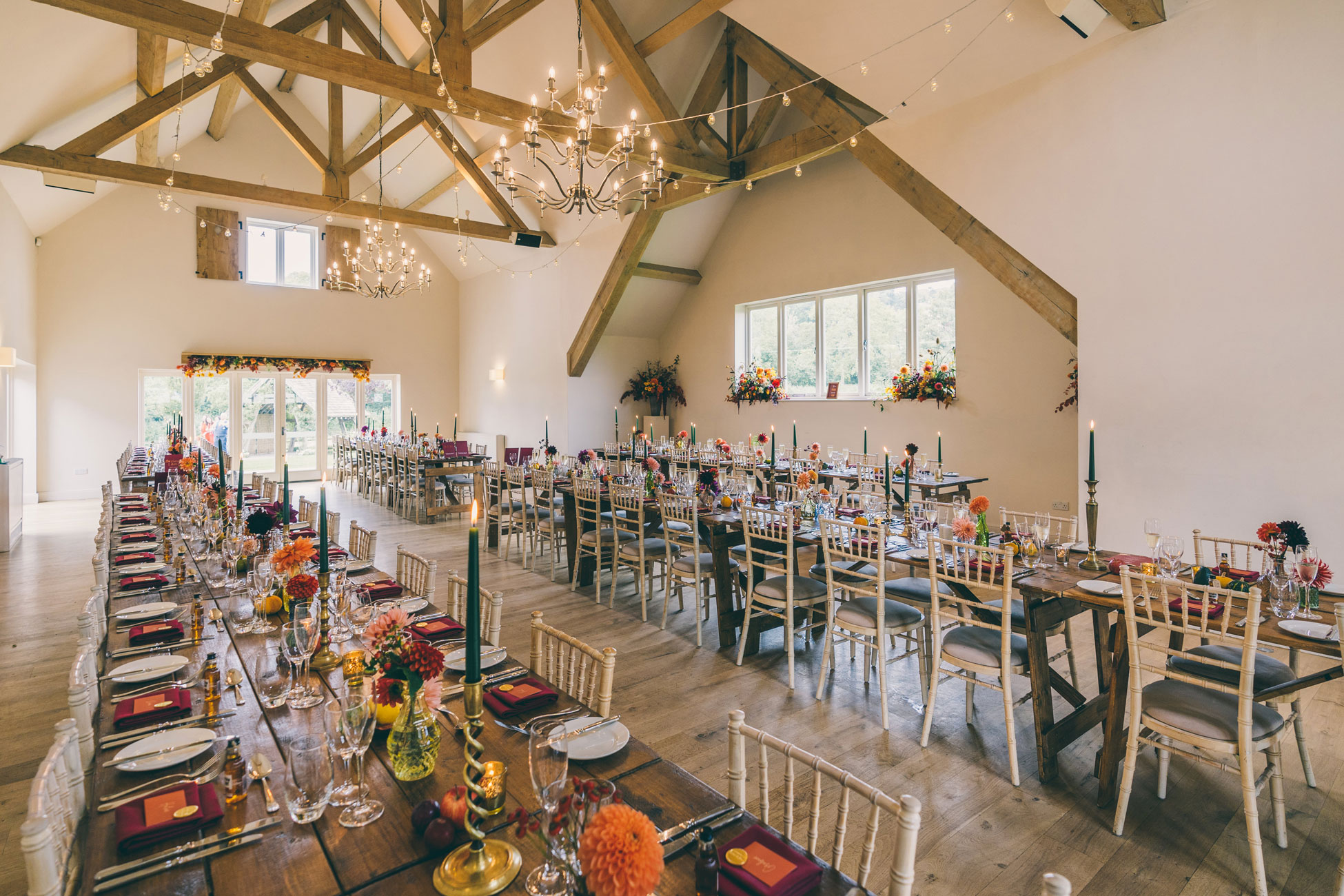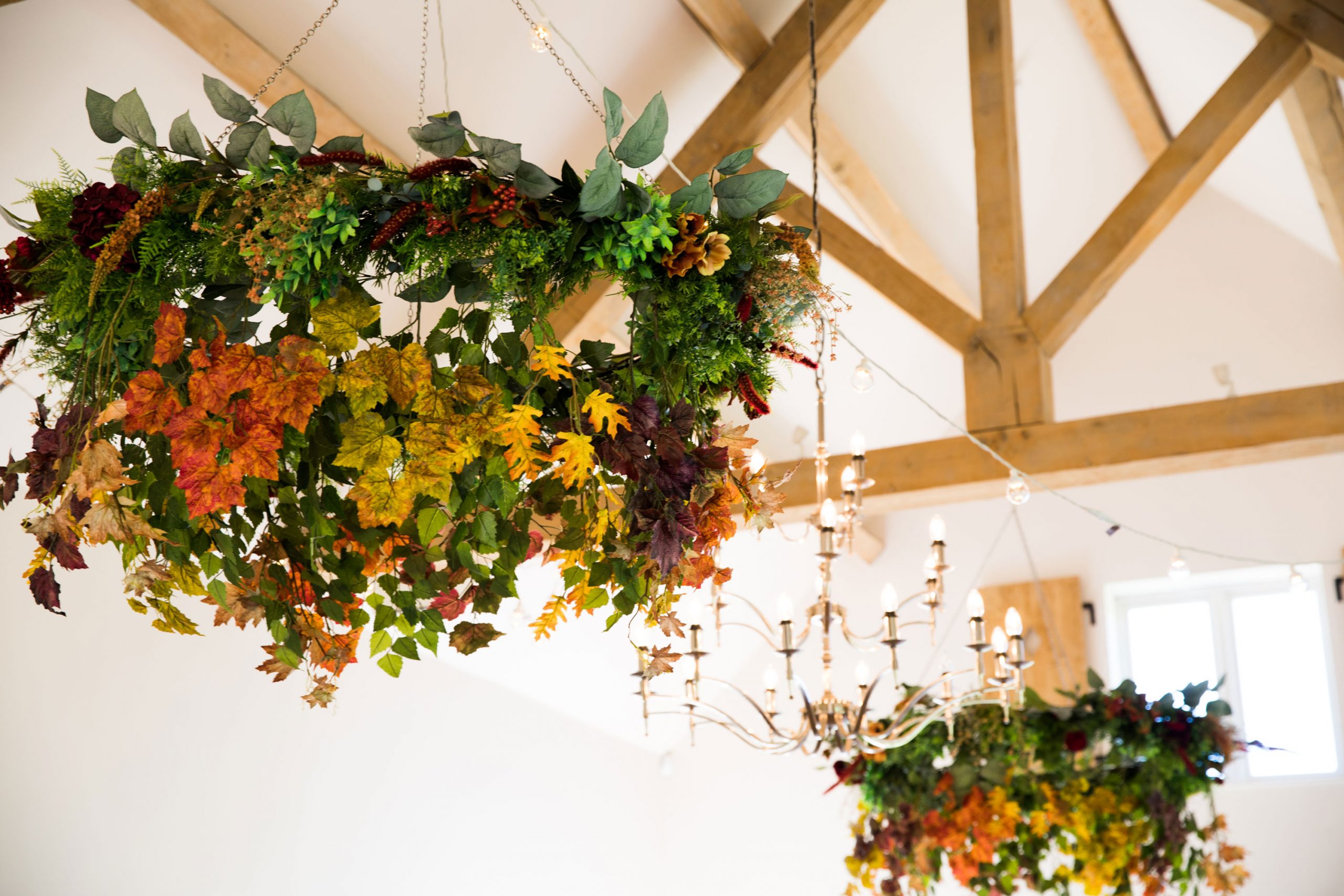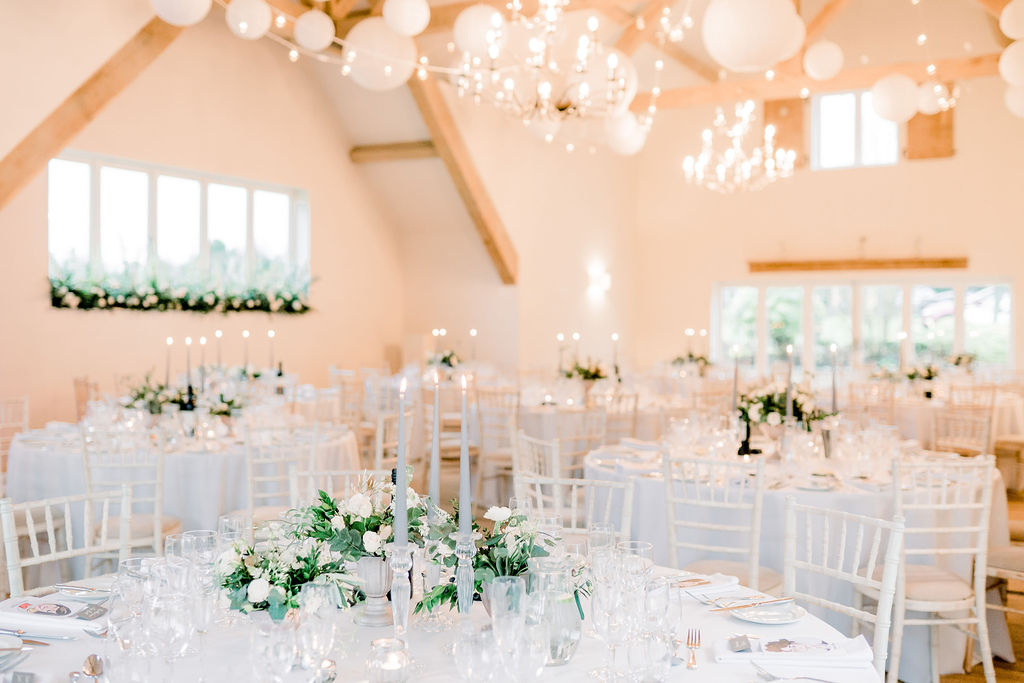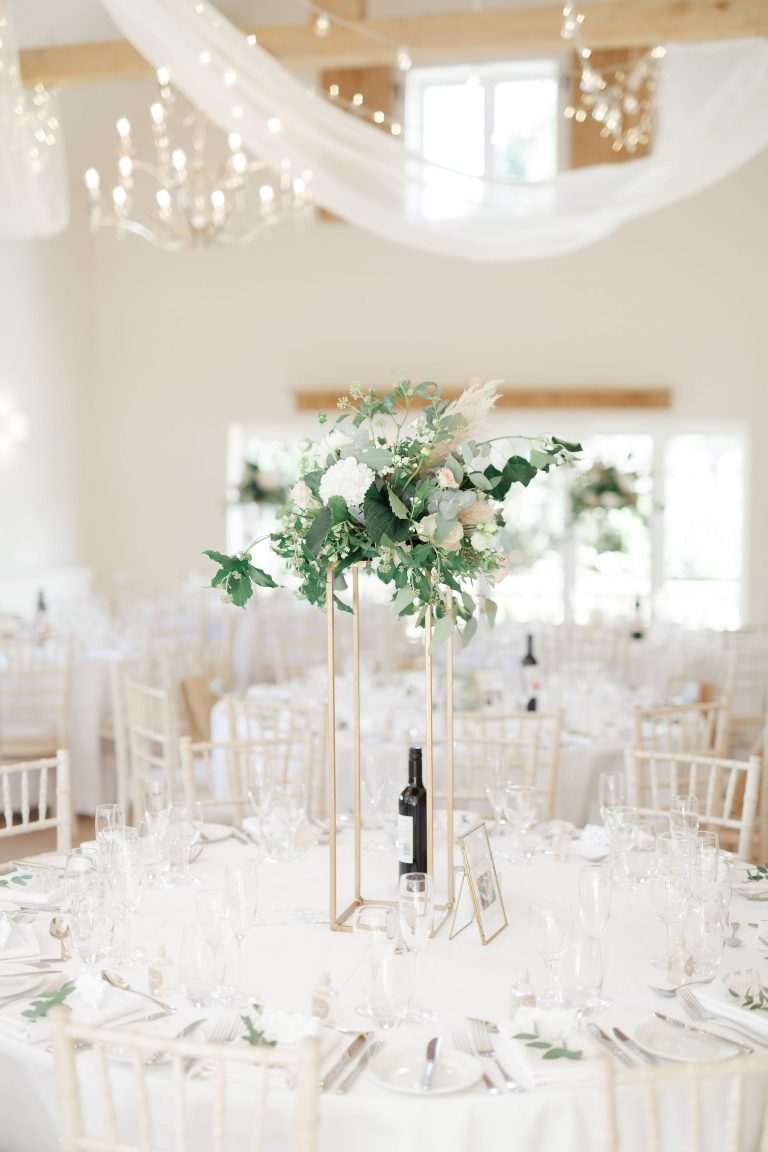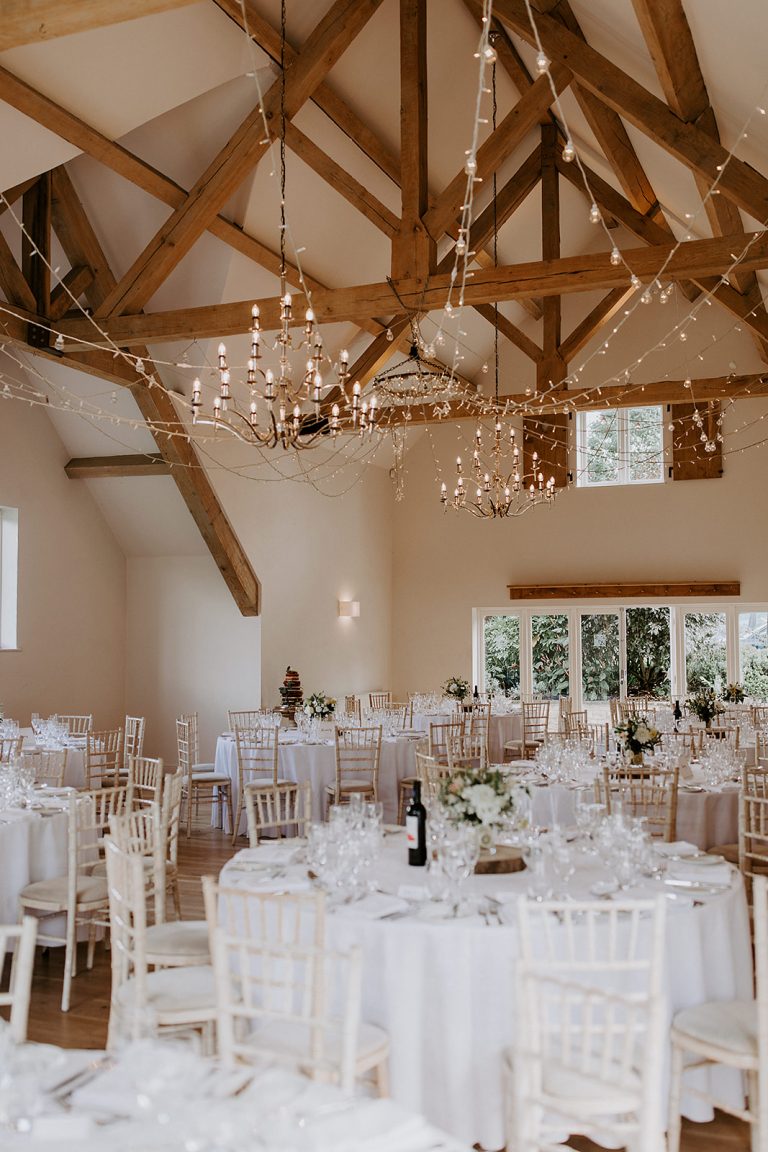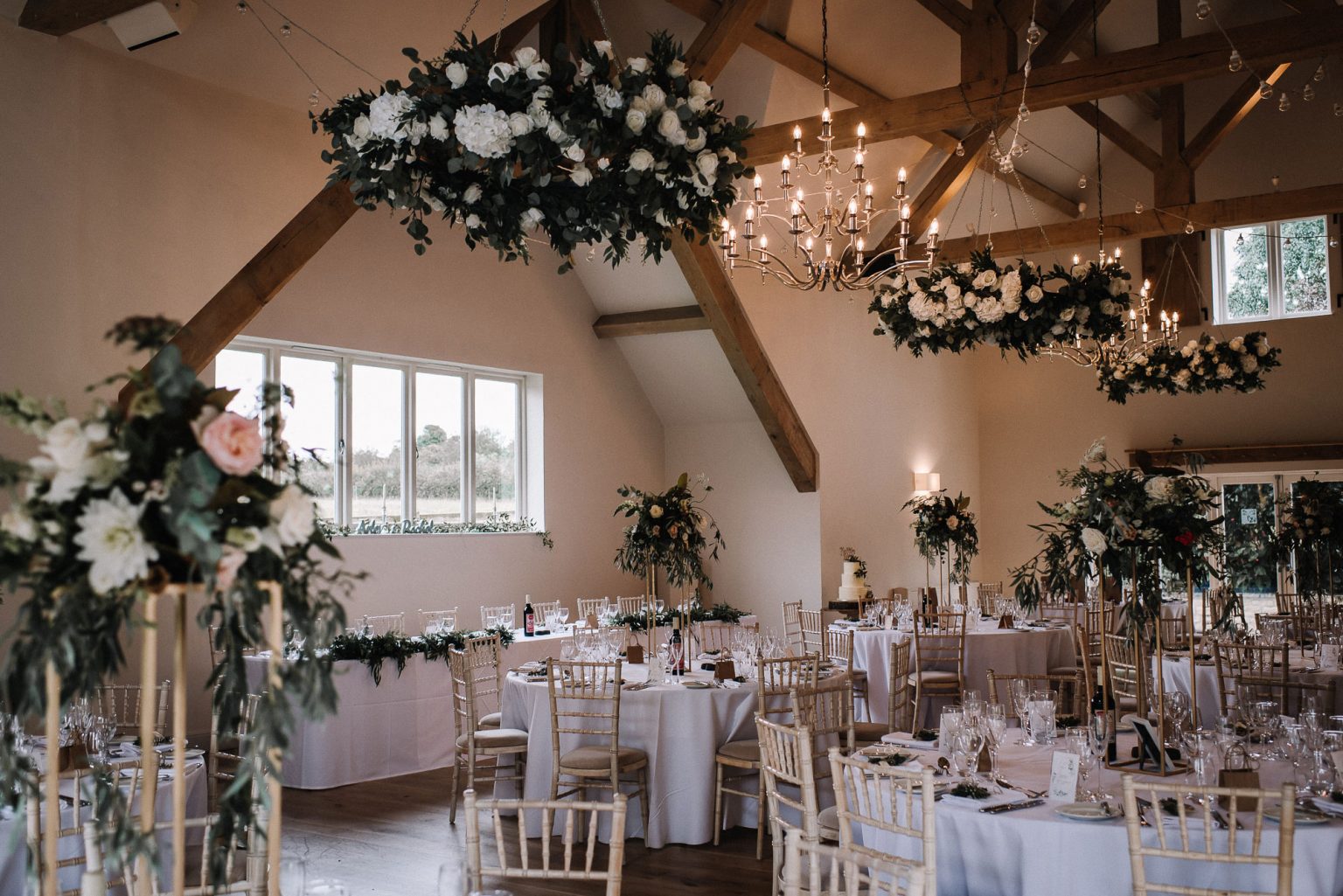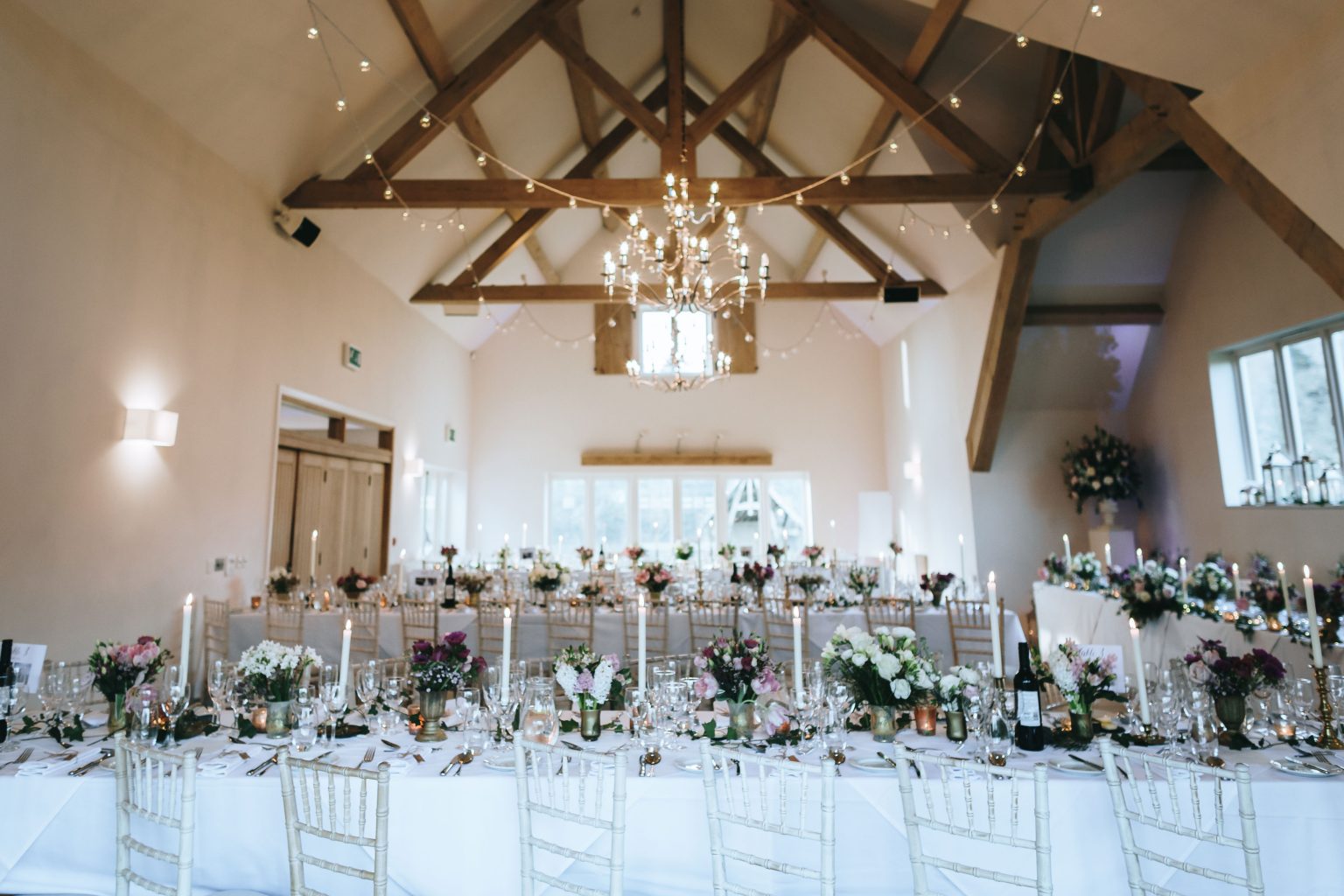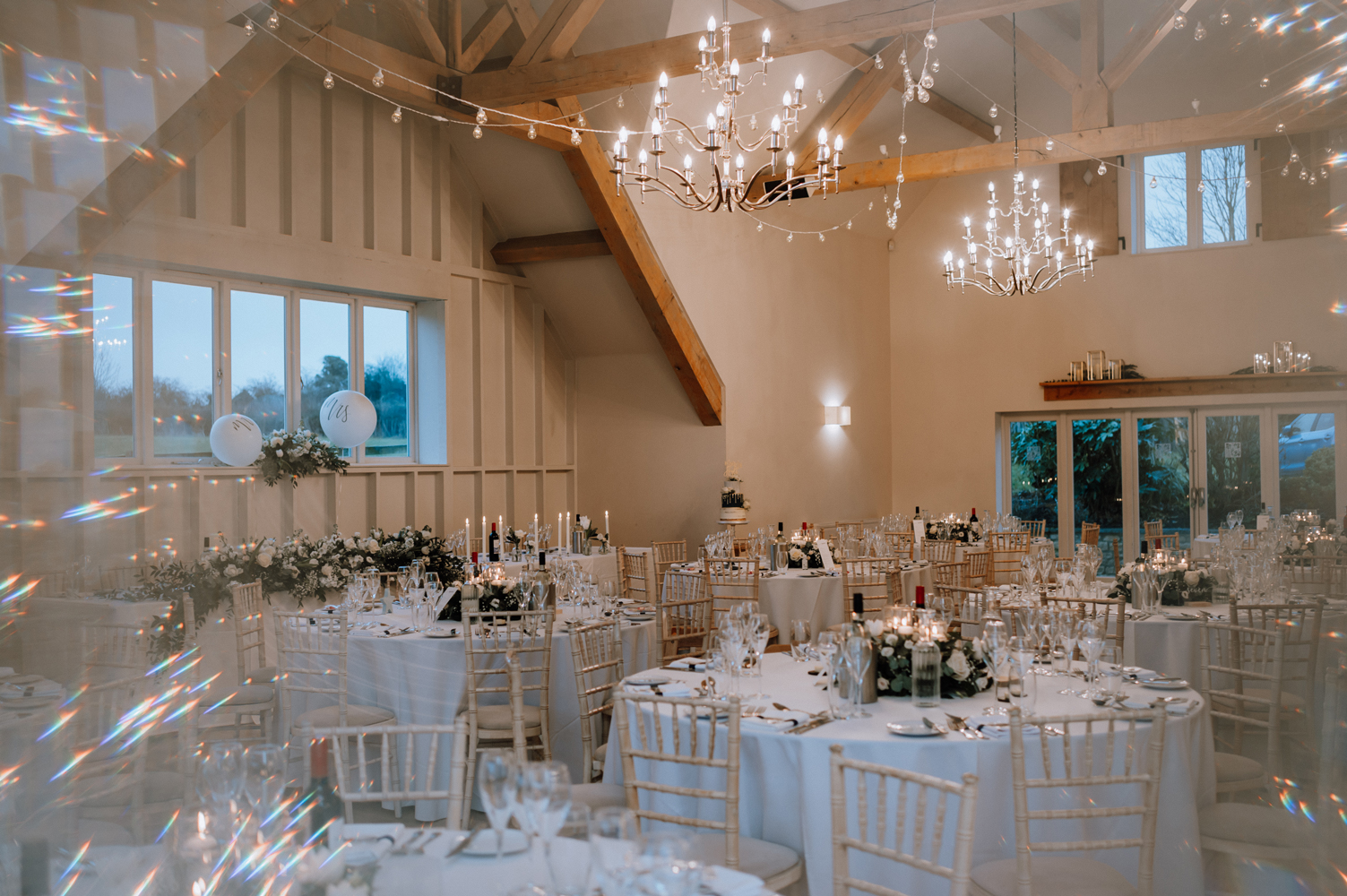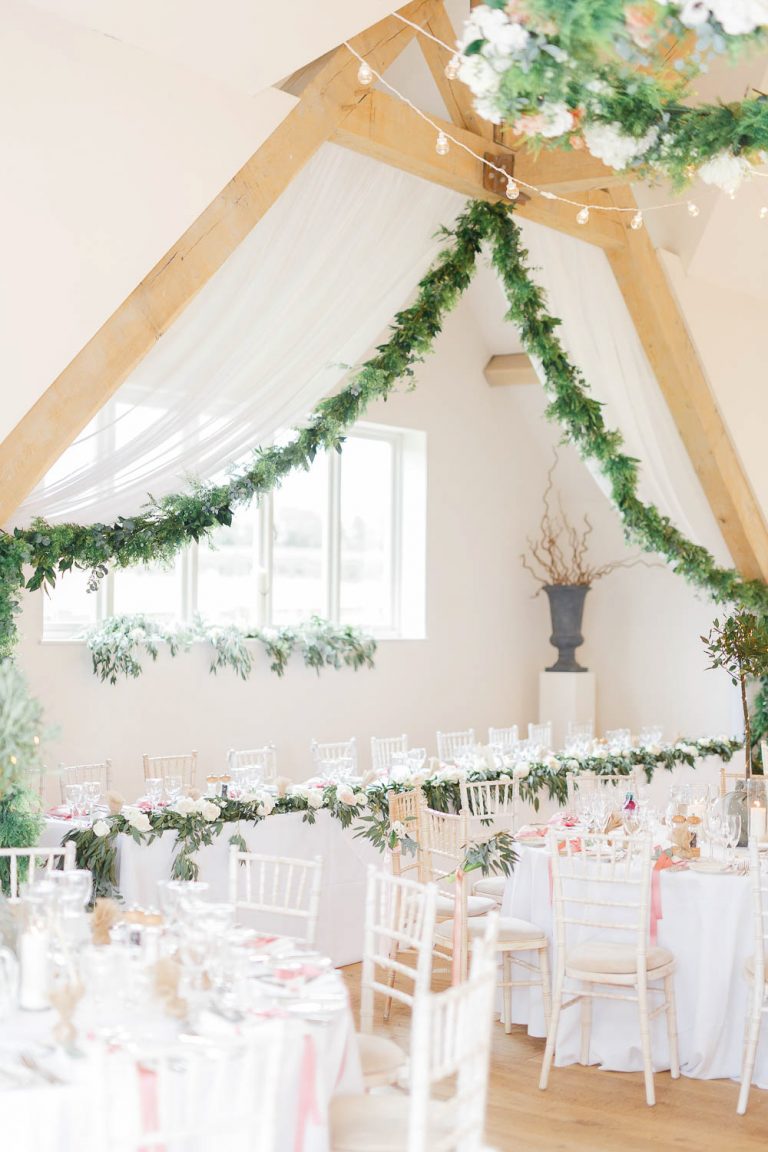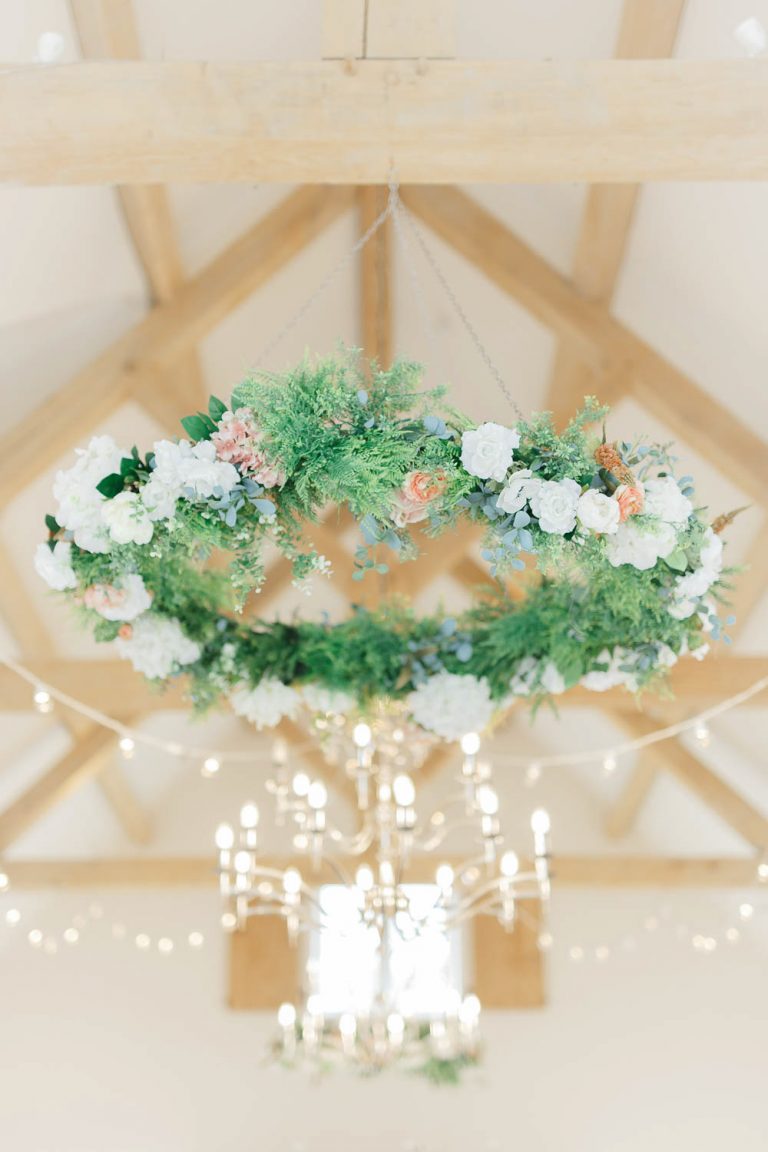 For more Wintery and Autumnal Wedding Inspiration head to our Instagram… you can find us @hyde_house
Hitched at Hyde : 30 / 12 / 19
Making an Entrance | Beautiful Styling at #thegrangeathyde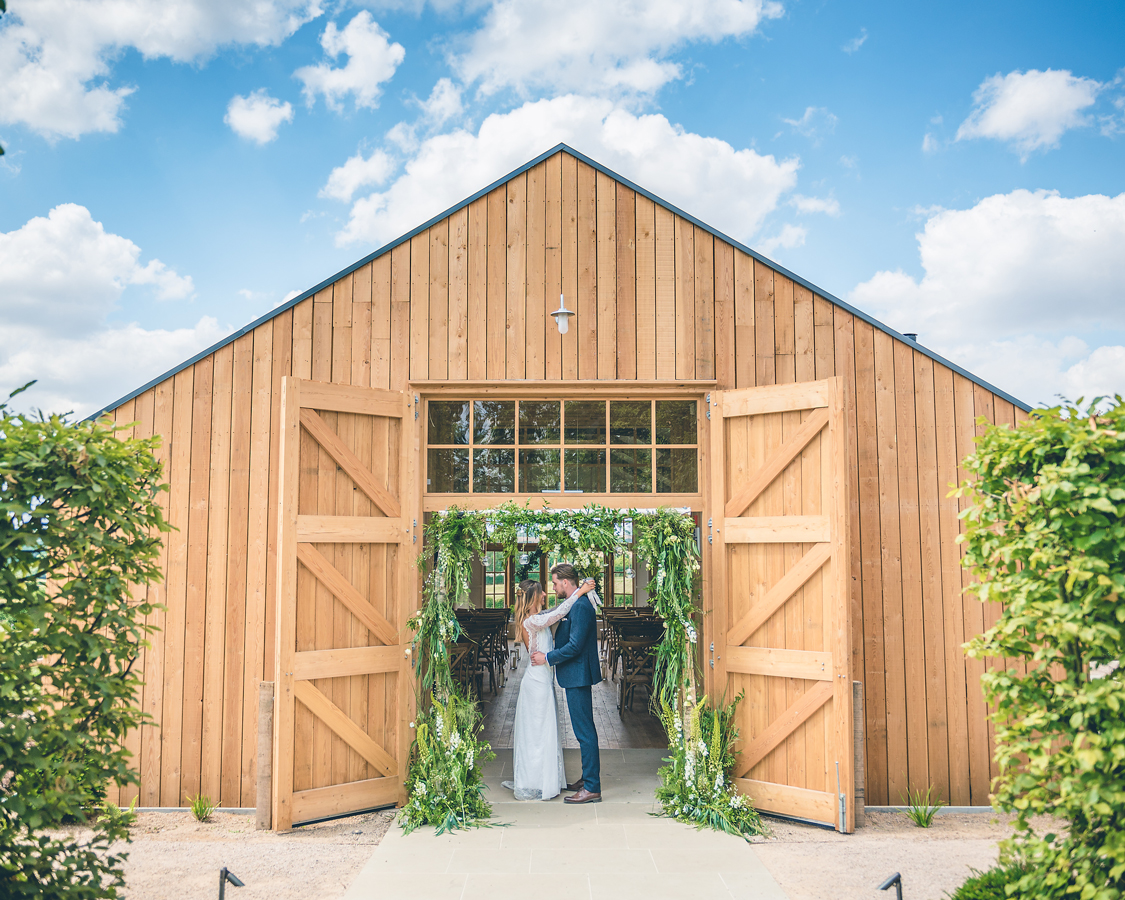 The Hyde House Ceremony Barn, The Grange, was completed almost two years ago and since then, it has played host to so many breathtaking Ceremonies. Its neutral interiors make it the perfect canvas for Couples to put their own stamp on it & make their day one of a kind and we are always blown away by the variety of styling that we see on a weekly basis.
The styling is not however limited to just the inside of The Grange and many people have decided to also frame the Entrance in order to make a visual impact as soon as guests arrive; we've seen everything from foliage installations, floral archways, hanging garlands, DIY signage and lots more. So we thought the launch of the Hyde Journal would be a wonderful opportunity to share a handful of these gorgeous creations with you all so that you can be thoroughly inspired for your own beautiful Wedding Days!
Lots of love, The Hyde Team x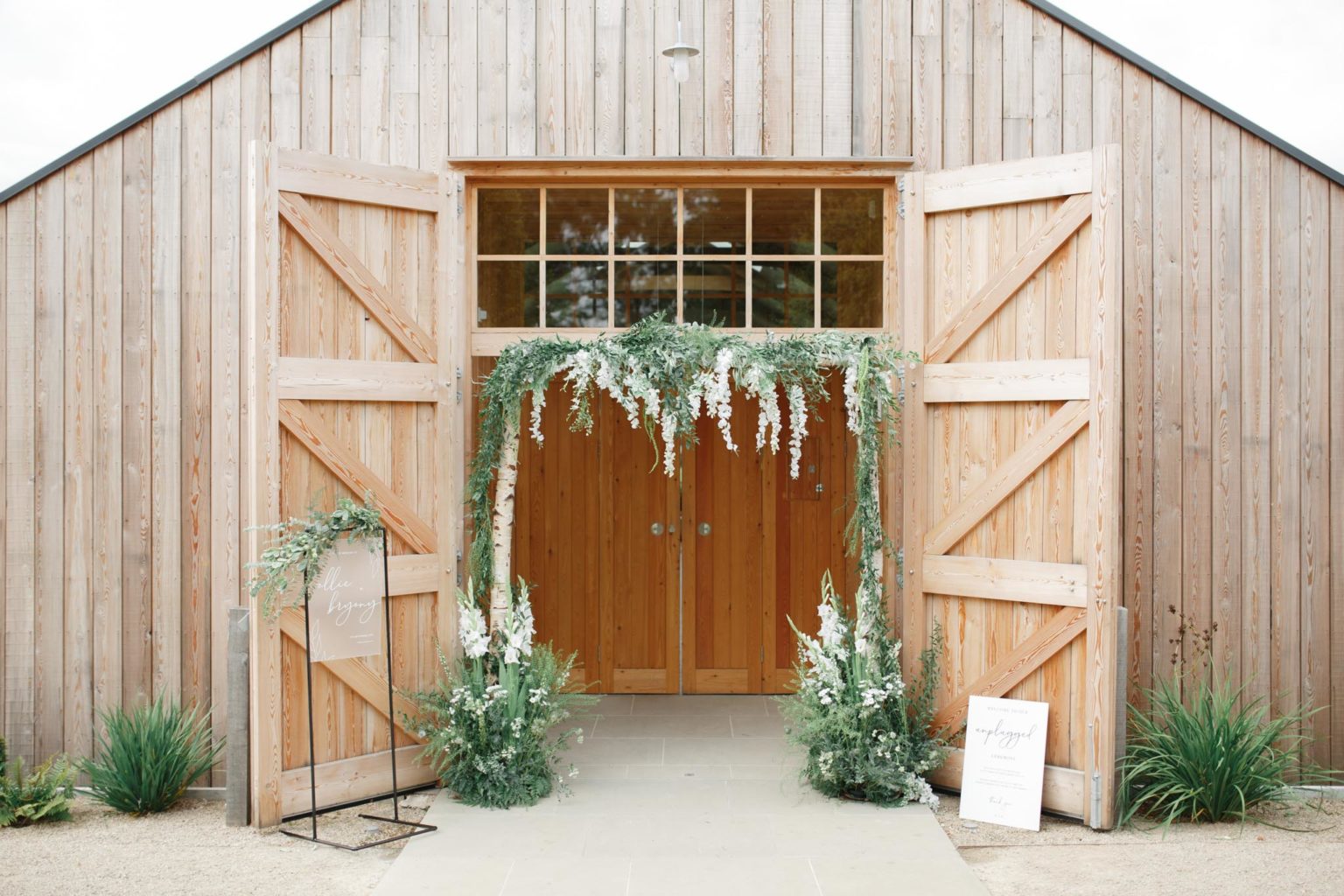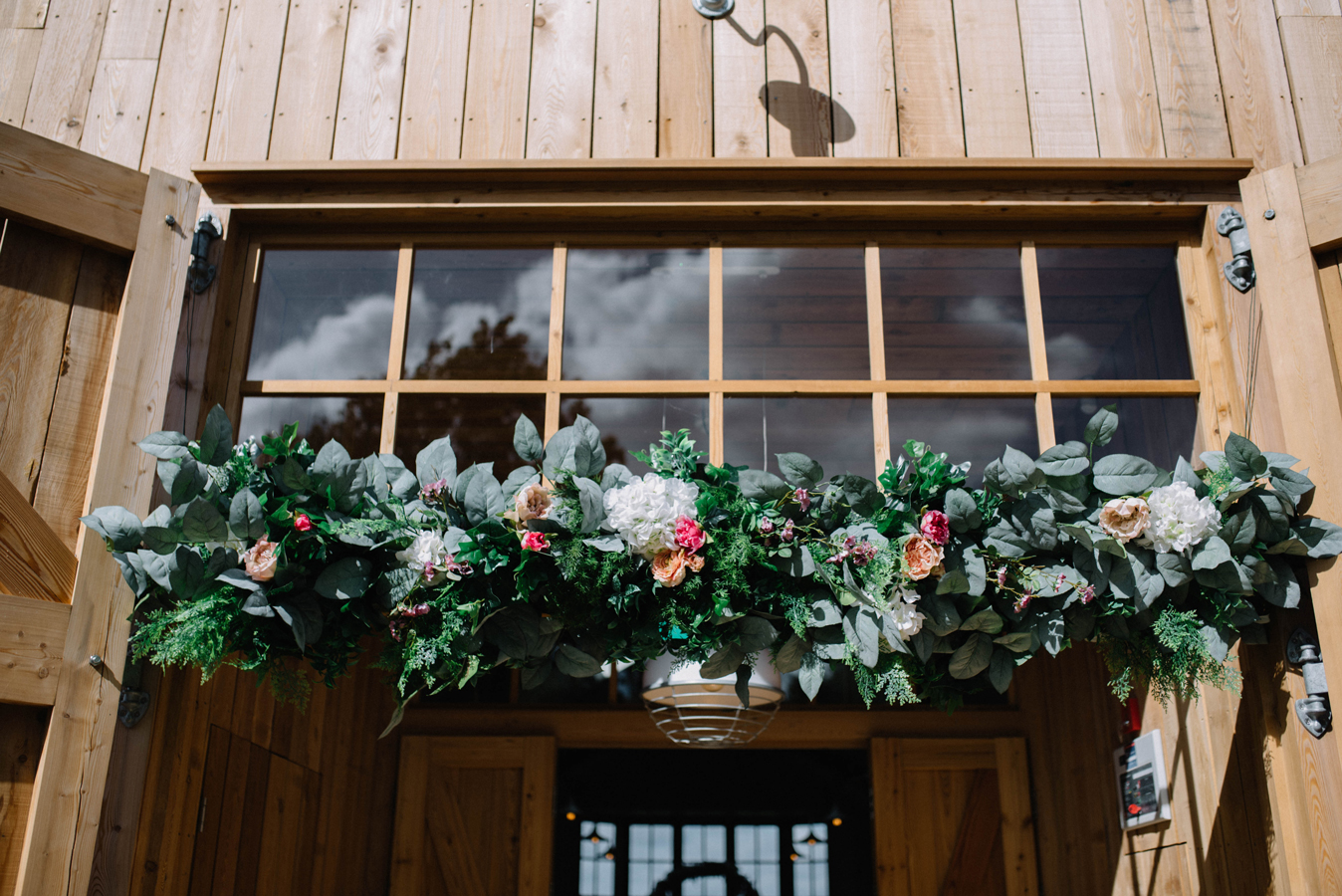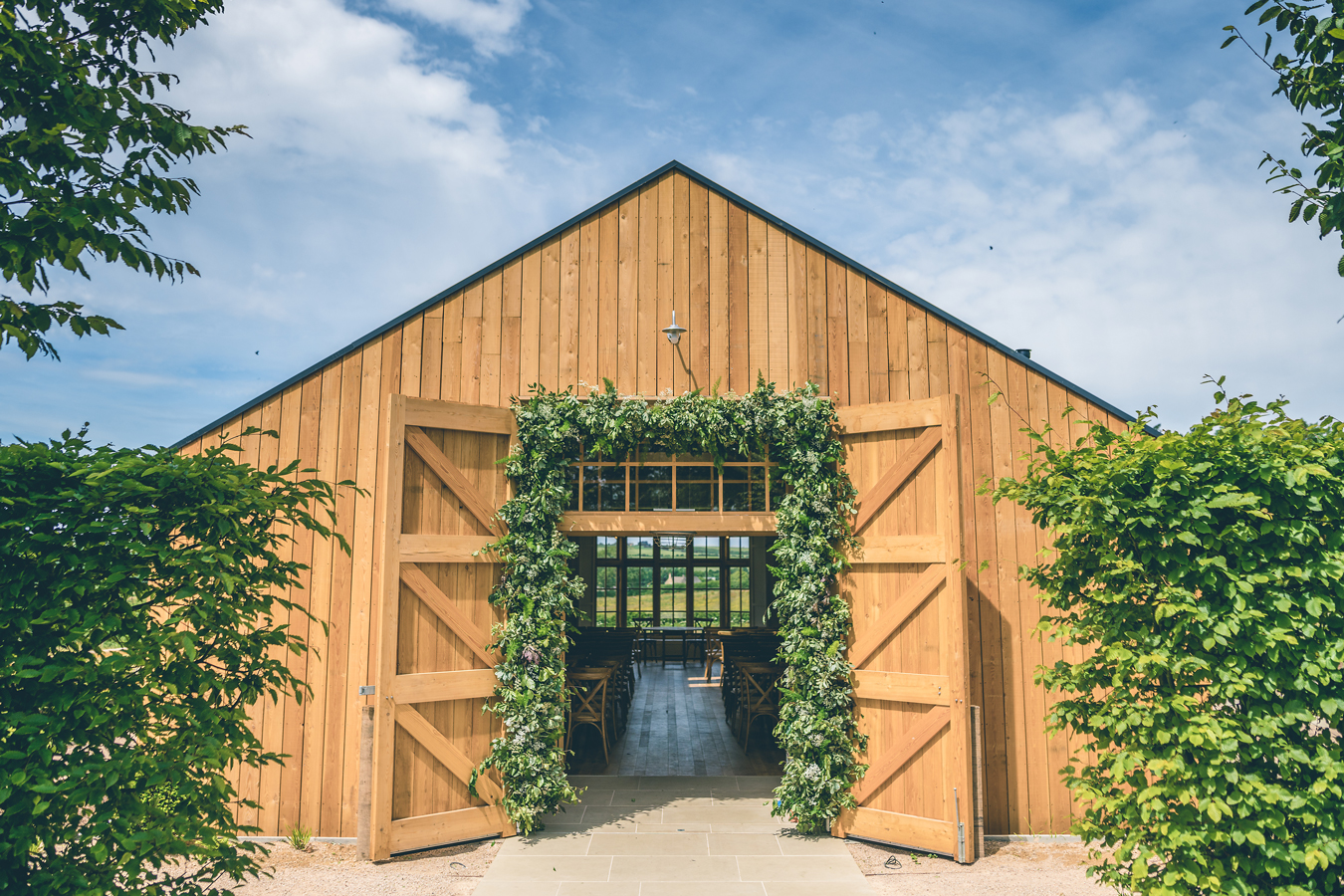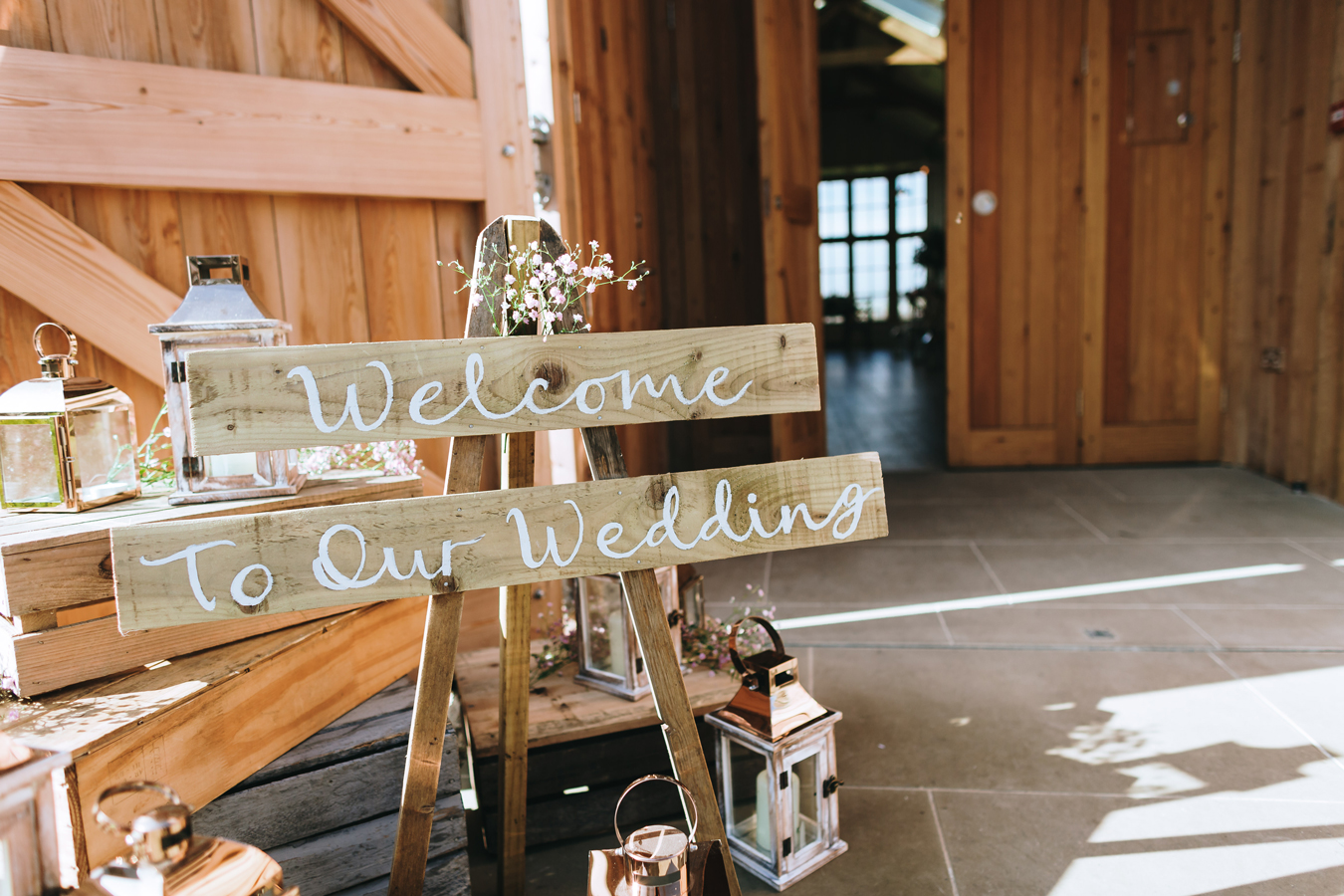 Top to Bottom, Image – White Stag Wedding Photography, Forget Me Nots | Image – Pixie Abbott Photography, Styletopia |  Cotswold Pictures, Styletopia | Lucie Hamilton Photography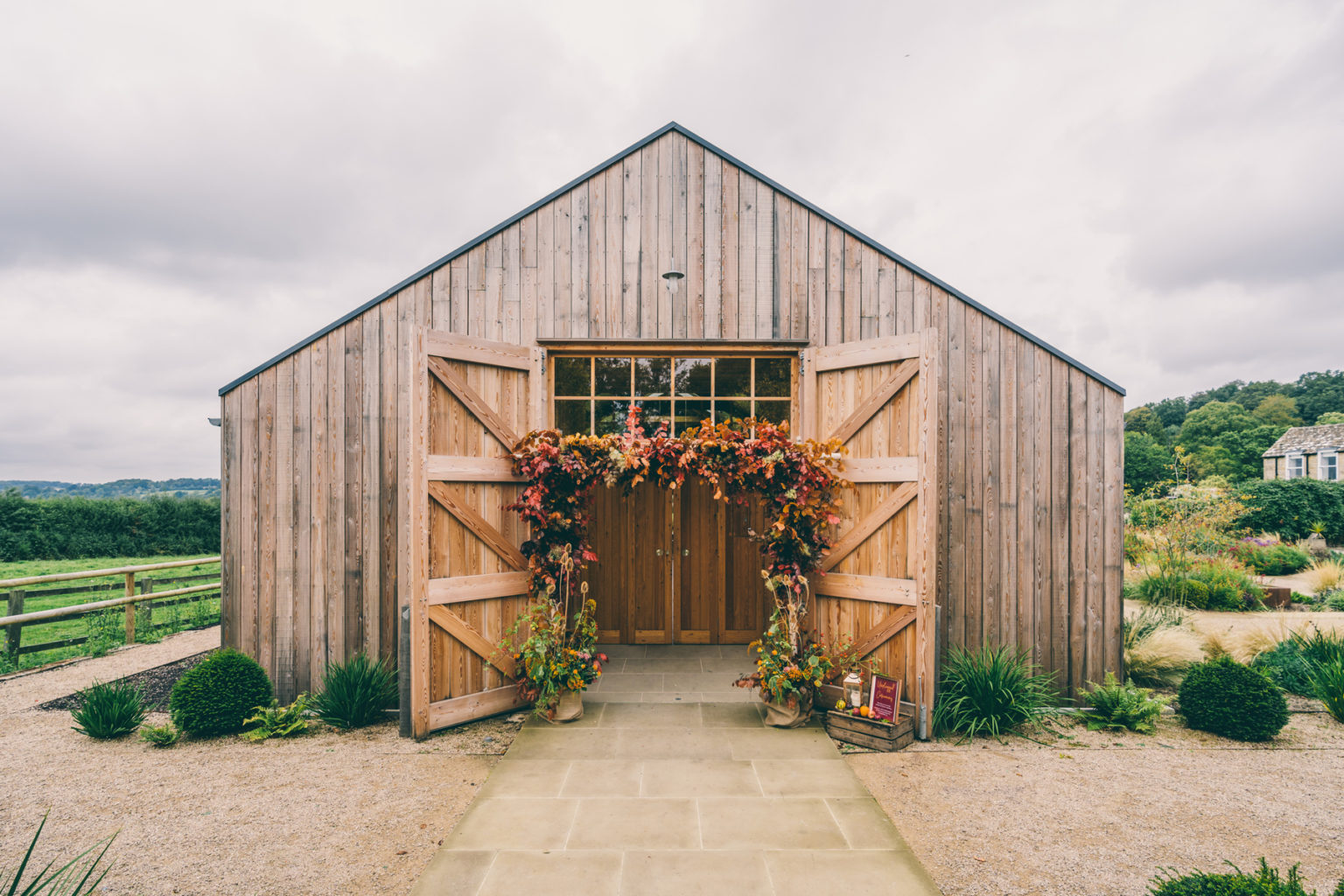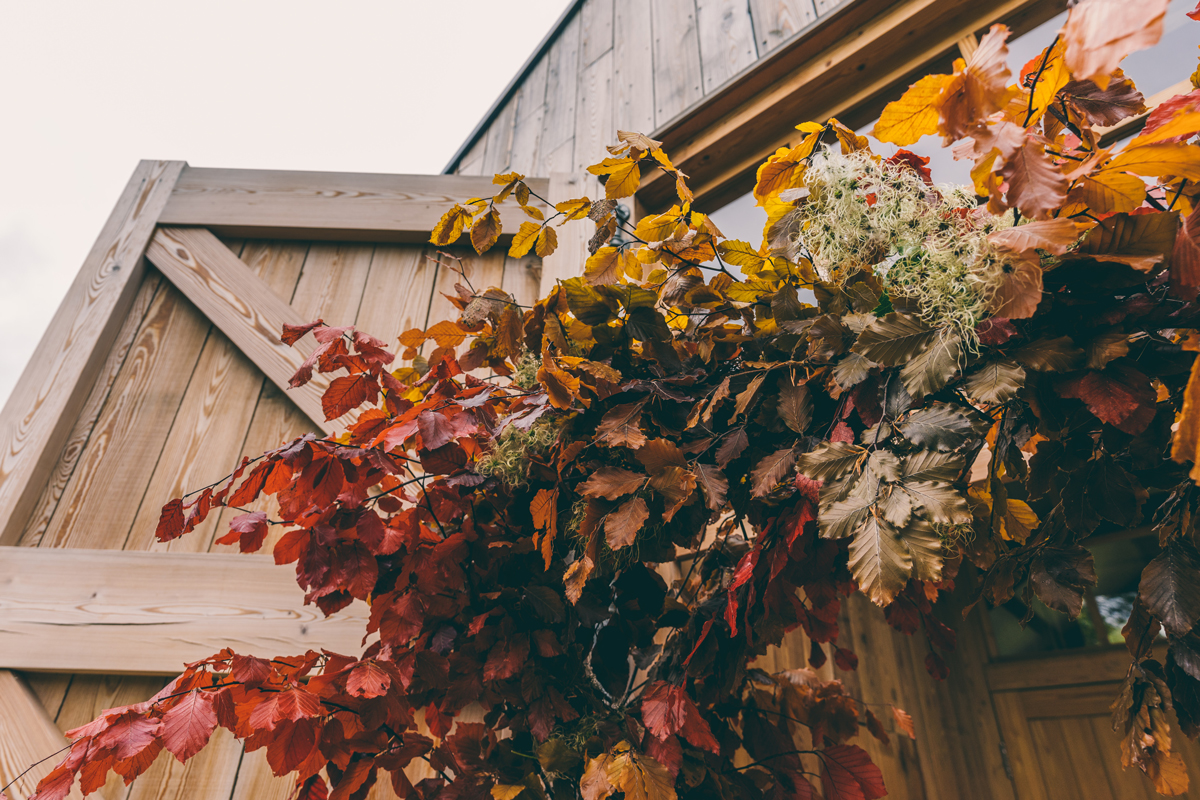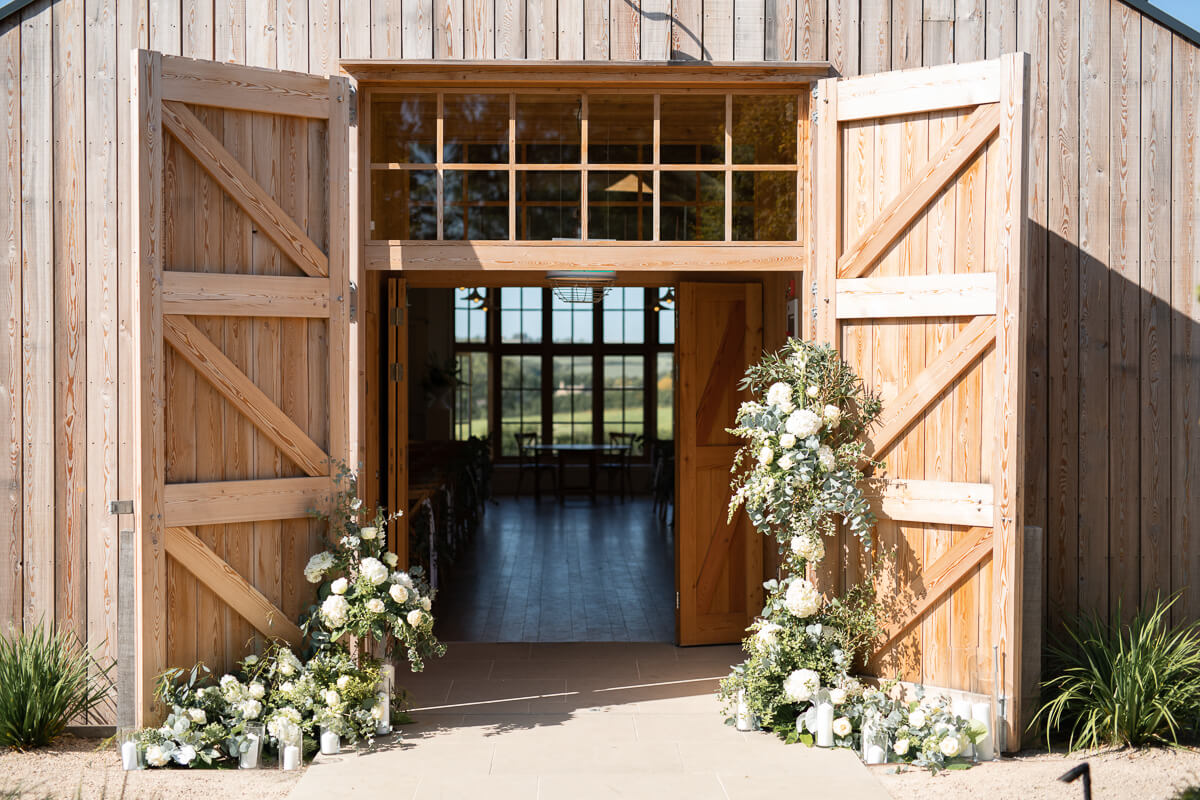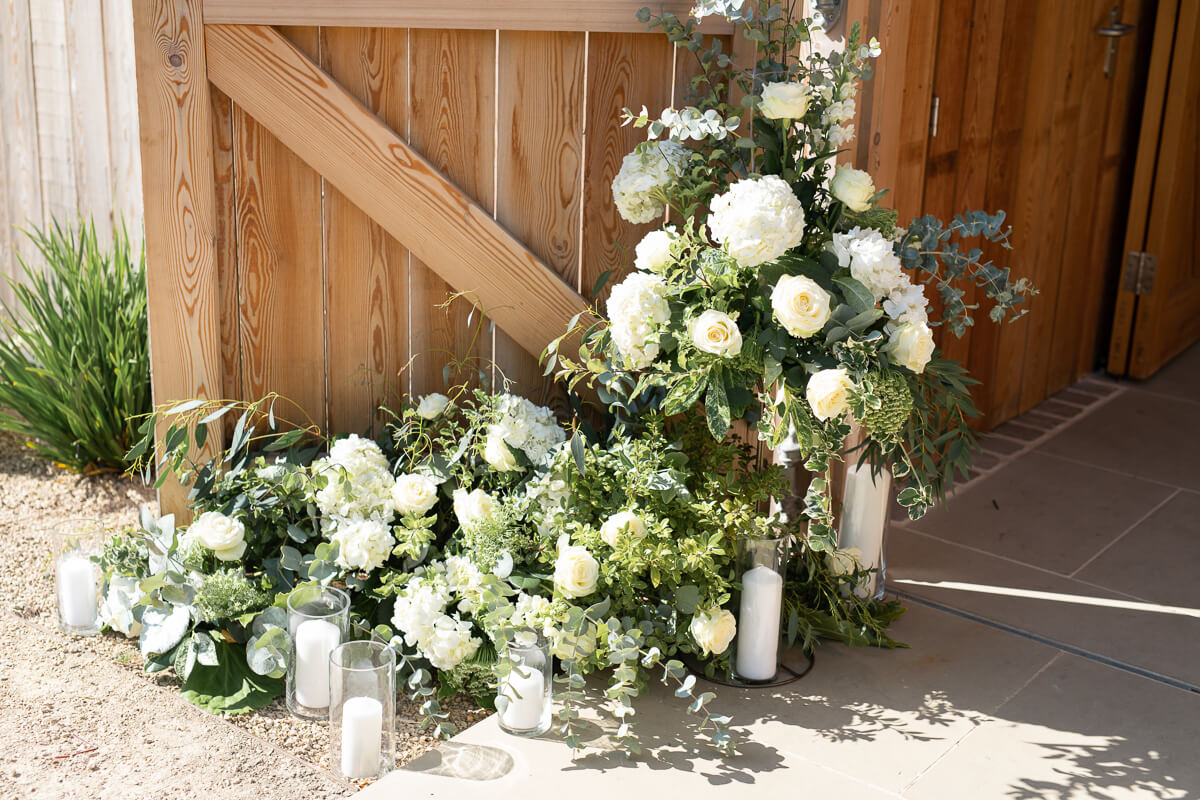 Image 1 & 2 – Rob Tarren Photography, You, Me & Myrtle | Image 3 & 4 – Kayleigh Pope Photography, Mother of the Bride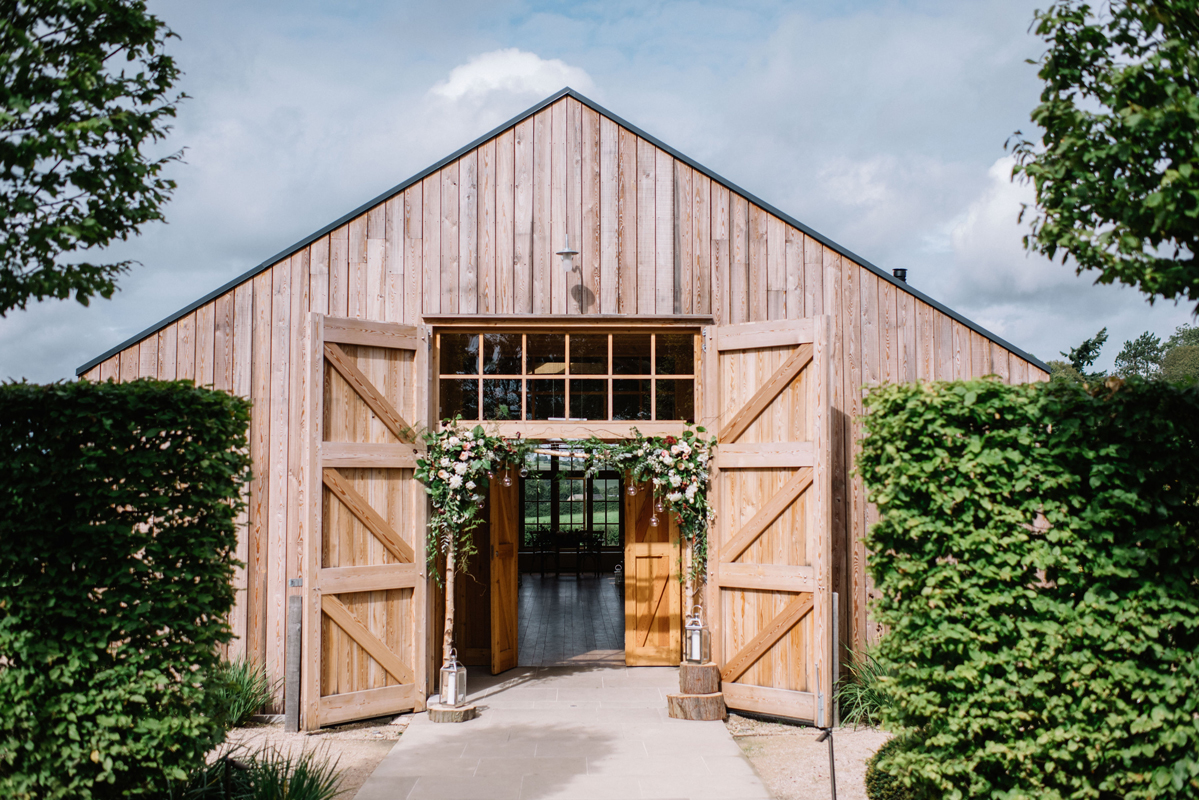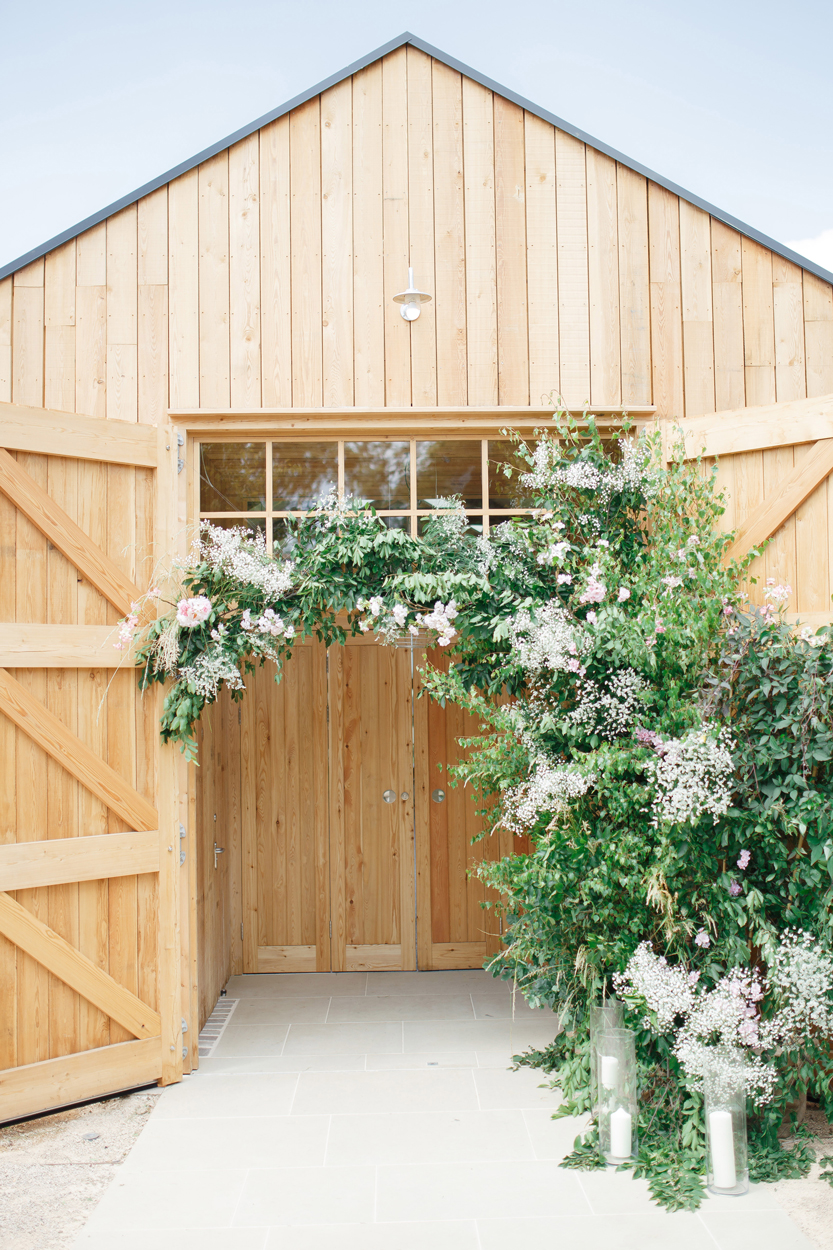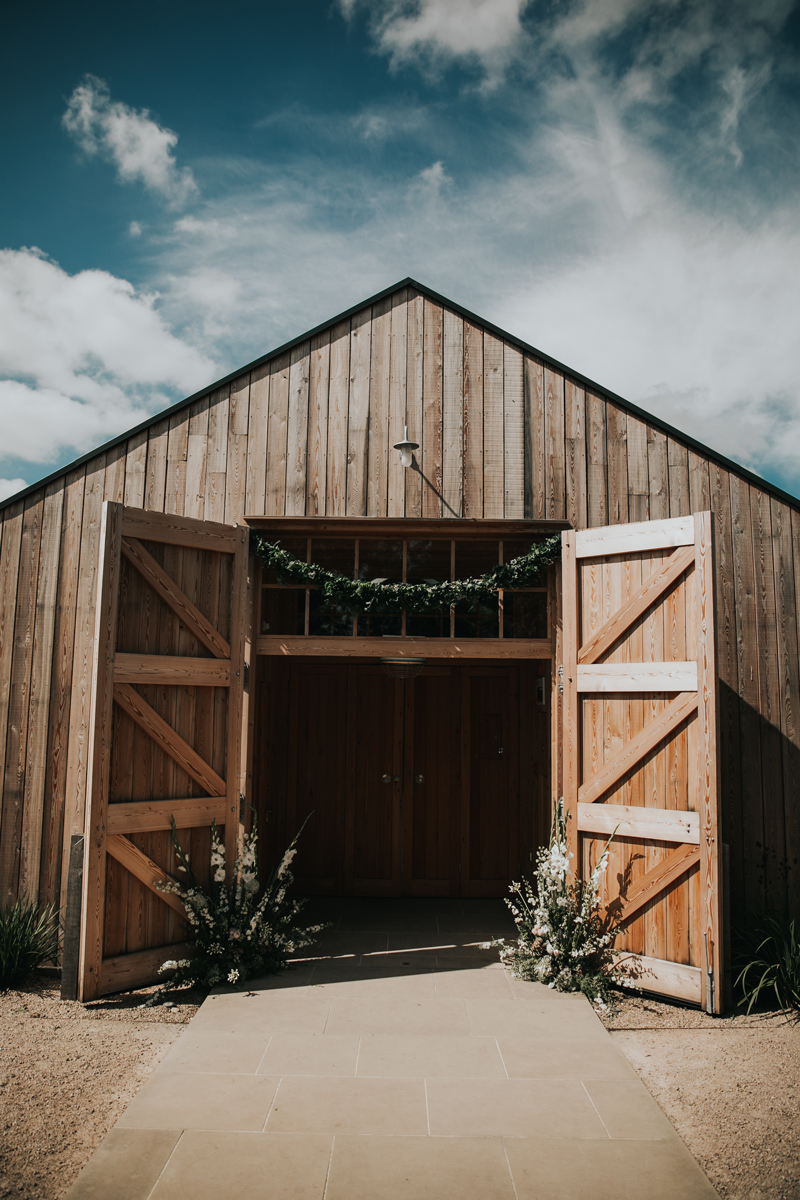 Top Image – Tanli Joy Photography, Haze Lea Floral Design | Bottom Left – White Stag Wedding Photography, All For Love London | Bottom Right – Natalie J Watts Photography, Forget Me Nots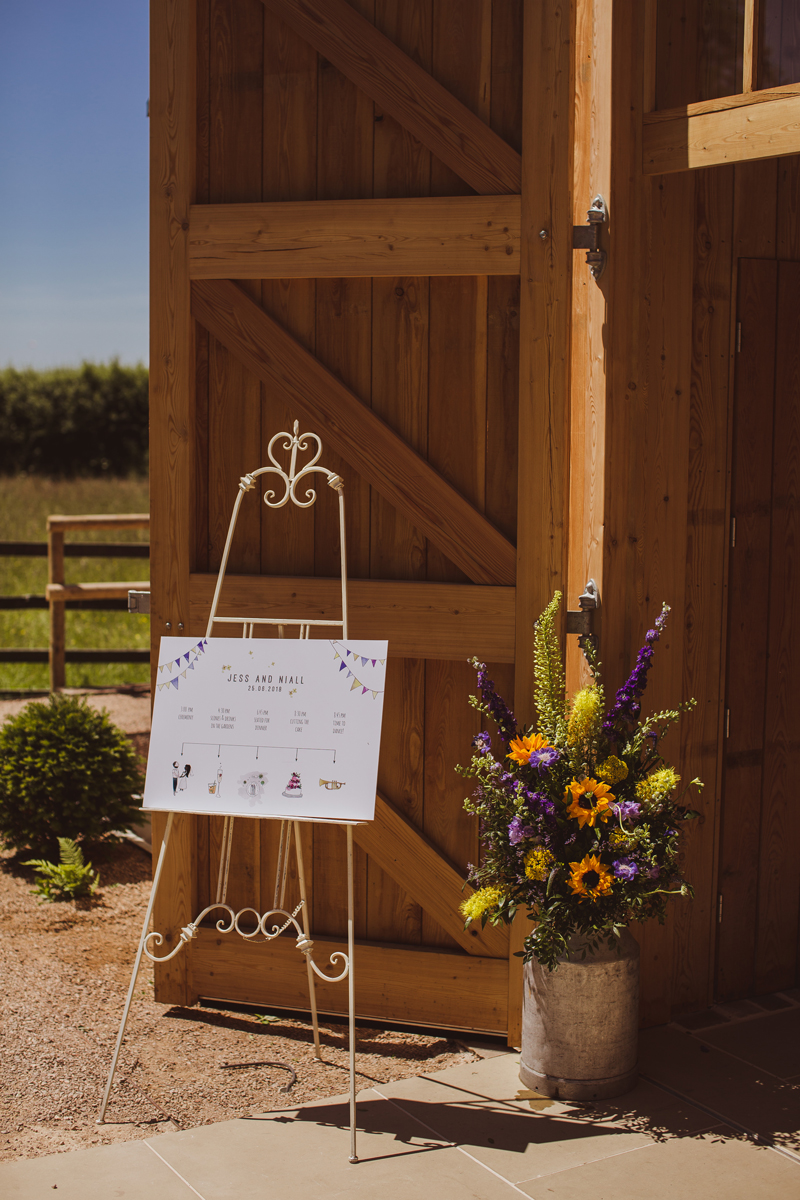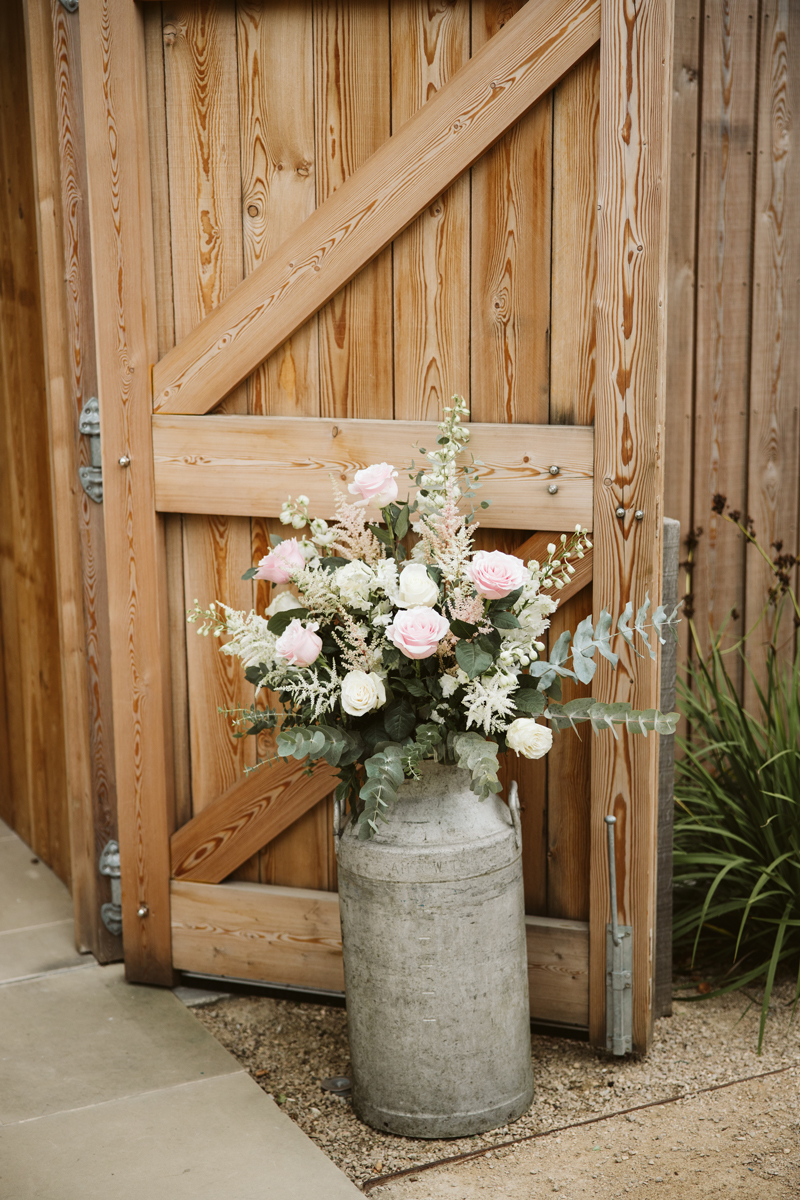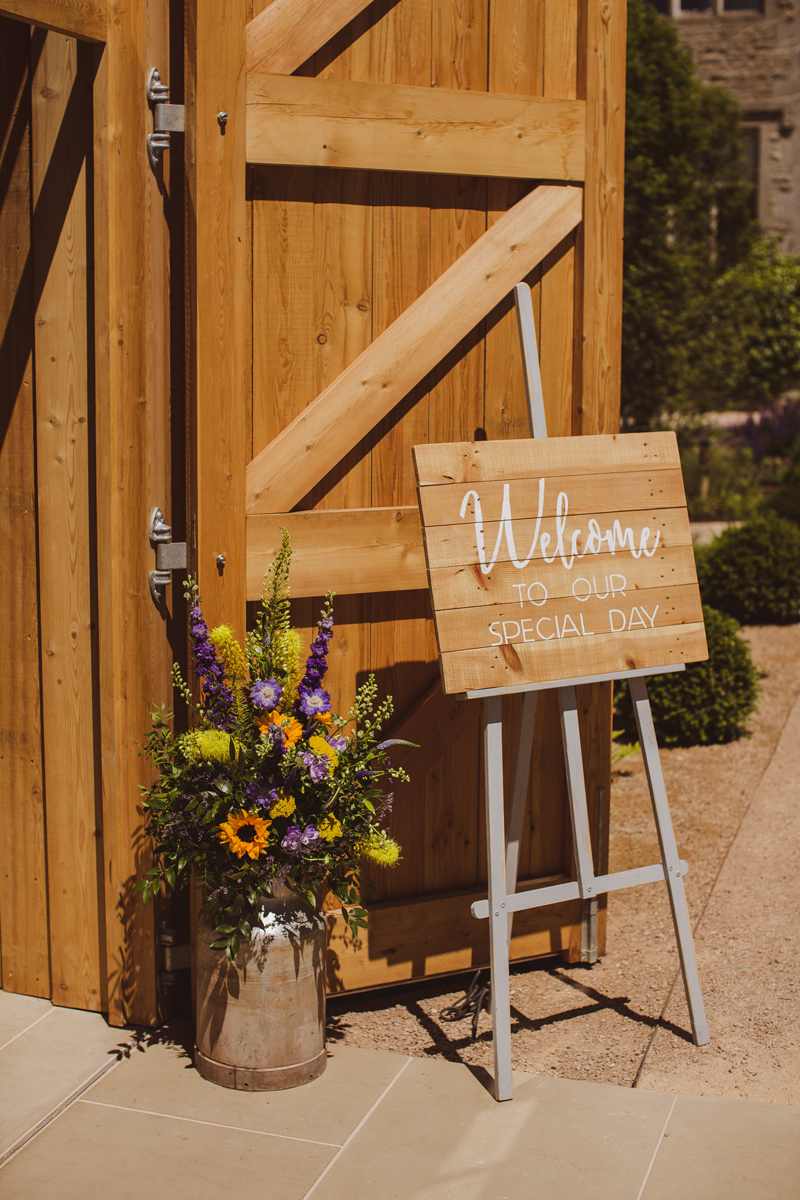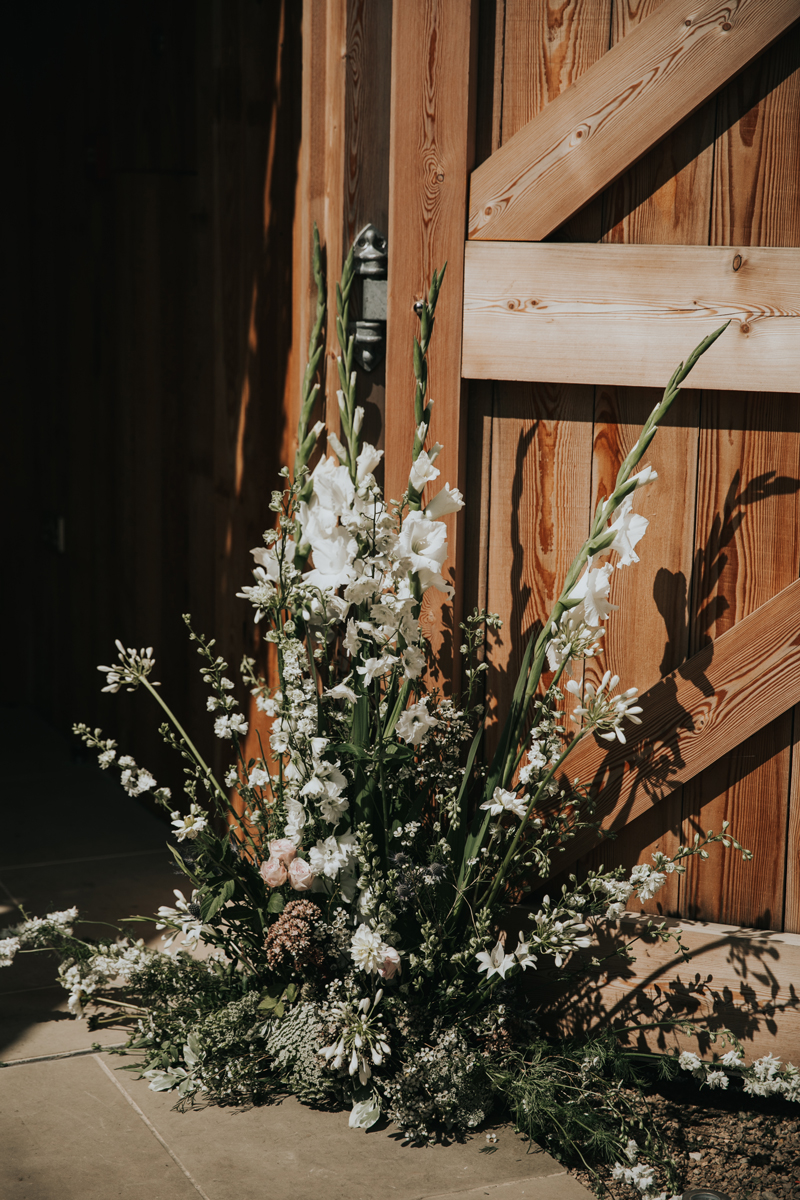 Top Left & Right – The Springles,  Flower Style Company, Daisy Says I Do | Bottom Left – Jamie Dunn Photography, Redgrave & Lake | Bottom Right – Natalie J Watts, Forget Me Nots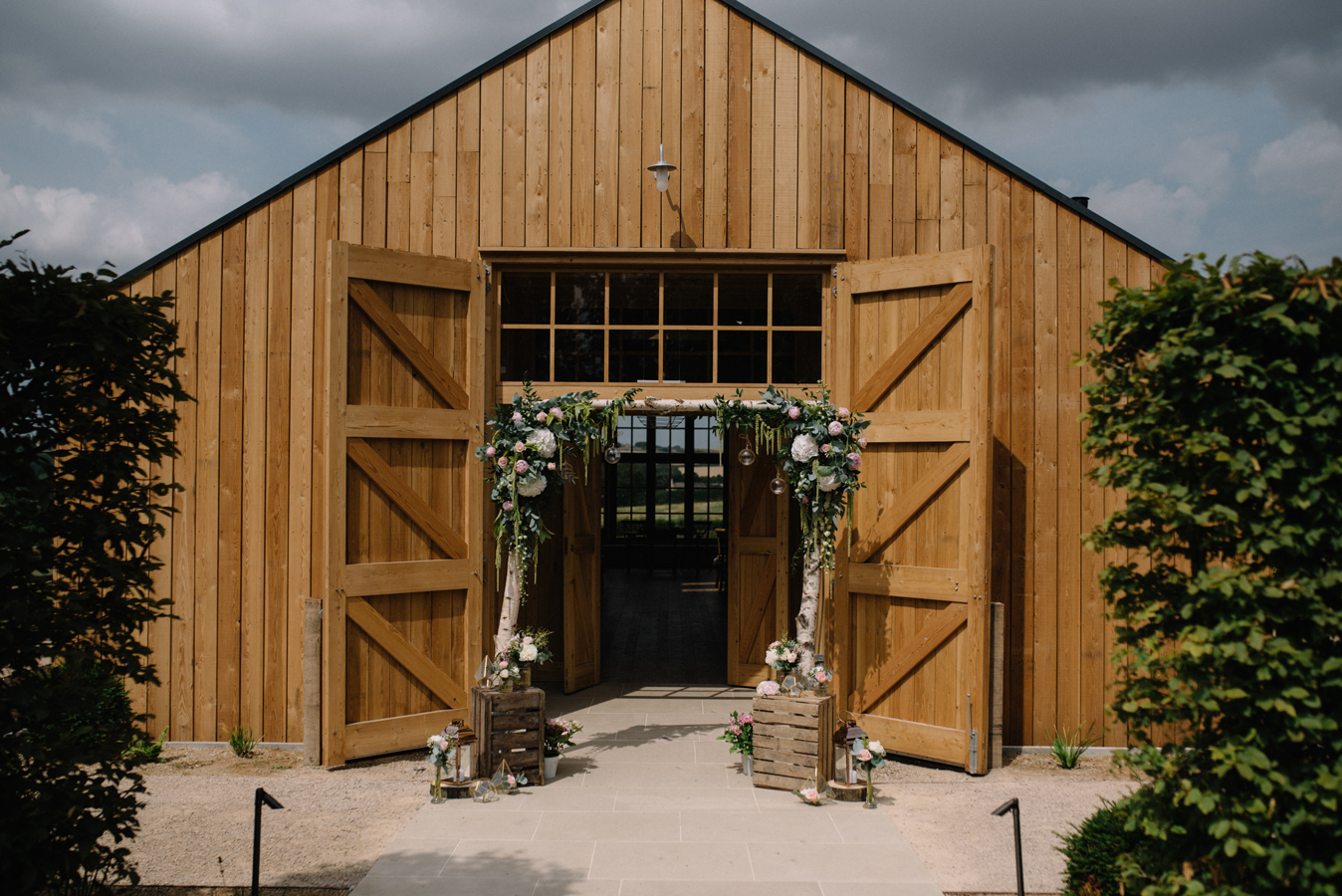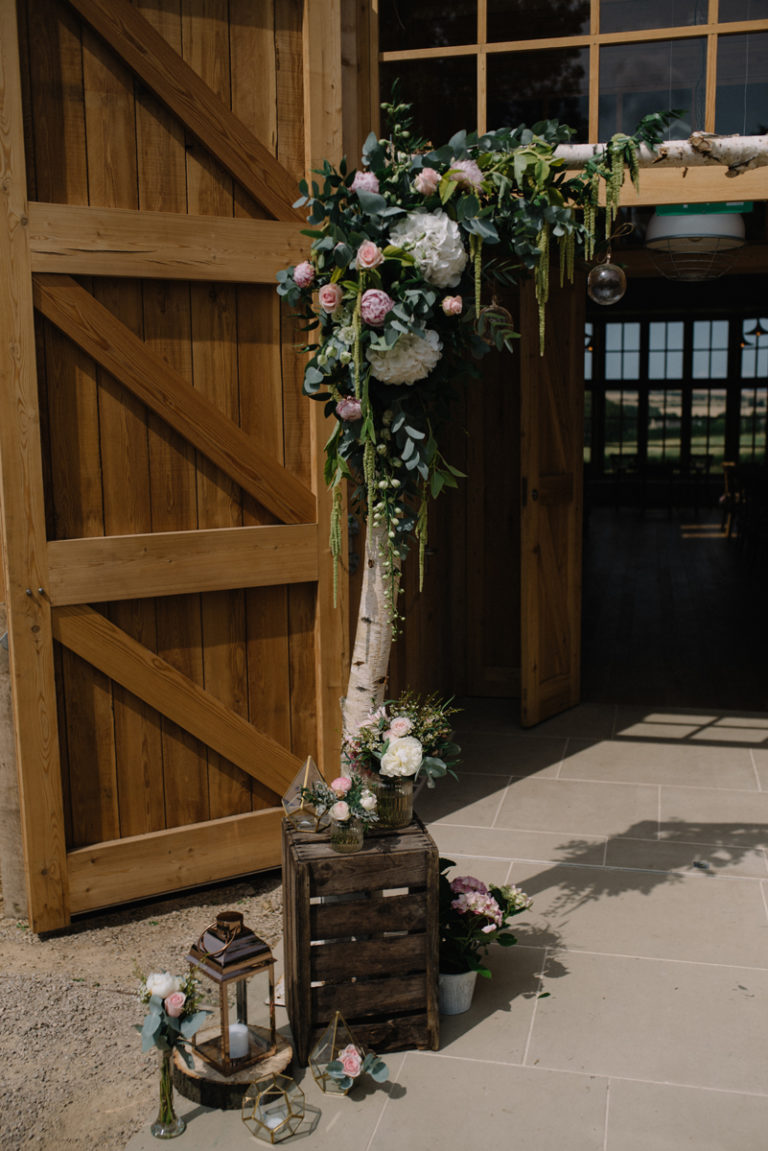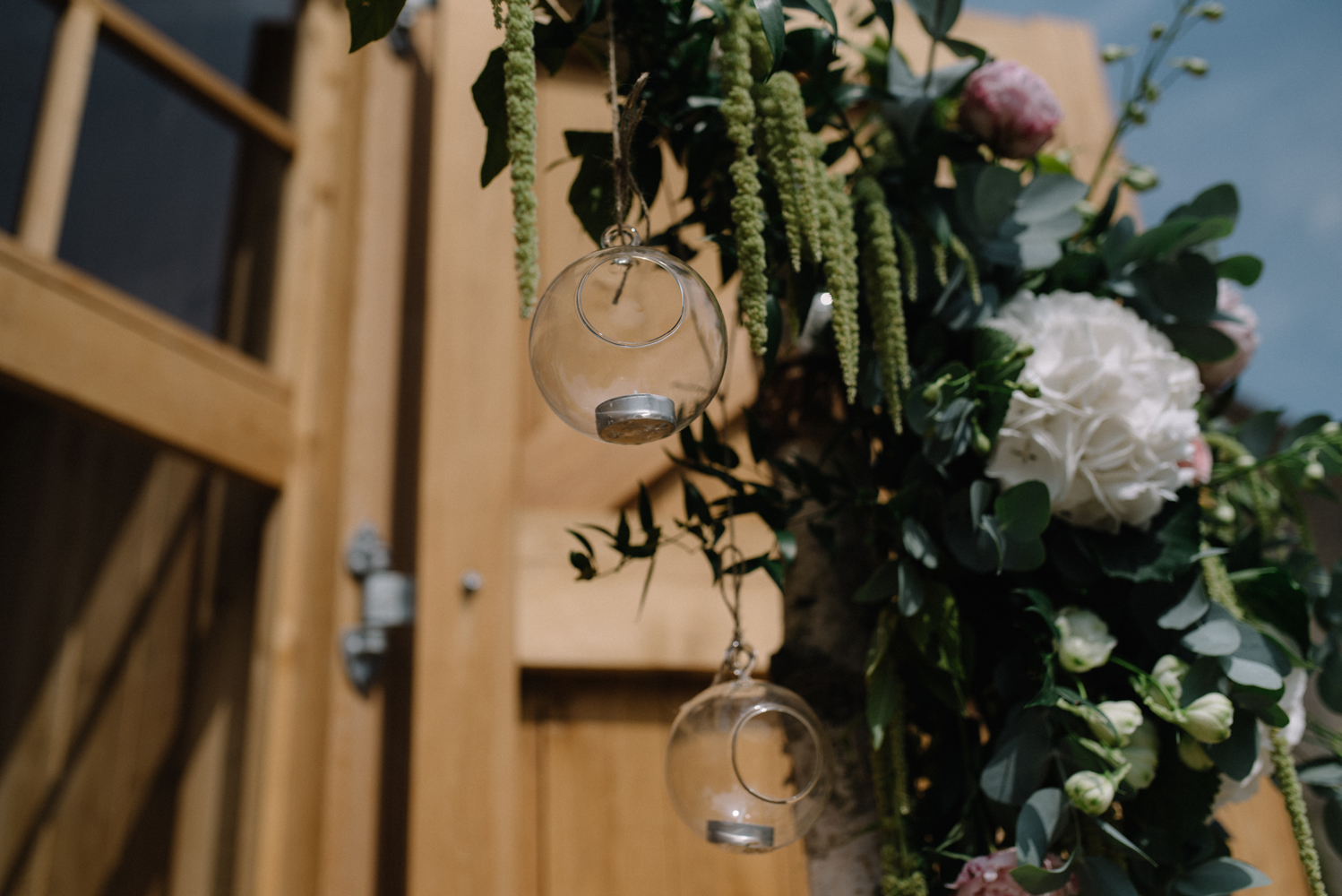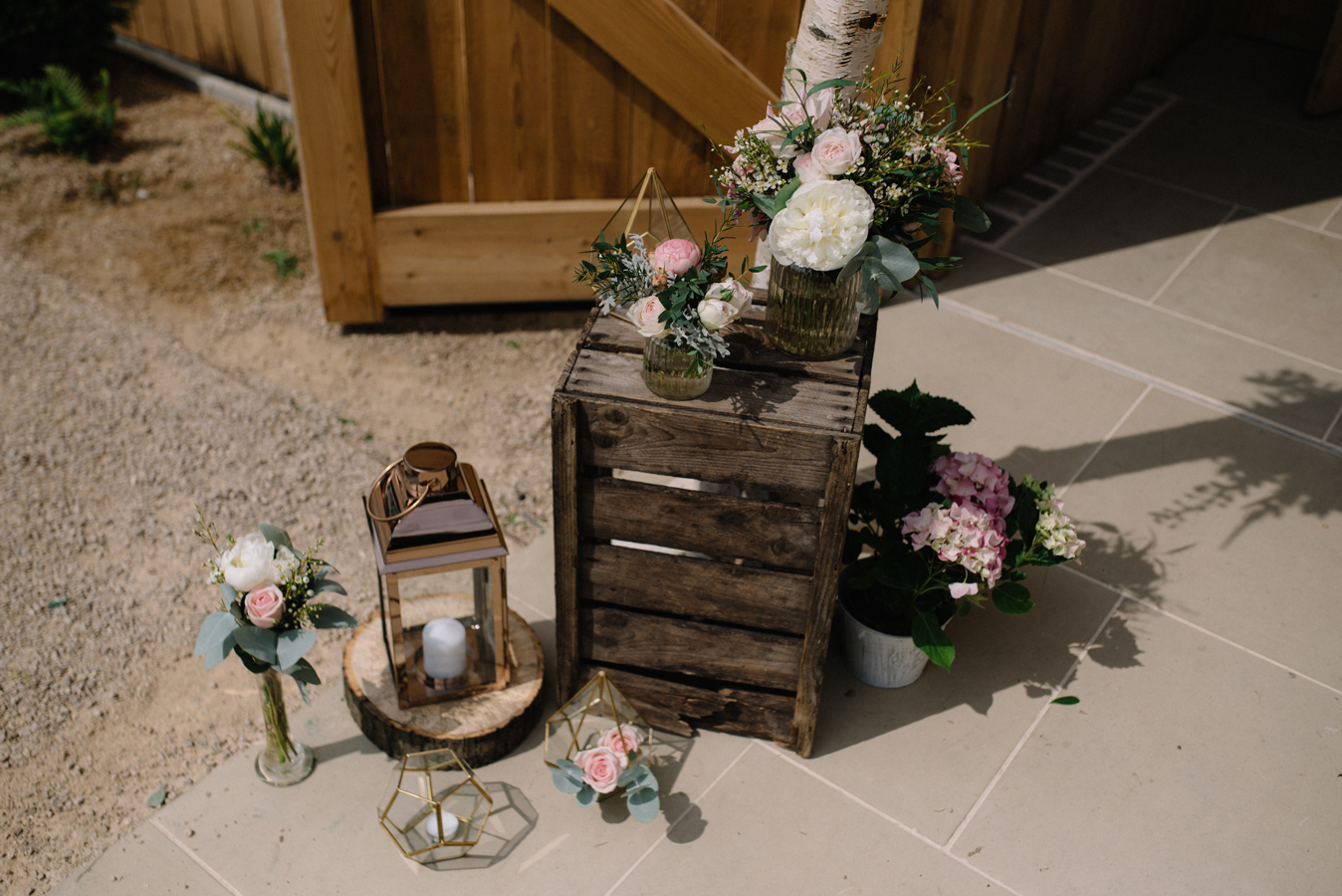 Pixie Abbott Photography, Floral Roundabout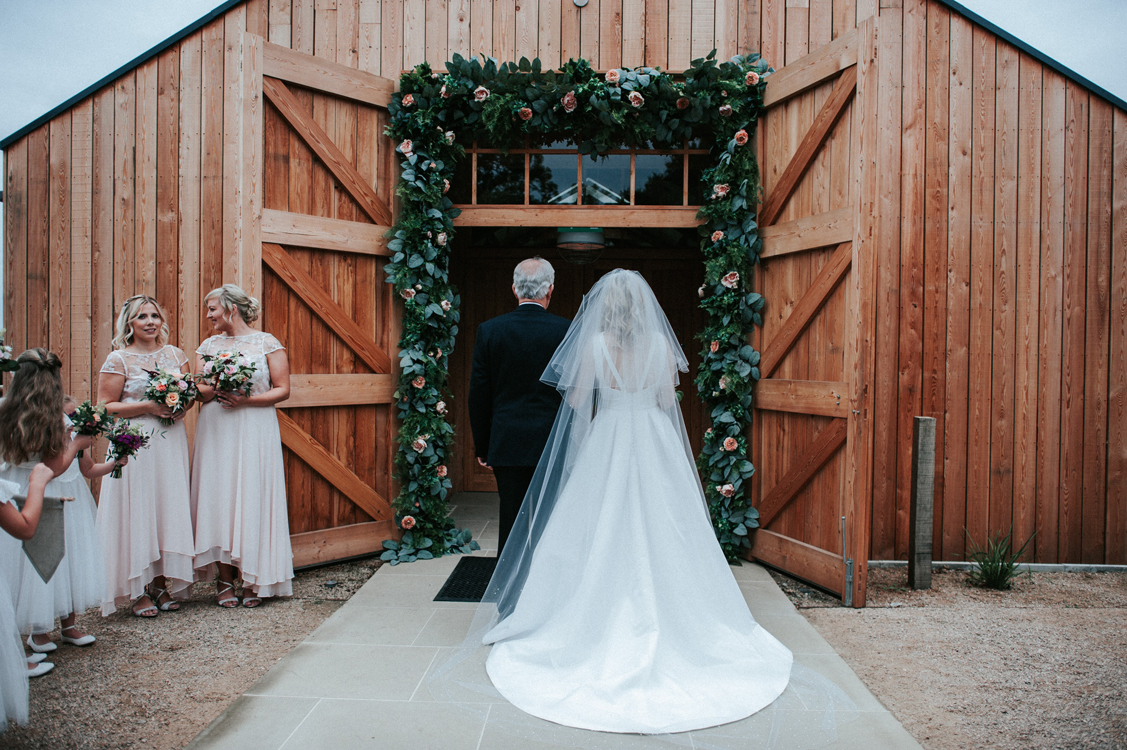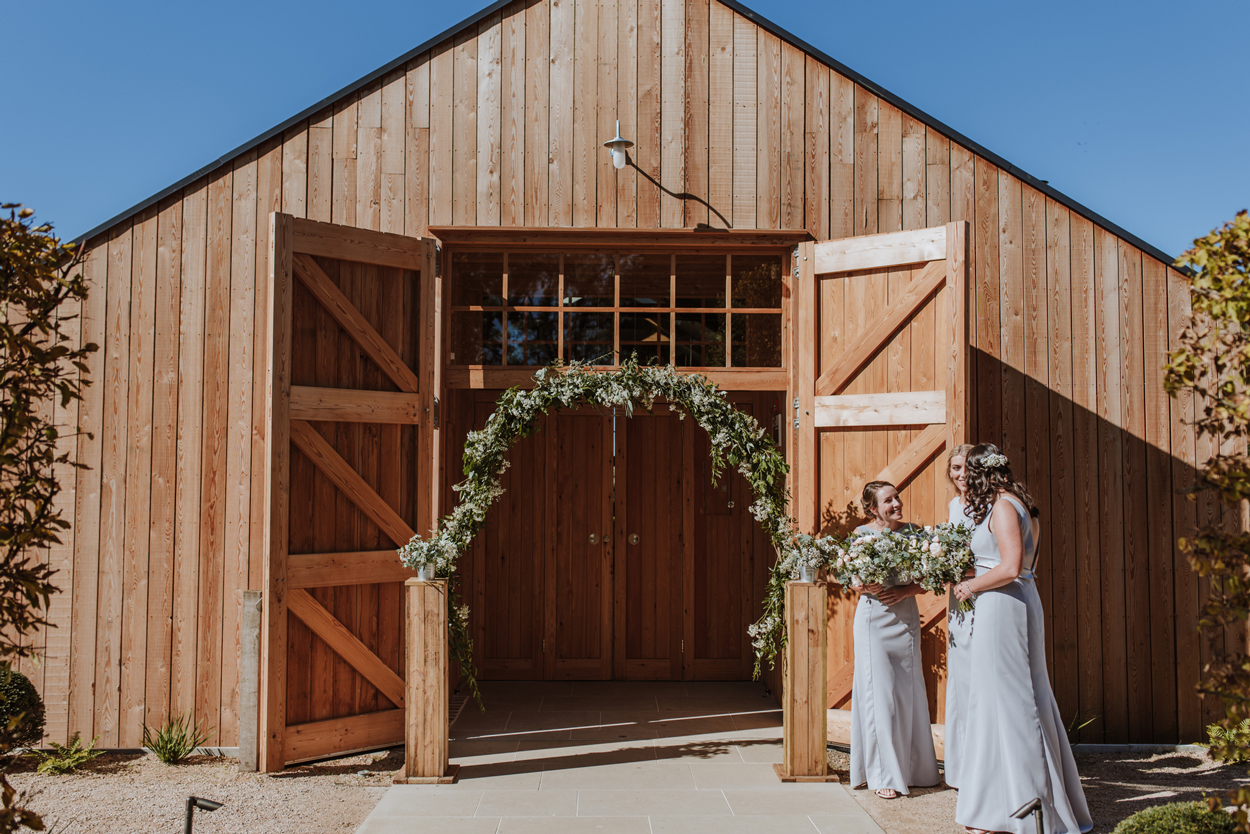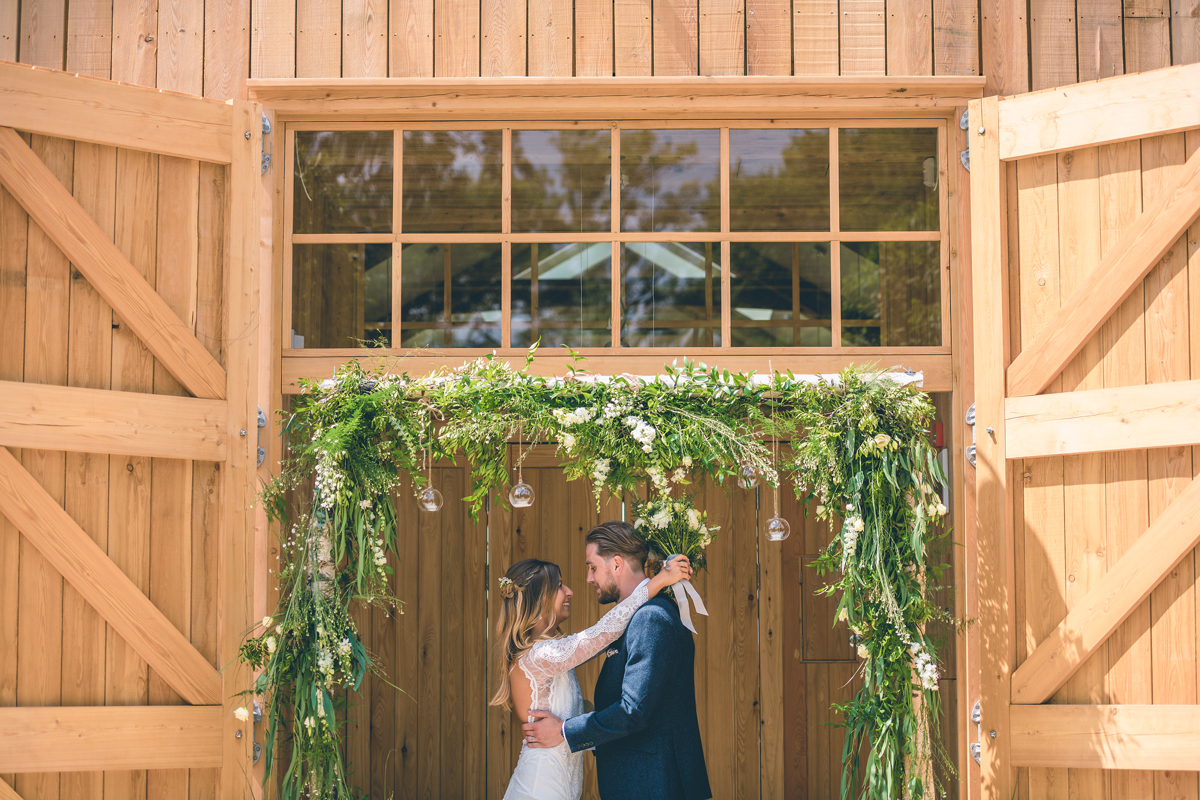 Top – Lyme Bay Photography, Styletopia | Middle- Laura Martha Photography, Dandy Ellison, Bottom | Cotswold Pictures, Forget Me Nots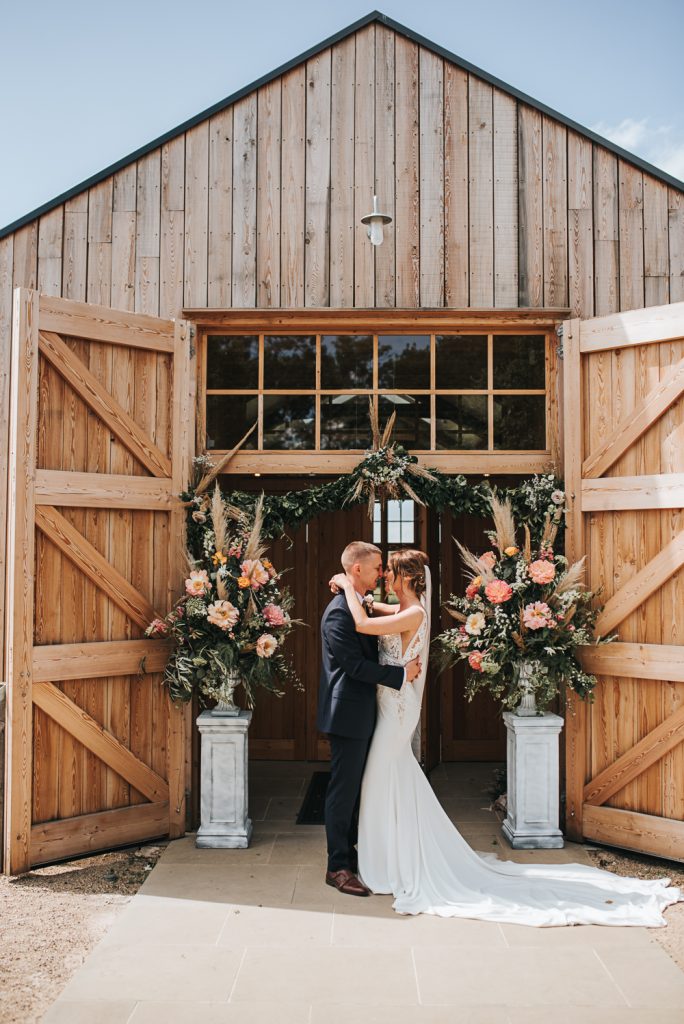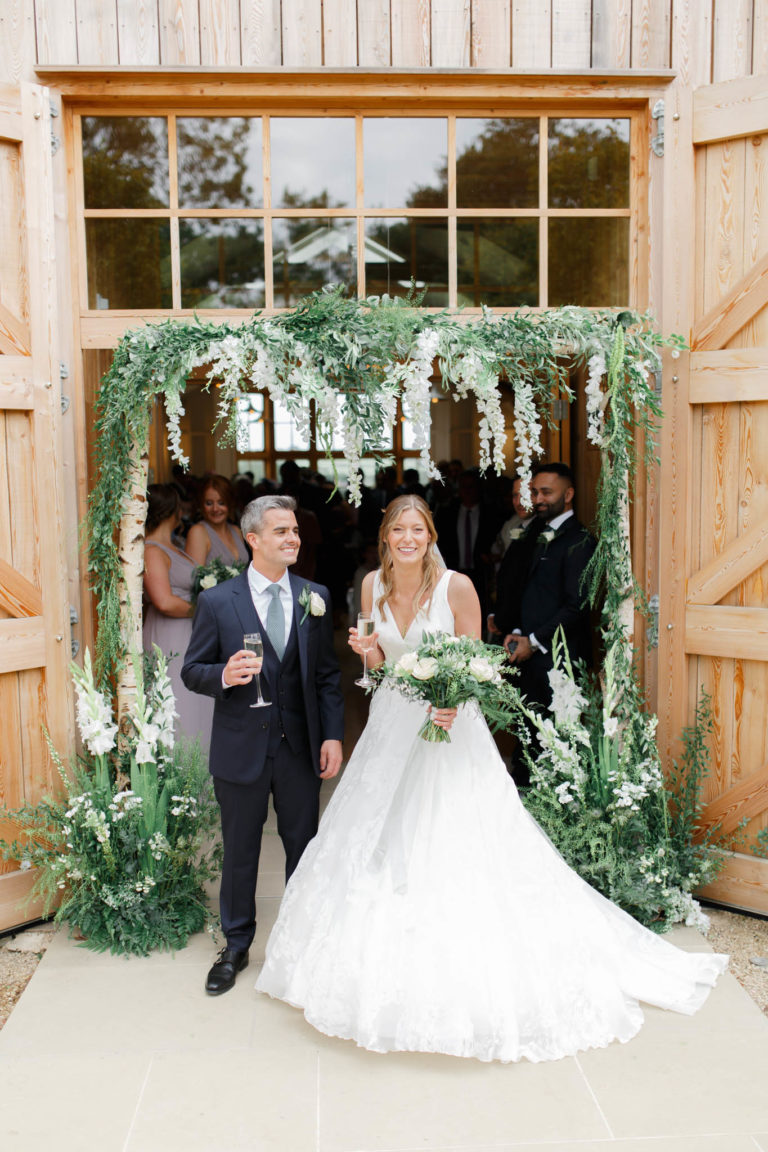 Left – Pear & Bear Photography, Go Wild Flowers | Right – White Stag Wedding Photography, Forget Me Nots