Category:
Featured Suppliers
Featured Suppliers : 29 / 06 / 22
Supplier Spotlight- Vanilla Pod Bakery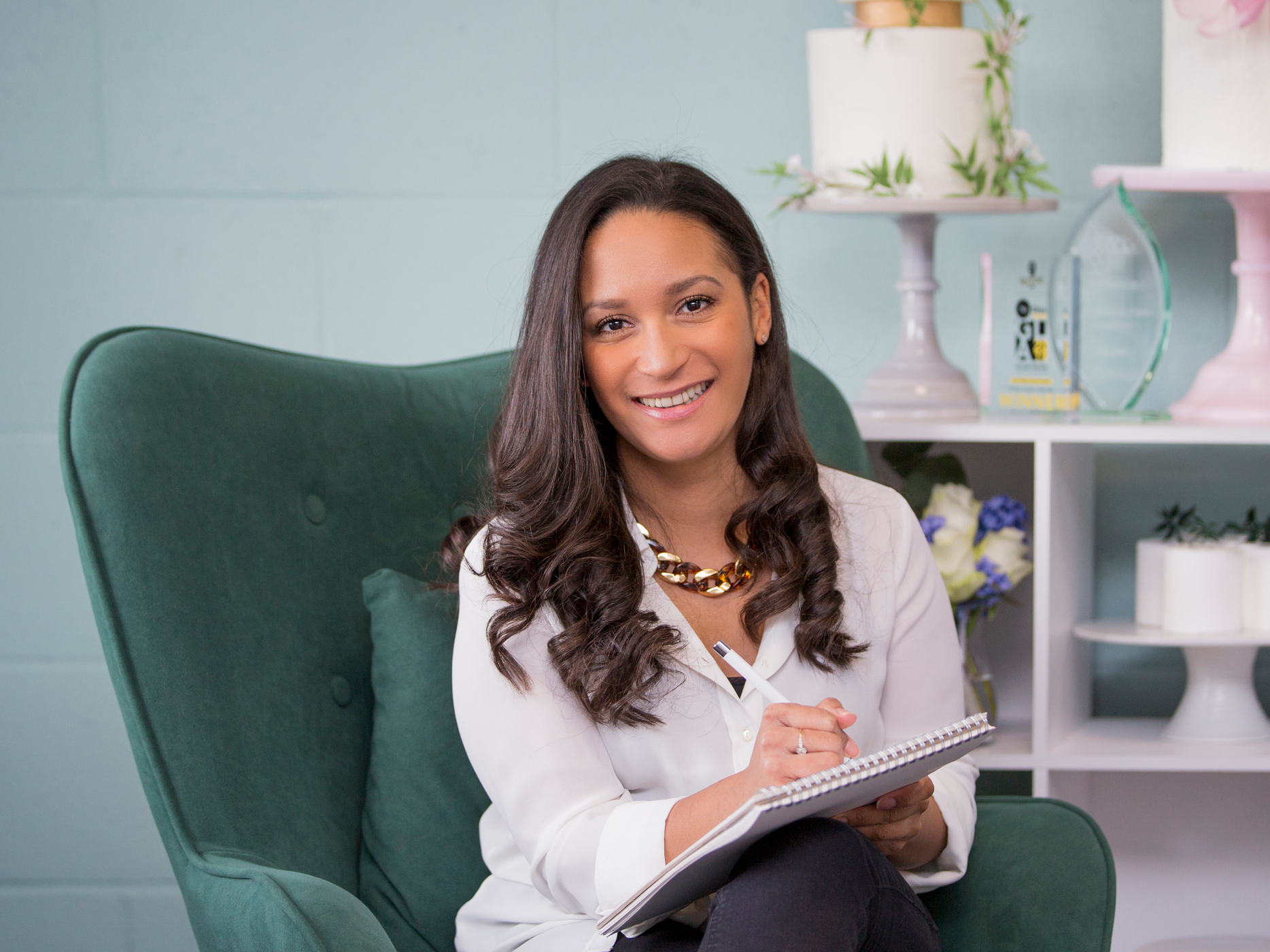 1. What first made you fall in love with baking?
I first remember falling in love with baking as a child, I must have been about 6 or 7 and I remember creating jam tarts with my Dad, scones with my Grandma and meringues with mum on the weekends…. Though not all at the same time! The second time I remember falling in love with it, was when I was teenager, when I was 13 I got ME, so I had to stop everything, but I remember as I was getting better in my late teenage years my love of baking started to take shape again, and baking, when I felt well enough, was pure joy for me.
2. What made you decide to become a professional cake maker within the Wedding industry?
When I first started my business, I was making 'everyday cakes' and selling them on farmers market stands and into cafes. Then one of my customers approached me to make a cupcake tower for their wedding, (this would have been about 2008/09) and the rest, as they say, is history. I fell in love with the wedding world and the wonderful happiness of the occasion.
3. How would you describe your style of Cakes?
I would say our true Vanilla Pod Bakery style is relaxed yet elegant cakes. I really do love the wild florals and understated glamour.
4. What is your favourite part or parts of a Wedding Day?
The cutting of the cake of course! It is such a special moment, steeped in history and one of the first moments a couple shares once they have married.
5. Could you explain a little about what Couples can expect when they book you?
Prior to booking: Couples can choose to have an initial free phone consultation with myself (Pia Cato) and order a delicious tasting box, which can be ordered and purchased directly from our website.
Save the Date: Once a couple knows they would love to commission us for their special day, we send a Save The Date form and deposit invoice.
6. What top tips and advice do you offer your Couples ahead of or on their Wedding Day?
My number one tip, is to relax and enjoy the journey of planning your wedding. It is such a special event and the planning is part of the wonderful build up to it.
7. Can you share some of your favourite cakes that you've created for Hyde House Wedding Days?
Oh my gosh, there have been so many wonderful cakes. But really I love the elegant semi naked cakes we have created with abundance of fresh fruit and fresh flowers.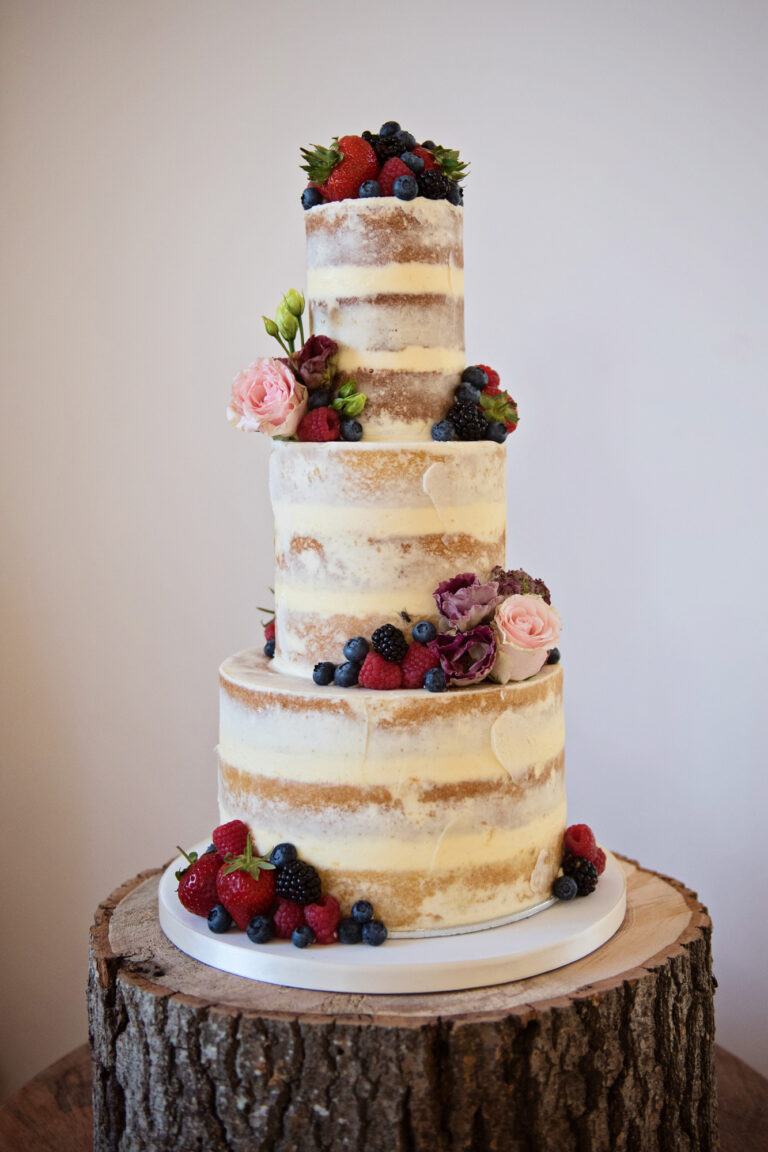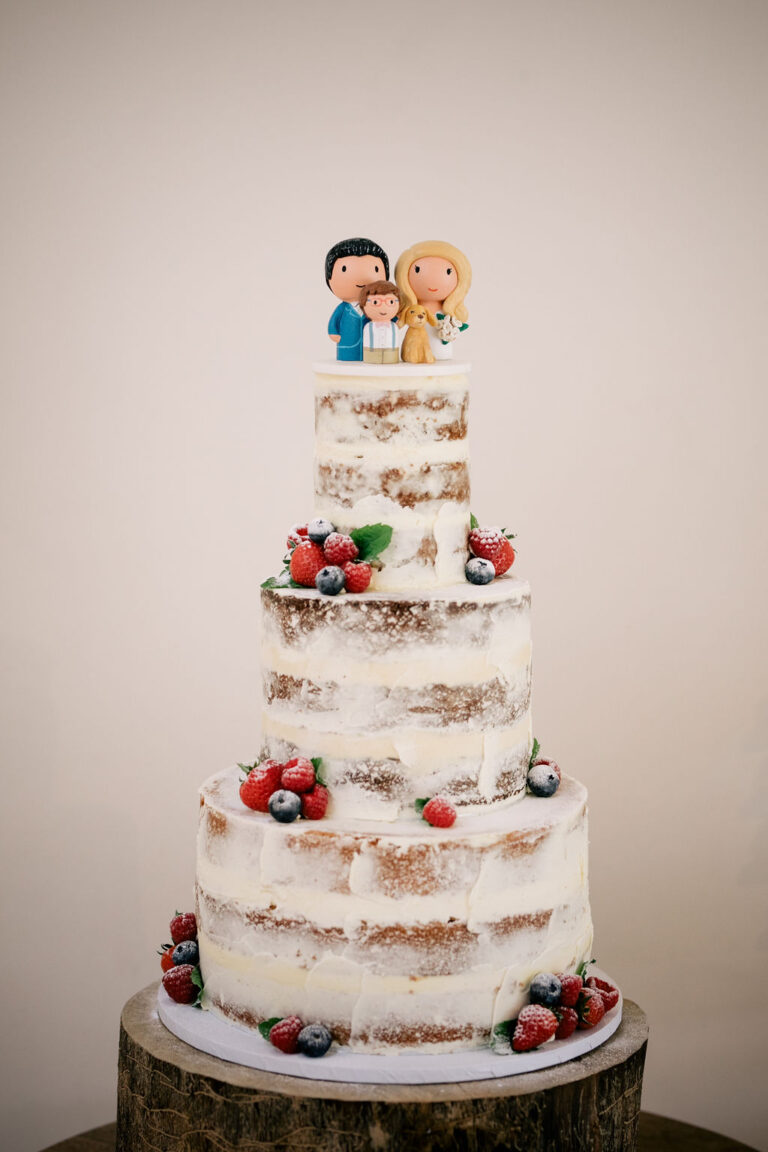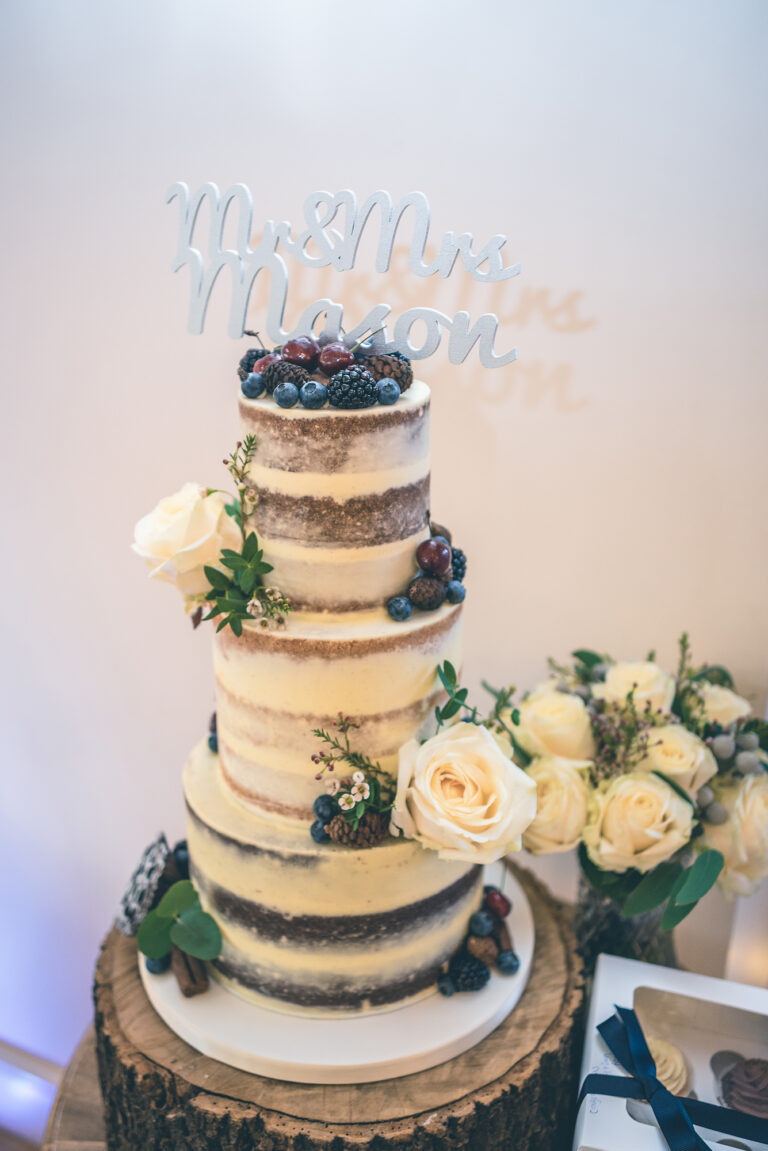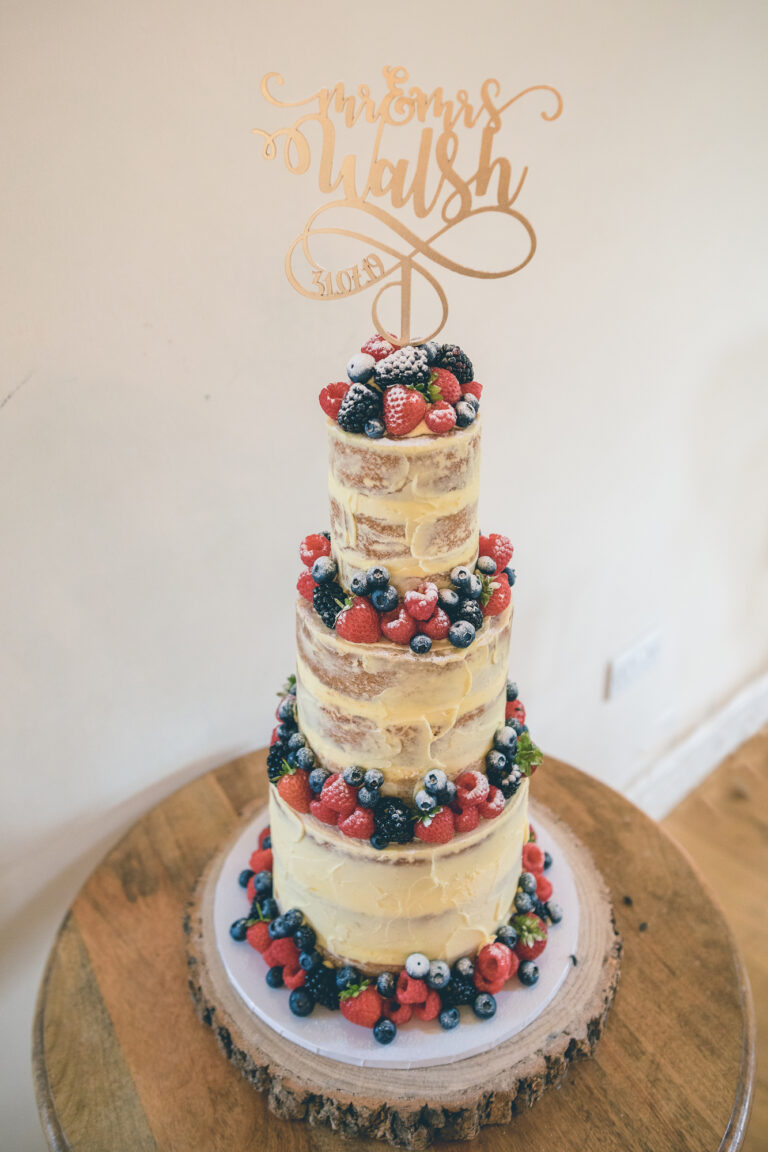 8. What do you love most about creating cakes for Hyde House Couples?
I love that the team at Hyde House are awesome and totally make each couple feel so special. It is always a pleasure to work at Hyde House and it is one of those wonderful places that honestly gets better and better each year. Plus the couples who get married at Hyde House are so wonderful, they are so relaxed and just trust that we are going to create their perfect cake #LoveHydeHouse
Instagram- @vanillapodbakery
Website- www.vanillapodbakery.com
Featured Suppliers : 31 / 05 / 22
Supplier Spotlight- LouPaper Wedding Stationery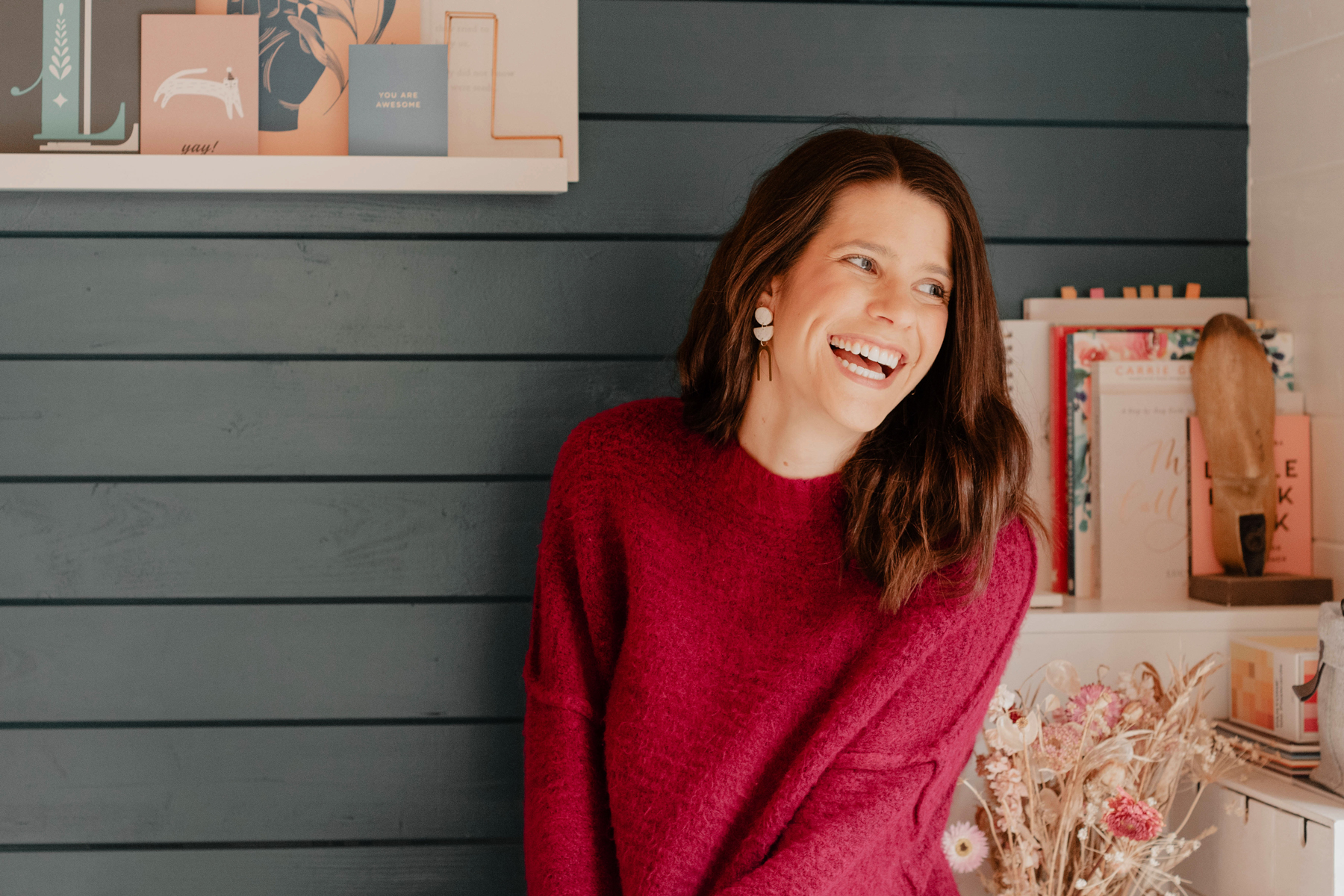 What first made you fall in love with Wedding stationery & Calligraphy?
My wedding journey started at the age of 15, when I worked as a Saturday girl in a local wedding shop and I've loved weddings ever since! I studied graphic design at university so merged my passion for the industry with my love for all things creative. After going to a calligraphy course 5 years ago, I knew that hand lettering was going to play a big part in my designs. I'm now so privileged to be a small part of so many of my couple's big day, and I love it!
What made you decide to become a professional Calligrapher within the Wedding industry?
I started designing stationery incorporating calligraphy for friends and colleagues at first, merging together my degree and over a decade of experience in the wedding industry. I founded LouPaper in 2015 and the business grew through recommendations.
I'm so lucky being able to call my hobby, my job and feel very lucky that I get to design every day and share my passion for weddings. I get to work with such wonderful clients, each bringing their own personality, theme and ideas to my design process which keeps me motivated to push my creative boundaries.
How would you describe your style of Calligraphy?
I'd describe my calligraphy style as modern, luxury and full of life. My calligraphy is totally bespoke with everything being written by hand. I get asked so much what font I use, but it's just me and my handwriting. I adore how it brings quirks and personality to each of the designs I create.
What is your favourite part or parts of a Wedding Day?
Always take some time out to spend just the two of you. The whole day is a total whirlwind and it's so important to catch 5 with your new husband or wife and just embrace how amazing everything is. Oh and enjoy every.single.second!!
From a stationery perspective, I love seeing the couple's wedding vision come to life where the on the day stationery adds colour and style to the venue. I hope that the wedding stationery is cherished forever and a wonderful reminder of my clients love story.
Could you explain a little about what Couples can expect when they book you?
I offer two options for clients; semi-custom and bespoke. For semi-custom designs, these are based on a design from my collection and can be tailored to match the colour palette of my couples' big days. I provide PDF proofs and include 2 rounds of amendments before printing. A final print proof is provided and then it's off to print. I do all the hand finishing in house, so this production happens when I receive the prints back from my printers. I finalise everything by hand, package up the stationery and courier to my clients.
For my bespoke couples, I work together with them using inspiration and styling, theme and décor ideas for the big day, to create something totally unique to them. This option is perfect for anyone struggling to find stationery that's quite right in the collection.
The design process usually takes 4-6 weeks, including print.
What top tips and advice do you offer your Couples ahead of or on their Wedding Day?
Make sure your wedding stationery reflects your personality and interests. Fundamentally, your wedding is a celebration of who you are as a couple, so it should be filled with everything that makes you, you! Because of this I strive to create designs that are truly unique and reflect my couple into paper.
I have a useful free wedding stationery guide which can be downloaded here which is full of lots of useful hints and tips!
Can you share some of your favourite designs used for Hyde House?
I adore working at Hyde House, the venue lends itself to so many different themes and colour palettes, so there are always fresh ideas to be had.
Kayleigh & James' autumn wedding day was filled with an abundance of dried florals, rich colours and rustic textures. I incorporated textured handmade papers with printed fabric and shaped signage to really add a luxe and contemporary finish to the theme.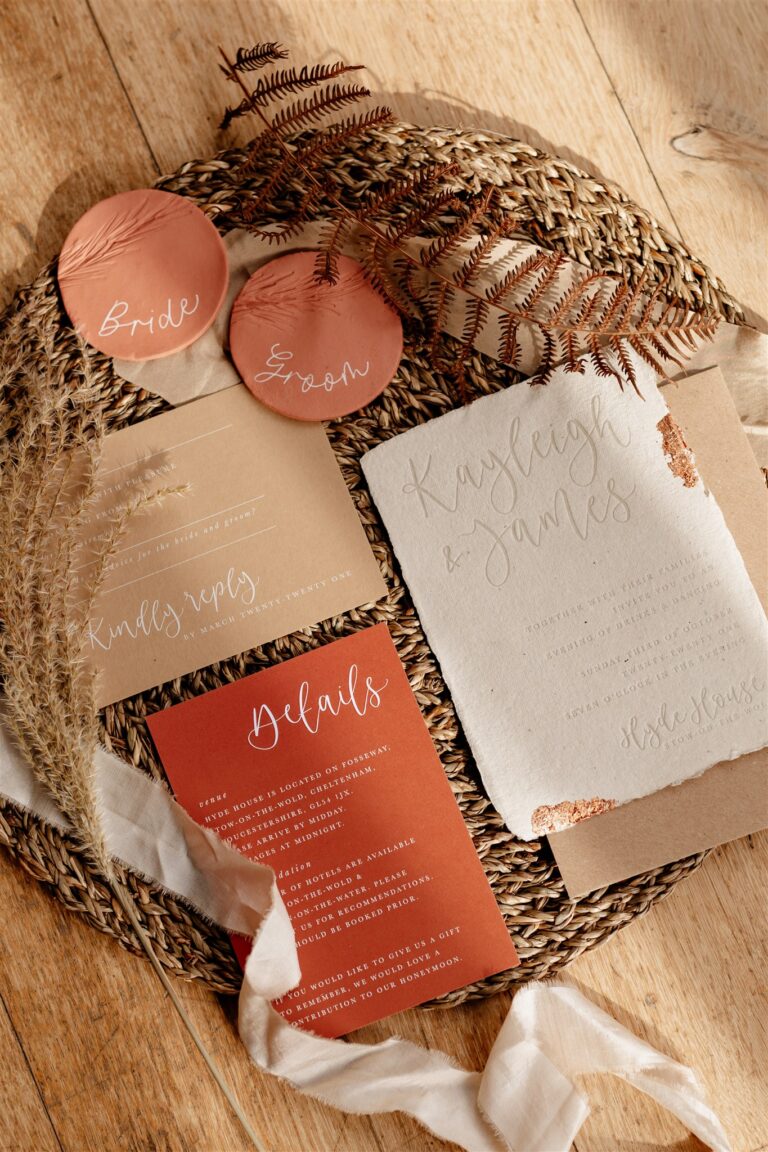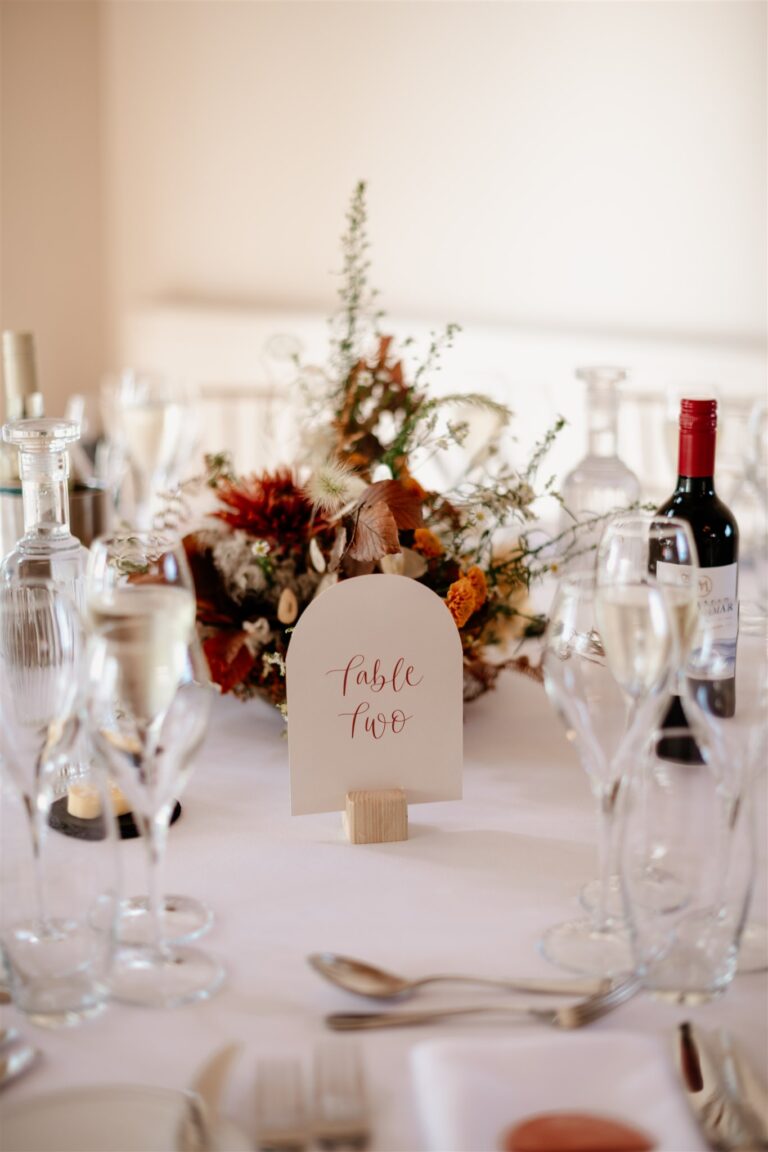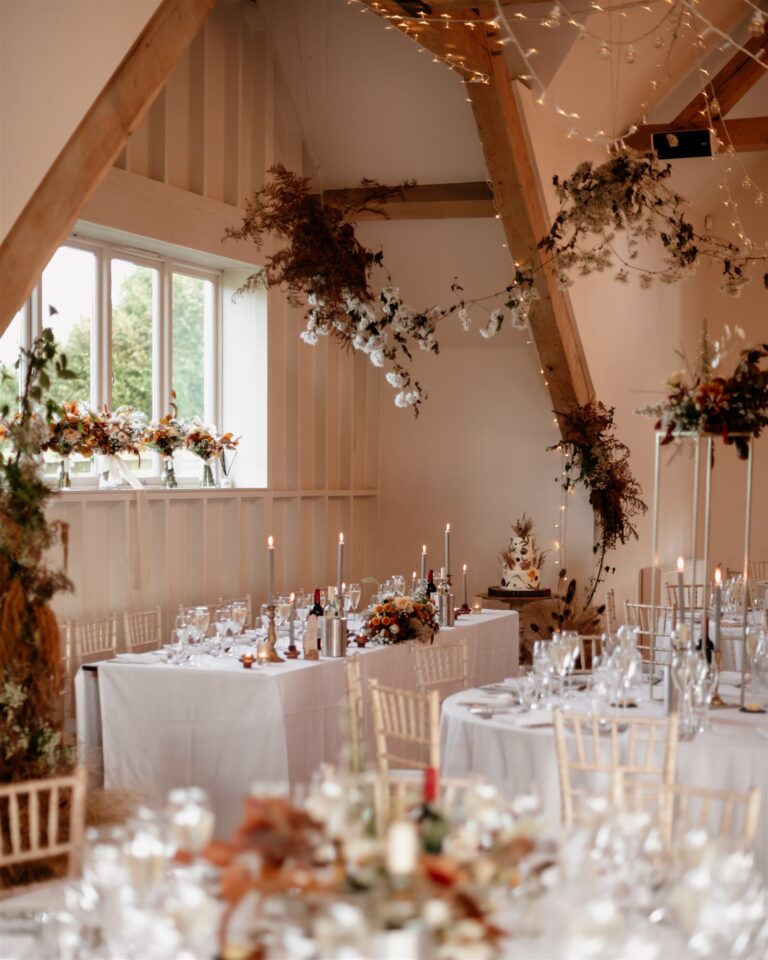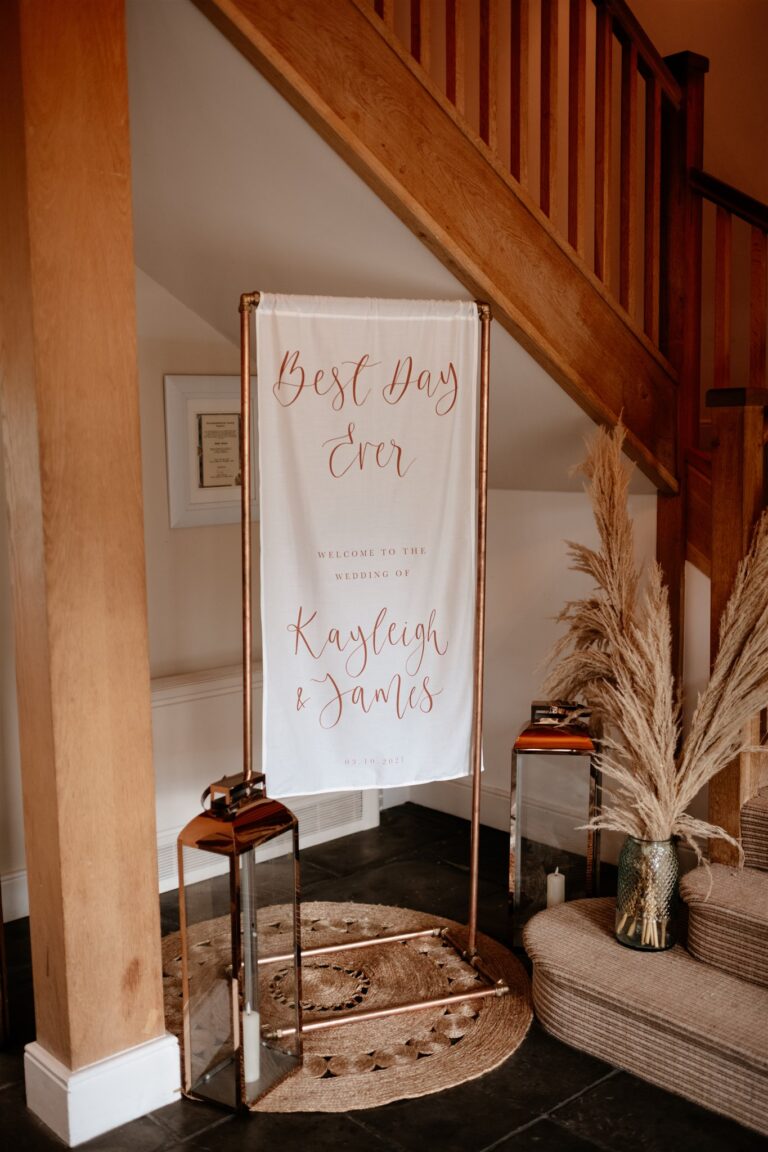 Florist- The Native Florist, Stylist- Wedding Creations, Photographer- Laura Martha Photography
Becky & Rhodri went for a much more minimalist look for their stationery, utilising a monochrome palette which blended seamlessly with the soft blush and neutral florals. Each place was individually hand calligraphered and we printed the table plan and welcome sign on a double sided board, a great way to save costs and reduce materials.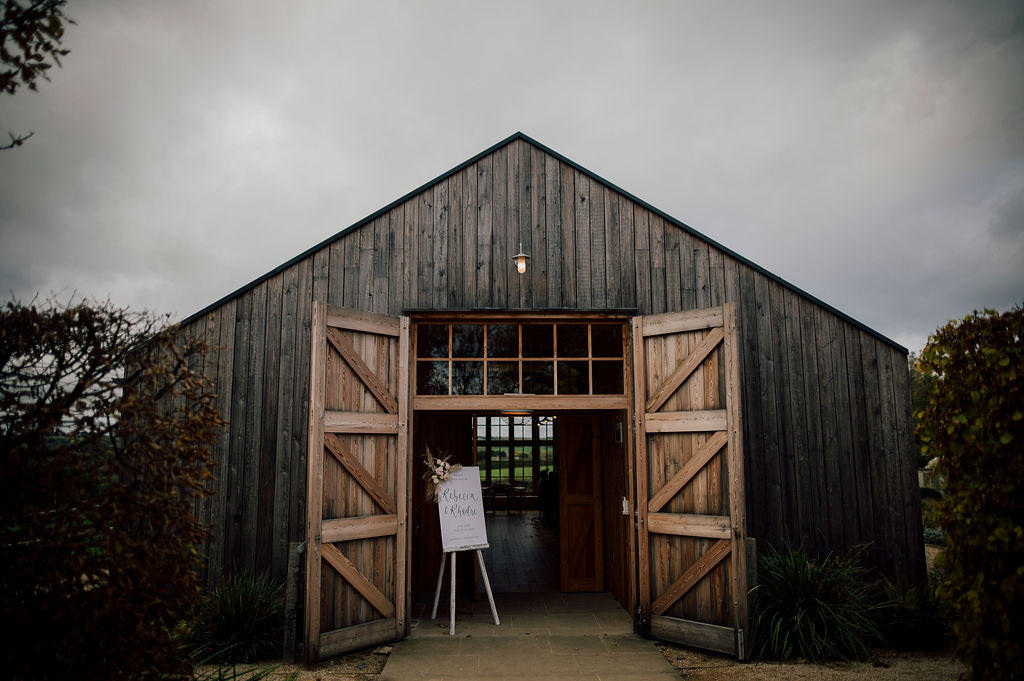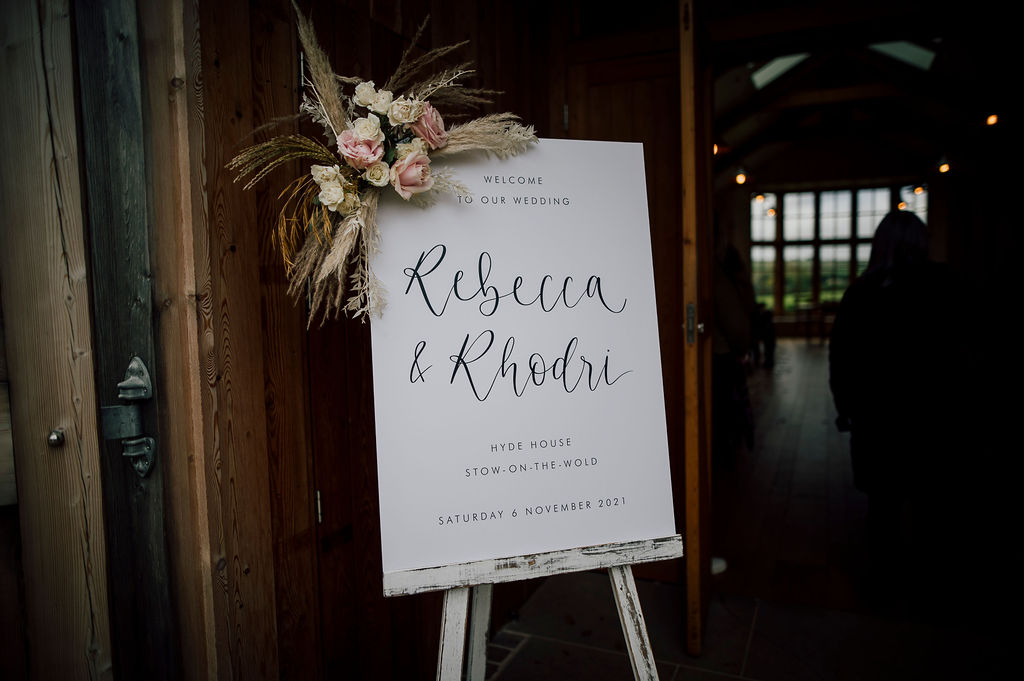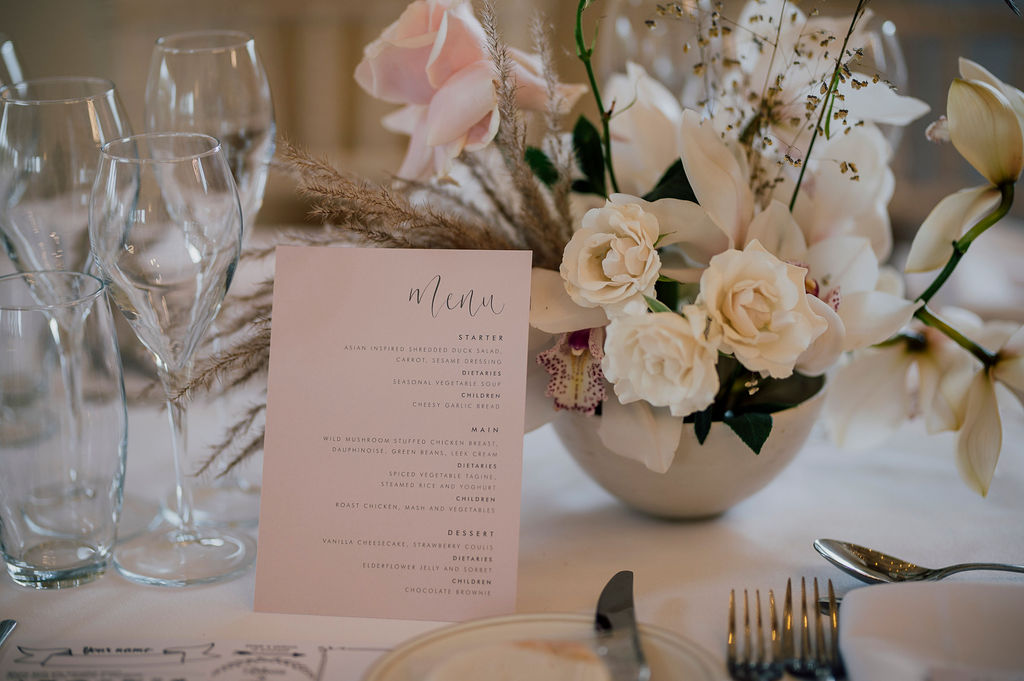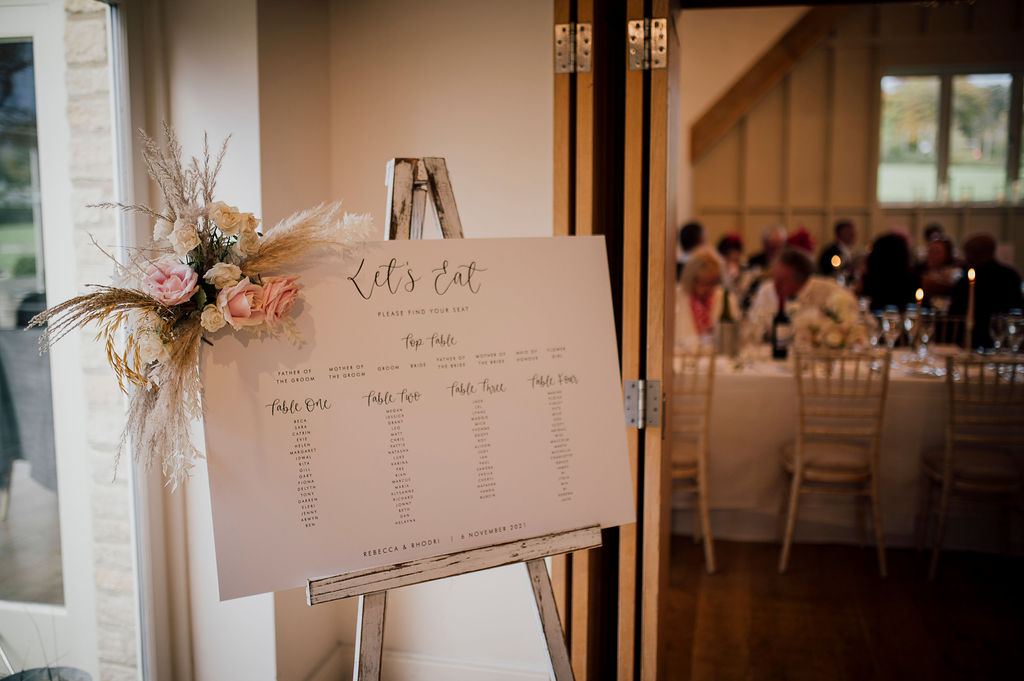 Florist- Haze Lea, Photographer- Dearest Love Photography
Chantelle & Marcus' recent wedding in May utilised the gorgeous spring season, with foliage filled florals, soft pinks and whites and a real English Countryside theme. The stationery utilised the soft pink alongside a monochrome palette and contemporary layouts. Hand calligraphy elements ensure each item of stationery was totally unique and I loved the hanging signs.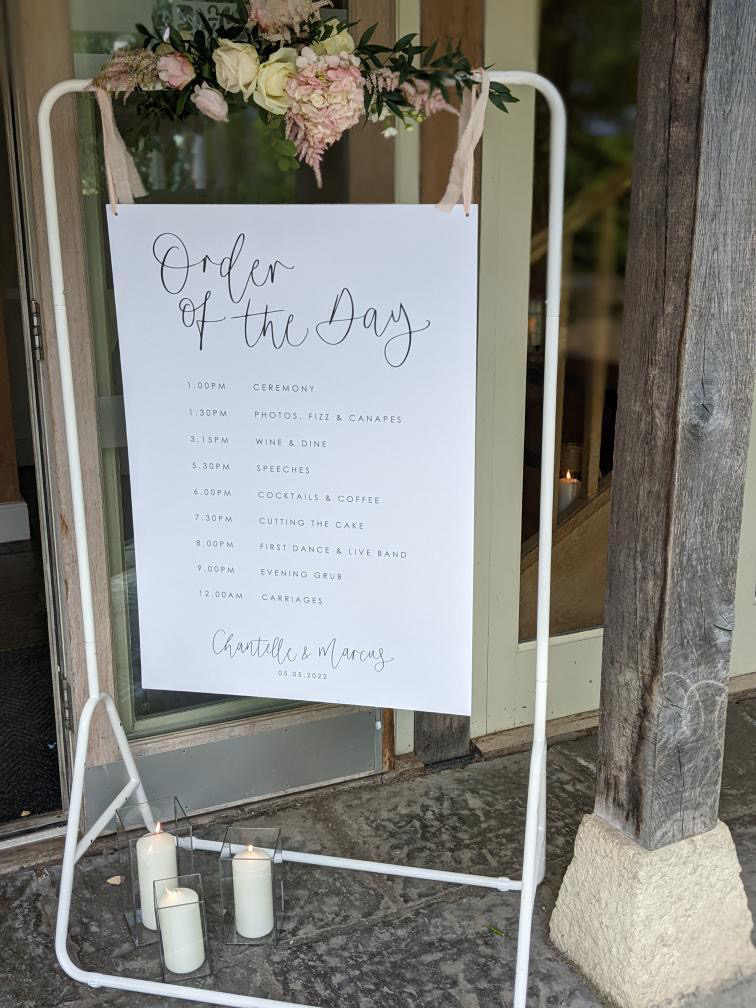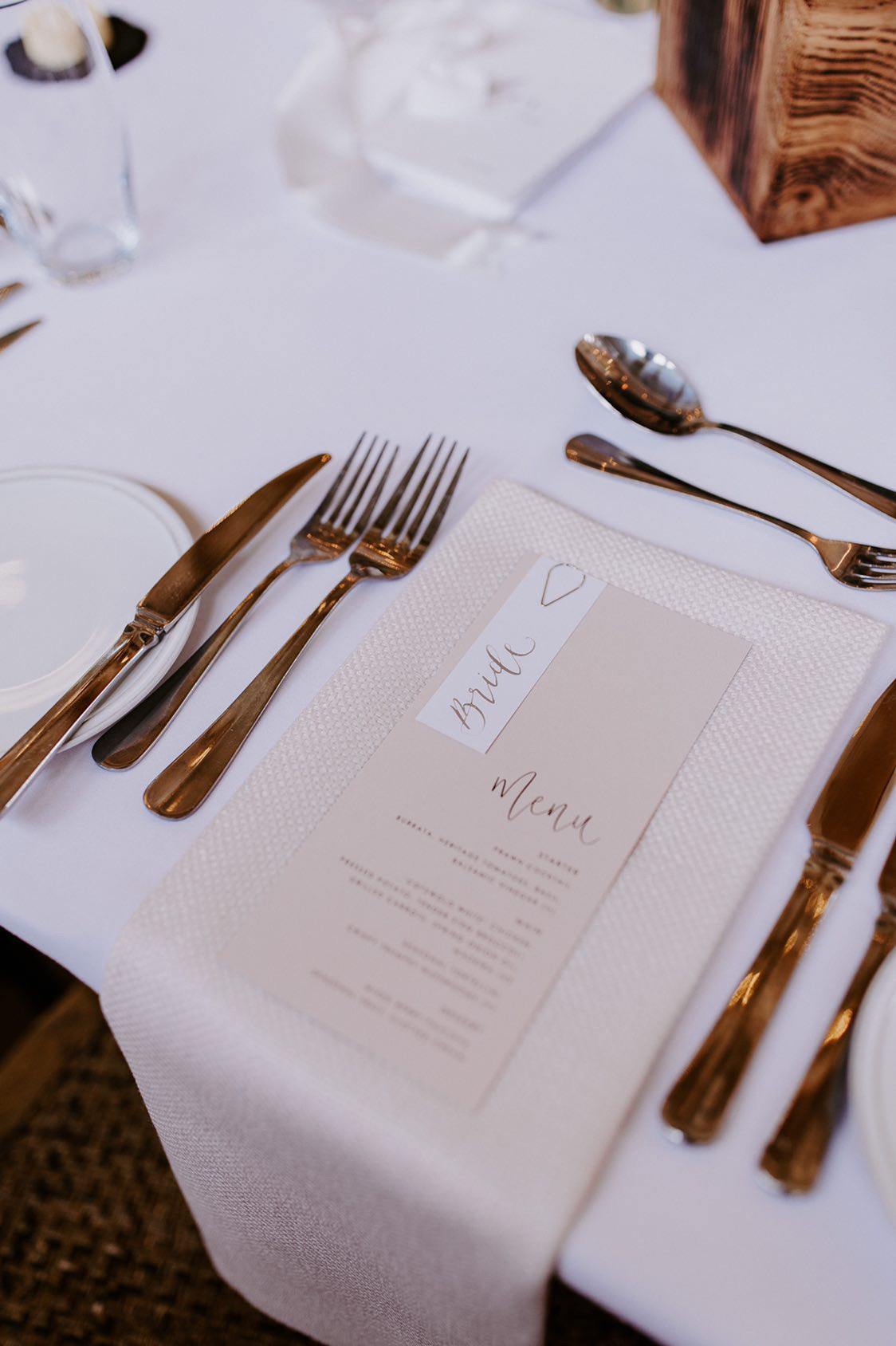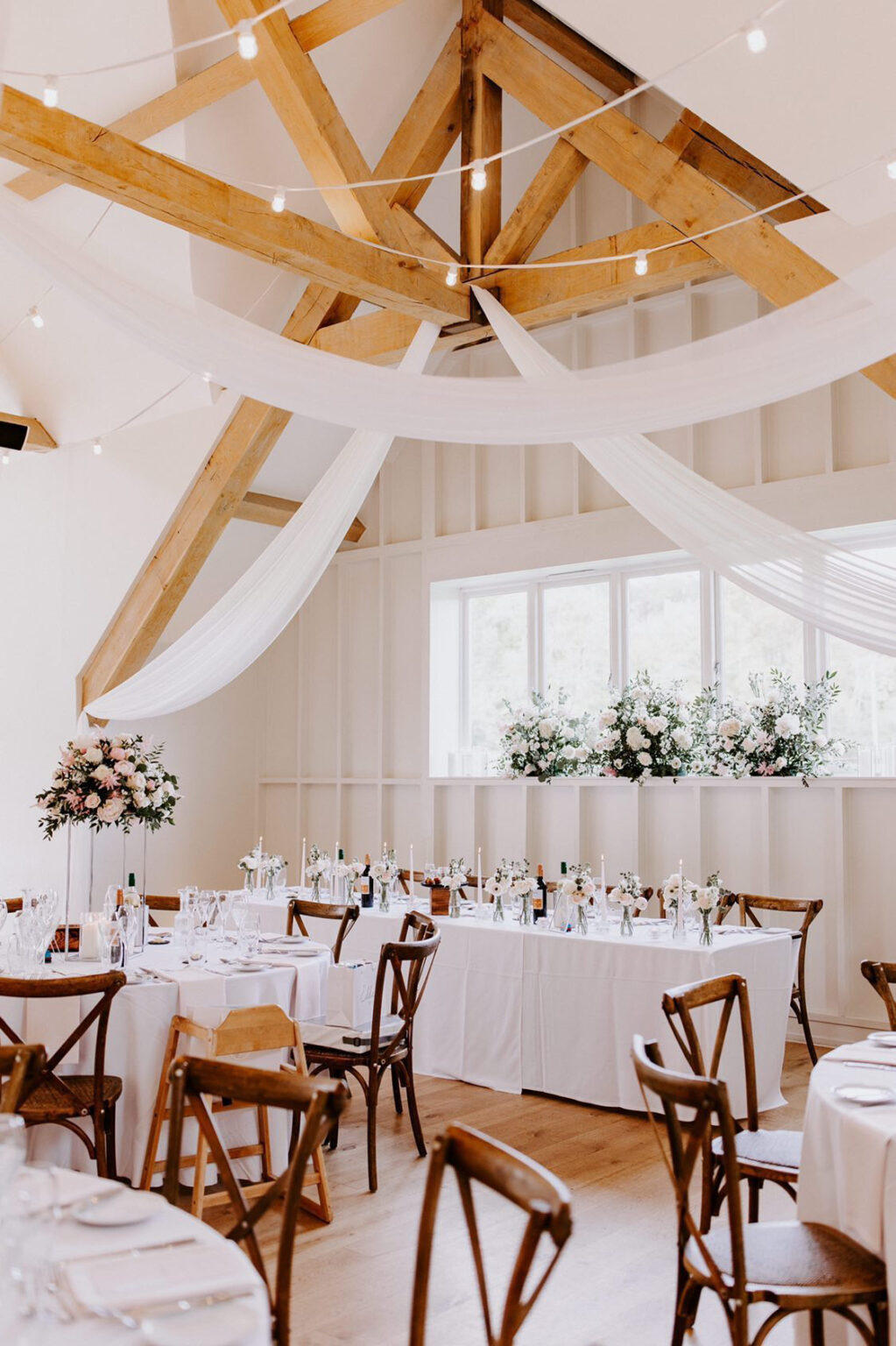 Florist- Cotswold Blooms, Stylist- Wedding Creations UK, Photographer- Siobhan Beales Photography
You can find LouPaper on instagram via @loupaper_ and click here for her website: www.loupaper.co.uk
Featured Suppliers : 07 / 05 / 22
Supplier Spotlight- Patrick Partridge Photography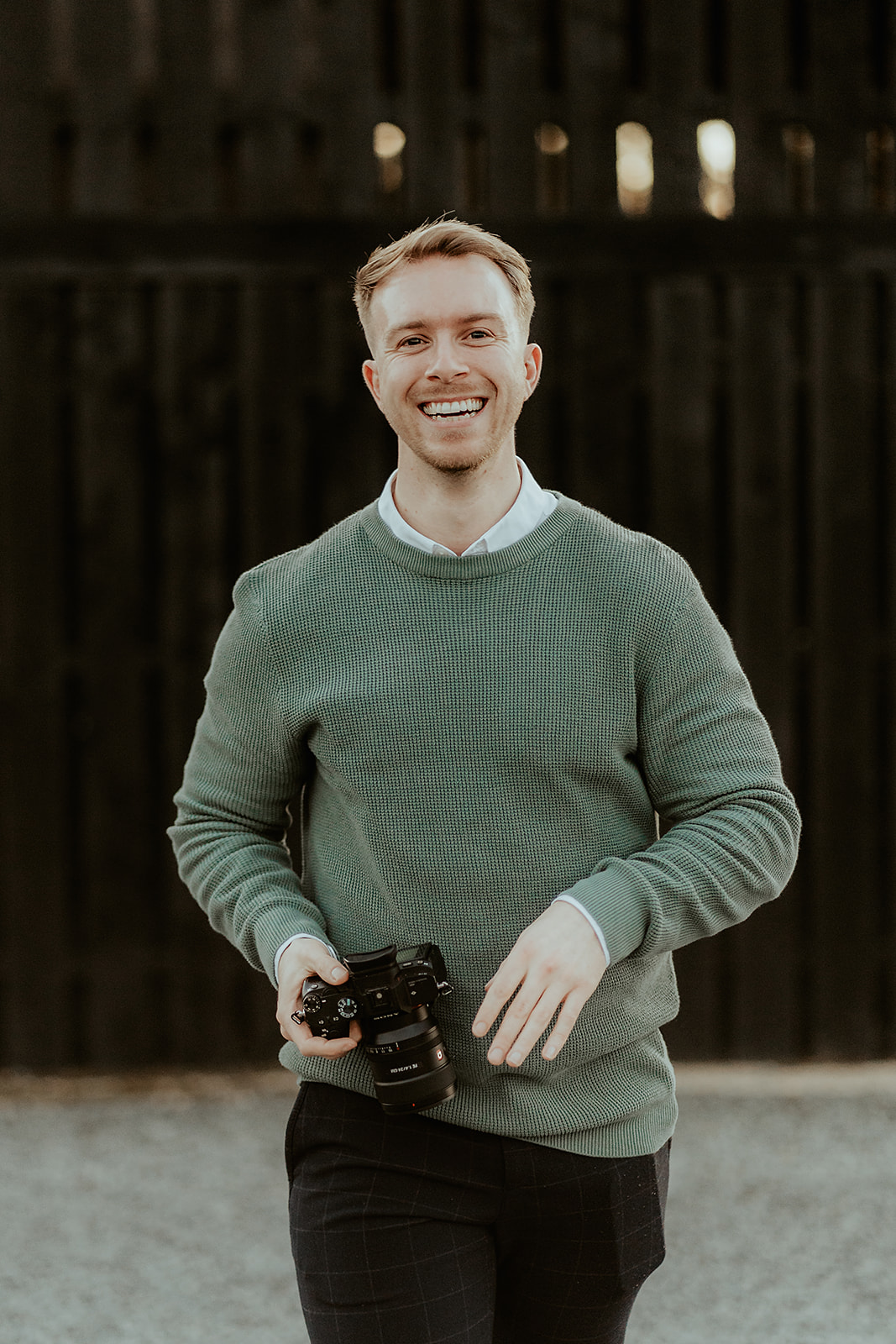 What first made you fall in love with photography?
Although I wish I had one of those "My Gramp gave me his camera when I was five" stories (which are pretty cool!), I first fell in love with photography while living and traveling around Asia after graduating from university. What started as a hobby and a bit of fun to document life and travels soon became an obsession and something I would spend countless hours teaching myself and practicing. The feeling of excitement and the magic a photograph can bring through art and feeling has never left and still motivates me.
What made you decide to become a professional photographer within the Wedding industry?
After spending the best part of three years photographing my travels, sadly I felt my photography lacked any meaning or feeling, after all, landscapes can be photographed a million times in one day but people's feelings and the magic of a wedding day will only happen once for a lot of people. Every photo at a wedding has meaning to it and the best ones make you feel the emotions of the day too! Photographing weddings in my opinion is one of the most meaningful forms of photography. Moments cherished for lifetimes.
How would you describe your style of photography?
I never like to keyhole my style of photography as I believe each wedding day is unique. Using different styles throughout the day according to the moment is what is needed. If I was to put my style into a sentence I would say: Emotive and fun storytelling.
What is your favourite part or parts of a Wedding Day?
It's easy to say all of it but I would be lying. It's the speeches for me. This is a part of the day where the rollercoaster of emotions is felt by the whole room, making it such an amazing thing to capture. That and it's always good to hear the more embarrassing private stories about my couples.
Could you explain a little about what Couples can expect when they book you as their photographer?
I like to think that even before my couple's book they feel like they are getting some value. Whether this is through my blogs, instagram or the first email. I like to make things simple too, as I know planning a wedding can be pretty stressful, but from the moment my couples book I make it clear that I am not only there for the day and that if they have any questions or even just advice I am always only a message away. I'm quite a laid back guy, so I try to make my clients feel as comfortable as possible so they can relax, be themselves.
What top tips and advice do you offer your Couples ahead of or on theirWedding Day?
Trust your suppliers, from the venue to the photographer, to the florist and everything in between. A lot of us have done a fair few weddings and the best suppliers should be helping you whenever and wherever they can (never be shy to ask them questions). I think if you have trust in your suppliers the overall stress of the day will be less and that energy can be used on enjoying one of the best days of your life. In terms of photographs I always tell my couples not to worry about anything photo related, that is my job. When there are pictures to be taken in great light I will let you know.
What do you love the most about shooting Wedding Days at Hyde House?
Weddings at Hyde House always feel more intimate and I'm always excited to see what couples do to add a little bit of their personality and vibe to the day. The staff and team there are also incredible. It is literally impossible to not have an amazing day while shooting at Hyde House.
Can you share some of your favourite images captured at Hyde House?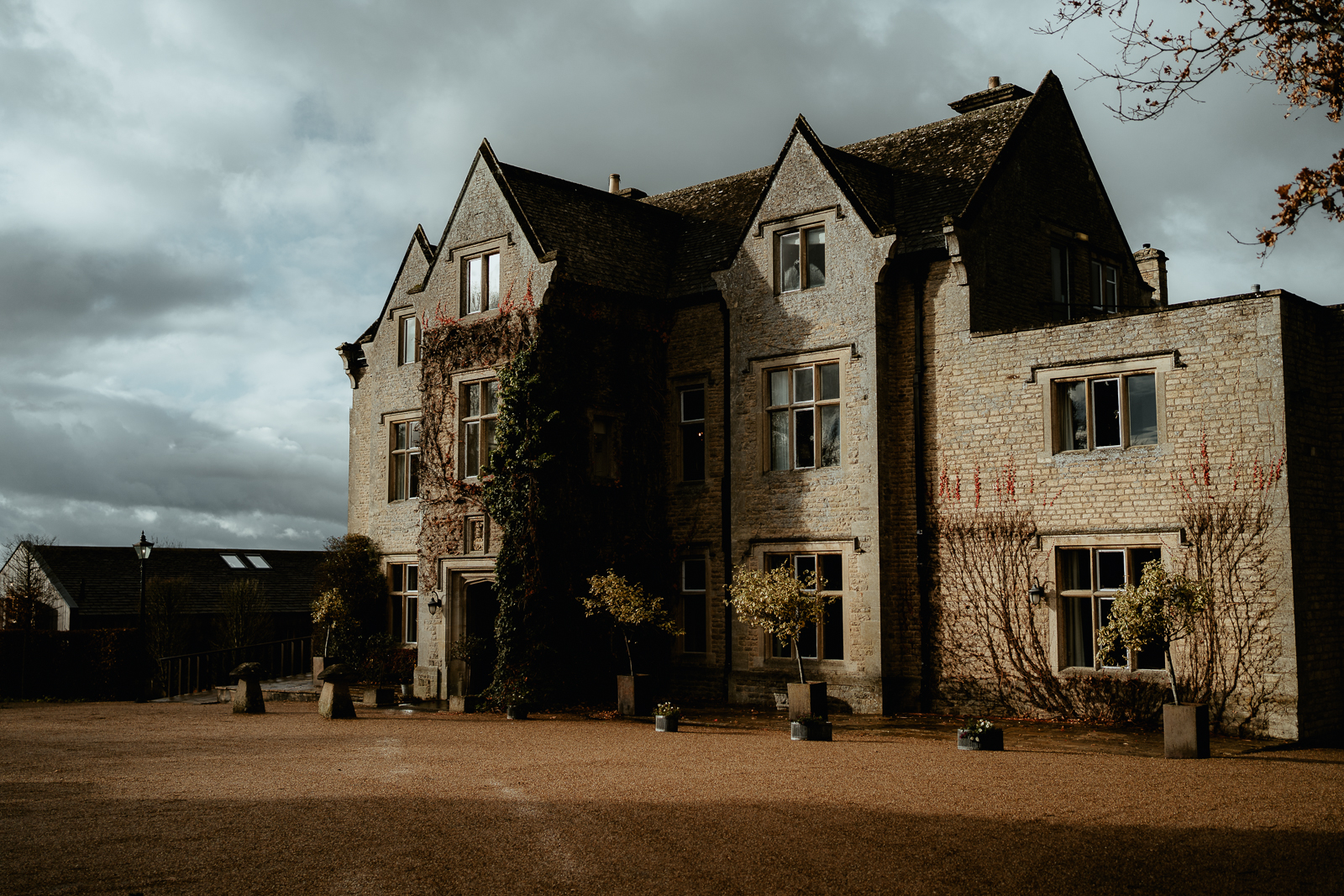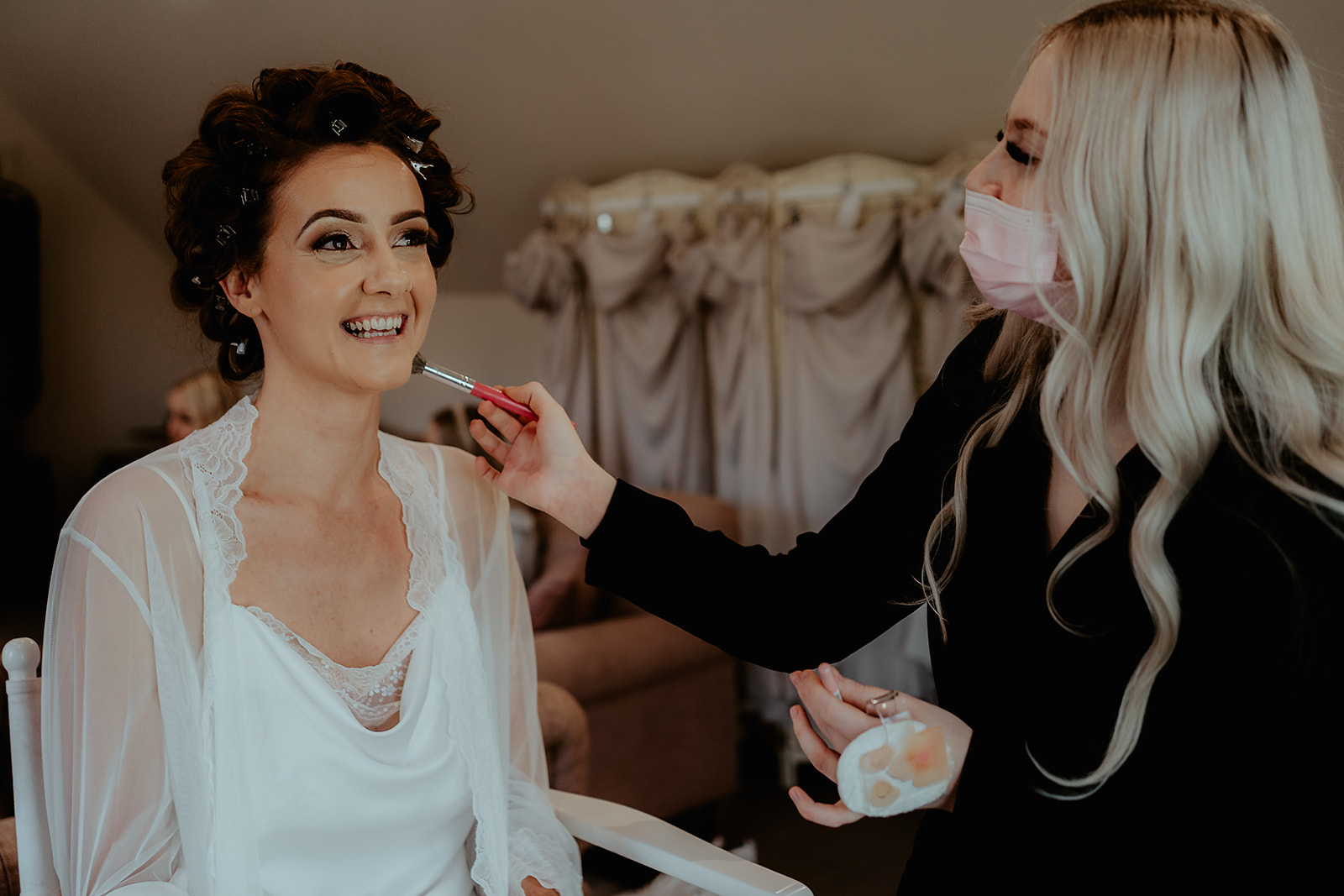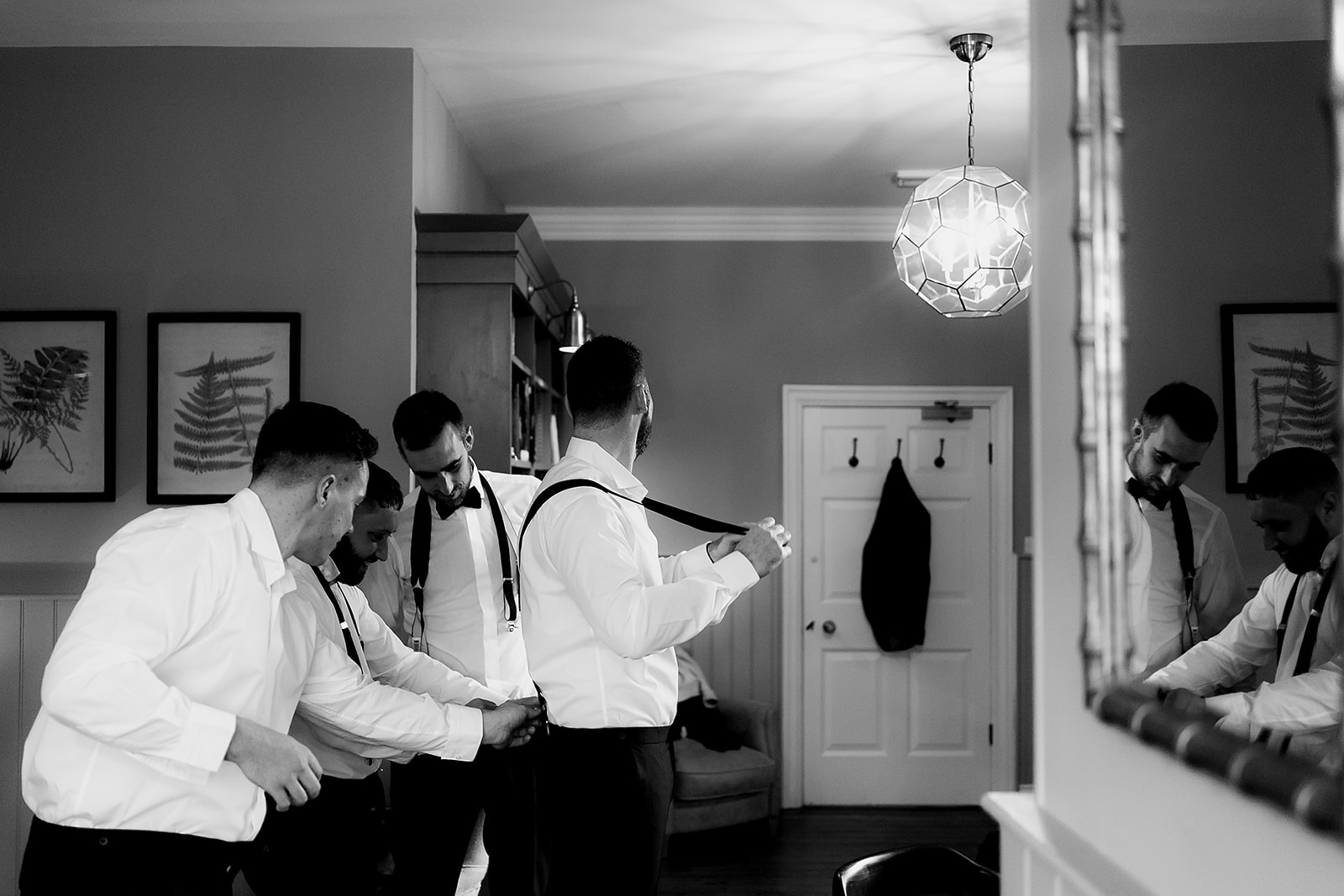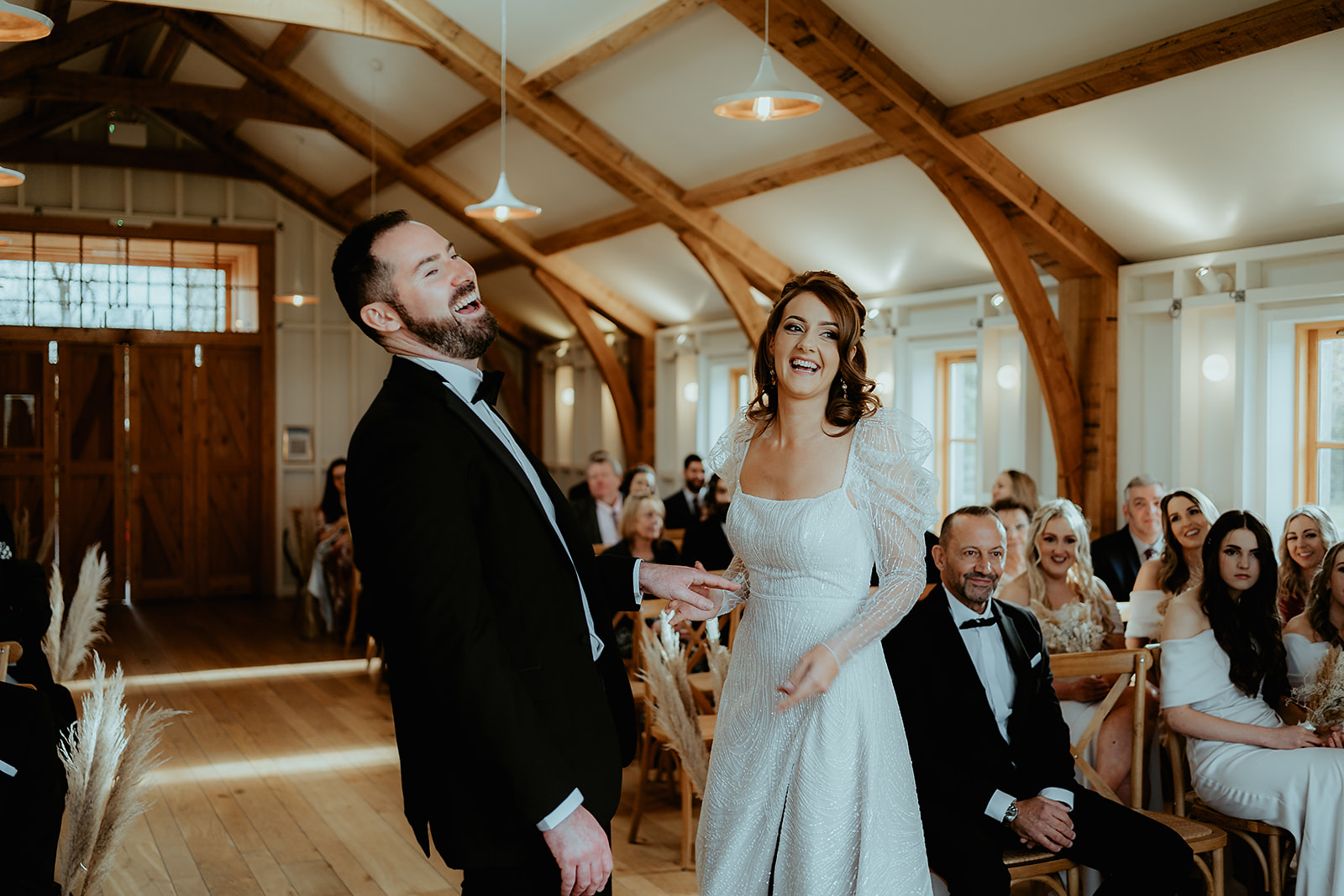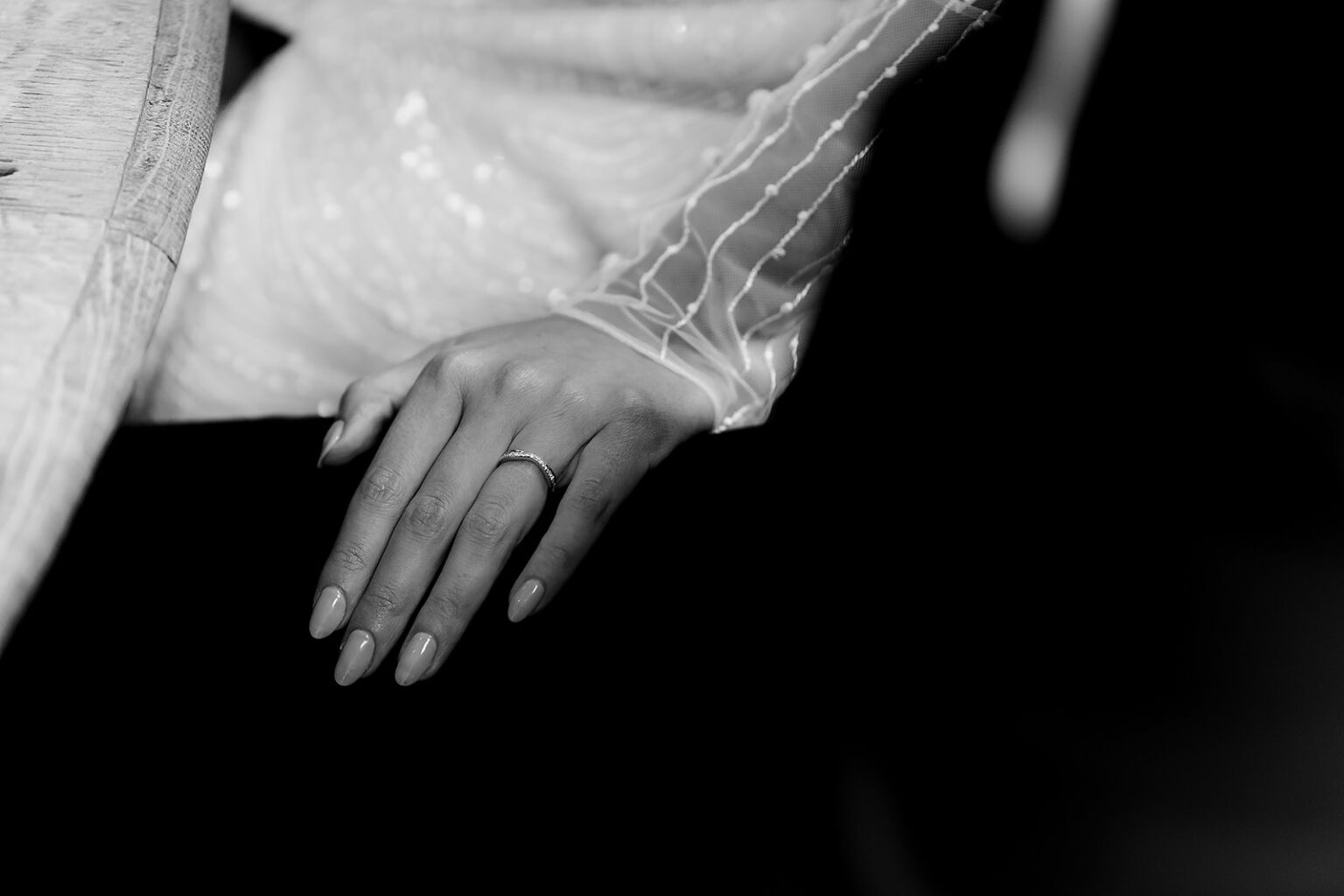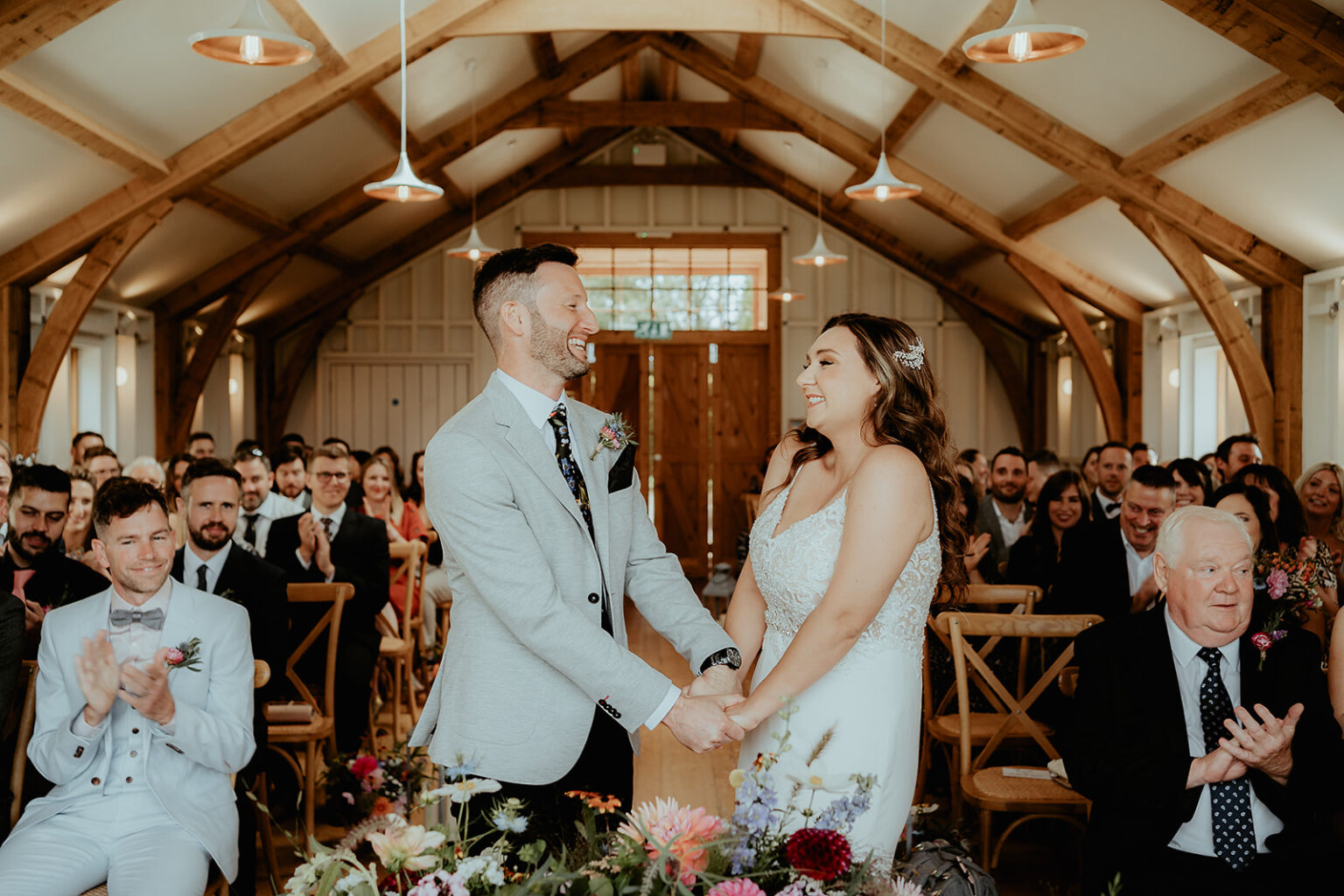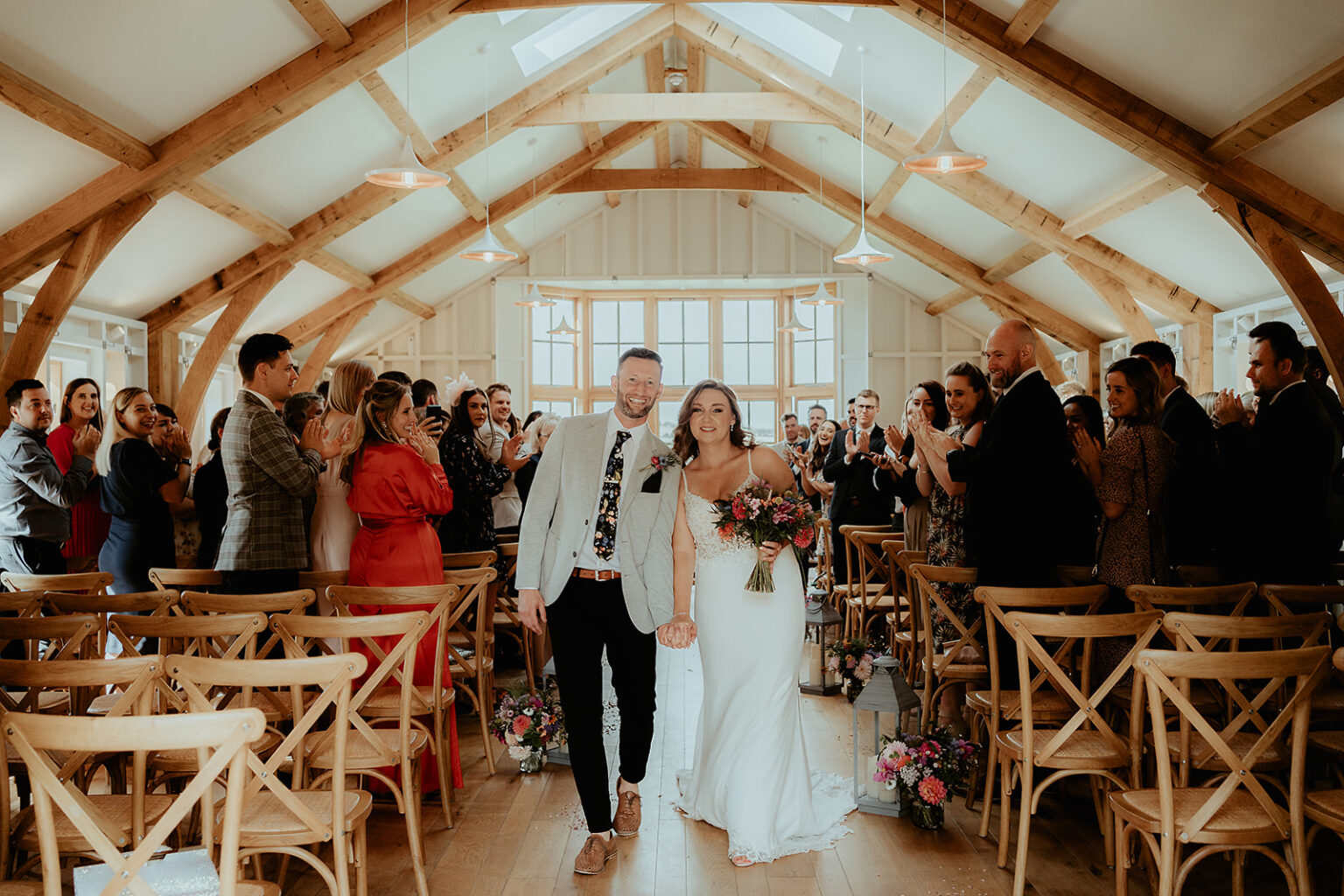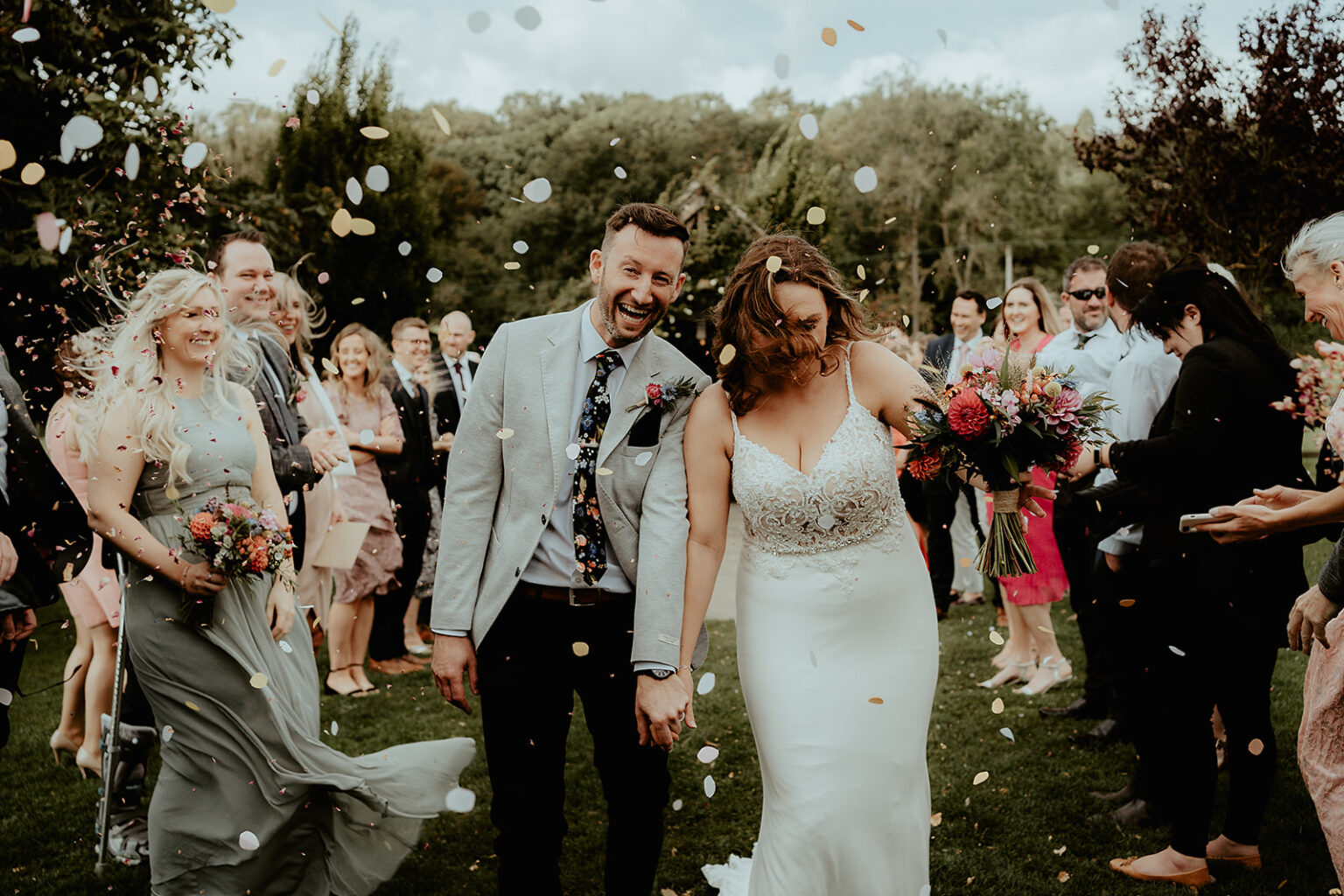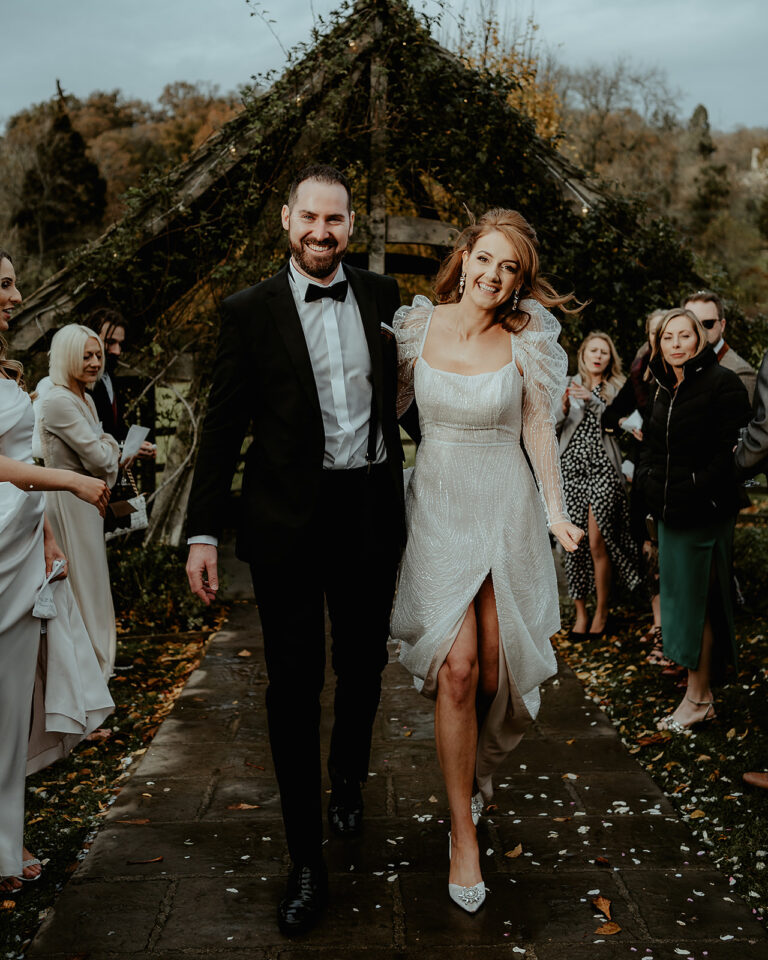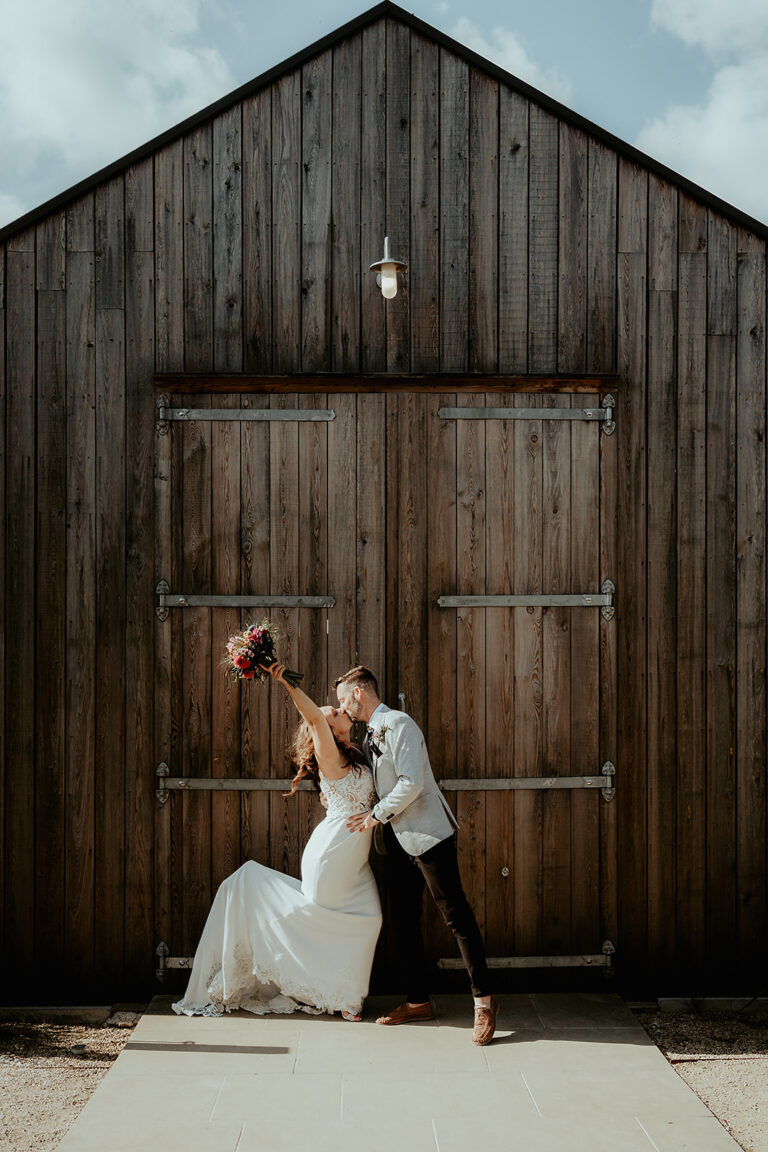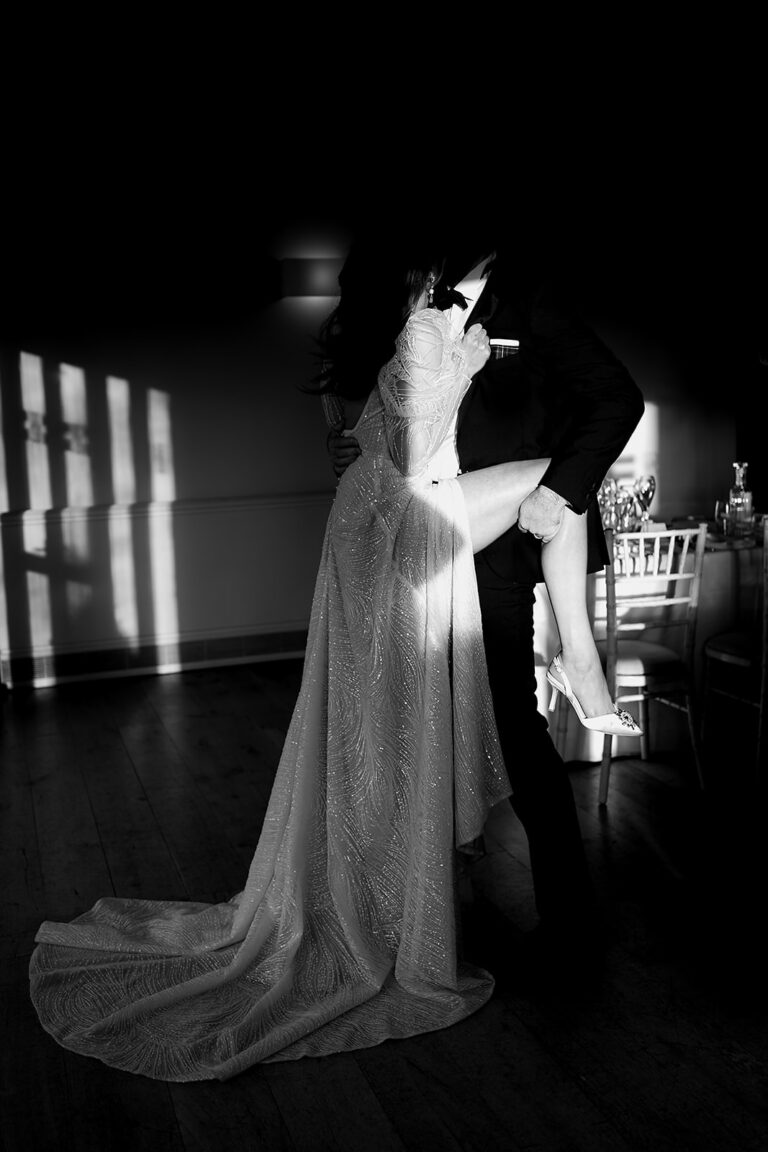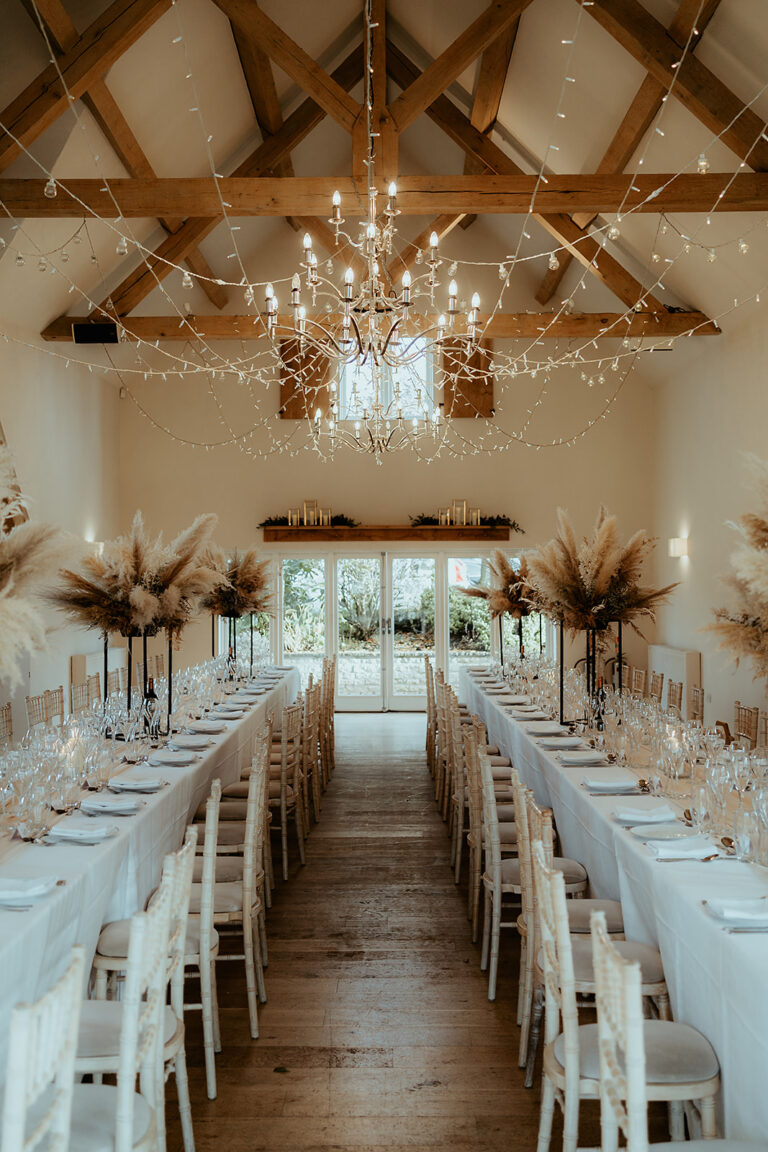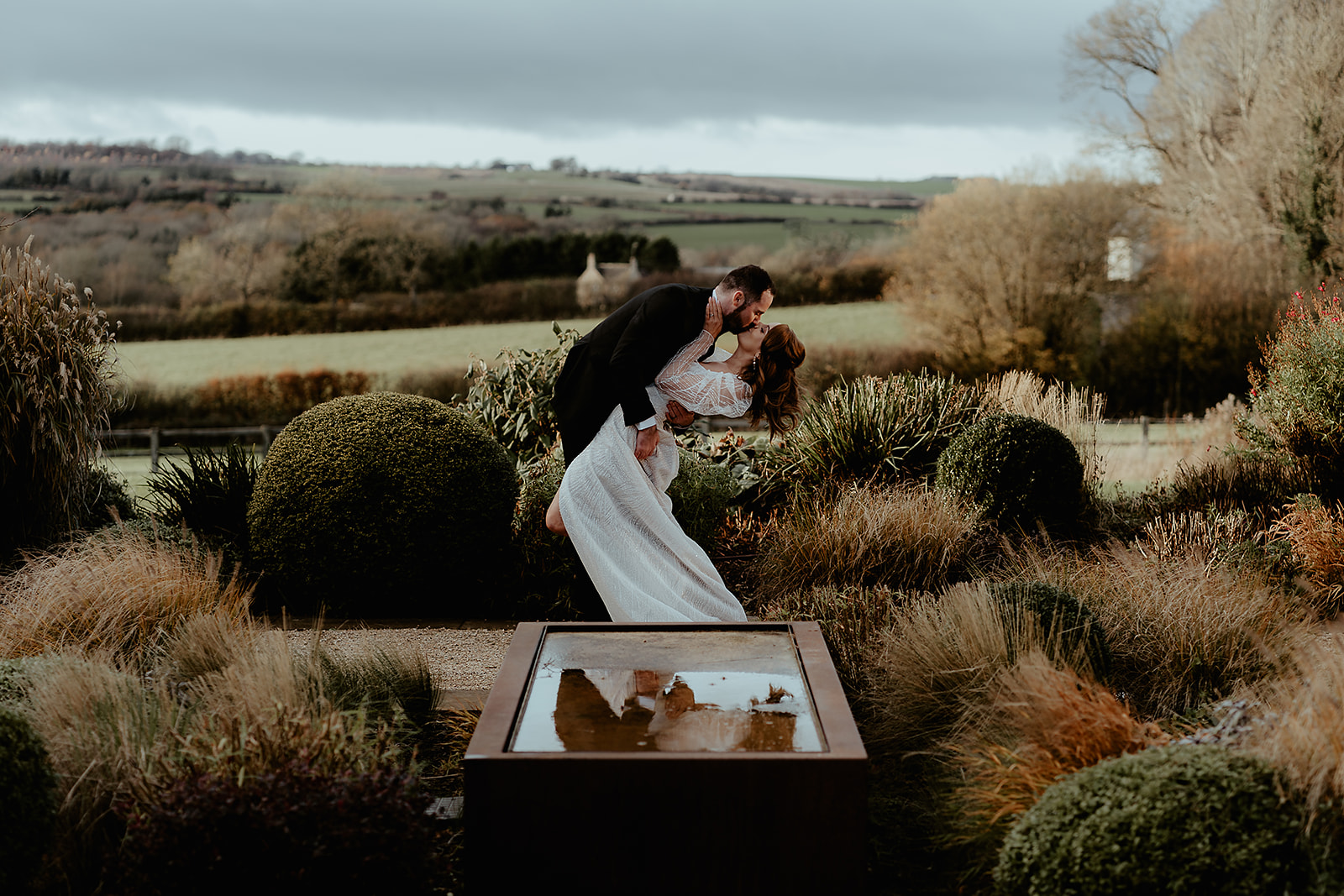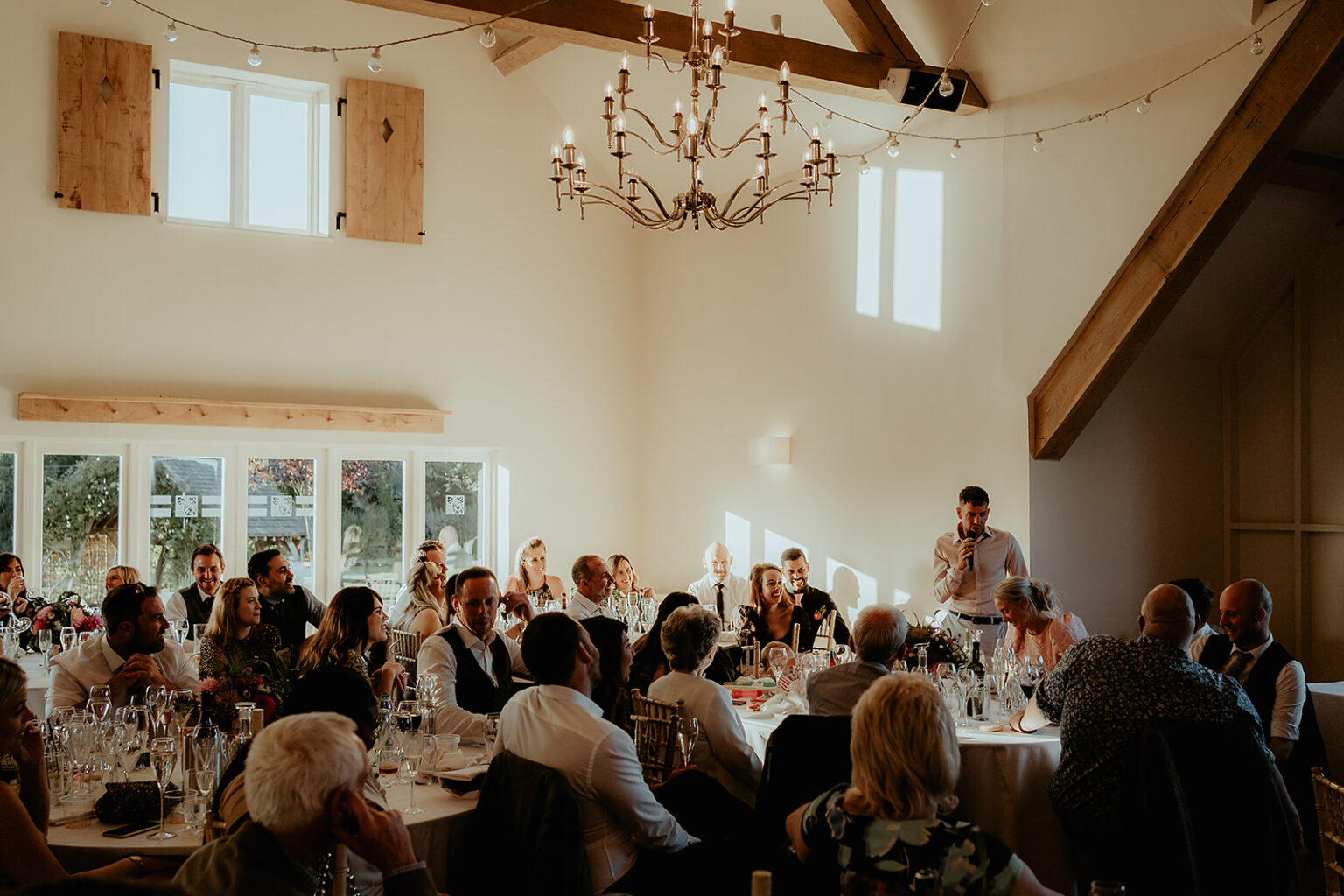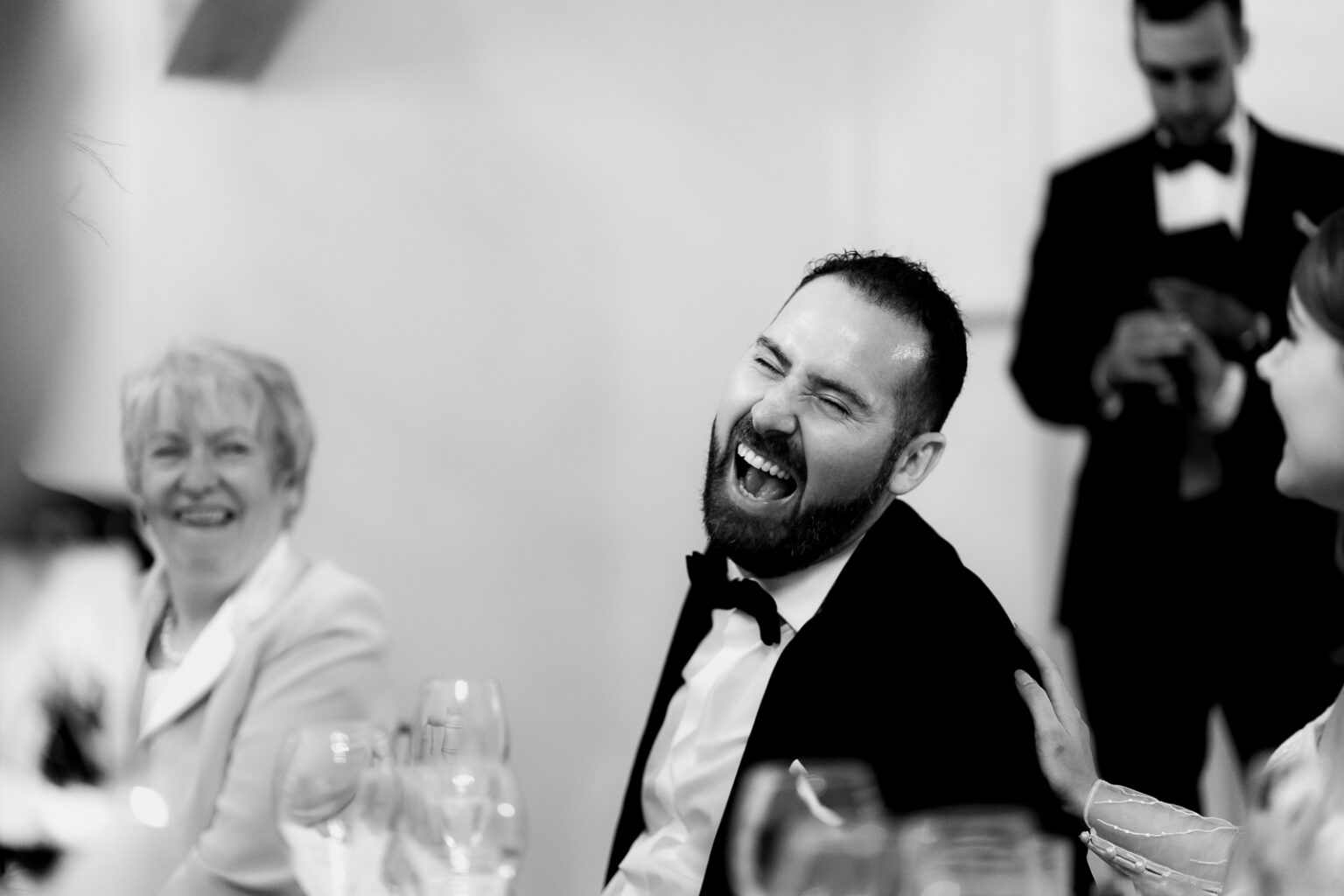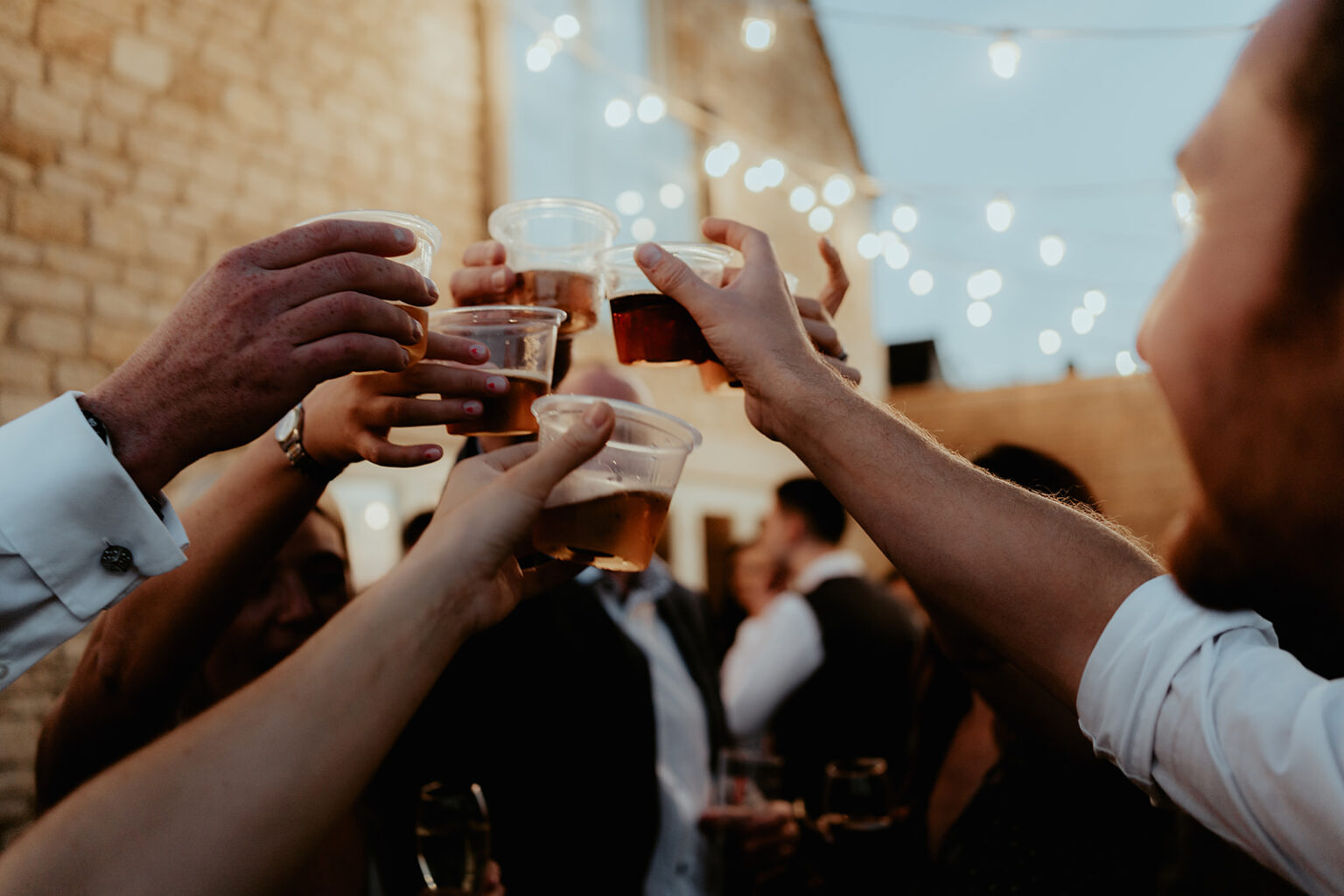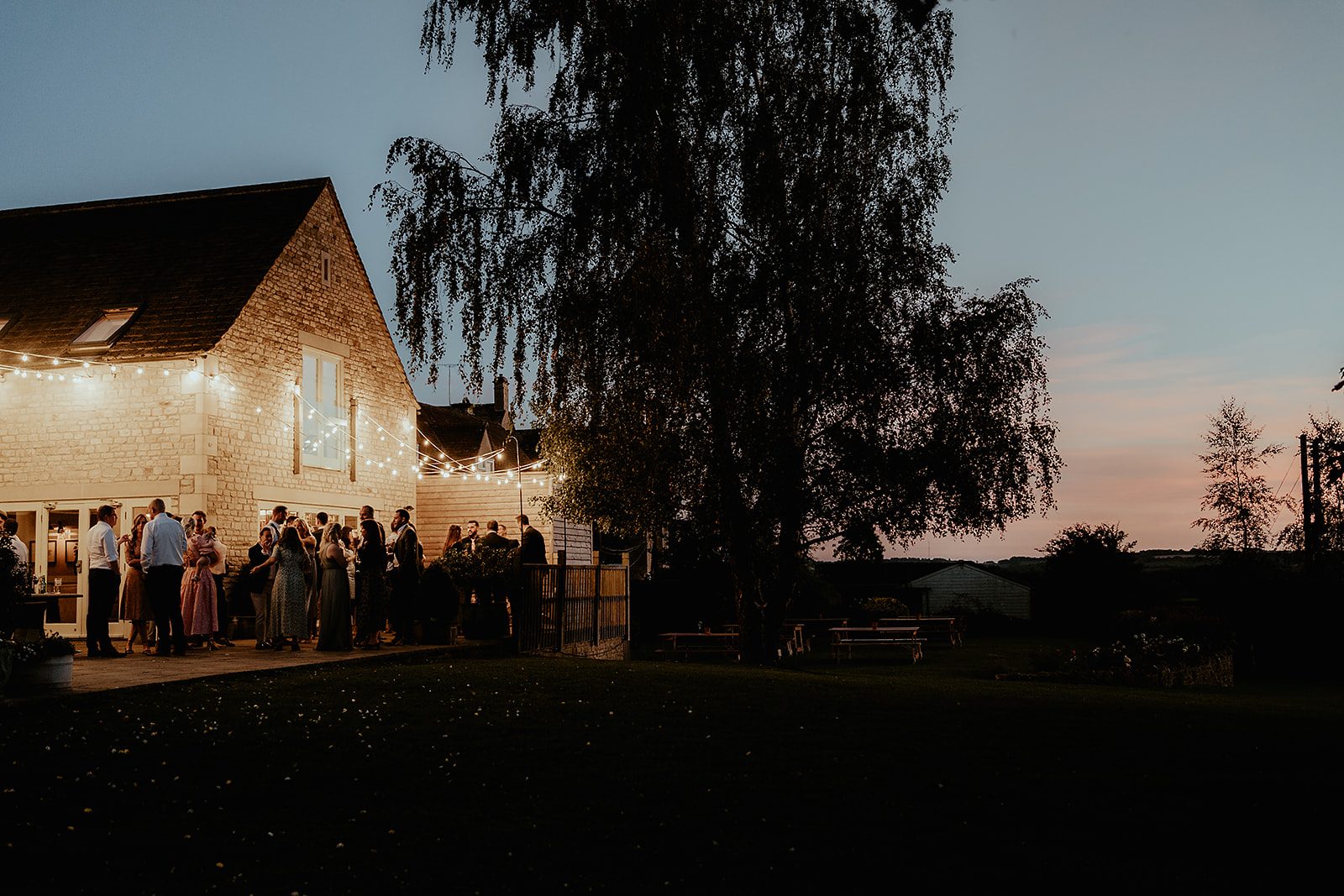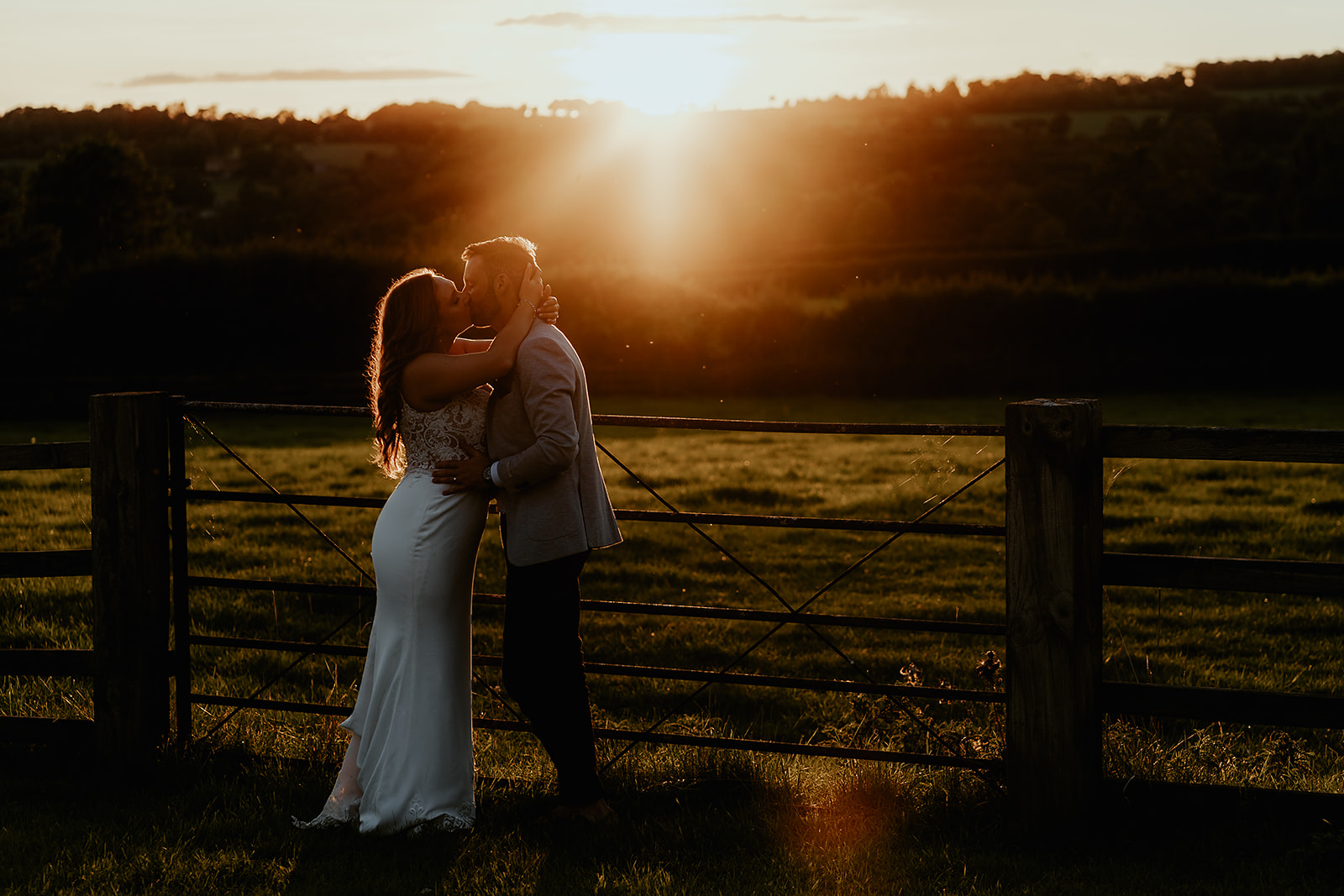 Click here to view Patrick's website: https://www.patrickpartridge.com/